Robert Irvine, Robert Irvine's eat!, Hilton Head, South Carolina
& Restaurant Impossible! on the food channel
October 25, 2012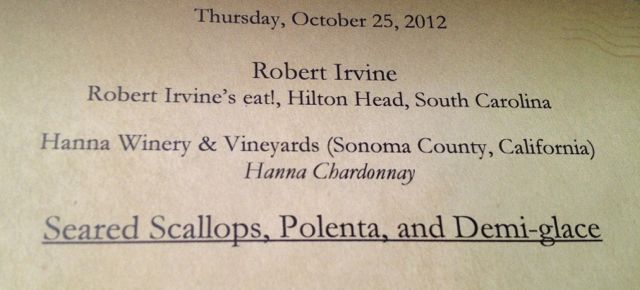 Wine: Hanna Winery & Vineyards (Sonoma County, California)
Hanna Chardonnay
Chris Hanna
In the 1970's Chris' dad bought a 12 acre farm, they planted a garden, an orchard, and some vines… and made homemade wine… thus Hanna Winery & Vineyards. She began making wine when she was a teenager, although it's a family winery, they've usually had a professional vintner overseeing their winemaking. Chris has been running the winery for 22 years, they now have over 250 acres of vineyards and produce 4500 cases of wine per year. They're located in a cool part of Sonoma County, they have thin skinned grapes, and use expensive French Oak barrels – all of which firmly influences their wines.
"You can't be an impatient winemaker."
Tasting Notes:
Nose: Chris = green apple, tropical fruit, citrus, uses a blend of chardonnay grapes; nora = very "chardonnay"; nick = not appealing at all
Taste without Food: nora = better than expected; nick = yes, but still not great
"To know Robert Irvine is to be wowed by Robert Irvine…" Pam Smith
Note that a Robert Irvine Culinary Demonstration is more about Entertainment and Energy than it is about the cooking…
As soon as he got on stage (and he entered from near the gift shop, not from the back), he drank down a glass of wine and pronounced it good. His hair was more grey than expected. His microphone kept slipping and he made the crack that he could redo a restaurant in less than 48 hours, but he couldn't get a danged microphone to stay where it needed to be. An example of the entertainment and energy… before he really started doing his culinary demo… he began by making everyone in the seating area, and the lookers outside, put down the cameras, get up and do a cheer…
The majority of the presentation was like the one we saw in 2010 (here):
he again talked about grapeseed oil and why it's superior to olive oil for cooking (i.e. HEAT),
he brought someone up on stage and had them cook (this year it was Marianne Hunnel's mother),
he talked about Paula Deen and her love for butter (teasingly, you get the impression that he does really like her & he praised her for her weight loss in the last year),
and he was out and about in the audience quite a bit.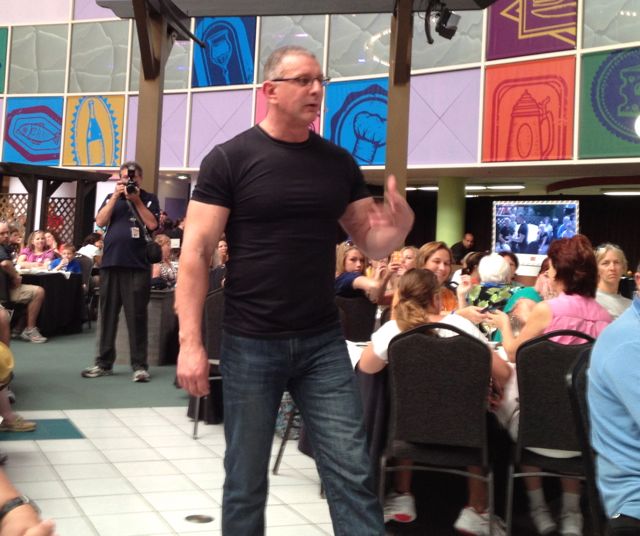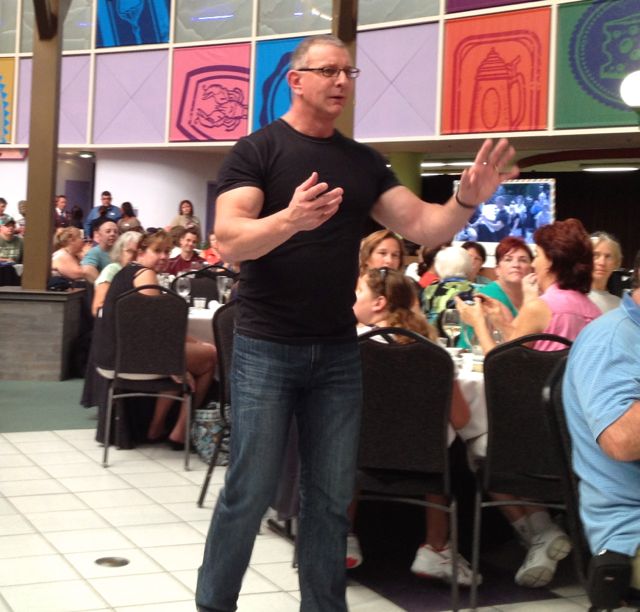 New topics…
he talked about how his mother, she wasn't the best cook in the world by any means, vegetables were like soup, you could drink them through a straw… His mom says that's how your dad likes them. Dad says "sometimes you talk and sometimes you shut up"… if that's how your mother cooked vegetables, that's how we ate vegetables.
polenta blooms when it absorbs water and the amount of water it will absorb is dependent on where you are and the weather conditions
scallops must be dry or they'll steam not sauté; need space in the sauté pan in order to cook properly
food is supposed to be sexy – it should look good, smell good, and taste good
Questions and Answers…
What are your favorite foods? Well, it's easier to say what he doesn't like… Peppers and Cinnamon – yuck!
Tell us about Restaurant Impossible, do you have a favorite episode? He films one show a week year round. For Christmas, the show will be about the Boys and Girls Club in Joplin Missouri. Out of the 60 shows that have aired, 6 were community based, of the other 54 restaurants, 49 are going gangbusters – and since their success reflects directly on his efforts, they stay in touch on a weekly basis ("they" being Robert and his staff)
More Restaurant Impossible notes… They have 36 hours to film the show and get the restaurants reopened. Robert doesn't pick the restaurants, they volunteer and are evaluated by Robert's production team.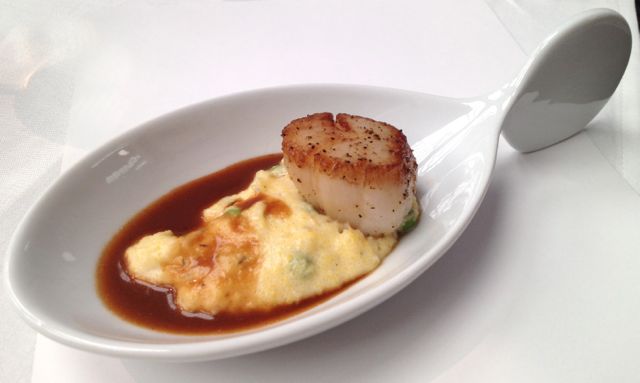 Menu
Seared Scallops, Polenta, and Demi-glace
Servings 4
4 large scallops for each (U-10 count)
1 tbs grapeseed oil
1 tsp sea salt and pepper blend
1 c  chicken stock
1/4 c corn meal
2 tbs heavy cream
1/4 c English peas, fresh blanched
1 tbs butter
4 sprigs thyme
1 tbs garlic, minced
1 tbs parsley, minced
1 tbs thyme, minced
to garnish, chives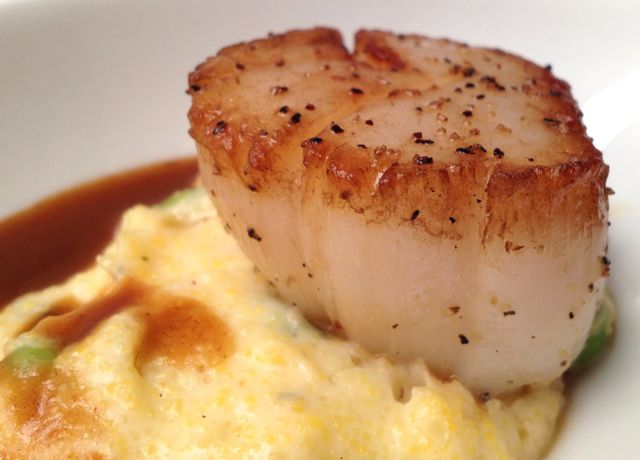 Polenta… Bring chicken stocke to a simmer in a sauce pan over medium-high heat then reduce heat to medium
Next add the corn meal and cook with a stirring motion until thickened, 12-15 minutes
Reduce heat to low and add herbs, cream, and butter … finish cooking for 3-4 minutes, or until cream has been absorbed
Fold in peas and serve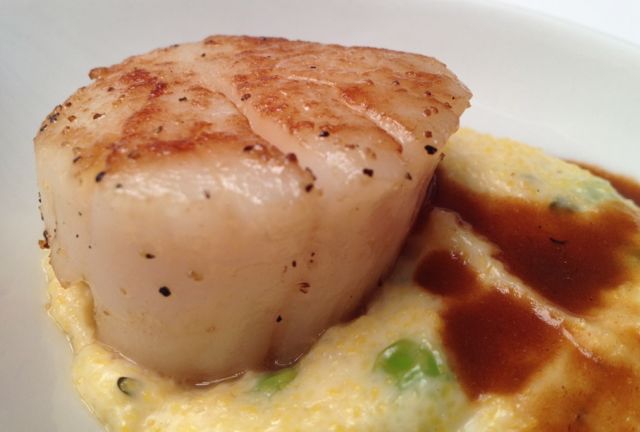 Scallops… Add grape-seed oil to a large sauté pan, over high heat, until verge of smoking. During this process, place paper towels down on a flat counter and place scallops on the towels and pat dry.
Once pan is hot, season both sides with salt and pepper mixture. Then add butter to the pan and sear first side for 2 minutes.
Reduce heat. Add thyme and flip to sear on second side for final 1-1.5 minutes.
During cooking, baste with pan butter. Once cooked, remove from pan and serve atop polenta and finish with prepared demi-glace.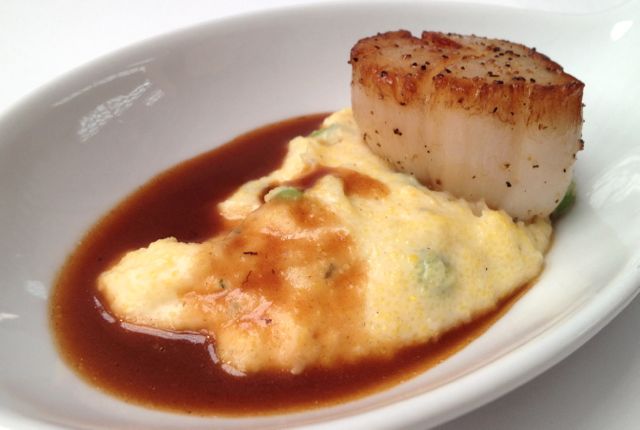 Notes:
There are gawkers everywhere outside the area so that they can see Robert Irvine
Including the Chef's Table (6 seats), there are 132 available seat; at least 16 of these are empty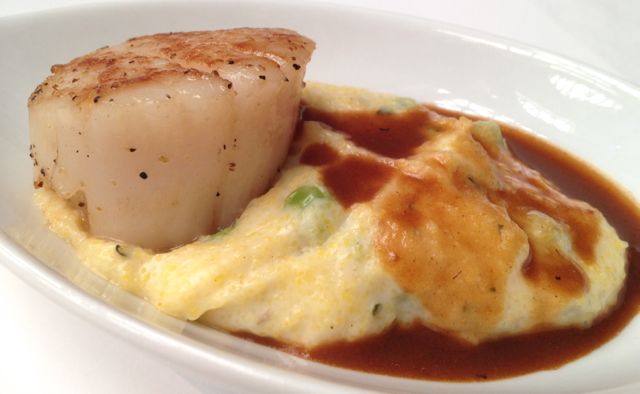 Final Tasting Notes:
The wine improved with the food
nick's scallop was overcooked and very gritty
nora's scallop was just on the edge of being overcooked
It was very enjoyable and it's going to be hard to beat Robert Irvine as the most entertaining culinary demonstration. That said it would have been nice if there was some new learning material from 2 years ago…