This was our third demo of the day, our 2nd Culinary Demonstration… When we were seated, we noticed that there was no water on the tables (first time), at 4:59 they begin to bring out pitchers of "fresh" water. Note… God Love 'Em some of these seasonal cast members are quite long in the tooth and a bit slow in the movement.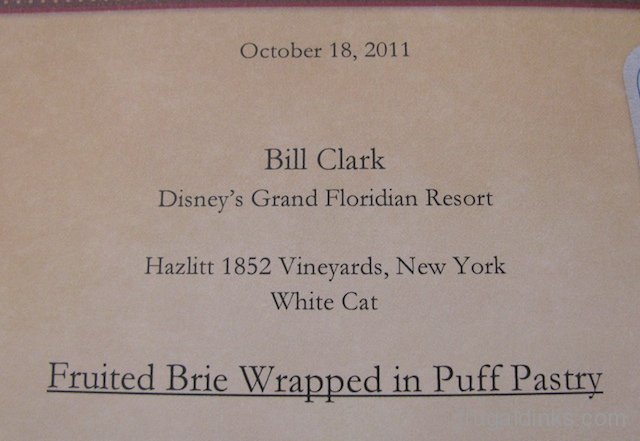 Wine: Brad Phillips, Hazlitt 1852 Vineyards, New York
Food: Bill Clark, Pasty Chef, Disney's Grand Floridian Resort
Brad is from a family winery on Seneca Lake (hey! we know that area).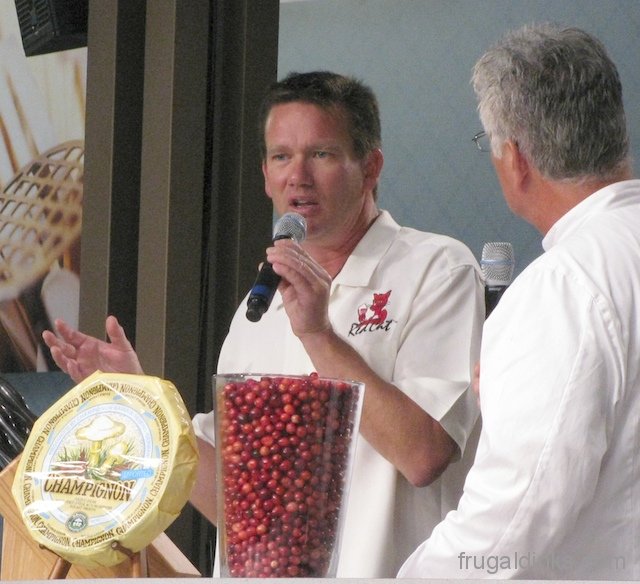 Brad had heard some of the Wine 101 class earlier and asked if the audience was familiar with vinifera (european styled wines) and labrusca (american grapes, actually native american grapes – nope not indian grapes). His winery makes labrusca wines (we looked at each other and said "scuppernong?" or "muscadine?"), from the niagra grape which is also know as the white concord. They used to grow white concords for Welch's White Grape Juice, then they decided "why don't we make wine out of our grapes?" Our wine today was called "White Cat" and Brad tends to think of it as a light, sweet wine that goes well with spicy food.
Chef Bill was there with his assistant, Mallory. He started by giving us some background information…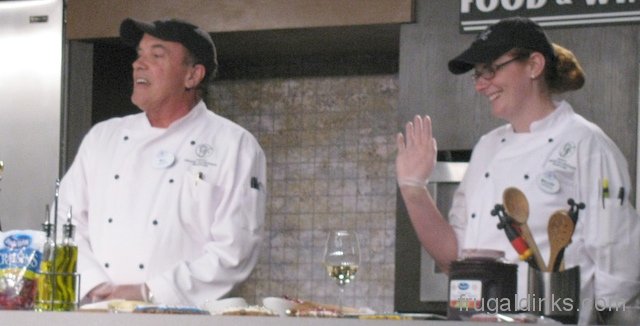 he started at WDW at the Disney Institute where he taught baking and pastry classes
he's been at the Grand Floridian for five years
the Grand Floridian bakery operates 24 hours/day, there are 40 bakers, this bakery does all of the weddings at WDW with a staff of 6-7 pastry chefs; they do not do ALL of the baking for WDW, there are 6 or 7 bakeries scattered throughout property
the holiday gingerbread house

all of the gingerbread honey dough is already made and stored
they've started baking or they will start soon (sorry, nora can only take notes so fast)
the house is constructed by carpenters and overlaid with gingerbread by a large crew of bakers
they will begin baking the ornaments to sell inside the house very soon
November 9th and 10th is the "live build" of the gingerbread house & it will come down near January 1st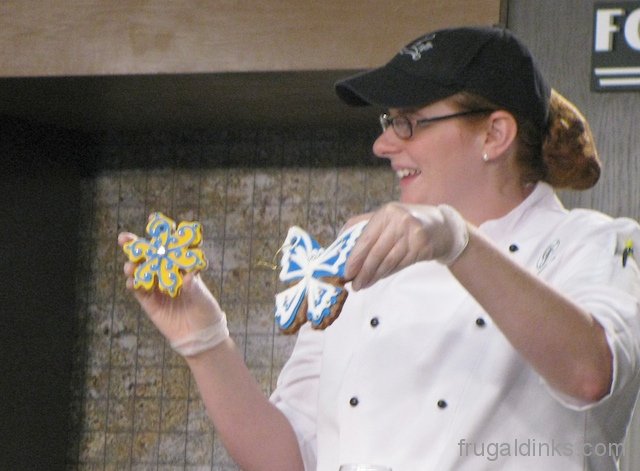 Mallory holds up two of the ornaments that will be for sale at the GF Gingerbread House this year. These looked like nice thick gingerbread with lovely simple decorations. I believe that Chef Bill said they will last for years if properly cared for.
today we're having Brie in Puff Pastry

want to select a very firm brie, not something too runny – it took a few tries to find a brie that could be used for our individual brie in puff pastries — goat brie was too soft, it just runs out of the puff pastry when baking; cow milk brie is much better

nick recalls that Chef was not happy with the brie. Chef did all his practice making a "full-sized" portion like he would serve to 3 or 4 people. When he scaled it down to the individual portions the brie lost too much of it's "firmness". He hinted that the individual ones did not do what he wanted.  Certainly there was no room to work with the whole cranberry sauce. Thus nick's pastry was sorely lacking in cranberry – disappointing.

one of the dishes served at the Grand Floridian uses "Champignon" brie — this is a brie with mushrooms
if making today's recipe with smaller brie (like what we're served) – just put the cranberry sauce and apricot jam underneath the brie before you wrap it in the puff pastry
used Pepperidge Farms frozen puff pastry
need to let the wrapped brie "rest" for 15 minutes (on the counter in a cool kitchen) to 30 minutes (in the fridge) – but you can let it sit for longer before baking — why are we letting it rest? to allow the pastry to relax before "decorating"
after baking the wrapped brie, you can leave it out at room temperature for 2-3 hours
our individual wrapped bries were done in a silicone cupcake pan – Chef really likes silicone "pans" but he stops short of saying that we can buy them at WalMart
don't have to "fork" the puff pastry (even though the recipe says to) – if you don't let it rest and if you aren't stretching it a lot, "forking" isn't necessary – if you do "fork" the pastry, do it after you wrap the cheese and before you decorate it
Chef doesn't encourage preparing the wrapped brie and then freezing – he didn't say it but doh! you don't freeze this kind of cheese, experience has taught nora to be very careful with freezing things with high butter fat content, they can act very strangely when you go to use them later
Tastings
Wine:
without food

aroma: very much like muscadine and scuppernong grapes, it's very grapey and inviting
taste: very fruity, tastes like late summer to nora; nick says "it's a bit sweet" but with a grin

Brad suggests pairing with spicier foods and was a bit concerned when he learned that it was being paired with baked brie
with food

aroma: paired nicely with the slight muskiness of the brie and the buttery-ness of the puff pastry
taste: it paired well, but nora wouldn't call it fantastic!; nick says that he thought it was "too sweet" – even so, we both finished our glasses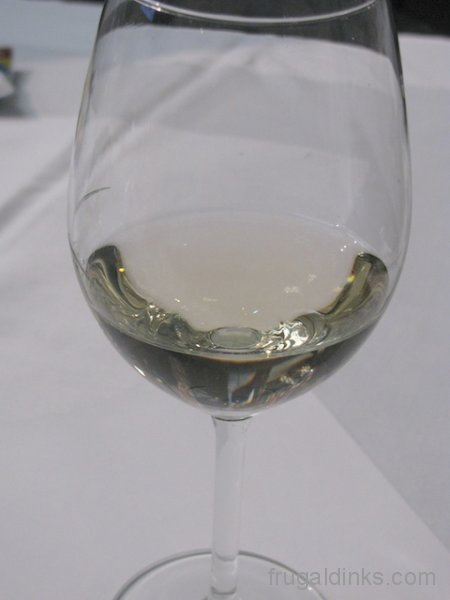 Food:
nora: this was more like a savory dessert to me; the cheese was still a bit warm (nice) and the crust was buttery; I would have liked a bit more cranberry I think
nick: tasted good,  but it seems dessert-like
suggestions were to serve this at a holiday brunch with the White Cat wine; nora thinks it's like something from Southern Living magazine for an "occasion" (baby shower, wedding shower, easter brunch, some special event/occasion)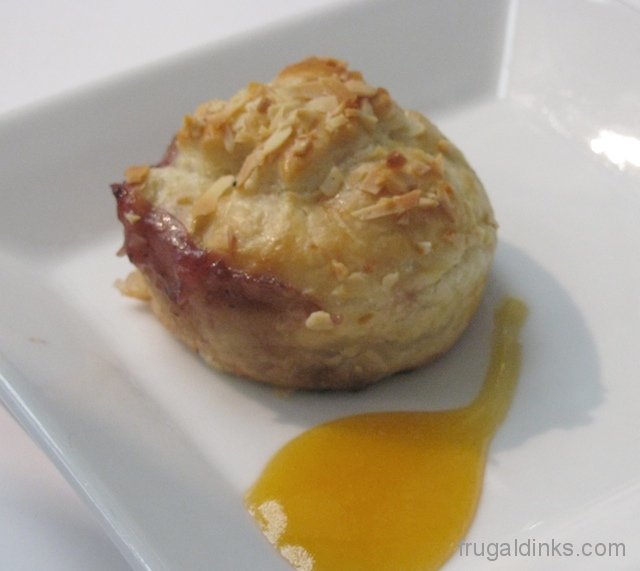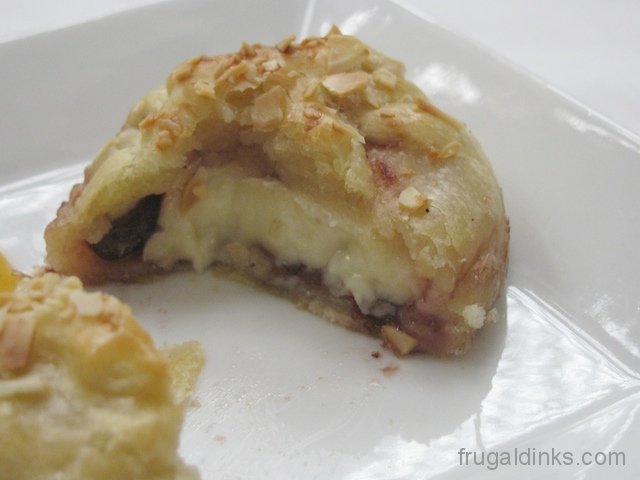 Recipe
serves 8
1 15-ounce wheel Brie cheese
1/2 cup Ocean Spray(r) Whole Berry Cranberry Sauce
1/2 cup apricot preserves
sliced almonds
1 1-lb box of puff pastry sheets (2 sheets)
1 egg + 2 tablespoons of water (for egg wash)
Method as it appears on the recipe sheet…
preheat oven to 375F
Slice off the top 1/4″ of the Brie wheel, set aside. Hollow out the center of the cheese, leaving a 1″ shell all round. Place in an ovenproof serving container slightly larger than the cheese. Save leftover cheese for another use.
Break up cranberry sauce with a fork and place in the center of the cheese
Cover with the top of the cheese
Thaw puff pastry sheet and then roll out wider to about 12″ across, then using a fork poke holes generously
Cover prepared cheese wheel with dough and down the sides and tuck underneath
If desired, use the remaining sheet to decorate the top and almonds
Brush top and sides with egg wash
Bake for 10-15 minutes or until golden brown
Spoon apricot preserves over top, serve with crackers
How NORA thinks the Method should be…
Remove puff pastry from freezer and let thaw
Slice off the top 1/4″ of your wheel of brie, set this "top" or "lid" to the side b/c you're going to need it
Scoop out the soft center of the brie, leave a 1″ shell all around – save the soft innards to use in something else or to create a very decadent cheese spread/dip
Break up the cranberry sauce with a fork and fill up the center cavity of your brie
Place the "lid" on the filled brie
Roll the puff pastry until it's about 12″ square
Place the puff pastry over the cheese and wrap the cheese, tuck the edges underneath the cheese, place on the baking sheet – I can't remember if Chef placed his on a silpat or on parchment paper, I'd suggest using one or the other; its a real PITA when you make something pretty and special and the danged thing sticks to the pan, absolutely heartbreaking
Let it rest for 15 minutes or so. This would be a good time to preheat your oven to 375F – why are you letting it rest? to allow the puff pastry to relax
Using the other sheet of puff pastry – decorate your wrapped brie – suggestions: cut strips of puff pastry and create a lattice, use cookie cutters to make decorations that are seasonally appropriate, do whatever you want (personal suggestion, don't get too wild with the decorating & remember if you're new to this to keep it simple because you don't want a big ugly mess if this is the first time you're serving this to people outside your immediately family or to anyone who may tease you about it)
Brush top and sides with egg wash
Bake for 10-15 minutes or until golden brown
Spoon apricot preserves over top or have apricot preserves available as an accompaniment – If I were putting this out for a party buffet, I wouldn't put the preserves on top because it will get soggy; also I think that orange marmalade would work well if you prefer orange over apricot
Serve with crackers