Hummus and Olives… Well, this may seem very ordinary Mediterranean fare but we all know that this dish can be done very well or very poorly. Thankfully, Spice Road Table does it very well.
On this visit to Spice Road Table, Nabil was our server (not big Nabil, this was a different Nabil, we're going to call him little nabil). We also saw big Nabil and Abdou. Abdou's face lit into a big grin and he came over and said "ah! you're home! at your table! welcome! welcome!"… we do feel so welcome here <smiles>.
Okay, as usual, I'll start with the pairings. The Queen of Hearts White (Greece) was selected by Abdou to go with the Hummus and Olives (me, Nora). And Nick selected the Ambar Especial (he's had this before).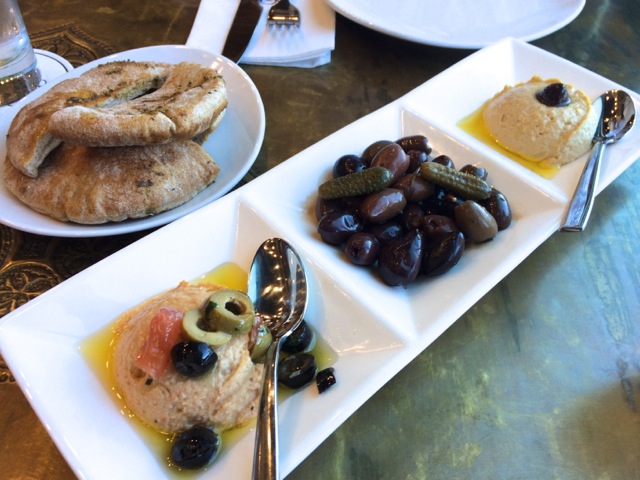 The Queen of Hearts White was grassy without any food, with the olives, it was much better… I think it needs the saltiness. As Nick notes… the wine pairings here are WOW… And Nick's Ambar Especial went well with the hummus and the olives both.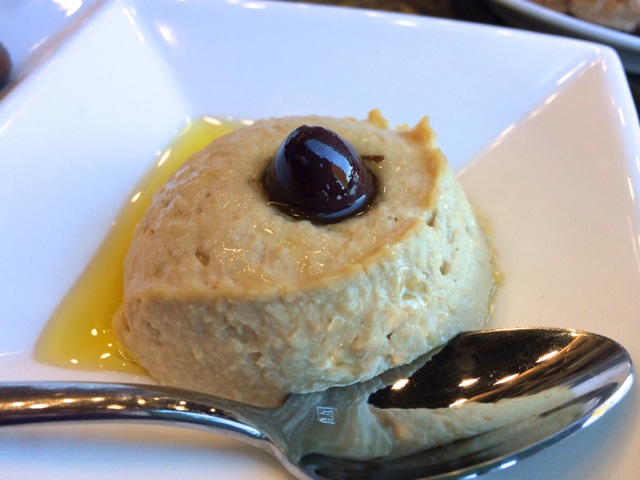 This is "regular" hummus, not special flavor additions.
Years ago (maybe back in 2002 or 2003), the very first hummus that Nick ever had was from the Food & Wine Festival Booth at Morocco… we had hummus and pita ($1 OMG!)… this simple taste got him started on being more adventurous regarding Mediterranean and Moroccan food. Before long, we were stopping in at Tangerine Cafe for the Vegetarian Sampler …

Back then, this was hummus, olive salad, lentils, couscous, tabouleh, and a hunk of Moroccan bread – we nearly always asked for a side of pita bread. Nick had so much trouble with the staff at Tangerine Cafe that I'd have to go in and order our food while he got a table. They've changed the Vegetarian Platter and we haven't stopped in for it in ages – it now has falafel and a more usual lettuce salad.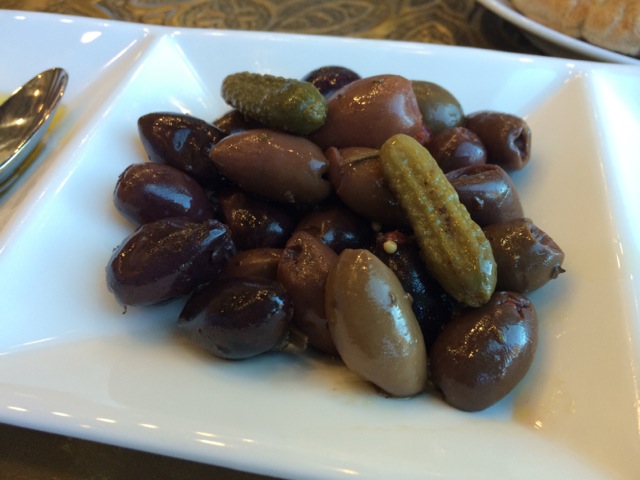 There is a mix of olives, in various stages of ripeness… the greener ones have a much firmer texture (almost crunchy) and the really dark ones are rich tasting and almost squishy. There are also little cornichons with the olives.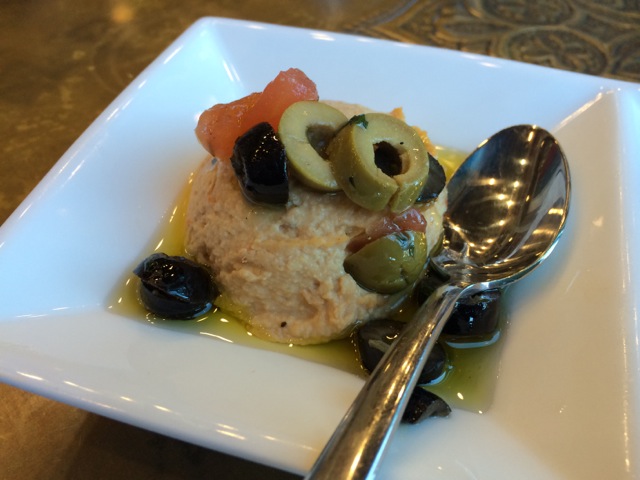 The second hummus on the patter is a tomato hummus. Oh my goodness, you can taste the fresh tomatoes in this (surprise! we expected sundried tomato hummus when Nabil told us that it was tomato hummus.) We were both quite impressed and really pleased with this variation.
Note: Efes Dark doesn't pair as well with the hummus as the Ambar Especial. Maybe the richness of the hummus and olives needs the lightness and crispness of the Ambar Especial.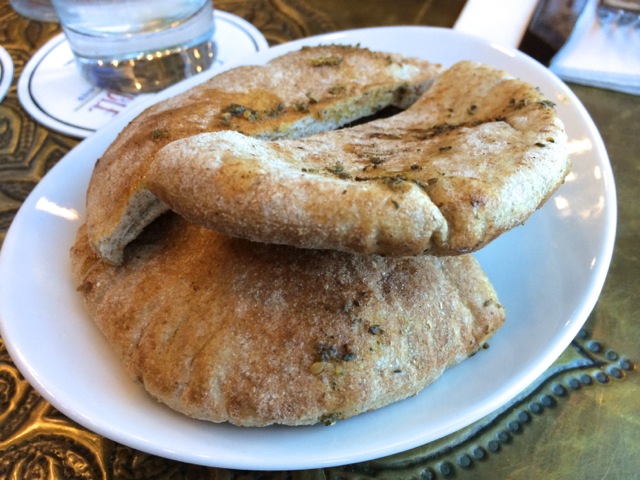 Of course, the Hummus and Olives are served with whole wheat pita with Za'tar spices.
This was very YUM! Nick loves hummus so this was a hit with us both. The wine paired well, it was served too cold but it improved as it warmed up (typical of white wines, they're often served too cold to start). I really enjoyed this tapas quite a bit… So far, everything we've had at Spice Road Table is "all good"…