Our hosts for the D23 Magic & Merriment at Walt Disney World were Laura Sanchez (Special Events D23) and Jeffery Epstein (Marketing D23)
The archival presentations at D23 Magic & Merriment were much better than the D23 Epcot 30th Anniversary presentations at Walt Disney World. We were pleasantly surprised… A lot of our notes coincide with photos, so this will be a photo heavy post.
Graham Allen – Disney Historian – Holidays at Disney throughout the years!
In 2007, he went through the archives looking for material for an article for the D23 Magazine (this isn't that article, but it's sure to contain some of the material)
Candlelight Processional and it's changes in history is very well documented…
In the early 1990's, there were 12,000 performers at Disneyland. It was a huge challenge to rehearse and to move all those people (especially the high school students!)
Then, there's the Christmas at Disneyland Festival, in 1956 it was "Christmas from Around the Globe" and included…
Another year, there was a circus (not popular with the guests!)
Then for the next few years, Disneyland celebrated Christmas with a Parade of Toys (this was the debut of the toy soldiers, a couple of youtube videos here & here)…
Entertainment at various Disney Theme Parks around the World…
Christmas Trees! Disneyland was the last park to have live trees (1995), the current Disneyland Christmas Tree has 62,000 LED lights
Other seasonal things…
Castle Dream Lights around the World (not just Walt Disney World!)…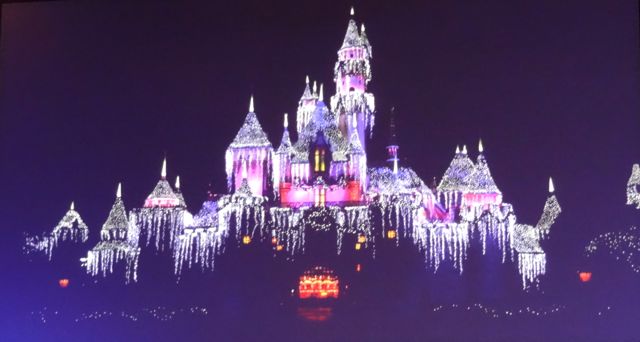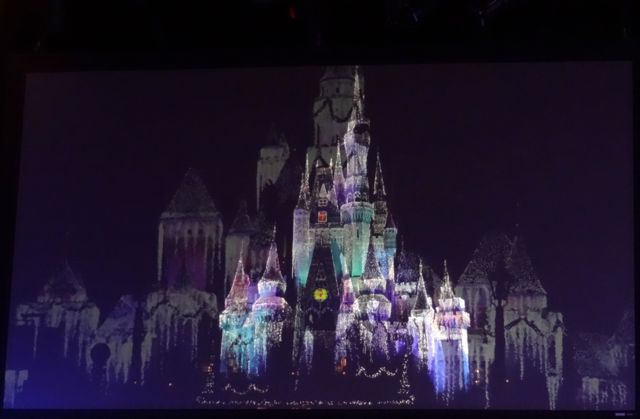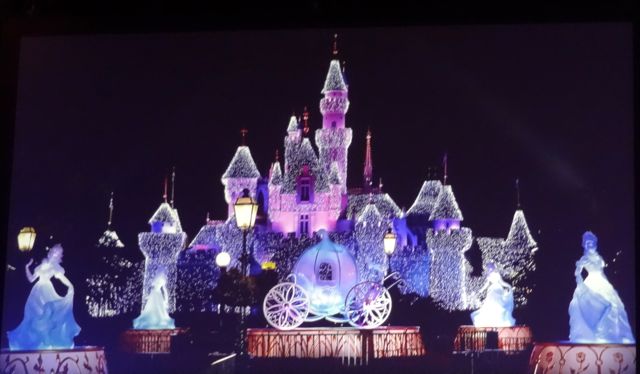 A few last photos of other "Disney" holiday things…
Shawn Slater, Communications Manager, Disney Creative Entertainment – "What's New for the Holidays"
Well, he couldn't really tell us much because then there'd be no surprise.
Disneyland Paris celebrates their 20th Anniversary in 2012, so they got all new decor and lights.
Disneyland Tokyo goes bananas for entertainment (98% of their guests are from the Greater Tokyo area – they change things up every 3 years because they're a much more local theme park). They have live entertainment throughout the day, and do a lot of repurposing of set pieces and costumes
Hong Kong Disneyland does a sparkling Christmas – new costumes, new tree with changing LED lights, "Christmas Illumination" is a traditional processional to the tree; "Snow Time" is a traveling show that goes outside of Hong Kong (marketing)
Walt Disney World Magic Kingdom – parade during Mickey's Very Merry Christmas Party, entertainment on Main Street while waiting for the parade (they're called the Kringle Krew), and the castle gets a gingerbread overlay during one of the evening shows
Disney's Hollywood Studios – The Osborne Family Spectacle of Dancing Lights, Comedy Warehouse is back for a Holiday Special
Disneyland (California) – Candlelight Processional is 20 nights instead of 2, new fireworks "Believe in Holiday Magic!", they have glow with the show ears, Three Kings Day is a recognized and celebrated event, you meet Santa & Mrs Claus at the Jingle Jangle Jamboree
Disney's California Adventure – Cars Land has "Season's Speedings", the Santa at the Elias & Co Department Store has brown accessories in keeping with the 1920s
 Chef Deran Lanpher – Pastry Chef, Disney's Yacht and Beach Club Resort
10 years at Disney, has worked in nearly every bakery at Walt Disney World
getting ready for the holidays is a constant, ongoing process
the carousel horses at the Beach Club change every year, it takes 1.5 to 2 weeks per horse, they're made of modeling chocolate (production begins in May!!)
each resort has unique items
the gingerbread Mickey Head cookie is made from a European recipe, it's more savory & spicy than American gingerbread, not really all that popular thus…
added a sugar cookie in 2010, it was more popular than expected, can't keep up with demand
three new items – snowflake gingerbread cookie, chocolate dipped Oreo lollypops, gingerbread cupcakes (we tried one of these)
there's a scavenger hunt on day 2 of D23 Magic & Merriment, the #1 team gets a gingerbread house, #2 gets a gingerbread house kit, and #3 gets a stolen
Chef thinks that the stollen is the best of the three! A few details…

dried fruit soaked in Grand Marnier for at least a month
after baking, poked full of holes & submerged in butter seasoned with vanilla & sugar (they hold it down until it stops bubbling – isn't that the same thing as drowning?)
then it's rolled in granulated sugar, powdered sugar, and vanilla while still sopping from the flavored butter!
Greg Ehrbar – Writer, Disney's Yellow Shoes Creative Group – Marketing for the Theme Parks
Greg's passion is music, he's been with Disney for 27 years and says that Disney and Music are deeply entwined & you can't have one without the other. Two things that he told us stick out…
There was an album and book about a mouse orchestra that Disney Music produced – just couldn't sell it; the next year, Alvin and the Chipmunks came out, Walt wouldn't let the team forget that they failed at this!
When nora was small, her parents got her a portable record player and a lot of read-a-long storybooks (most of which were Disney) – Robie Lester was the story reader on the Disney albums for most of our youths.
He also did a lot of trivia questions and gave out DVDs, CDs, and other things.
That's it for the Archival Presentations during D23 Magic & Merriment! Time to go out into Epcot!