Oscar Prieto, Disney's Yacht & Beach Club Resorts
October 22, 2012

Wine: Kim Crawford, Kim Crawford Un-Oaked Chardonnay, New Zealand
Sarah Brewer
Today we were served the Kim Crawford Un-Oaked Chardonnay 2010 vintage. There are four Kim Crawford wines available at the New Zealand booth on World Showcase: Sauvignon Blanc, Pinot Noir, Pinot Grigio, and Un-Oaked Chardonnay. Kim and his wife, Erica, started the winery in 1996 in the Marlborough area of New Zealand. In 1998, they brought their first Sauvignon Blanc to the United States and in 2003 it was voted one of the best wines in the world in Wine Spectator. Kim Crawford Winery is a "virtual" winery, they don't own the vines/grapes. Marlborough has a maritime climate, meaning that the thin skinned grapes can spend a long time on the vine. The Un-Oaked Chardonnay was first brought to the US in 2001. Kim and Erica have really championed the un-oaked chardonnay, because it offers such a difference over the heavily oaked, buttery Chardonnays typically produced (did you know that 70% of the wine sold world wide comes from the Chardonnay grape). The heavily oaked Chardonnays are okay for drinking alone, if you like oaky wine, but they really don't pair well with foods. This Un-Oaked Chardonnay has a shorter ripening time and a good acidity, making it nice for pairing with food; you always want a little more acidity in your wine than you have in the food you're pairing it with. And, the second fermentation brings a smooth quality to the wine.
Tasting Notes:
Nose: Sarah = pink grapefruit, butterscotch; nora = heavy minerality, don't really care for it; nick = one of the best aromas form a white wine yet, not really great
Taste: Sarah = white peaches, beautiful minerality; nora = eh, seems very sour without food, LOADS of mineral on my palate; nick = first white that I could drink
Interesting to observe that our tasting notes very so much.
Menu
Kataifi Wrapped Rosemary Seared Salmon, Yukon Sweet Potato Rosette, Pickled Red Onion and Tarragon Cucumber Slaw, and Fig Balsamic Drizzle
Chef Oscar grew up in Los Angeles, he began cooking at a health food restaurant. He started at WDW as a culinary student, he's been at Yacht and Beach Club Resort for one year. He says that the recipe looks complicated but it really isn't. (nora says… it looks complicated because it is! there are many errors in the recipe ingredient lists, there are errors in the methods.) Other notes:
Fig Balsamic Vinaigrette – to test it's thickness, pour onto a plate, pull a finger through it, if it takes 3-4 seconds to rejoin then the syrup is right; it will hold indefinitely in the refrigerator
Cooking Salmon – make sure your pan is smoking hot before adding dry fish; if you start seeing milky protein seeping out, you've overcooked the salmon, stop cooking immediately (note: the salmon we were served was so overcooked, that it was dry as dust, really epic fail)
Clearly not a practiced presenter
Dish was poorly plated, couldn't really see the different components – guess that you can't taste them separately either
Salmon was dry dry dry, too much rosemary
Potatoes were dry dry dry
Pickled onions were tolerably good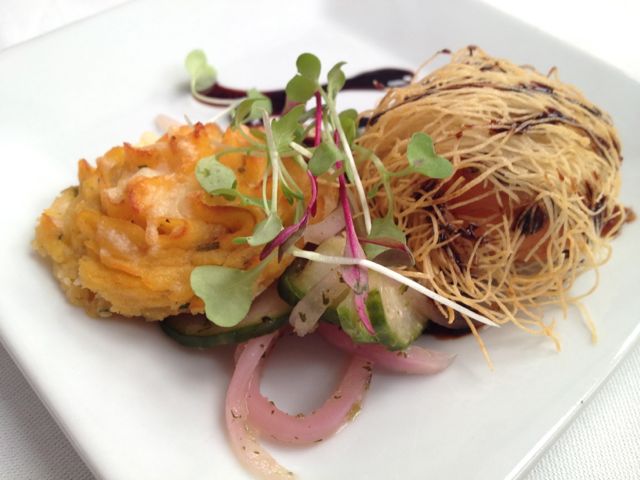 Servings 6
Yukon Sweet Potato Duchess Rosette
2 lbs Yukon potato, peeled and quartered
2 lbs sweet potato, peeled and quartered
1 tbs granulated garlic
1 tbs onion powder
1 egg [chef uses "easy eggs" in the restaurant (carton, pasteurized) – nick was surprised that fine dining wouldn't use real eggs, nora not so surprised – BTW, this ingredient was omitted from the recipe]
kosher salt, to taste
water
10 oz Kerrygold Dubliner Irish cheese
5 oz shredded parmesan cheese, plus additional for garnish
1/4 oz fresh chives, minced
1 c heavy cream or milk
1 stick unsalted butter
white pepper to taste
plastic pastry bag or metal ring mold
Place potatoes, garlic, onion powder, and salt into a large pot; cover with water. Bring to a boil and cook until soft.
Strain potatoes. Using a potato masher, mash potatoes, mixing in cheeses, chives, butter, and heavy cream or milk. Add salt and white pepper to taste. [someone asked why white pepper… because it doesn't show as much in the potatoes as black pepper]
Put potato in pastry bag and pipe a rosette of potato (or pipe into a metal ring mold) on a buttered sheet pan. Garnish with parmesan.
Bake at 365 degrees F until cheese is golden brown.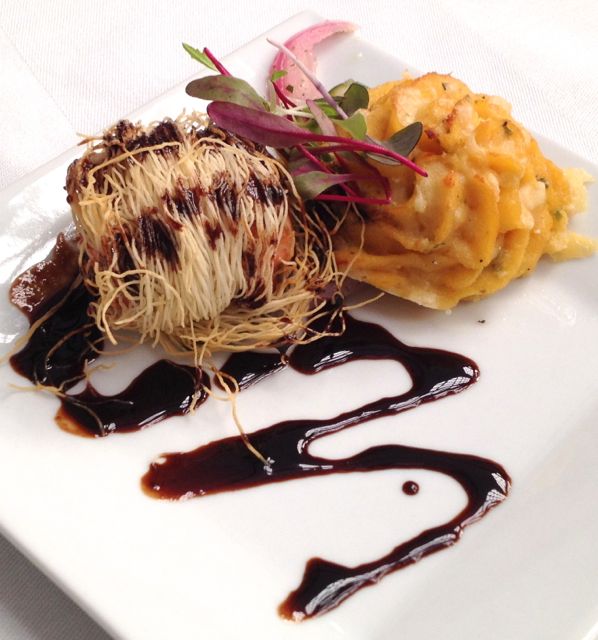 Fig Balsamic Reduction
1 qt dark Balsamic vinegar
3 c dry Mission Figs
In a sauce pot, place the vinegar and figs, and cook until thick syrup consistency
Chill and use at room temperature to finish the dish
Kataifi Wrapped Rosemary Seared Salmon
6 (5-oz) Salmon, no skin
1 box phyllo pastry, actually kataifi phyllo pastry (its phyllo strands)
3 sprigs fresh rosemary
unsalted butter
Place portioned salmon in a bowl
Add rosemary, garlic, black pepper, and olive oil. Marinate for 1 hour (up to 2 hours).
Sear salmon in a saute pan until half cooked.
Cut phyllo into thin strings (or use kataifi) and wrap around the middle of salmon fillets (leave ends exposed).
Cut butter into medium sized squares, place 2-3 pieces on top of salmon; hold until ready to cook.
Cook in preheated 375 degrees F oven for 15-20 minutes. Place with potatoes and slaw; and finish plate with Fig Balsamic Reduction.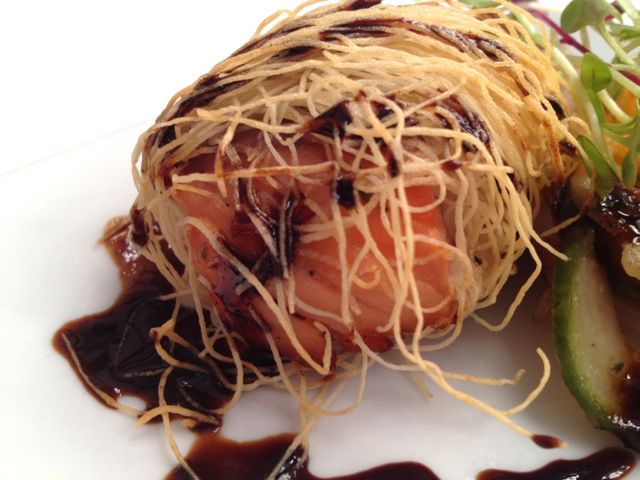 Red Onion Cucumber Tarragon Slaw
Pickled Onions (recipe follows)
2 cucumbers, cut lengthwise and seeded, then cut into half moons
3 sprigs of fresh tarragon, lightly chopped
1/2 c extra virgin olive oil
1/4 c white balsamic vinegar
1 small box mixed micro greens
salt, to taste
black pepper, to taste
In a mixing bowl, put the onions, cucumbers, tarragon, olive oil, and vinegar.
Let slaw sit for 20 minutes, for flavor to absorb. Leave at room temperature.
Season the slaw with salt and pepper to taste.
Pickled Onions [onions will keep indefinitely in a sealed container in the refrigerator]
1 c distilled white balsamic vinegar
1 c water
1 c sugar
2 tsp kosher salt
1 red onion, sliced
Heat vinegar, water, sugar, and salt in a small pot over high heat, whisking until sugar is dissolved.
Bring to a boil and the pour over onions. Press onions down until submerged. Allow to sit until onions are softened and liquid has cooled, about 25 minutes.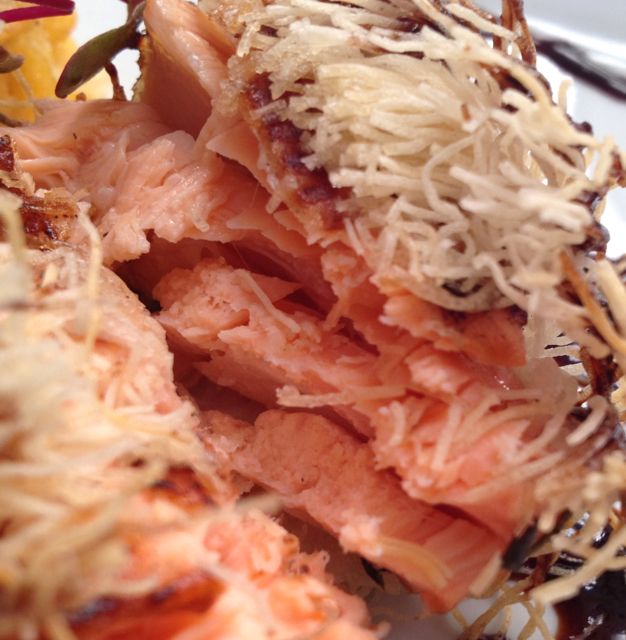 Tasting Notes:
As said before, the salmon and the potatoes were dry dry dry
nick says that the wine doesn't go with anything on the plate
nora says this is the worst plate we've seen this year – so sad – and the pairing was just pitiful
The wine paired best with the slaw, but that isn't saying much
lastly, the questions from the audience demonstrated not only a lack of cooking knowledge (as if they'd never seen an episode of "Good Eats" or "diners, drive ins, and dives"; forget any food television that is more sophisticated) but a general lack of FOOD knowledge