Judith McLaughlin, The Shamrock and Peach, Atlanta, Georgia
Presented by Kerrygold Irish Butter and Cheese
October 21, 2012

Wine: Banfi Vintners, Italy – Rosa Regale
Pam Smith (host) was also the wine presenter today. The Rosa Regale is a semi-dry, red sparkling wine made with 100% Brachetto grapes (Rosa Regale here). When we smell it, should have notes of rose, strawberry, and cranberry.
Our tasting notes: nose = berry with a little tartness, taste = very sweet, fruitiness, only a little tartness on finish (without food).
Menu
Cashel Blue and Dubliner Kerrygold Irish Cheese Soufflés with Organic Mixed Greens and Warm Bacon Vinaigrette
Judith McLaughlin, our chef for today's demonstration, is an author and a caterer near Atlanta Georgia. The name of her business, "The Shamrock and Peach," reflects the melding of Ireland (her homeland) and Georgia (her new home). The cookbook reflects the melding of Scots-Irish influence in the South and newer cuisine influences. She was very entertaining during the demo (might have been the glass of wine she "tested" before the presentation – smiles) and shared a few jokes with us in addition to teaching us about Ireland and Irish food – especially Kerrygold products (of course).
"I like to cook with wine and whiskey, and sometimes it even goes into the food" — a riff on an old WC Fields quote
Judith was joined by a second chef, Sharon (also from Georgia and thus a Georgia Peach); her specialty is gluten-free cooking and other than acting as a foil or an on-stage director helping Judith, it wasn't clear what her role was.
 Recipes: Serves 6
Soufflés [cheese soufflés are really easy! and they can be prepared up to a point and held for one or two days until you're ready to serve them]
1 c (8 oz) whole milk
small piece of onion
6 whole pink peppercorns
sprig of thyme
1 bay leaf
3 tbs (1.5 oz) Kerrygold butter (plus more to grease ramekins) ["it's beautiful deep buttery yellow color because the leprechauns have blessed it" … actually, the color comes from the deep green grass that the cows eat]
6 tbs (3 0z) all purpose flour
4 oz grated Vintage Irish Kerrygold cheddar cheese [the "vintage" cheese has been aged one to two years]
4 eggs, separated
2 oz crumbled Kerrygold Cashel Blue cheese
3/4 c heavy whipping cream
Organic Mixed Greens with Warm Bacon Vinaigrette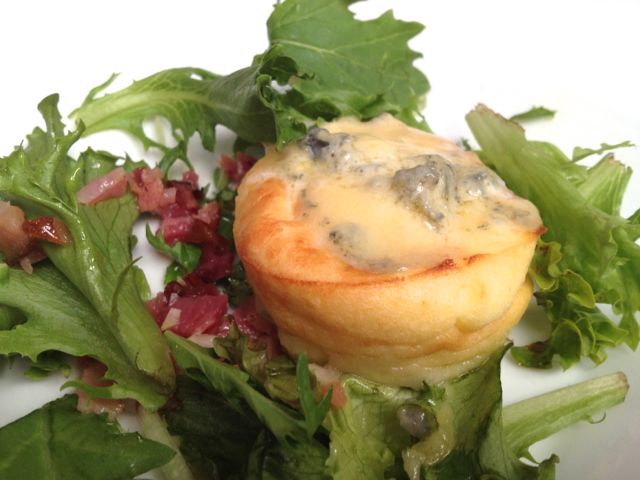 Preheat oven to 350 degrees F. Butter 6 ramekin dishes and prepare baking pan for bain-marie (pan must be at least 2 inches deep)
Warm milk, onion, peppercorns, thyme, and bay leaf in medium saucepan; infuse for 10 minutes. [You're gently infusing the milk so that the cheese won't be overpowered by the aromatics]
Strain liquid into a small bowl and discard everything else
Prepare béchamel sauce by melting butter in clean heavy based saucepan. Add flour and cook for 1-2 minutes, until it becomes a glossy, smooth paste (be careful not to brown) [Judith told a story about learning to make béchamel sauce as a child with her mother and grandmother]
Whisk in warm infused milk a little at a time, stirring until sauce thickens and comes to a gentle boil. Cook for 2 more minutes and remove from heat. Stir in Kerrygold cheddar cheese and then beat in the egg yolks, one at a time. [hint: separate the eggs when they're cold, let them come up to room temperature before using them]
Beat egg whites in heavy duty mixer until foamy. To lighten soufflés, stir in a little of the egg white mixture and then fold in the remaining using a large metal spoon. [don't overbeat the egg whites, they'll break – just want them foamy]
Fill buttered ramekin dishes, and place in a baking pan; fill pan with boiling water from kettle at least 1/2 inch deep. Bake for 20 minutes and then transfer to a cooling rack to cool slightly. [Baking time is totally dependent on the size of the baking dish that you use, these can be made in larger dishes of course.]
Turn out each soufflé upside down into a large buttered baking dish. Cover and refrigerate for up to 2 days.
To reheat souffles, bring to room temperature. Preheat oven to 375 degrees F.
Sprinkle blue cheese on top of each one and bake for 20 minutes until browned and puffed up. Spoon cream over soufflés and bake for an additional 5 minutes. [She put the blue cheese and the cream on them at the same time during the demonstration.]
Serve immediately with Organic Mixed Green and Warm Bacon Vinaigrette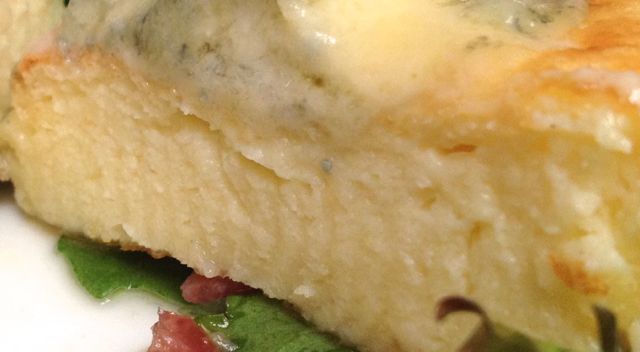 Organic Mixed Greens with Warm Bacon Vinaigrette
1 tbs vegetable oil
5 slices uncured apple smoked bacon [why apple smoked bacon? because bacon makes everything good and Judith likes apple smoked bacon]
3 garlic cloves finely chopped
1/4 c white balsamic vinegar
1 tsp Dijon mustard
1 tsp sugar
freshly ground black pepper
1/2 c olive oil
5 c (2.5 oz) organic spring mixed greens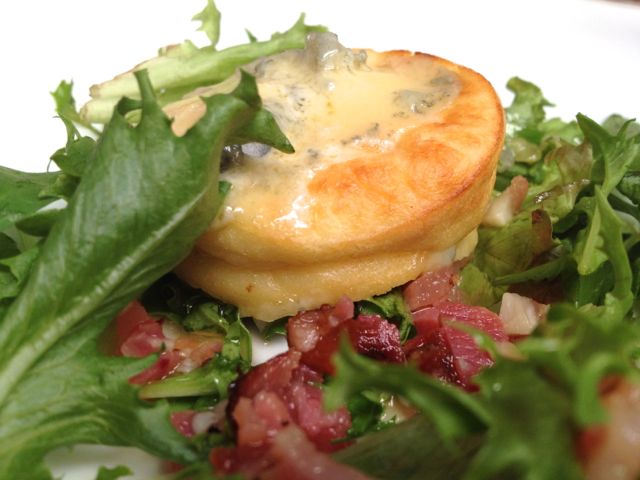 Heat vegetable oil in skillet and crisp bacon
Remove bacon from pan and set on plate lined with paper towel. Drain fat from skillet, leaving 1 tbs for flavor [while we all love bacon and bacon fat, she removes most of it to make it "healthier"]
Add chopped garlic and cook for 1 minute to soften, but do not brown
Remove from heat and add vinegar, gently shaking the pan to mix
Mix in mustard and sugar using a whisk. Add ground black pepper
Gently whisk in olive oil over low heat
Chop bacon into small pieces
To serve, place greens on plate, sprinkle with bacon and drizzle with warm dressing. Serve right away and enjoy!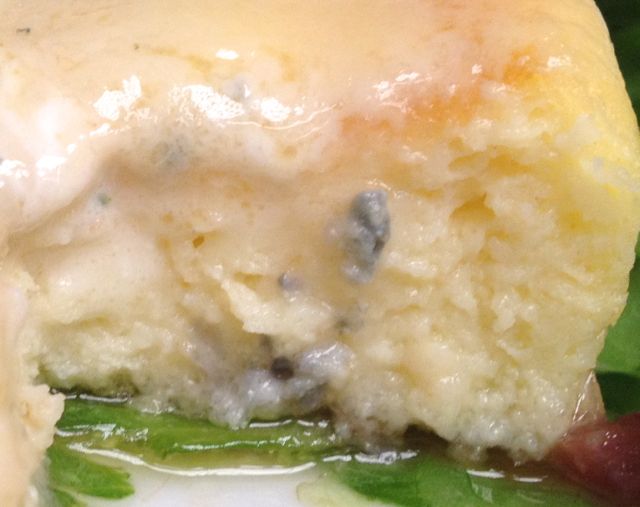 Tasting Notes:
The wine was pretty interesting on its own, although quite sweet. The pairing wasn't "bad" but we felt that a Riesling would have been a better pairing than a sweet pink sparkling wine.