Today we went on the Disney's Yuletide Fantasy Tour (official description below), our overall experience closely matches what has been reported on allearsnet.com (here).
Take a delightful journey behind the scenes to see how Walt Disney World Resort is transformed into an international holiday wonderland. Get an in-depth look into the diverse holiday traditions and the stunningly beautiful array of decorations that add a special touch everywhere you turn.

Every winter, Walt Disney World Resort is adorned with one of the most impressive collections of holiday trimmings on earth. Be taken backstage, to places seldom seen by Guests. Visit Holiday Services, a veritable winter wonderland, and meet the Cast Members who create thousands of decorations used to dress up Disney Theme Parks and Resorts.

Explore Epcot theme park, where the profusion of holiday celebrations spans the globe from pavilion to pavilion. Go from Christmasfest in Germany, to Italy for the legend of La Befana. Take in Hanukkah and Kwanzaa at The American Adventure and the New Year festival, O-Shogatsu, in Japan.

On Main Street, U.S.A. in Magic Kingdom theme park, get an up-close look at the boughs and bells of the traditional Christmas decorations. And before you leave the tour, visit a Disney Resort hotel, cleverly dressed up in holiday finery.

Guests must be at least 16 years old and carry government-issued photo identification. Yuletide Fantasy is offered seasonally from November 30th to December 30th, excluding Christmas Day. Theme park admission not required.

Duration 3-3.5 hours. $84 per person.
That said, Nora took copious notes & we're happy to share what we did and our overall impressions with you.
SPOILERS BELOW
Our Review of 2010 Disney's Yuletide Fantasy Tour
As with all of the Backstage Tours we've done or have even heard of – we met the other tour guests and our guides at Epcot (outside the entrance stiles, but within the security bag check area – over to the right hand-side where Guest Services has a window). There were 17 to 18 people on the tour (it seemed to change as the tour went on), we had two tour guides: Bryan and James, and there was a nice young lady from the Disney Institute helping with the check-in process (Jessica). Bryan has been a Cast Member for 13 years and James (who LOVES the more strange and eccentric aspects of the holiday season) has been a Cast Member for 18 years (he started as a gangster in the Great Movie Ride at Disney's Hollywood Studios).
It was clear before we started on our tour that the focus would be more on the traditions of the season than on Walt Disney World itself (a bit of a disappointment, but one that we were expecting after reading the reviews this morning; not what we had expected after simply reading descriptions of the tour – alas and alack, this has proved to be the case in 2 of the 3 backstage tours we've taken thus far). The traditions surrounding our celebrations of the season in the United States go back over 2000 years, and on this 3 to 3.5 hour tour we were going to learn about those and how it all mashes together and what Disney World does to help create new traditions.
As soon as we were all seated and kitted out with our "communicators," James began by explaining that humans have been celebrating winter solstice since before recorded time. One of the oldest traditions is that of the "yule log" and that's where we get the term YULETIDE from. The only yule log Nora has any acquaintance with is the chocolate roll kind – jelly roll cake filled with cream, covered in chocolate frosting… yum yum…
Our first stop backstage was at the Germany Pavilion at Epcot World Showcase – a lot of US traditions surrounding Christmas come from German immigrants and from Prince Albert (Bertie, married to Queen Victoria; he was German – actually, Victoria was as much German as she was English in terms of bloodline). Queen Victoria and the Prince Consort Albert created traditions for their family and these were in turn copied by both English and American families (more on that later).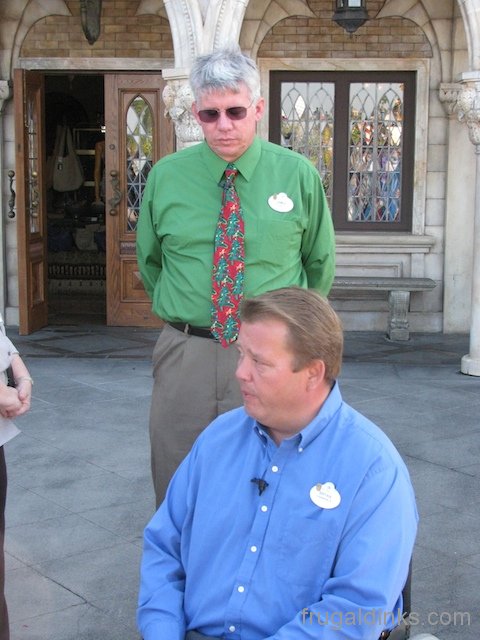 Christmas trees originated as Paradise Trees in German churches – in time, the custom of Christmas pageants inside the churches including a tree were discarded and the trees moved into homes – becoming more what we would recognize as Christmas trees. These were originally decorated with candles, fruits, nuts, berries, and small presents. The tour guides told us about the "german pickle ornament" – a tale that we're acquainted with, also a tale that we knew wasn't really related to a German tradition although you can purchase pickle ornaments in the Germany Pavilion at Epcot. The story of the Lauscha origin of glass Christmas ornaments was more interesting…
We left Germany for Italy and the tour guides told us about the popular Christmas carol "Silent Night" (originally composed for the guitar as the church didn't have an organ) as we passed by the miniature train…
Side note: the miniature train found in Germany at Epcot was originally put up in 1994 for the Flower & Garden Festival, when the festival ended and it was taken down, the guests complained quite a bit and Disney put it back up… it's now decorated for various events, currently, it's all dudded up for Christmas!
Next stop… Italy. The traditions in Italy are more religious than those found in Germany (more religious than celebratory). The centerpiece of the holiday season is likely to be a creche (a.k.a. nativity scene). Gift day is likely to be on January 6th for the Epiphany rather than December 25th (afterall, the wise men arrived with gifts for the Christ child on January 6th, not the day he was born). Actually, the date that we celebrate Christmas, December 25th, coincides with Saturnalia rather than any historical evidence that Christ was born in late December (and the date falls in line with pre-existing traditions regarding the winter solstice) and was decreed to be Christmas Day by Pope Julius I. In Italy, the season is celebrated from Novena to Epiphany. Also, rather than Santa Claus, the gift-giver is La Befana… much like Santa Claus, good children receive gifts and bad children receive coal or ashes.
Our next stop was America… This pavilion is decorated in the style of Colonial America (mid 1700's). So what is the discontinuity seen every holiday season at the America Pavilion at Epcot? The Christmas Tree. You didn't really see Christmas trees in America until the 1830's (first in Pennsylvania). We also learned that Alabama was the first state to ratify Christmas as an official holiday! (Roll Tide! Go Big Al!) We spent some time at the Hanukkah exhibit and the Kwanzaa exhibit within the America Pavilion. Kwanzaa is the only original American winter solstice sort of holiday.
Last stop in Epcot's World Showcase was Japan… Less than 10% of Japan's residents are Christian, their Christmas Day is more of a day of love (sort of like our Valentine's Day I guess). It can be love of family, love of another, whatever. There may be some gift giving, but not a lot. Decorating is becoming more popular. The major holiday is Oshogatsu. This is a celebration of cleaning – physically and spiritually; broom straw is fashioned into shimenawa.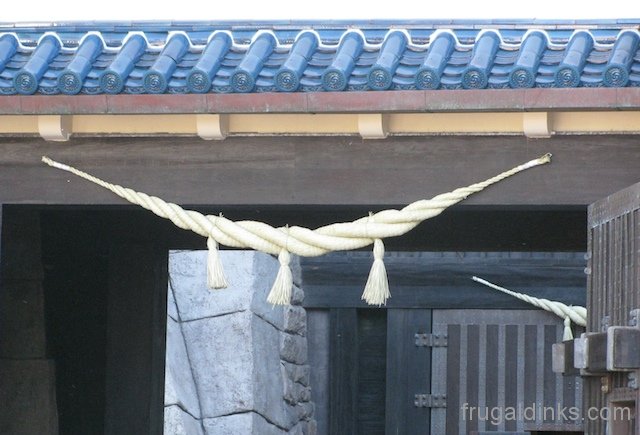 This year there is a shimenawa hanging over the entrance to the museum area – the shimenawa is thought to protect the home or shrine from dirt/bacteria/viruses (unclean things), in recent decades some young people hang shimenawa around or on their computers for protection. There is a gift giver associated with Oshogatsu, he may bring gifts including blessing in your life (like children :O). We were also told about Daruma (previously seen with the holiday storyteller).
As we were leaving Epcot World Showcase through Morocco's backstage, Nora noticed two signs that made her want to giggle. The first said "Animal Comfort Area" (hunh? cast members bring their dogs to work and walk them back here?) and the second said "Pain Department" (it clearly mean "paint" department, but some wise butt had decided to paint out the "t").

Nick later explained to Nora that the "Animal Comfort Area" is likely for the service animals we occasionally see at the theme parks – after all, it wouldn't do for them to have to do their business on-stage in the parks.
Back on the bus as we headed to Magic Kingdom. This time we learned about Mistletoe and the Legend of the Mistletoe from Nordic Fables (here and here). Some of the mistletoe "lore" we knew already, the number of kisses allowed under a sprig of mistletoe is determined by the number of berries (one kiss = one berry), if you're caught under the mistletoe you have to forfeit a kiss…
So, if as a group of people Americans come from all sorts of cultural backgrounds, why is there so much similarity in our holiday traditions (Nora guessed the media)? As we headed to the Grand Floridian, our guide explained that much of what "looks like and acts like" Christmas in contemporary America actually has it roots in Victorian traditions (yep, back to Victoria and Albert). Because of those two, Christmas became a time of year to spoil children, put up trees, get overly lavish with decorations, etc… We had 20 minutes to explore the Grand Floridian on our own. When we got off the bus and entered, female cast members were at the entrance offering guests roasted chestnuts (they were okay in flavor, weird in texture, and a bit too much work for the eating). We finally got some fun & geeky facts at the Grand Floridian – the tree is 40 feet tall, it has 45,000 LED lights (later disputed by Nick & another man on our tour). With the change over to LED lights, the entire tree can be plugged into a regular outlet (in the floor) whereas before, the lights required a lot of cabling & the Grand's lobby was "broken in two" by the need to cover the cables with a planter. It takes 6.5 hours to put up the GF tree (that's because it's only "stood up", it's actually decorated and constructed elsewhere).
Our second, and last, theme park was the Magic Kingdom. For more info on what we discussed, check out della robbia decorations (here and here) and currier & ives decorations; these are the two styles seen on Main Street USA inside the Magic Kingdom.
When we went over to the Magic Kingdom last week, Nick remarked that the decorations seemed "not right" or "less than I remember"… turns out he was right (well, he's always right but nora's perfect)… The problem or the difference is the filming of the Christmas Parade for broadcast on Christmas Day here in the US…

1. The Christmas Tree at the Magic Kingdom goes up AFTER they've finished filming for the broadcast because the dais where the announcers sit is exactly where the tree goes.

2. The garland strung over Main Street is put up in November and then taken down for the filming, it goes back up when the tree is installed.

So… these two huge elements weren't in place when we visited the Magic Kingdom last week, but they go up tonight.
The Magic Kingdom Christmas Tree is like the other large trees seen at Disney World, it's like a huge layer cake. You can tell where the layers are by looking for the garland around the tree, it masks the seam between the layers. This particular tree has six layers. Until 1996, Disney World used real trees – well they were real in the sense that they weren't artificial, but they were engineered to make them look the way Disney needed them to look. So much reconstruction took place that they had to go to landfills instead of being used as natural compost somewhere. Now, since 1996, Disney World uses artificial trees; one tree can be used for five years (typically).
It takes 200,000 LEDs to light up Cinderella Castle, the amount of energy the lights use is less than what it takes to power three regular household laundry dryers. It takes 6 weeks and a crane to get the Castle ready. There are 18 miles of cable, 40,000 feet of netting, and one fairy godmother required to pull it all off. (It was the 200,000 lights for the Castle vs 45,000 lights for the Grand Floridian Christmas tree that caused a lot of discussion and consternation – the Castle really seems to have WAY more than 4.x times the lights of the Christmas tree at the Grand Floridian).
Side note: When Disneyland opened in 1955, they hadn't planned ahead or budgeted for Christmas decorations. So that first Christmas at Disneyland, they decorated a small tree next to their castle and put a wreath up on the train station. Wow… they've come a LONG way since then!
Back on the bus again, this time we were headed for the backstage area, Holiday Services, where all of the beautiful magic is created & stored (funny, you do the tour during the holiday season and this particular area is basically empty). While on the bus, the guides told us the story of the Candy Cane (history and snopes) – interestingly, you can get handmade Candy Canes at Disneyland; but you'd better plan it if you want one! They're made 3x per day during December and they are sold out VERY quickly.
Last Stop = Holiday Services
store and create approximately 1300 wreaths and 1300 trees
the decorations for Aulani (the new Disney Vacation Club resort in Hawaii) are already being made and stored for their first Christmas
there are 25 year-round full-time Cast Members at Holiday Services, augmented by 30 part-time CMs for installation
Disney resorts, theme parks, and cruise ships are actually clients of Holiday Services

as such, they work with Holiday Services (typically every 5 years), based on their budgets and needs, to redesign or change their holiday displays
Magic Kingdom rarely makes significant changes because guest are very sure about what they want to see at MK – the same thing year after year
each operating area has their own budgets and schedules

the actual installation is handled by some group other than Holiday Services

could be Decorating Support – Castle Lights, parades, etc
could be Special Events – Osborne Spectacle of Dancing Lights

interesting tid bits

the glass balls aren't always glass – a lot of them are plastic that looks like glass
the little metal caps on the balls are hot-glued in place after they arrive at Disney World
instead of those darned little hooks, the balls are placed on the arrangements and trees using floral wire – thus, they aren't likely to fall off (and Nora says they aren't likely to be pinched by guests wanting to take something authentic home with them)
each location has it's own theme (okay, that was obvious)
lights and balls are pretty generic

ribbon that's readily available is pretty generic
Disney World makes their own ribbon to suit the themes using fabric and some fancy-dancy machine that creates double wired ribbon for use in the displays

this year, the largest wreath is the huge Mickey head on the Contemporary, it's approximately 6 stories tall
the ornaments that we love to see, the huge balls on top of the golf tees at the golf courses, are stored suspended from the ceiling in huge nets (the spare was still there & we got to see it)
it takes 150 semi trailers to get the decorations "on-stage"

semi-trucks stage these trailers around property – we've seen them at the airstrip on property & we've seen them in the furtherest Epcot parking lot (where they do support stuff for the Marathon) in recent weeks, didn't know what we were seeing until the tour
Final thoughts: while we enjoyed this tour, I don't know that we'd do it again. The guides were much better than on our other backstage tour, but as we said earlier, the preview materials don't really paint an accurate picture of the tour contents. We both had expected to get more nitty-gritty numerical facts about the holiday decorations at Disney World and more design information about what we see. This doesn't detract from our enjoyment of the holiday decorations at Disney World! Nora quit decorating years ago because Disney does such a great job that she figures "why bother?" We understand the need to have the Disney Institute do the tours. We understand that Cast Members can't just stop their day-to-day jobs to make the tours more alive and real-time for guests. We understand that we're probably uber-knowledgeable about Disney World and it's workings. All of that taken into consideration, it would be lovely if one or two things could happen — hire actors to portray real CMs doing their mundane but oh so important jobs and/or change the way that the descriptions of tours are written… right now, the descriptions don't really match the reality.
Okay, tomorrow we have another holiday tour. Will let you know what we think!