In addition to the Yuletide Fantasy Tour (backstage, review here), we went on the Holiday D-Lights Tour. This is a "new" tour, offered for the first time in 2009… as such, we weren't at all sure of what would be happening or if we would enjoy it a little bit or a whole lot. We had looked at a review on allears.net (here) from DizneyMike and that made us even more unsure, but also more hopeful that the Disney Institute had taken the interim to improve on the 2009 offering. We'll start our review with Disney World's official description…
Get an exclusive look into the many ways Walt Disney World Resort is turned into a sparkling wonderland on a special tour that celebrates the magic of the holidays.

Accompanied by a holiday host,

Visit Epcot theme park and unwrap some of the secrets behind time-honored Disney traditions
Become inspired by the Candlelight Processional, a retelling of the Christmas story brought to life by a 50-piece live orchestra, choir and celebrity narrator.
Travel to Magic Kingdom theme park, where Main Street, U.S.A. is decked with holiday trimmings.
Behold the majesty of Cinderella Castle, which becomes a crystalline ice palace.
Stroll through the Osborne Family Spectacle of Dancing Lights and be dazzled by the millions of twinkling lights choreographed to the music of the season.
Meet the Event & Decorating Support teams who plan and produce thousands of grand-scale signature events each year.
Enjoy a light, holiday buffet.

Reservations are now available for the 2010 Holiday D-Lights Tour. Get a behind-the-scenes look at how the Walt Disney World Resort is transformed in to a sparkling wonderland! Guests must be at least 16 years old and carry government-issued photo identification. This tour is offered seasonally. 2010 Dates: November 29 & 30, December 1, 6, 7, 8, 13, 14 & 15. Theme park admission is not required. Duration 4.5-5 hours. $199 per person.
WARNING
SPOILERS BELOW
IF YOU DON'T WANT TO KNOW DETAILS ABOUT THIS TOUR, STOP READING…
As with all Backstage Tours currently, we met inside Security check but outside of Epcot's entrance gates. The basics: you have to present your photo id, you're given some sort of identifier (name badge & wrist bands), you're checked in, you're told that if you see babies and strollers you can take photos otherwise keep the cameras holstered, and you're given an opportunity to visit the restrooms before boarding the bus. There was quite a crowd of guests… A whole dang bus full of people (literally nearly every seat on a full sized tour bus was taken), including 3 parties needing wheelchairs or ECVs and 1 party needing an American Sign Language translator.
Cast Members: Jeff, Monica, and Mark
Bus Driver: Danny
Jeff started with an excellent introduction to what we would be doing that evening & in what order. He stressed that we'd need to stay on the ball and hustle at some points in order to be able to see all of the things on the schedule. He asked that the guests on the driver's side of the bus stay with Monica when we got off the bus and the "passenger side" of the bus would stay with him.
Schedule:
Epcot – Candlelight Processional with Susan Lucci
Magic Kingdom – Cinderella Castle Dream Lights
Disney's Hollywood Studios – The Osborne Spectacle of Dancing Lights and food
Backstage – Event & Decorating Support (Patrick was staying late to show us around and answer our questions)
Jeff has been a Cast Member for 6 years, he spent some of that time at DVC Hilton Head (he joked at one point that due to the generosity of DVC members, he didn't need to buy laundry detergent or pool things the whole time he was at DVC-HH). He was an excellent tour guide, for a change, he seemed to know stuff about Disney World OUTSIDE of the scripted tour and the theme parks. Very nice and enthusiastic about being our tour guide.
Mark was pretty much tagging along – he had lost his voice recently and wasn't really able to speak loud enough to guide the tour. We had chatted with him a bit before the tour, Mark works at Disney World and at Disneyland. We had a few chances to speak with him when off the bus – very nice, polite and engaging – just what you'd expect (but may not get) from a Disney guide.
Monica has been with Disney Institute for 4 years. Originally from Atlanta and Jacksonville, she joked that she's a "florida peach". Again, very nice, polite, engaging, and downright funny at times. By the end of the evening we felt like we'd hit the jackpot to have her as our guide… did we mention that she was unflappable? (we'll explain more later).
Epcot – Candlelight Processional
On the way over to Candlelight Processional, Monica told us the history of CP – did you know that it's the oldest Christmas/Holiday event for the Disney Parks? Candlelight Processional began in 1958 (because Walt wanted it) as the Dickens Carolers at Disneyland.
Candlelight Processisonal (CP) began in Disneyland, originally a procession from Sleeping Beauty Castle down Main Street.
The Candlelight Processional at Walt Disney World was first performed in December of 1971 (the first Christmas Season at WDW), at that point, the processional was performed by onstage Performance CMs.
In 1973, the Cast Member Choir was formed to perform during CP.
The Candlelight Processional was performed at Magic Kingdom until 1993, that year it moved to Epcot and the American Garden Theater.
Monica was very excited because she had a Cast Member Choir spot in the Candlelight Processional and would be performing on December 18th; her first time to view the CP was in 2009. In order to be a CM in the CP, you used to go to a specific location at WDW, stand in line, and then sign up. Nowadays, CMs get on the intranet the first Monday of August at 8:00 to sign up. There are 300 spaces for each section, or in other words, slots for 1200 Cast Members. Monica got in at 8:00 on the dot and by 8:02 all of the alto slots were filled! Fun Facts: – in 4.5 hours all 4 sections for the CM Choir were filled for 2010 – CMs really WANT to perform in the CP, even DVC CMs in Hilton Head and Vero Beach go online for slots – the CP performance uses LOTS of choir robes per performance (250 CM robes, 500 guest robes, lots of choir collars including a puppy/doggy collar made especially for 2010 – there was one guest choir from the UK in 2010 – there are over 400 people onstage for each performance (that's over 1000 people/night) – the music is performed in 5 languages
We were driven to backstage Epcot and dismounted the bus behind the America Pavilion. We went directly on-stage and were seated at the back left of the American Theater area. My notes don't say it BUT IT WAS COLD! Nick and I had thought that CP was going to be the LAST thing on our schedule, based on reviews from 2009, and we thought we'd just "skip out" of the performance (honestly, it's not one of our favorites or must-dos at WDW during the holidays) – so, we hadn't planned to sit still for an extended period of time in the cold and in the wind – BRRRR to the nth degree. We had knitted headbands for our ears, gloves for our hands, and were wearing our coats – but honestly, when it's cold and windy, there's no way to be comfortable, much less warm, sitting on metal benches in the wind. The stores in the immediate area sold out of knitted caps, souvenir blankets, and beach towels!
The speaker was Susan Lucci from All My Children (she wouldn't have been our top choice if we had made specific plans to see the CP, although she was more enjoyable than John O'Hurley who we've seen the other 2x we attended). Nick was able to get some photos. Oh! For those who don't know the CP is a performance of choirs and soloists (from Voices of Liberty), an orchestra, and a speaker who tells the Christmas Story (nope, not the one with the Red Rider BB Gun, the one about Mary & Joseph & Baby Jesus).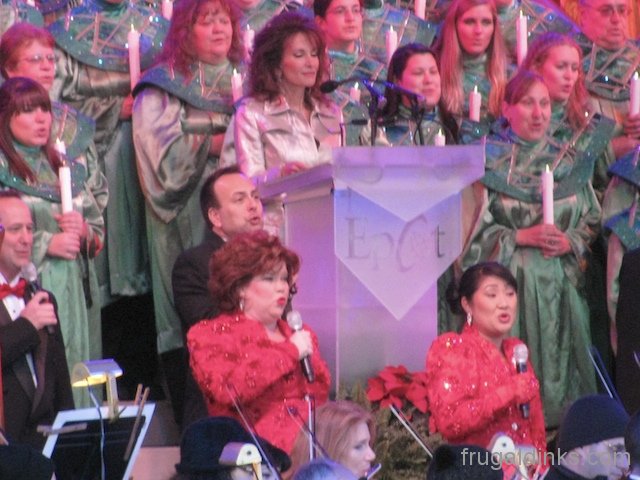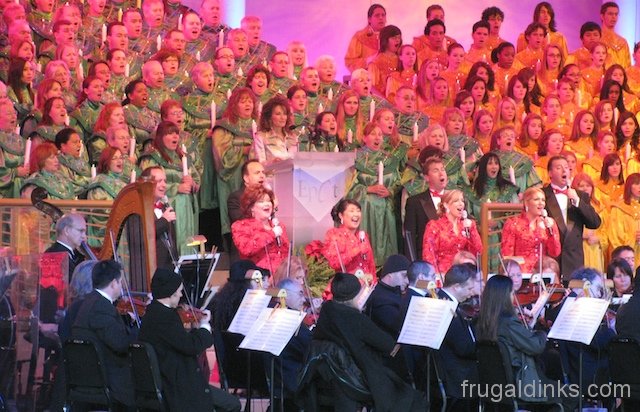 As Candlelight Processional was ending, we were quickly herded from the theater and offstage down the side of the American Adventure (same as how we came in) and onto the bus – had to hustle to get over to Magic Kingdom for Cinderella Dream Lights!
Magic Kingdom – Cinderella Dream Lights
While back on the packed bus, really should have split this group in two – it was huge! and unwieldy most of the time! especially with 3 scooters… anyway, while on the bus, we were given the history of both the "castle dream lights" (as its known on the internet) and on Christmas/Holiday displays at Magic Kingdom.
The Castle Dream Lights originated in Disneyland Paris at Sleeping Beauty Castle, this castle is close to the same size as the Disneyland Sleeping Beauty Castle
WDW Magic Kingdom has the largest castle, Cinderella Castle, of all five MK theme parks – Ours is the biggest 🙂
Because the Cinderella Castle is larger and different, there were some logistical concerns with "doing it up for the holidays"

when to install the lights? – presently, the lights are installed beginning in August and through October
what kind of lights? – WDW MK uses LED lights with dimmers and strobe effects, we seem to remember that because of new lighting technology it takes about as much energy to light the dream lights as it does to run a home-sized laundry dryer
how many lights? – over 200,000 lights are laid on the Castle, there are 400,000 square feet of netting painted to match the tans and blues and creams and greys of the Castle

The first year, 2007, no one really knew WHAT Walt Disney World was getting

the large crane over the Castle puzzled Cast Members (some were probably hoping it wasn't another CakeCastle!)
the design and the "what" were a surprise to everyone up to the Rehearsal
CMs were awestruck and taking photos like crazy (that's apparently a no-no during these live reversals, don't want the photos out on the internet before Disney is ready to release them)

The lights completely encircle Cinderella Castle
Other interesting facts about winter holidays at Magic Kingdom
The big icon tree for Magic Kingdom isn't installed until after the Christmas Parade is filmed

that huge artificial tree is actually brought to MK in big pieces and assembled in chunks (definitely not a branch at a time and decorated like you'd do at home)
when the tree is installed, it's now CHRISTMAS at Magic Kingdom
the star on top is 3 feet in diameter
it takes over 300 ft of popcorn to garland the tree
there are 500 LEDs that look like old-fashioned Christmas tree lights
surrounded by presents & candy canes & toy soldiers (well, that seems to be what the notes say)

The holiday displays use over 100,000 poinsettias around WDW property – not really a MK fact, but we'll stick with it here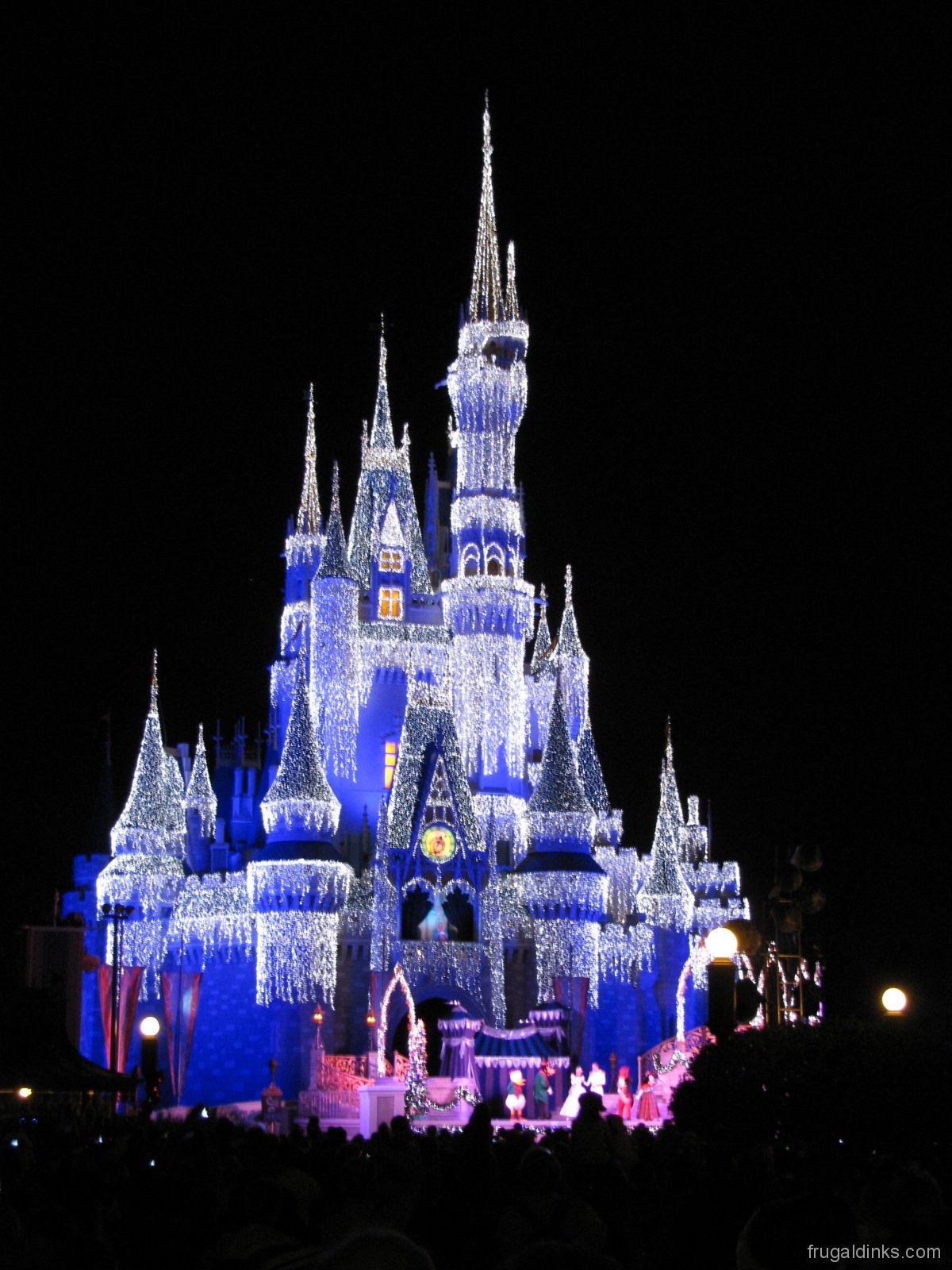 Now, for some odd reason, we entered and exited Magic Kingdom via a CM entrance near L'Chapeau AND we were trying to get up to the Plaza area to watch the tree lighting. Now why in the world didn't we enter at the CM entrance right at the Plaza? Doing that would have meant less time on-stage and we'd be closer to the bathrooms. Were there too many cast members in that area to watch the lighting? It would have really been much simpler with our tour group, especially because of the 3 ECVs. As it was, the 2 groups got separated and it was very difficult to appreciate the Castle Dream Lighting – now, we'd seen it a few times before so it wasn't that bad, but trying to stay with a group in the hustle and bustle of Main Street was disconcerting. Our tour guide, Monica, approached the whole thing with equanimity and a sense of humor — she kept telling us to keep up with the green light attached to the chocolate arm — then we started joking that we had a chocolate mint tour guide and she chuckled so hard that she had to turn off the microphone. This was just one example of how she kept her composure and kept her sense of humor on a very cold evening with quite a few "oopsies" — again, she did a great job.
Soon we were on our way to Hollywood Studios for the Osborne Spectacle of Dancing Lights — we watched video on the tour bus — Candlelight Processional is the oldest Disney theme park tradition and Castle Dream Lights is the newest Disney theme park tradition, Castle lighting occurs at 4 of the 5 Magic Kingdom theme parks, Tokyo is the only one without it.
Disney's Hollywood Studios – Osborne Family Spectacle of Dancing Lights
The Osborne Family Spectacle of Dancing Lights (OFSDL) was displayed at WDW for the first time in 1995, at that point it was simply the Osborne Family Spectacle of Lights and was a VERY LAST MINUTE addition to the holidays at WDW. Just to be clear, the "Osborne" associated with OSDL is not Ozzy Osborne (!), it's William Jennings Osborne from Arkansas.
The backstory: Mr Osborne and his wife, Mitzi, had created a medical research facility & were quite successful. They really wanted children, but it took a while before they had Breezy (1980). When Breezy was six years old, she wanted to decorate the house for Christmas with lights – the display got bigger and bigger each year. Eventually, the display became the talk of Little Rock and the neighbors began to be upset by all the traffic and hullabaloo. They took the Osborne Family to court to make them stop the light display – at that point, the courts reached an agreement with the Family: lights on 3 houses only, off-duty police officers to manage the traffic and such, and restricted hours for the displays to be lit. One night, a family that had driven a long way to see the lights arrived after the lights had been turned off (as per the agreement) – Mr Osborne felt bad for them and turned the lights back on, he broke the court order. No more lights at his home. Disney heard about it and offered to put the light displays on the residential street at Disney's MGM Studios (yep, now Disney Hollywood Studios). That's how the lights came to WDW and how they were a last minute addition.
Our tour guides told us that the first year of the light display, the Osborne Family came to WDW to see it… Mitzi Osborne told the WDW CMs that were "hosting" them… "Hi! We're the Osbornes and we own the lights!"
As time went on, the lights were moved to the city streets area of DHS (the residential area was removed to put in Lights Motors Action attraction), and as time went on the lights were replaced with advanced LEDs and technology that lets them DANCE.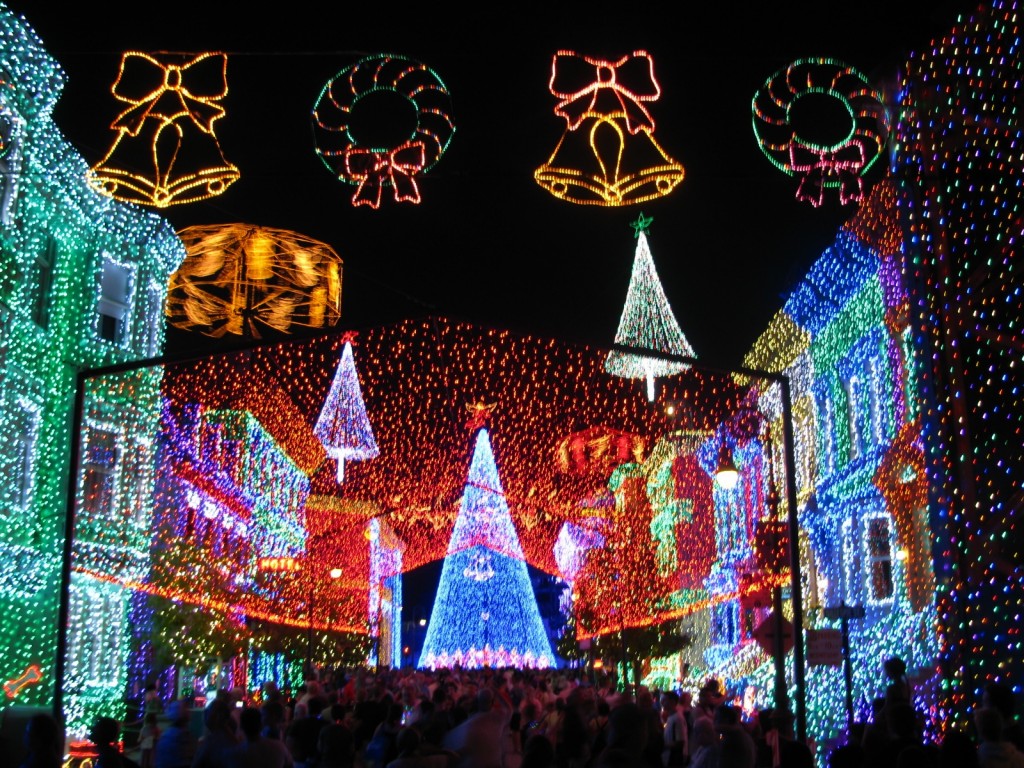 The Holiday Support staff at WDW used to just cut the lights down and throw them away, with the LEDs they don't do that anymore. The process is very labor intensive and they're always looking for ways to improve the process. It presently takes 25 Cast Members from the Entertainment Department 15 weeks to install the lights, they begin the process in August.
After viewing the OFSDL, we had our  "light holiday buffet" – this is typically served outdoors in a "behind the scenes area" but not really backstage, it was in a small event area at the American Idol Experience. The food was a mix of hummus varieties with breads, swedish meatballs (which aren't really swedish), and desserts (sorry, that's all Nora can remember months later! She didn't take notes on the food!).
Last stop, Holiday Support which is part of Decorating Support at WDW — quick fact — it takes over 150 trucks to deliver the decorations for the holidays to the various venues at WDW.
Decorating Support
Patrick had stayed late to accommodate our tour, THANK YOU! He did a wonderful job showing us around Decorating Support and answering our questions. (Nora hopes that the details correct)
Special Events that Decorating Support is responsible for…

Mickey's Very Merry Christmas Party
Mickey's Not So Scary Halloween Party
Star Wars Weekend
Nights of Joy
Candlelight Processional
Holiday's Around the World
Food & Wine Festival

They also do other stuff at Disney Parks worldwide and for special groups

Disneylands in California, Paris, Hong Kong, and Tokyo
Castaway Cay
special groups that use Disney venues for parties or events: example one group wanted an "Up" themed event, they made a replica of the house from up complete with balloons for that party (it took 3 days to create and install; that's all the time they were given!)

This is the only Decorating Support within the Disney corporation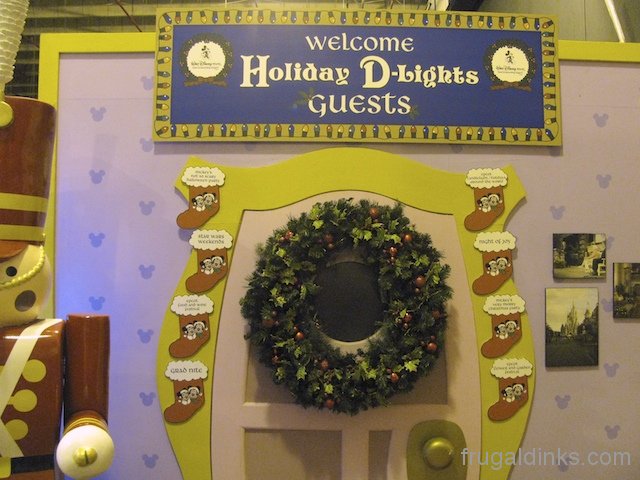 Holiday Support is handled from within Decorating Support…
responsible for the installation and maintenance of the Castle Dream Lights

250,000 lights, 90 strobe lights, and lots of colored ambient lighting
they start installation right after Labor Day, it takes approximately SIX weeks to complete
the lights are specially manufactured, they use a pattern very similar to a dress pattern
the lights are stored in 37 storage boxes (4 feet x 4 feet x 3 feet)
it takes 6 weeks to TEST all the pieces, the bulbs, the connections, the wires are all tested in late April/early May
there are no backups; if something happens, the Special Events Electrical Team will go up and attempt to fix any problems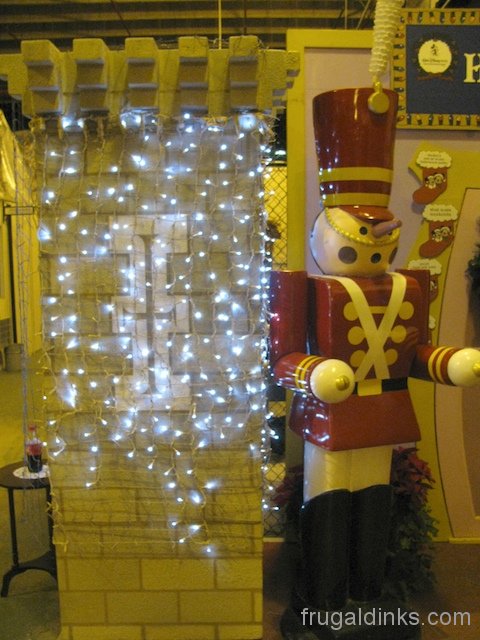 Other things we learned on this part of the tour…
Patrick helped Stitch toilet-paper Cinderella Castle!
old bedspreads from the resorts and cruise ships are repurposed as furniture pads to protect the things stored at Decorating Support
if events occur off-property (not at WDW), Patrick is the Event Manager and he goes to oversee and manage the event
when we say that Decorating Support is world-wide, that includes ESPN, ABC, and ALL the stuff that DIS owns
this is not a profit center for DIS
In closing…
Honestly, by this time of the tour/night, Nora's hands were getting tired of taking notes and we were both just getting tired.
Other than the drawbacks mentioned above, such as…
the group was too large to be handled easily during the busy holiday season
having 3 ECVs/Wheelchairs made loading and unloading unwieldy & very time consuming
the cold weather, which our tour guides were most definitely not responsible for
We enjoyed the tour and were very pleased with our facilitators (unlike some of the other backstage tours we've taken).
Would we do it again? Perhaps, especially if we had friends to do it with; by ourselves, probably not a repeat tour until there are new or different things added to WDW Holiday Celebrations and/or this tour specifically.