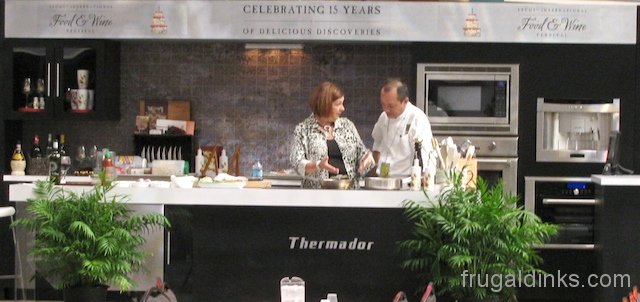 Who & What: Peng Looi, August Moon & Asiatique, Louisville, Kentucky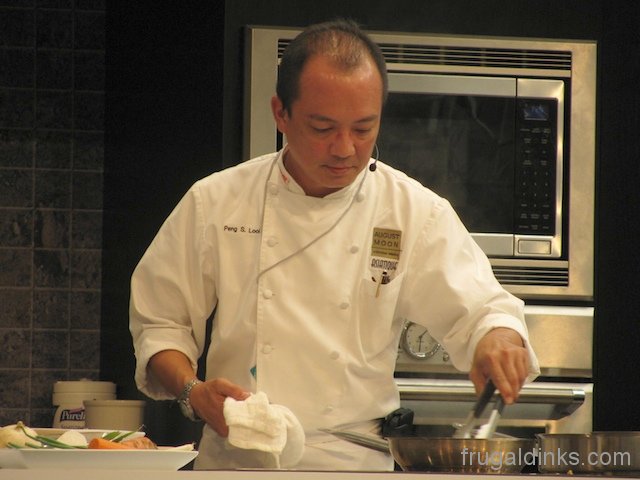 When: Friday, October 8th @ 1:00 p.m.
Where: Festival Center, Epcot
Menu: Roasted Quail "Rendang Style" with Pickled Root Vegetables (recipe below with Nora's changes)
Nick: "the recipe uses very little vegetables – what's up with people and vegetables? are they afraid of them?"

Nora: "in general, people act like vegetables are bad for you or they're poisonous; when I cook at home, the vegetables are the majority of the meal, not a side accompaniment – the meat is the small portion and the green stuff is the big portion on our plates"
Wine: Kenwood Vineyard, Sonoma County, California – Valley of the Moon Zinfandel (Barbara Messer representing the vineyard)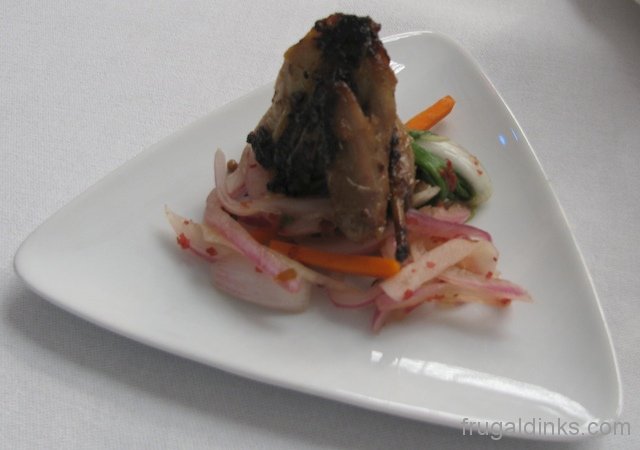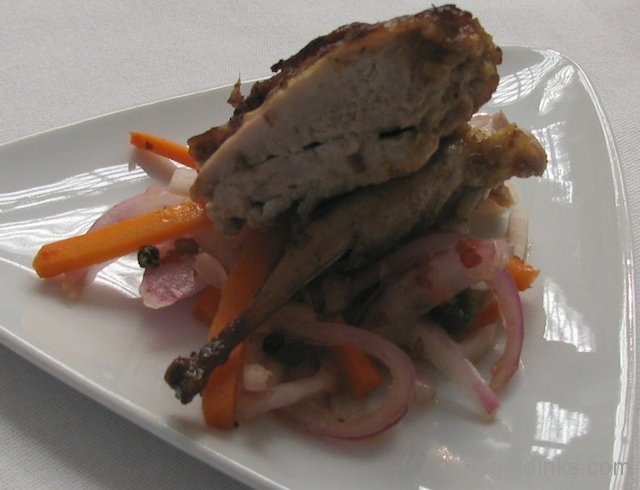 Our Impressions:*
The wine went well with the quail.
The quail was tasty (although we agreed that the preparation would be better with duck breast) and the vegetables were something we'd make and eat at home.
We liked the flavors of the rendang sauce on the quail.
The quail was served room temperature, it would have been nicer if there had been a contrast of temperatures between it and the pickled root vegetables.
They weren't well prepared for the demonstration

the vineyard representative didn't seem to be very comfortable with doing a presentation
Nora: "honestly, it seemed like someone else had prepared her slides – and I say this after teaching communications for 4 years"
the chef couldn't find the cooking oil (nor could the moderator)
Nick: "that's pretty poor planning on Disney's part, it isn't like they haven't done this before"
Recipe:
Serves 6
Quail
12 semi boneless quail
dry spices

3 cinnamon sticks
1 tsp whole cloves
1 tsp whole star anise
1/2 tsp whole cardamon pods

fragrant paste

1 tbs lemongrass, sliced
5 shallots, sliced
5 cloves garlic, whole
1 inch fresh gingerroot, sliced
3 tbs chili flakes
5 tbs cooking oil

wet flavors

1 can coconut milk
3 tbs tamarind juice
1 tsp curry powder
6 tbs unsweetened coconut flakes, toasted
1 tbs sugar
salt to taste
Pickled Root Vegetables
1 bunch green onion, cut 1 inch
3 turnips, julienne
3 jumbo carrots, julienne
3 red onions, thinly sliced
1 cup sugar
3 tbs pink peppercorns
1/16 tsp salt
1 cup white wine vinegar
1 tsp chili flake
Methods
Making Pickled Root Vegetables – In a non-reactive bowl, mix everything except for the vegetables with a whisk. After sugar has dissolved, add vegetables and toss. Set aside.
Making Fragrant Paste – Put everything listed under "fragrant paste" into a food processor and process the heck out of it until you have a fine paste.
Getting the oils out of Dry Spices – Heat a sauce pan to medium heat, add just a little oil and the dry spices, toast the spices until they become very fragrant (about 5 minutes).
Making the Rendang Sauce – add Fragrant Paste to the sauce pan with Dry Spices (leave the whole spices in for now), toss / stir well for 10 minutes. Add coconut milk, tamarind juice, curry powder, flaked coconut, and sugar (no salt yet) to finish the Rendang Sauce. Simmer for 20 minutes and add salt to taste.
Chill the Rendang Sauce – it's even better if it chills completely overnight in the refrigerator.
Marinate Quail – use 1/2 cup Rendang Sauce, want quail well covered, marinate for 1/2 hour.
Cook Quail – Sear quail on both sides for 3 minutes and roast in preheated oven (350F) for 5 minutes.
Plate it up – vegetables on bottom, quail on top, drizzle with more of the Rendang Sauce
Nora: "I'd heat up a little bit of the Rendang Sauce for drizzling; wouldn't use it cold. Our tasting didn't have any additional sauce on it."
* This was our first ever Culinary Demonstration at an Epcot Food & Wine Festival.