This experience took place on Thursday, April 24, 2014
We were out on a walk while our friends Harry and Sandy were visiting from Newcastle… We planned to meet up later at Raglan Road (yes, there will be a post about nibbles at the Tonsil Tickler – a tradition on their visits) BUT we were hungry NOW (well we'd already walked 6 or 7 miles without breakfast). We have come to enjoy stopping at Splitsville for a pint and a nibble, so that's where we ended up.
We were interested in getting a protein boost, so decided on the Blazing Chicken.

But, of course, we had to make a change… we wanted Voodoo Sauce instead of Spicy Buffalo Sauce, Courtney (our barender) said "no problem!" And since they were still out of Magic Hat Dream Machine IPL (don't you love that name? think Scooby Doo!), we both ordered a Mutiny IPA to go with our snack.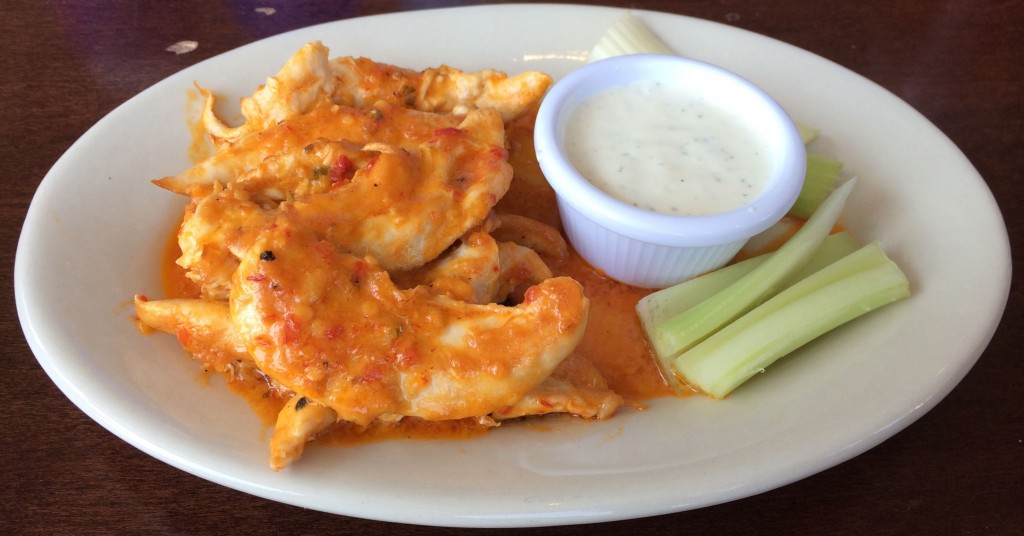 This was very good! The chicken was moist, there were 10 small tenderloins, and while there wasn't a lot of "grill" going on, we enjoyed this. If you like hot-spicy food, get these! They go great with a cold beer on a warm day.