This experience took place on February 23, 2014
By now, you probably know that we love seafood and shellfish in particular, so of course, one of the first few items we had to try at Spice Road Table was the Spicy Garlic Shrimp…
As this was paired with one of the two Moroccan Red wines, we thought we'd order both to them and see what we thought (yay, individualism… boo, inexperienced wine connoisseurs but you've got to try and experience to learn)
Guerrouane Rouge – I thought it smelled round and fruity and Nick thought it smelled like a cabernet sauvignon
Amazigh Red – I thought it smelled of asphalt and Nick thought it smelled like a Pinot Noir
See what I mean?! Wine is very subjective and you have to be willing to give it a try.
After tasting without food… Nick thought that the Amzaigh Red had way too many tannins and that the Guerrouane Rouge was more approachable.
Somehow, we ended up with a glass of the Marques de Caceres Rioja Red (in addition to the other two red wines) – Nick thought it had a lot of depth and I liked it quite a bit. This was the wine that was paired with the Spicy Garlic Shrimp.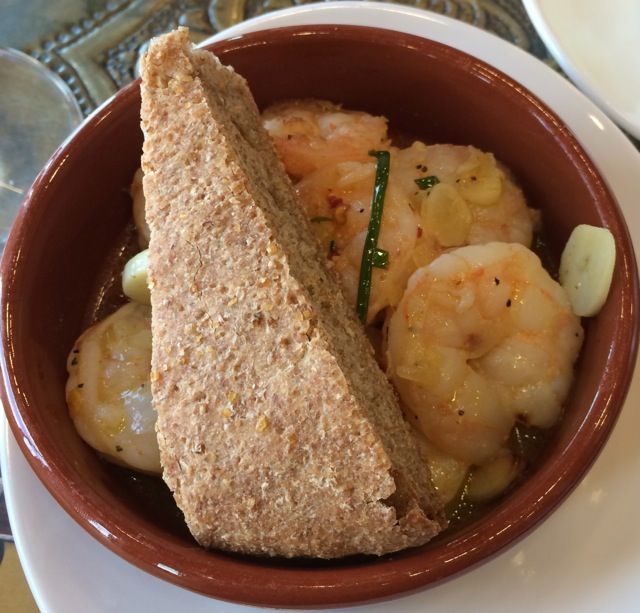 The shrimp was served warm (nice) with a wheat bread – Nabil (big nabil) brought us some "Moroccan hot sauce" (the sauce usually served with the calamari, it tasted like our l'amatriana sauce pureed. We appreciated the extra attention and the chance to try something "off label".)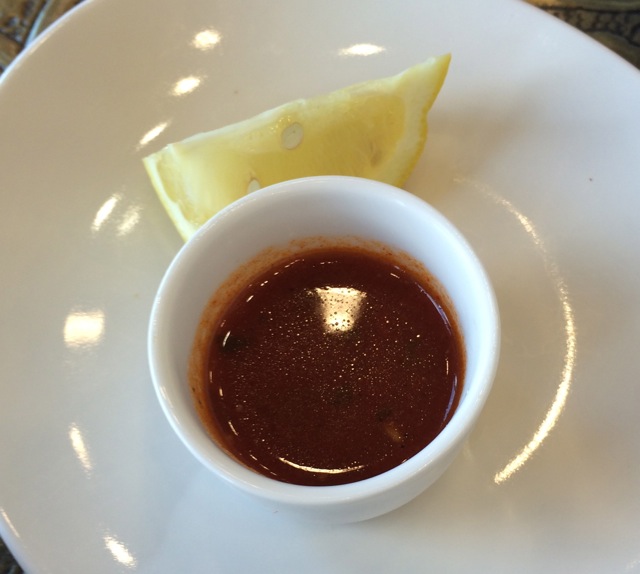 The shrimp paired well with the Caceres Red, but the broth/sauce that the shrimp were in and the Caceres Red… Not so much.
From my notes:
The shrimp and Guerrouane Rouge were an okay pairing, not great
The spicy, garlicky, peppery sauce the shrimp came in… this went well with all of the wines
Nick preferred the Amazigh Red with the shrimp
We both thought that the Caceres Red paired well with the hot sauce that Nabil brought to us
The shrimp were not overcooked at all. The wheat bread was rather coarse, so don't expect something soft and chewy. All in all, we liked this and are sure that we'll have it again at some point.