This dining experience took place on February 21, 2014
I'll get to the food in a moment, the drinks menu at the bluezoo lounge has undergone a periodic transformation (note: the dining room menu is expecting to change before the end of March)… So, of course, since a night at bluezoo starts with cocktails, we're happy to share some photos and opinions…
First up… mamie taylor
mamie taylor (circa 1922)

a classic made especially for the famed opera singer mamie taylor by a barman who couldn't fill her first order of claret lemonade. instead she sipped this gingery, smoky, citrusy pour of chivas regal 12 yr., fresh lime juice, and ginger beer. served tall over ice.
next, we have… vieux carré
vieux carré (cira 1938, new orleans)

the namesake cocktail of the big easy's french quarter is made with highwest double rye whiskey, hennessey vs cognac, benedictine, and equal parts peychauds and angostura bitters. shaken and served up with a lemon peel.
of note, this isn't what our vieux carré looked like from "Rocks on the Roof" at Bohemian Hotel in Savannah, Georgia – that one was pink and tasted like it had grapefruit juice in it
third, white negroni…
white negroni (original circa 1919, florence, italy)

a unique twist on the classic negroni, ours combines bombay sapphire gin, breckenridge bitters, and dolin blanc vermouth.
fourth cocktail, the antidote…
the antidote

a spin on the classic gin and tonic we utilize st george terroir gin, king's ginger, jack rudy small batch tonic, and hopped grapefruit bitters topped with lime foam
So, what did we think of them? I actually made a chart!
| | | |
| --- | --- | --- |
| | nick | nora |
| mamie taylor | #4 | #3 |
| vieux carre | #2 | #4 |
| white negroni | #1 | #1 |
| antidote | #3 | #2 |
We both thought that the white negroni was our favorite (of course, that could change in the next few months <smile>) and the antidote is another must have again – we're certainly looking forward to trying them all again!
Now, onto the food…
We have long been fans of the stuffed pastas at bluezoo, we understand that the chef who used to make them has moved on to another restaurant (in NYC). Regardless, we were delighted to see filled pastas coming back on the menu as "special" Chef's Pasta. A few weeks ago, we missed our chance to have a ravioli selection (we'd already eaten at Kimono's); so when we heard there was ravioli on this evening, we ordered it right away (splitting the order). Especially since it was Lamb Ravioli with Potato Puree. [The secondary ravioli, the one that was in line when the lamb was all gone, was potato and gruyere ravioli with sweet potato puree and scallops – almost ordered that one too!]
The full description: lamb ravioli, roasted vegetables, sage, and sweet potato puree…
It smelled fantastic when it came out. There wasn't much sweet potato puree to use as sauce but there was a good bit of butter on the vegetables.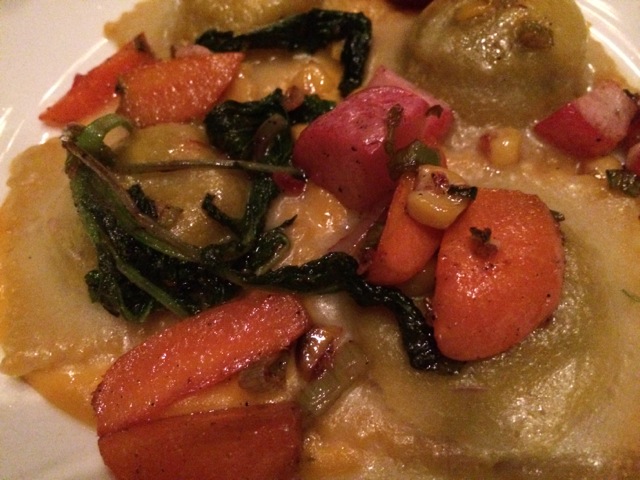 The lamb filling wasn't very "lamb-y" – maybe the potato and gruyere would have been more flavorful.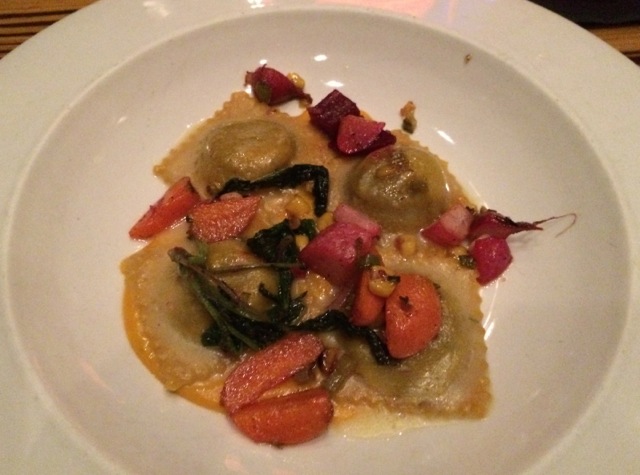 The pasta was a bit "hard" – like it wasn't cooked long enough or it was more dried out than the line chef thought. We shared this with Chef Ryan when he came out – it's nice to know that we have a strong enough relationship that our praise and our criticism are both valuable.
We were also treated to a surprise! Chad knows that we really like good raw seafood, he brought out an interesting dish using otoro (fatty tuna)…
Okay, to help you identify everything, we have some notes from our conversation with Chef Ryan…
the "meat" is otoro, fatty tuna from the Gulf of Mexico; it's from a warm water tuna so the texture and flavor are a bit different from the toro that you're likely to get at a sushi bar – in a nutshell, we liked it
the pink gel is rhubarb gel, it was a touch of citrusy sweet – we liked it too
the dashi sheets were a big hit with us – they had umami and tasted like the essence of the sea – Chef Ryan told us that making the dashi is a long process (two years!), they start with sardines that are salted for six months, then they're cooked, and the broth (the dashi) is aged for at least one year – wowsa!
We aren't sure if this is another item destined to be on the new menu, it was very tasty! We like the raw seafood composed plate appetizers that bluezoo has been offering lately. They're presenting them in a way that the textures are less challenging than sushi or sashimi, and the flavors are well thought out. Hmmm, who knows what we'll see next?!