This experience took place on March 8, 2014
Okay, it's time to try the other sampler at Spice Road Table… The Mogador Sampler, think of this as the seafood sampler: Fried Calamari, Mussels Tagine, and Salted Cod Croquettes…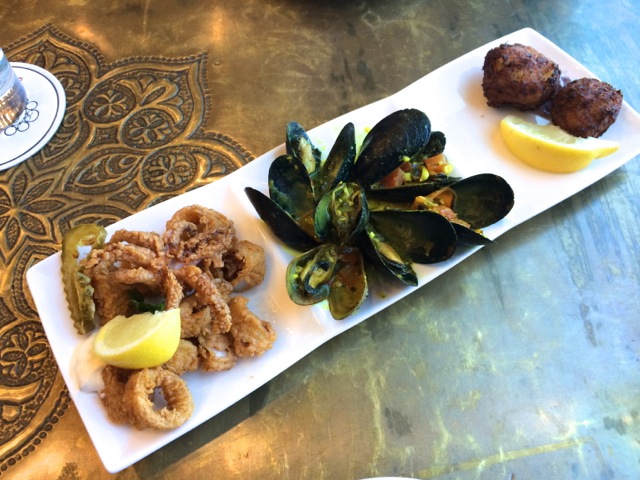 Two items are available on the regular menu and are thus paired with a wine (the only way to get Cod Croquettes is on this sampler, they aren't offered as in individual item on the menu). The Fried Calamari were paired with the Ksara Blanc de Blanc – nose was fruit, vanilla, and some grassiness. The Mussels Tagine were paired with Ksar White – nose was grassy with minerality.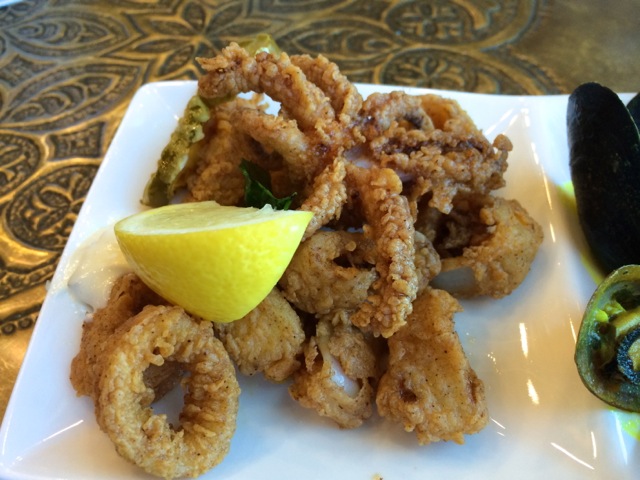 The calamari were extremely tender and the breading was crispy and flaky. It was served with a creamy tartar sauce on the sampler (when you order by itself, it comes with a spicy red sauce). This is probably our second favorite calamari at Walt Disney World (it's really hard to beat the Raglan Road Pub version of Calamari). This calamari was slightly oily, we have yet to order the full sized tapas of calamari here, so of course we're going to give it another try!
There were bits of fried pickled peppers in with the calamari (much more noticeable than the tiny bits in the Three Pepper Calamari from Splitsville).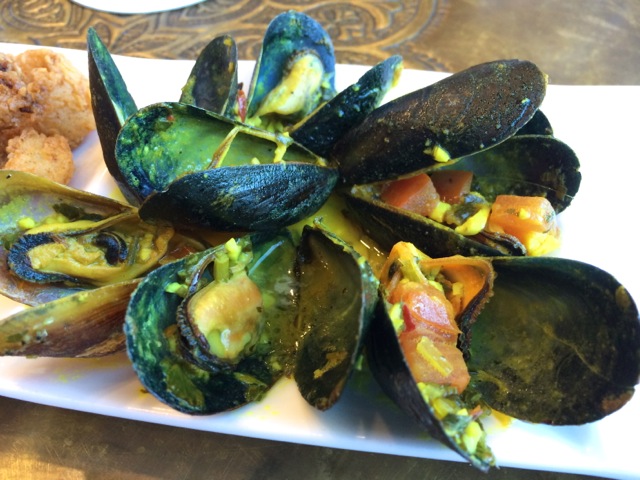 We were very surprised to find that the mussels were served in the shell (Sarah at EatingWDW reported early after Spice Road Table opened that her Mogador Sampler had mussels already out of the shell).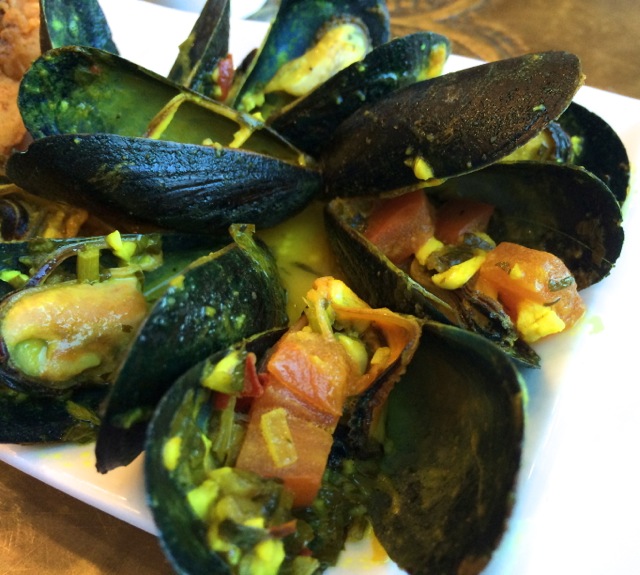 These mussels were quite good, but we noted that there was a lot of saffron on these. Our fingers and lips were stained yellow.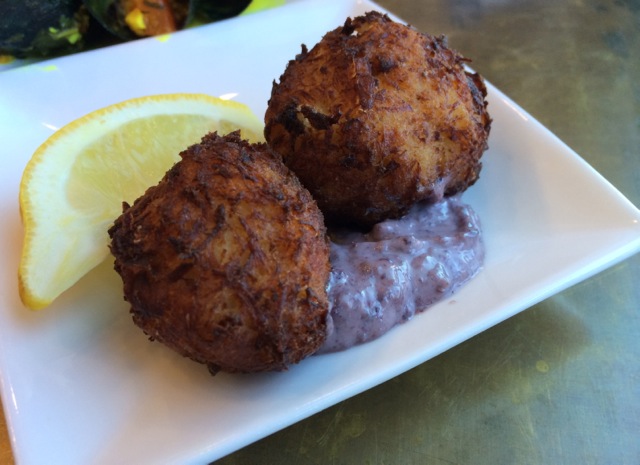 I really liked the coating on the Salted Cod Croquettes. You could really tell that there were fish in the croquettes. They went well with the Ksara Blanc de Blanc White (not so well with the Ksar White).
Back to the wine… Have you ever seen the wine glasses that are for sale around World Showcase at Epcot? I kinda want a set, but haven't pulled the trigger yet. They're etched glasses with the World Showcase countries all around, then there's a reflection (as if in the lagoon), but the reflection is of wine and beer glasses! When we got our two glasses of white wine, we held them up to the window (by the way, the windows here have been CLEAN every time we visit), and by gosh by golly, we could see the countries around World Showcase AND their reflection in our wine glasses. How cool is that!
Nick liked the Ksara Blanc de Blanc, it was good enough that he could have a glass of this just to drink. I tend to agree.
I don't know that we're likely to order this sampler again, for one thing, the calamari and the mussels are available as individual tapas. I don't know for certain, but I suspect that the salted cod croquettes could be special ordered as an individual tapas.