Every three to five years it seems that someone "ups the ante"  for decorating at Fort Wilderness. We don't go to the campground every week so it is possible we miss some of the decorations. But the most elaborate decorations are typically up all season long. If this family was at Fort Wilderness with this display in previous years, we missed it. I cannot imagine going to this level of detail for anything but an extended stay so I doubt we have missed it in past years.
Most displays use blow-up decorations. So when someone goes all out with few blow-up decorations – it really gets your attention. So we'll call it new for 2012 and the most incredibly detailed site at Fort Wilderness.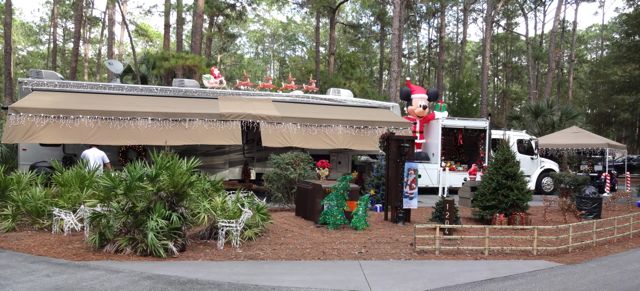 We spotted the Santa and reindeer on the roof before we entered the 1200 loop. These plastic decorations were popular in the 1970's and it is rare to see them today, especially in such great shape.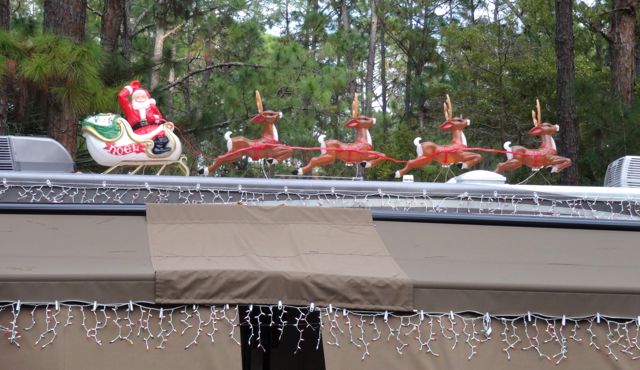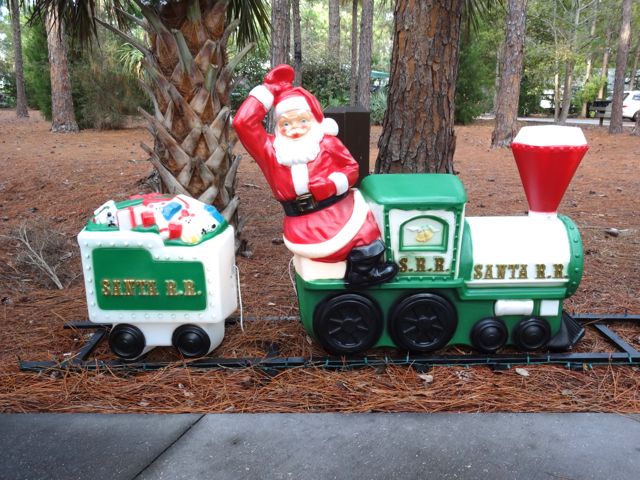 But as much as we were delighted with these two plastic decorations, we were not prepared for the display that the family had created in the cargo area of the medium duty truck that pulls their fifth wheel.
Yes, they created a window. They put up a tree. In the other corner is a fireplace with Minnie and Mickey in rocking chairs. There is a train running under the tree and yes, it is all trimmed with garland. We never decorated our house to this level. The detail was truly incredible.
At the edge of their campsite the family had camouflaged the campground trash cans, recycle bins and electrical boxes. They had constructed a perfect fence. I mean perfect. Plus they had brought in pine needles and put down a perfect base layer. Then over the pine straw they had laid out perfectly spaced lights.
Many families decorate their golf carts. But again, attention to detail for this family.
There were things to enjoy everywhere you looked around their camp site.
Needless to say, we enjoyed site 1204 and appreciate the effort put into this very detailed holiday display.  A few more photos for you to enjoy…
nick