Selbach-Oster – Mosel, Germany
Johannes Selbach, Owner and Winemaker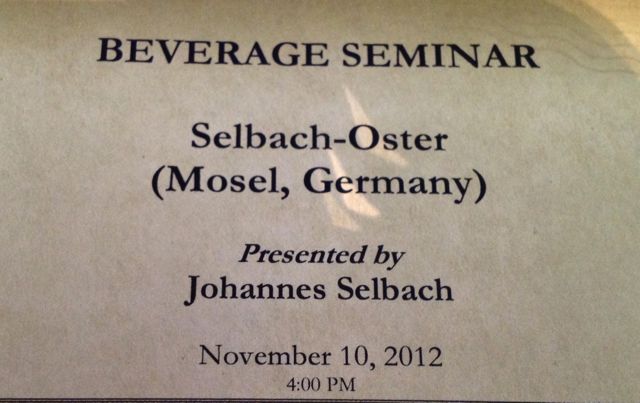 Riesling grapes are great because you can make wines that range from super sweet to very dry, and they are balanced wines. The quality levels are on German labels (see here for lists of Selbach-Oster wines) – missed the first word; Kabinett – regular harvest, not super ripe, light, refreshing, green banana; Spatlese – spotty banana; Auslese – bunch selection where grapes are selected by bunch; Bereen Auslese (BA) – berry selection, overripe, shriveled a little bit; Trochen Berren Auslese (TBA) – dried berry selection; Eiswein – sweetest and highest alcohol content. (All of this is from nora's notes, for more information…. here).
The Selbach-Oster Winery (here) has been active since 1600 and has been in the same family since then. They're located (Johannes and his wife run the winery) in the "wild west" of Southwest Germany and are fortunate because they make a living making intoxicating beverages. Johannes is a repeat presenter at the Epcot International Food & Wine Festival and is quite seasoned and is a good educator & entertainer. They have 50 acres of vineyards, all terraced – this is large by Mosel standards and small by American standards.
They use old oak barrels (up to 80 years old) and stainless steel because they don't want oaky flavors in their wines.
There's a lot of manual labor that goes into making their wines because of the size of their growing areas and because of the terraces.
Screw caps! Johannes used to be very anti-screw-cap and pr0-cork; now he uses screw caps as much as possible, they're better for wines meant to be consumed within 10 years and they ensure consistency & flavor of the wine.
Alcohol greater than 10% indicates a drier wine, alcohol less than 10% indicates a sweeter, fruitier wine
A lot of food pairs well with Riesling, more than most Americans think
Note: Napoleon took German church lands and auctioned them off to raise money to pay for his wars. Normal people could purchase vineyards, and Johannes' family acquired their vineyards in this way… also this explains why German vineyards are so small by US standards.
 Tasting Notes:
Selbach-Oster Zeltinger Sonnenuhr Spatlese Trocken 2011
"Zeltinger" is the town
"Sonnenuhr" means sundial
"Spatlese" means late harvest
"Trocken" means dry
single vineyard, late picking
about $30 per bottle
12.6 ABV
400 cases per year
12 year shelf life
this vintage will continue to improve over the next two years
Johannes said we should find notes of stones/soil/mineral in the nose
nora's notes: nose is more mineral than acid or fruit; taste is dry, sour but not like a South African dry white – this was my least favorite
nick's notes: nose is slightly sour; taste is dry but not too dry
Selbach Riesling QbA 2011
Everyday drinking wine, bread & butter wine
Grapes are grown for Selbach-Oster, they don't grow these on their own lands
A wine for deliciousness not greatness, the perfect party wine
about $16 per bottle
10.5 ABV
15,000 cases per year
Traditional Riesling, Johannes says its not too dry and not too sweet
nora's notes: nose is fruity and reminds me of sake; taste is sweet and dry together – this was my most favorite
nick's notes: nose is gentle, slight/weak fruit (couldn't identify it); taste is good, not dry but not too sweet, some fruit
Selbach-Oster Riesling Spatlese 2009
this wine has more sugar and more alcohol
late harvest (November 8, 2009)
about $28 per bottle
9.5 ABV
Johannes says this would pair very well with a traditional Thanksgiving Dinner and that it pairs nicely with blue cheese
nora's notes: nose is fruitier and more alcoholic; taste has a sweet start and a tart finish – this was my second favorite
nick's notes: nose is deeper with possible notes of fruit; taste is sweet but with a slightly sour finish, starts too sweet for my taste but finishes well – would go well with food