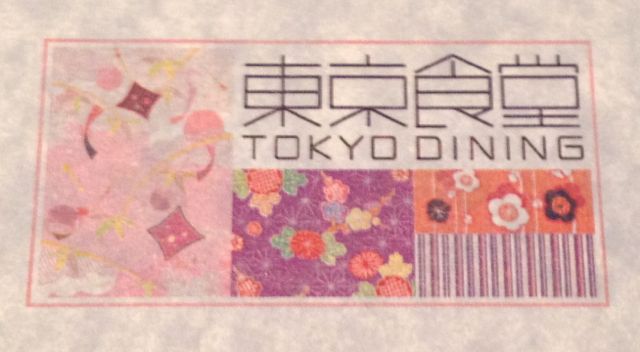 On October 10th, we had the pleasure of attending the Tokyo Dining Food and Sake Pairing during the Epcot International Food and Wine Festival for the third year in a row! (2010 and 2011) Each year this event has pleased us immensely and given the opportunity to go with another couple, we'd probably go twice a year!
We arrived early, of course, and nick was able to get some photographs before they began seating guests. He had the opportunity to speak with Garin Williamson (Savannah), Garin had done the Sake and Food Pairing until 2010 (the first year we attended) and had taken the reins back from Scott this year (Scott was acting as the event director this year). Garin has been with Mitsukoshi for ten years and this event is one of his favorite things.
We were to taste three sakes paired with food selections…
Yaegaki Nirgori Sake "Many Fences" – type = Junmai, SMV = -12, ABV = 14.5%, Kura = Yaegaki Brewery
Kurosawa Premium Reserve "Black River" – type = Junmai Gingo, SMV = +3, ABV = 15-16%, Kura = Kurosawa Brewery
Otokoyama "Man's Mountain" – type = Tokubetsu Junmai, SMV = +10, ABV = 15-16%, Kura = Otokoyama
Chef Noriko was our co-host again this year. There were 36 seats and 27 guests (meaning that 9 seats were empty)
The motto of Mitsukoski is "Service with Sincerity"
The theme of this year's Sake and Food Pairing is "true modern Japanese food culture as influenced by Florida" – we were to find out what that means as the experience progressed.
Starter: Frozen Kirin Beer with Edamame
We were served the frozen beer and edamame (bar food in Japan) as a traditional introduction to the pairings.
In Japan, when people gather to drink sake, they usually start with beer. We were some of the first people outside of Japan (the country, not the pavilion at Epcot), to drink this beer (it is available in Hawaii and it is available at three places in Epcot – the Kabuki Cafe, the Outdoor Sake Bar, and Tokyo Dining). This is a new item on the menus, added as the Epcot International Food and Wine Festival began, and you will note that this is the only place in the continental United States to get it.
The beer is not actually "frozen," the frothy, foamy head is frozen. This keeps the beer cold. Our verdict, this is quite good and we're looking forward to enjoying this at Epcot.
First Pairing: Cutlet (Mencha Katsu) with Unusual Florida Twist…
… finished with Japanese mushroom demi-glace and sukiyaki rice. Paired with Yaegaki Nigori Sake.
The Sake: Garin said that although most think that nigori is unfiltered sake, it is filtered, rice is added back to the sake and that's where the rice particles (very very tiny particles, more like dust than grains). The scent was fresh and contained smells of pineapple. The taste without food was sweet and fruity.
Traditionally, Katsu is a breaded beef cutlet, today's katsu was made with beef and alligator.
In addition to the alligator, the three varieties of mushrooms are grown in Florida (one of the top five agricultural products from the state). So, how did the pairing of the sake with the mushrooms, cutlet, rice, and demi-glace work? The sake and the demi-glace were good together. A drawback to the dish was that there was a LOT of sauce and breading on the cutlet, so it was very difficult to taste the meat. Overall, the sake paired well with the dish, but it was difficult to discern any flavors distinct from the demi-glace.
Florida and Japan are both surrounded by oceans and as such are well-known for seafood. Florida is a national and international melting pot, and it impacts the food choices. Japan, while not a melting pot, has also adopted and even embraced several Western dishes.
Second Pairing: Florida Gulf Shrimp and Temeri Sushi…
… Florida Gulf Shrimp – filled with tofu cream cheese topped with citrus and served on top of mixed greens salad with white wine butter soy sauce
… Temari Sushi – smoked salmon with edamame, creamy salmon sauce, avocado, and creamy "yuzu" and sea scallops marinated in ginger and tosazu vinaigrette finished with Florida grape tomatoes
Paired with Kurasawa Junmai Dainginyo Premium Reserve Sake
The sake, "Black River," has a cleaner and crisper nose. This is a junmai daiginjo, the rice is very finely polished. This particular sake we're drinking is the 10th anniversary of it being in America. The taste is lovely, light, slightly floral without food and buttery with food. During this tasting, Noriko encouraged us to take a sip of sake, taste the food, take another sip of sake, repeat … yes, our sake glasses were refilled with some frequency!
The sake became buttery flavored with this dish. Nora thought that the tofu cream cheese was a bit too much, but the salad was nicely dressed. (And no, we couldn't tell if the tofu cream cheese was a blend of cream cheese and tofu or if it was soft tofu with the texture of cream cheese.)
Temari sushi gets its name from "temari" a traditional  Japanese hand ball for kids to bounce and dribble. Nora first heard about temari balls many years ago, back when she was really into needlework, these weren't toys though, they were balls with very colorful threads creating criss cross designs on them (here). Nora always wanted to learn to make them, but never took the time. However, at today's pairing, Noriko showed us how to make temari sushi…
The gist of the matter as nora understands it…
put a piece of plastic wrap in your hand, make it good sized but not huge
lay the piece of fish in the center
lay a rice ball on top of the fish
gather up the plastic wrap and twist and roll until you have a ball
taa daa, it's temari sushi!
The pretty little toppings go on after you remove it from the plastic wrap
 Third Pairing: Rack of Lamb and Florida Blue Crab Miso Noodle Soup…
… Rack of Lamb – marinated in miso and served with Wasabi mashed potatoes
… Florida Blue Crab Miso Noodle Soup
Paired with Otokoyama Tokubetsu Junmai Sake
The water for this sake comes from Mount Kaysetu (sorry if the spelling is incorrect or if the name is WAY off base), it is the "water of long life." Similarly, the "fountain of youth" is located in St Augustine, Florida (did you know that there's an archeological park there?!) Anyway, back to the sake… this sake is very dry, with earthy, woody, and dried fruit notes.
The best pairing of the day! This unctuous, slightly salty, slightly fatty lamb was just fantastic with the sake and the wasabi mashed potatoes weren't laying back taking it easy. All of this went wonderfully together (and this is from the non-meat-and-potatoes people!), if this were on the menu at Tokyo Dining, we might have to go there just for this!
There wasn't anything "wrong" with the miso noodle soup, the flavors didn't meld very well and it didn't pair very well with the sake. Now, of course, it could be that the lamb and sake pairing was so fantastic (even the other guest at our table thought so, and he'd just come from the Italian Regional Lunch so wasn't hungry at all).
Dessert: Green Tea Pina Coloda…
The final palate cleanser, this was super good too. Not too sweet, not too tart, spot on at a little lift-me-up.
Final Notes:
This was an excellent effort. The servers, the presenters, the food, the sake, all together, the entire production is fantastic. There are very good reasons why we continue to look forward to attending this event every year!
P.S. We were curious if the Tokubetsu Junmai would pair with unagi (baked eel, a favorite sushi of ours, here); we were able to try that pairing – not as good, not bad though; the sweetness of the sauce was too much for the sake