This was the second year for Car Masters at DTD (held June 2nd & 3rd). Last year was more a promo for the release of Cars 2… and it was held in May. That said, someone must have thought it went fairly well since it was brought back this year. I love cars but I didn't go last year for some reason. This year I did make it over but only for about 1.5 hours. I could have stayed much longer but other responsibilities precluded this.
Because of my limited time, I was not able to really look closely at cars nor especially to talk to owners. If you have never been to a car show – owners love to talk about their cars. I understand this! Most owners were sitting near their cars and I saw several chatting with people who were interested. One thing I noticed was that Disney brought out beach umbrellas and set one up at each car that was in the parking lot. Since it was extremely hot, humid and sunny – this was a very nice touch. But I digress… I snapped a ton of photos (almost 200 in only 90 minutes) and could probably say something about them all. However I have limited myself to 66. I didn't choose this number but I got a chuckle when I exported them since Route 66 is so important to car lovers.
The car show was actually confined to the streets of DTD West Side and the parking lot adjacent to the entrance between AMC and the old Virgin store (now being refurbished into Splitsville). Signage was up at three entrances to the west Side area.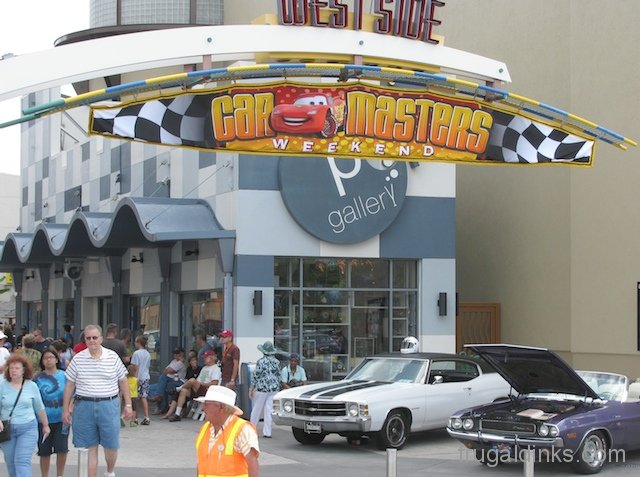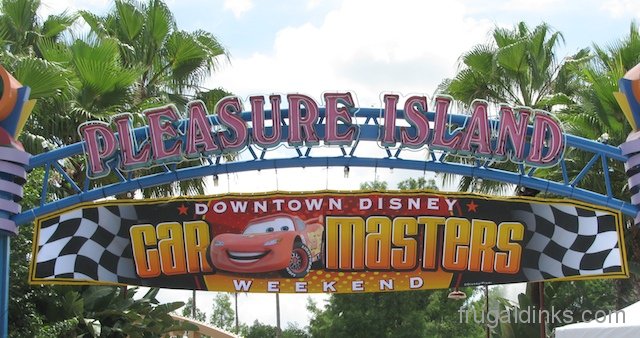 The primary entrance was between Planet Hollywood and AMC. Here they used the topiary from the Epcot Flower and Garden Festival.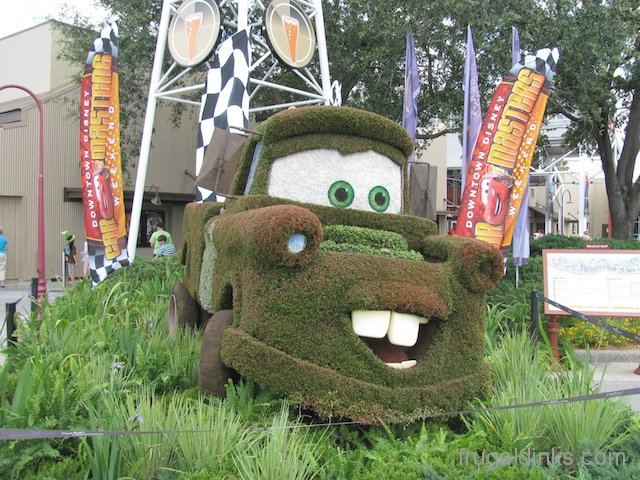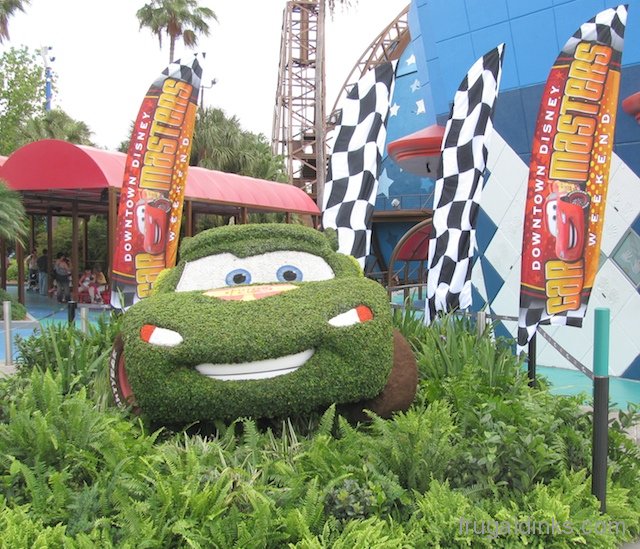 Just behind Lightnin' and Mater is the water feature and around this were several cars on display.
Reportedly, there were just over 100 cars/vehicles on display. Only in the parking lot was there a quite large number of vehicles together. To give you an idea of the layout and a glimpse at many cars I have some photos where I've tried to capture the layout showing multiple vehicles.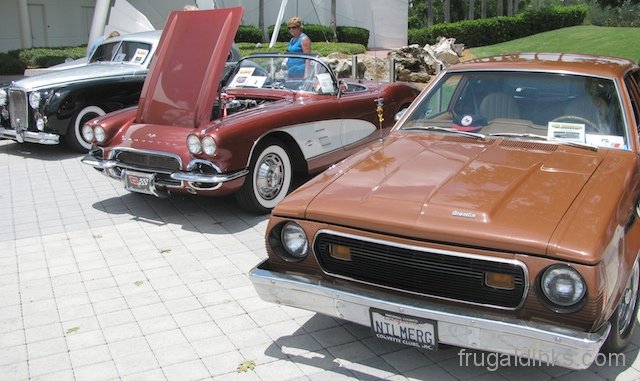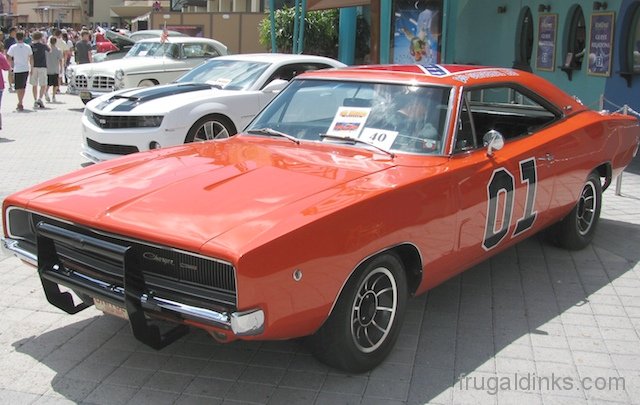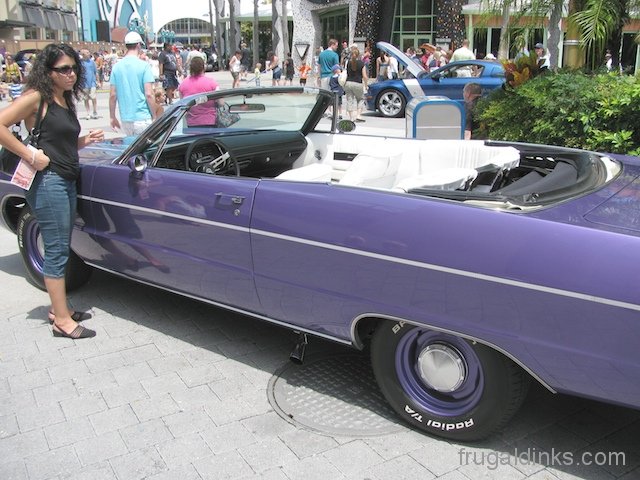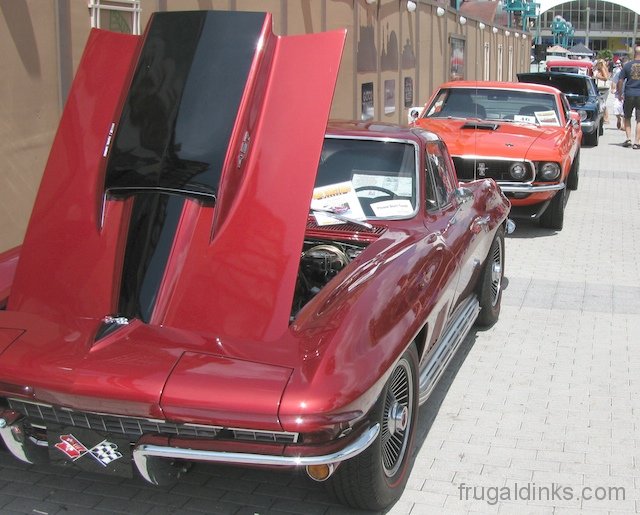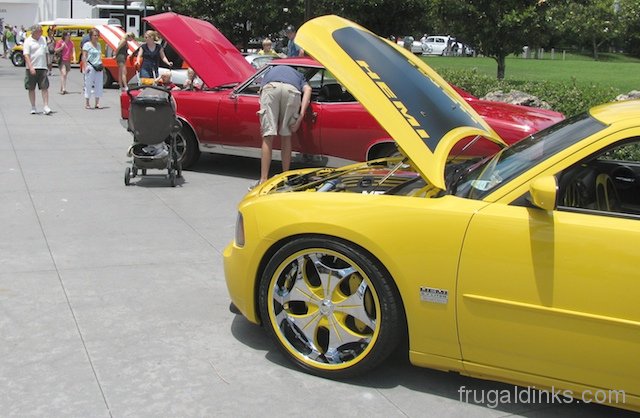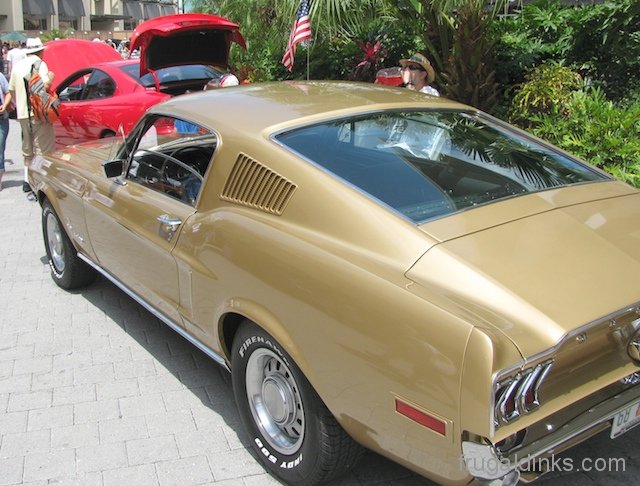 There were a variety of cars but my quick run through says that Mustangs were the most numerous. I would also say there were more late model Mustangs than vintage ones. However, Mustangs were there in force from old to new…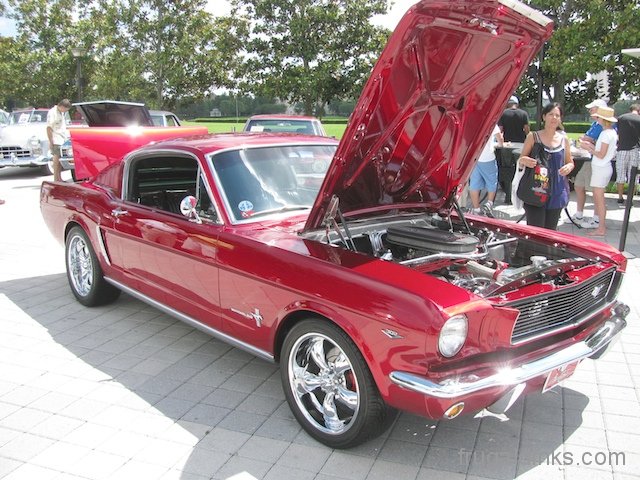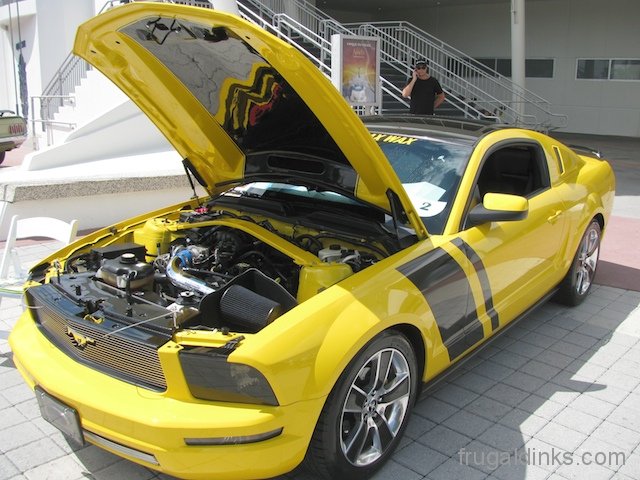 There were a few "race cars" from old GT 40 track cars to street pro drag cars…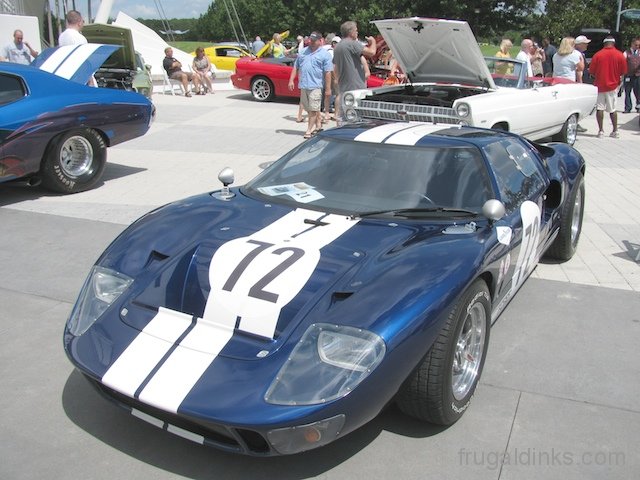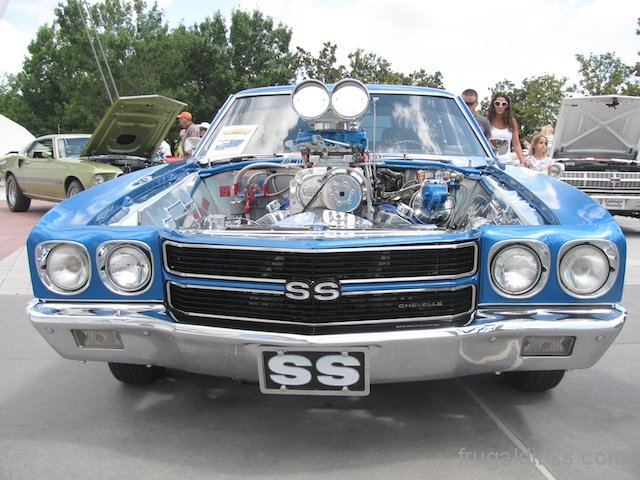 It was cool to see a nice Rolls parked next to a very original Caddy. British and US luxury rides but designed for very different customers.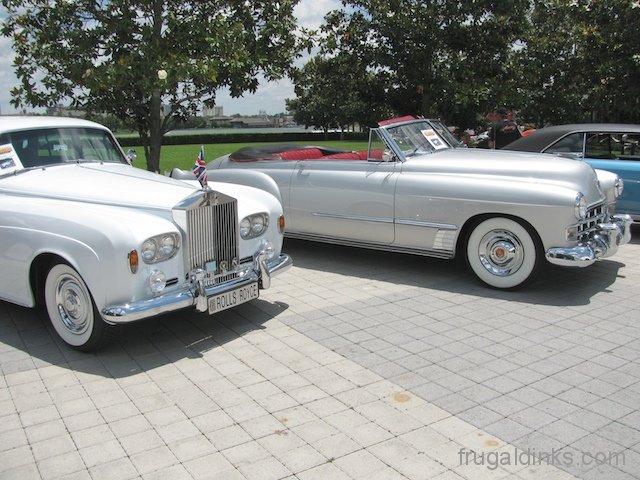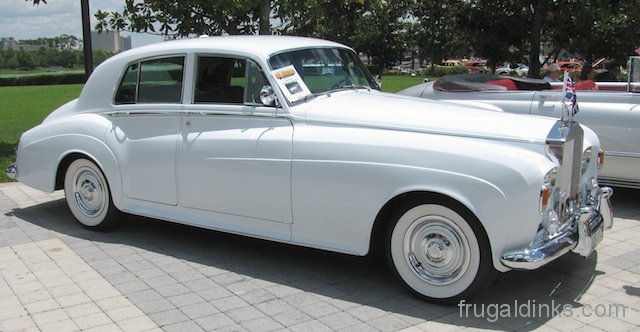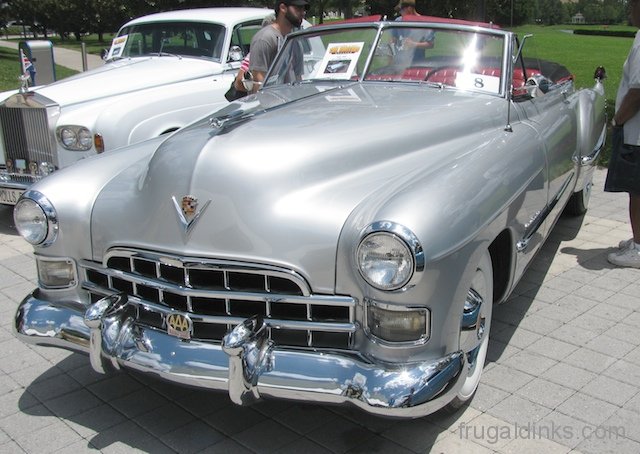 And if you are a "car person" you know that this Caddy has a cool hiding place for the gas cap…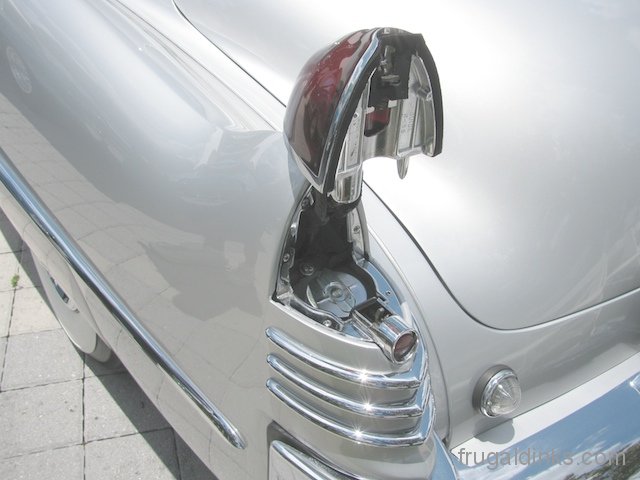 One owner had a custom Ford GT on display. From my quick pass through it appeared to be the most valuable car on display. Not only was the base car fairly expensive – the owner had every notable current Indy car driver's signatures inside the deck lid. Plus he had Michael and Mario Andretti's signatures and others I didn't write down. It was an impressive collection of signatures if you are a racing fan. Look closely and you'll see the signatures across the black as well as gold – all done in gold ink.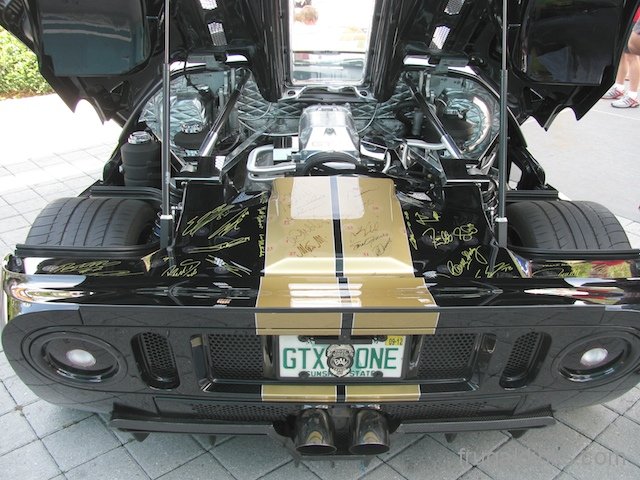 Cool old car interiors were abundant. This one was especially nice…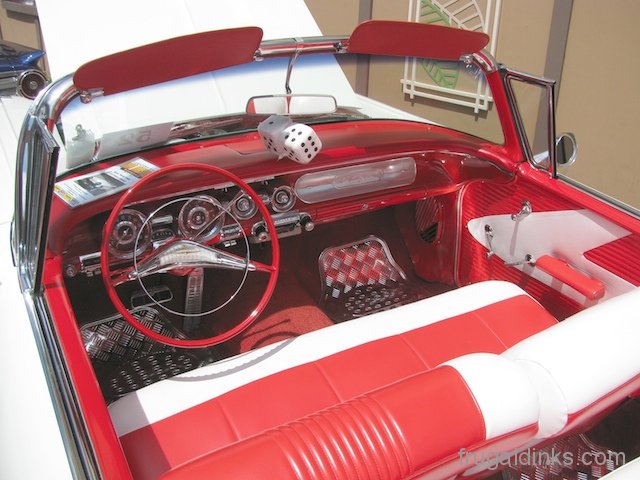 There were some nice custom rides and a few surprises. I wish I had time to find the owner of the old Bentley with the ghost flames as this was one of the most interesting vehicles for my tastes.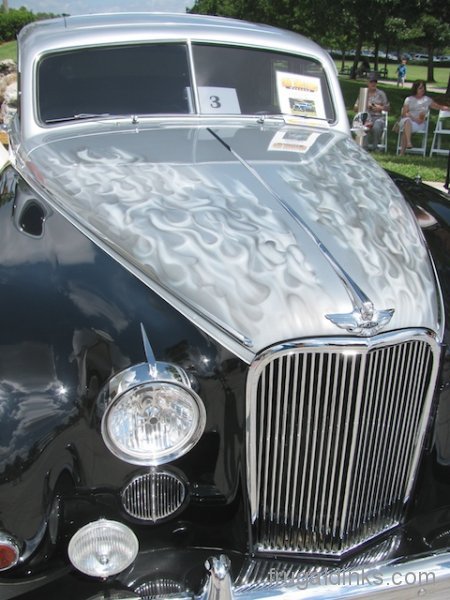 Most of the cars (I'd say maybe 95%) were from Florida. If you are a car fan you know that you can see lots of iron over at Old Town on 192. Depending on the day of the week the focus changes but one night is classic hot rod night. Rumor has it that Disney needed more cars for this car show and they were spotted at Old Town inviting certain owners to display their rides. As such, there were numerous classic American hot rods on display.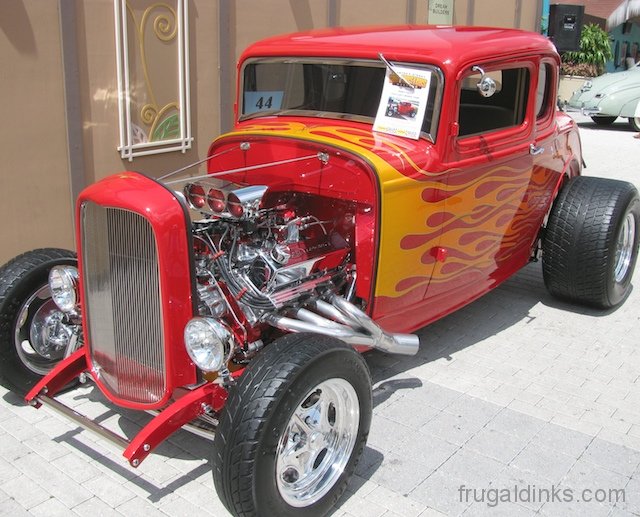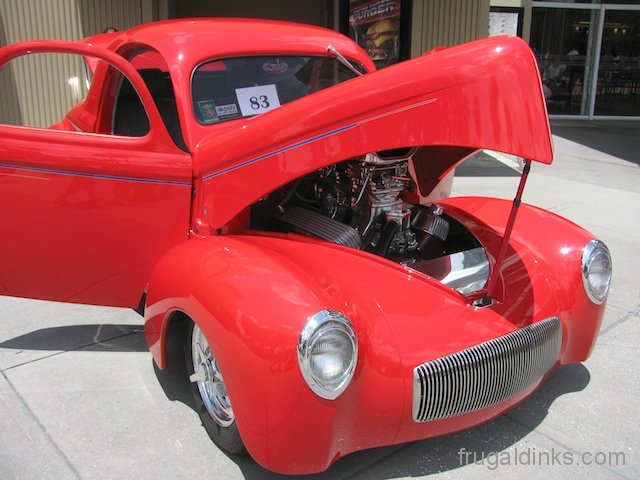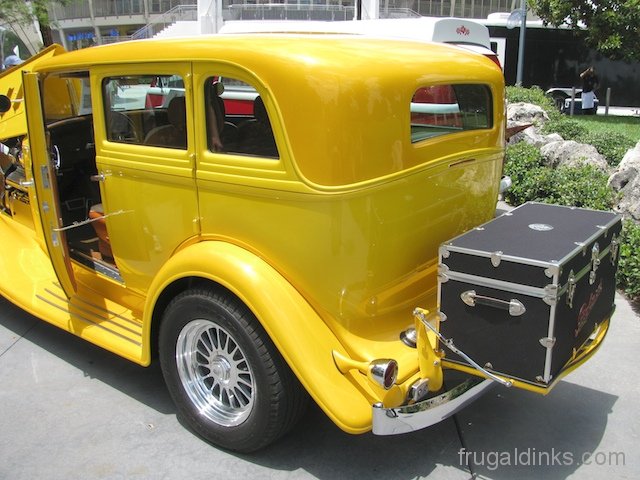 There were also some modern hot rods on display – many done to a very high level. Here is one example…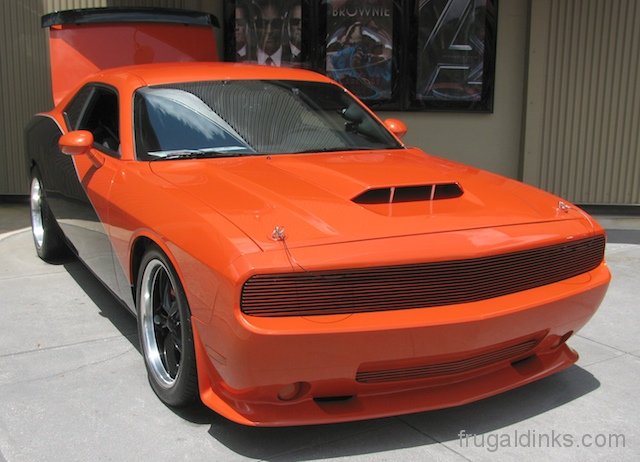 Disney really covered all the bases with a huge variety of vehicles. There were several nice restored vehicles on display – a nice contrast to all the customs.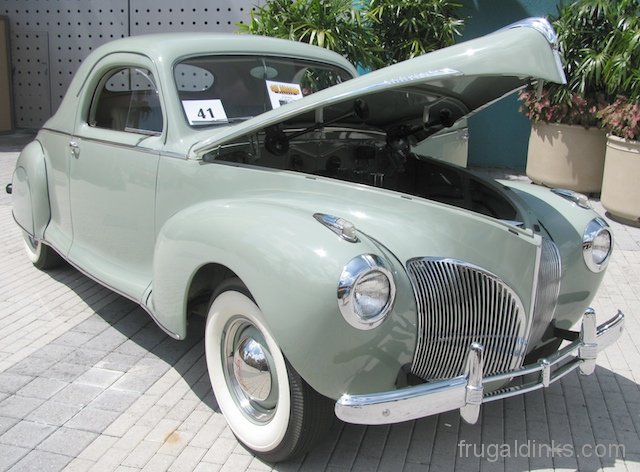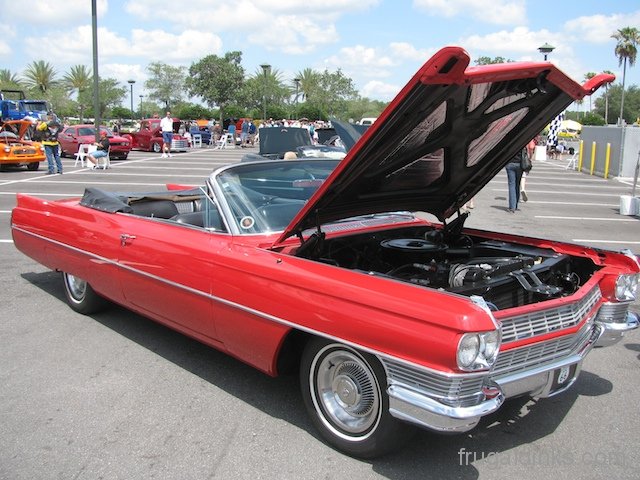 I saw a few vehicles that I'd classify as "inexpensive" meaning that the underlying vehicle was not expensive and there was not tons of work done. That is not a negative…these are the ones that appeal to me. They are nice enough to make you feel good cruising around but not so expensive that you worry too much about them getting dirty or even damaged. Below is a truck that fit in the category quite well. I could even see it being used to make runs to the hardware store – at least for me. 🙂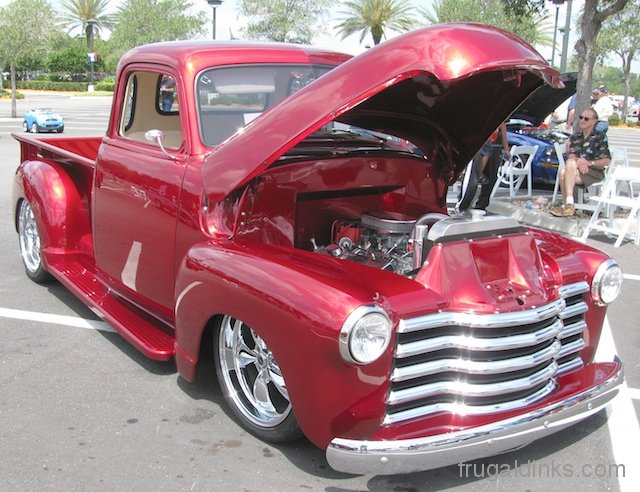 I did not take time to find out what the next car was. However, it was quite small and with the Donald cut-out I had to include the photo.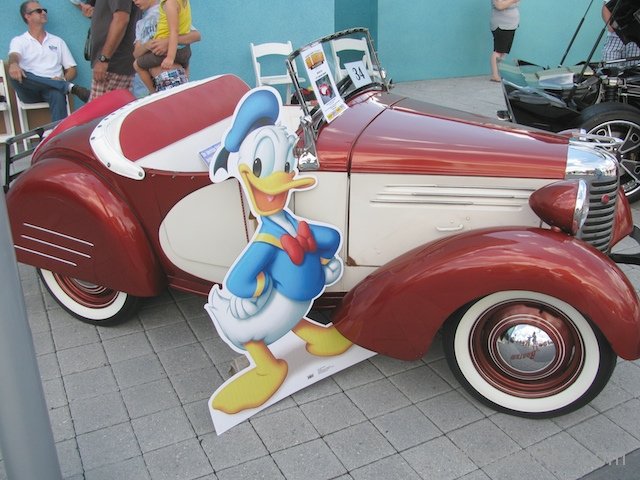 I think the next car is a Nash but I didn't have time to check. However, the sign on it said something to the effect that it is easy to restore a car but hard to chop it up. This one was majorly hot-rodded and not a car I would ever think of making a hot rod out of. To each his own.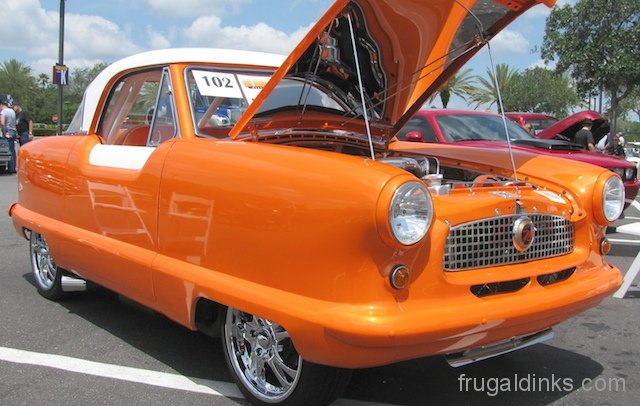 The most unique vehicle I saw was a radio flyer wagon. Yes, it is drivable and it is quite tall! Check out all the attention to detail – this was a major project and everything must have been custom made.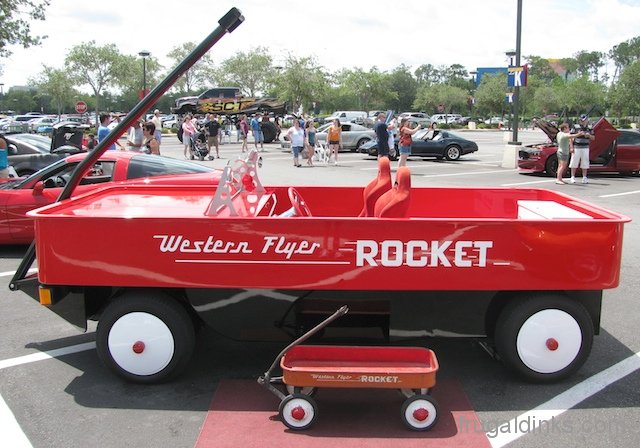 You won't be surprised to know that a Herbie was on display. However this one was set-up with a motion sensor. When someone got close the lights would flash, the trunk would open and then it would squirt water – fun!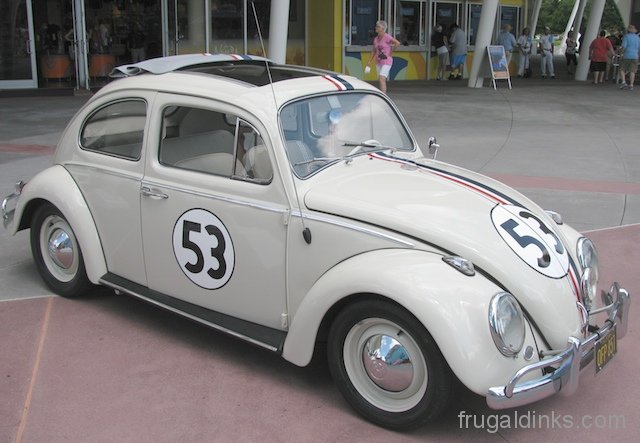 I'm sure it was done intentionally, the cars that were there to remind you of the Cars movies. I especially appreciated the VW Bus, the Jeep and the Impala convertible.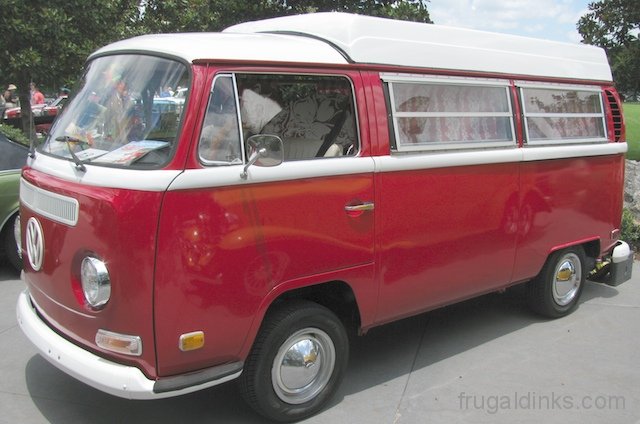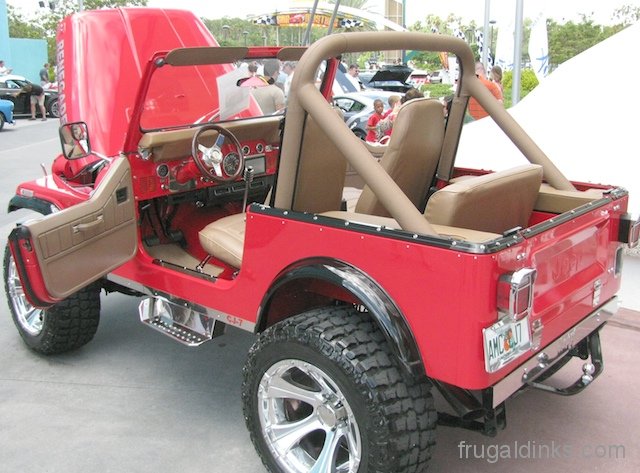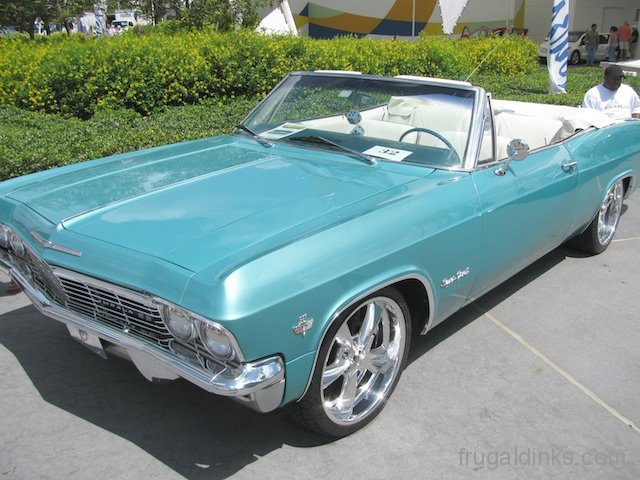 One owner even decorated his late model Vette to look like the one in Cars 2.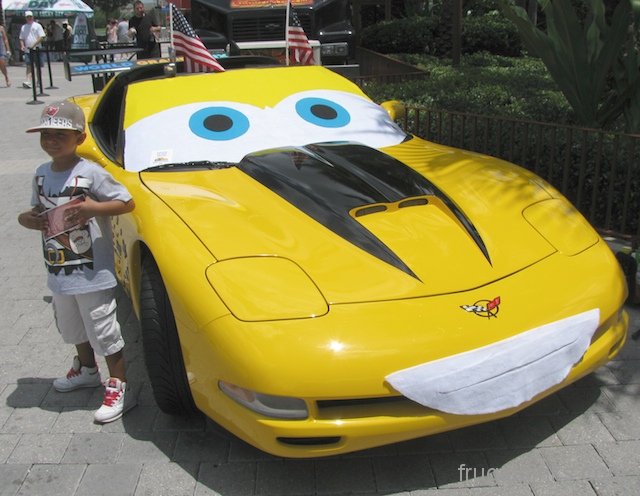 Of course the kids (and probably some adults) came to see the stars of Cars. In one report I read, families stood in line for nearly two hours to get their photos made. Maybe it was for Finn since he is rarely seen and even more rarely poses for photos with fans.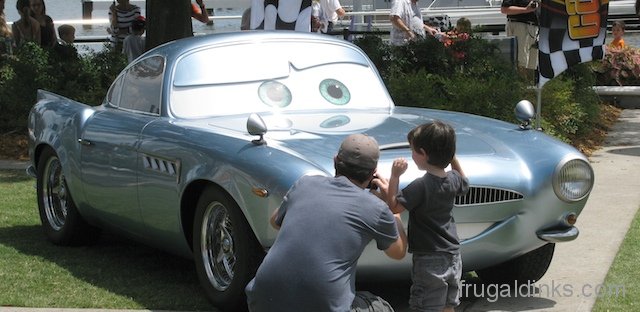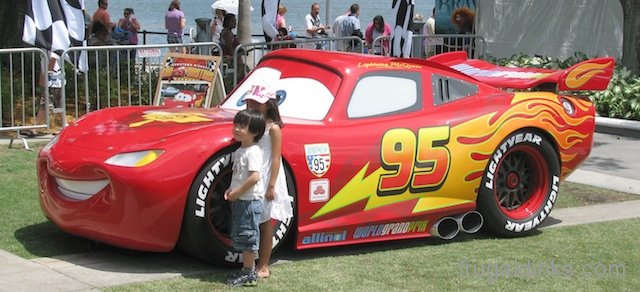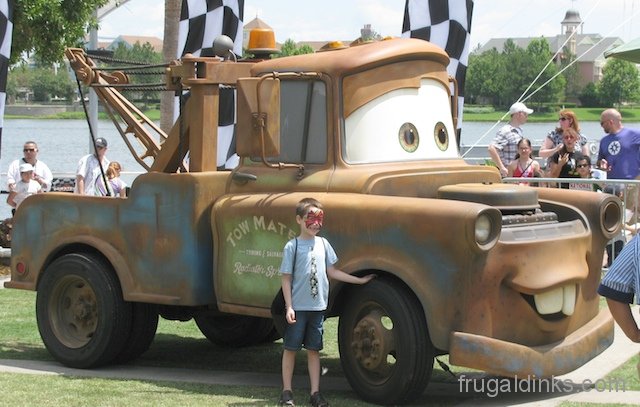 One car stood out as being owned by a true Disney fan. I'm sure there are more out there but at Car Masters Weekend there was only one. The license plate said it all – E Ticket. Plus it had lots of Mickey heads! There was a Mickey embossed in the trunk liner. There were Mickey valve stem caps. Were these custom made? Plus a hidden Mickey!!! The 3 main gauges are arranged in a Mickey head shape. I'm sure there were many more but as my time was limited I didn't take time to look more closely.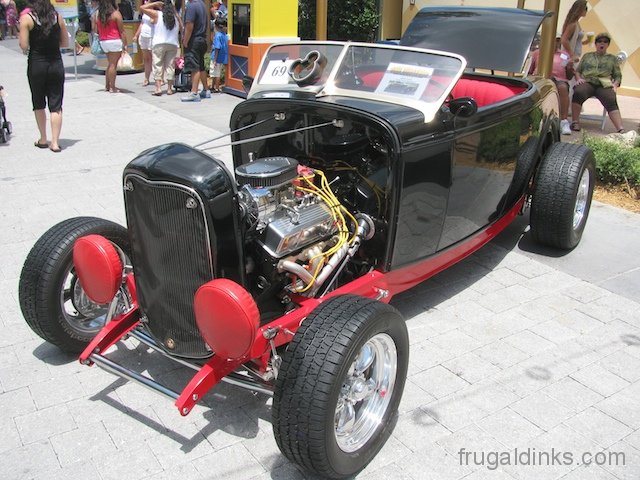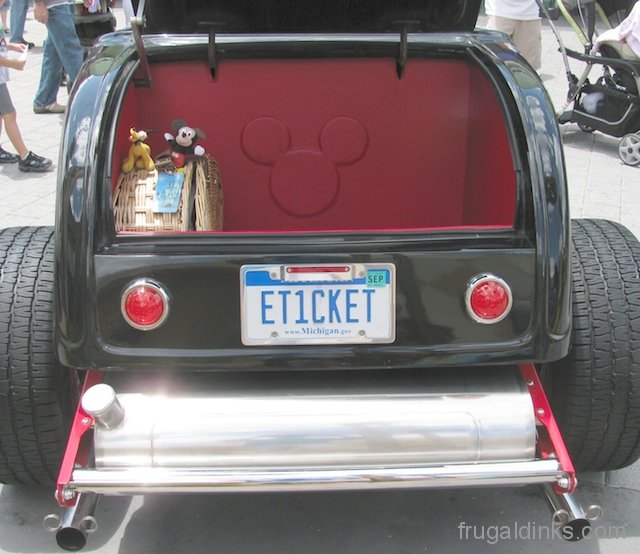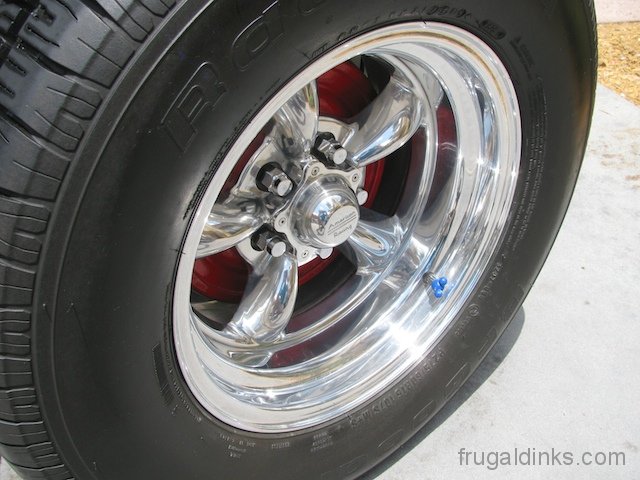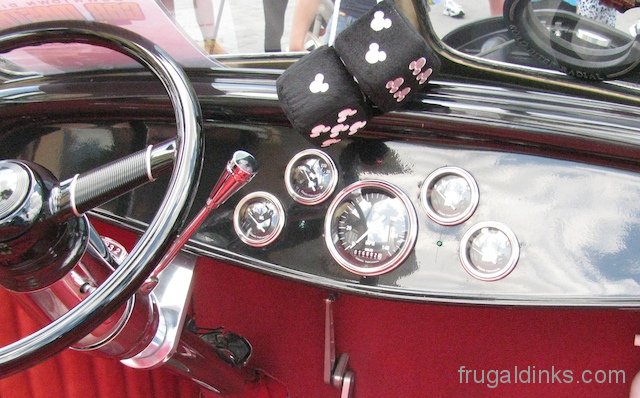 It was great to see that Disney hired a DJ that used a customized Mini as his DJ booth. It had lots of lighting making me wish I could have seen it at night.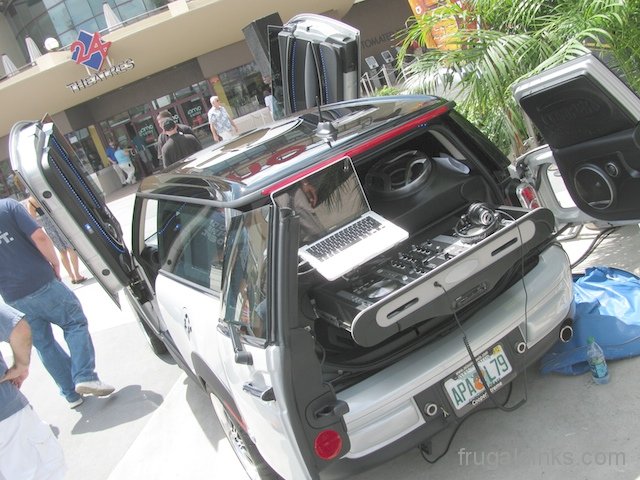 There were other things happening besides the car show. Radio Disney was there doing events for the kids. Besides the DJ, there were live performances by Disney entertainers. There were also 4 food trucks. Food trucks are hot now and unfortunately 2 of the 4 were affiliated with Disney. However there was one truck in the parking lot (the Disney trucks had primo spots inside the walkways) that I wish I had time to stop at. I love doughnuts. Cheeseburgers are okay. This truck was serving a cheeseburger between 2 fresh Krispy Kreme doughnuts. Yes, the doughnuts were in the flat boxes meaning they were bought fresh! We enjoy reading the Eating WDW blog (here), Sarah stopped and had one of these burgers (called the Luther).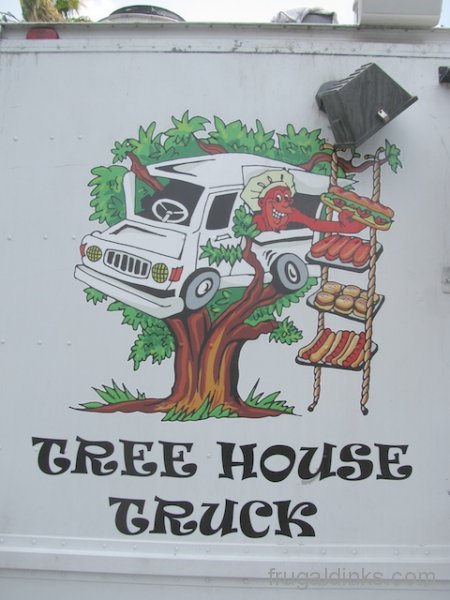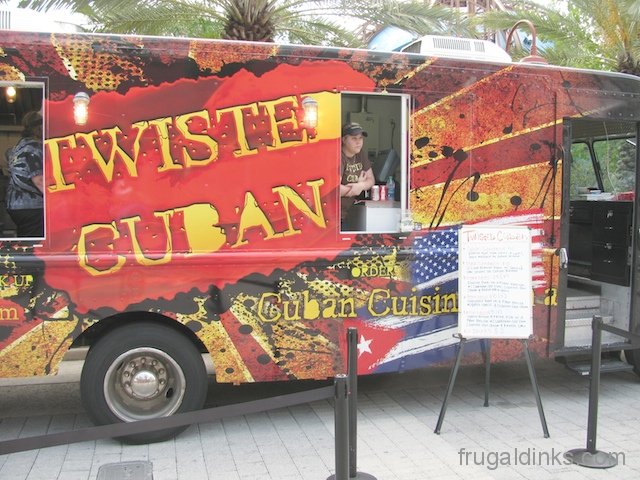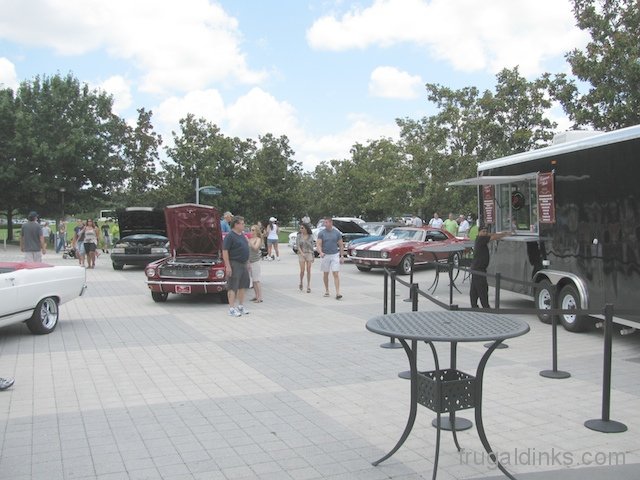 If you wanted to test your driving skills, The Richard Petty Experience set-up a road course in the parking lot with go-karts for hire. I think this was more adult oriented than kids…I wanted to have a go at it!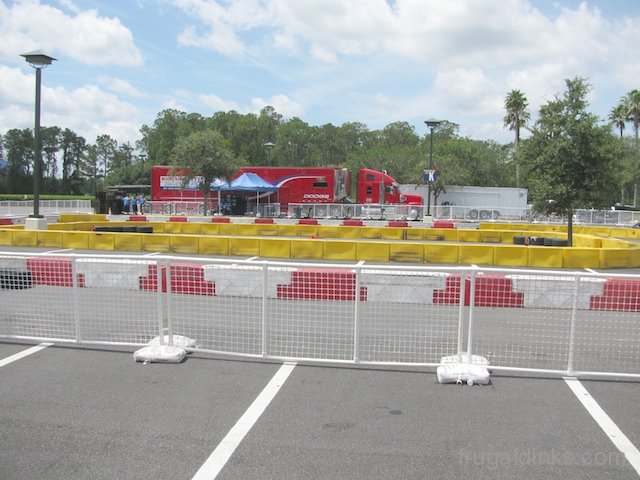 I also learned that the Richard Petty Driving Experience now offers exotic car drives at WDW. This is one I think I'm going to do! You can drive a Porsche, Audi, Ferrari or Lambo. The only issue for me is that there are multiple cars on the track at the same time and I'm concerned I'd be a rolling road block as I think I'd be pretty slow.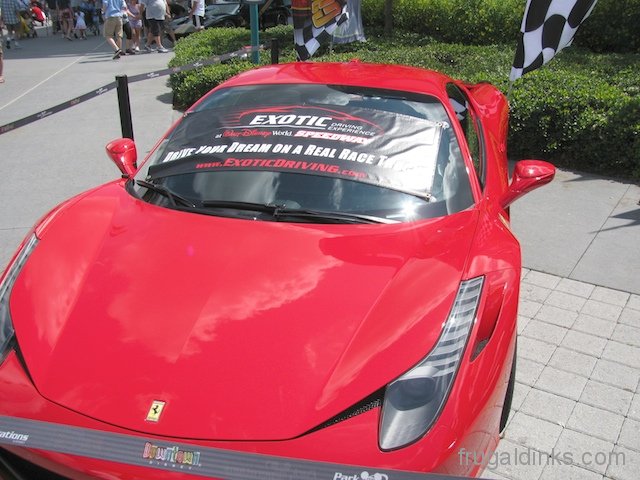 A highlight for gearheads this year – Chip Foose. If you don't know, Chip Foose is a popular automotive designer who has a line of accessories and an A-list of clients who he has built custom cars for. He has been on numerous TV shows and his custom cars fetch high dollars. He must be more popular than I thought because he also does work for Disney including contributing to the design of Ramone in the "Cars" film and designs in the upcoming Cars wing of Disney's Art of Animation Resort. Chip was also signing artwork from Cars at Disney's D Street both afternoons.
I was delayed in reaching the event on Saturday morning. This was a lucky break. I parked near Cirque and entered at that end. As soon as I snapped my first two or three photos I looked up to see Chip judging cars. These cars were at the very end of all displayed. If I had arrived any earlier or later I'm sure I would have missed him. It was already very hot but Chip greeted fans with a smile and seemed quite personable in his interactions.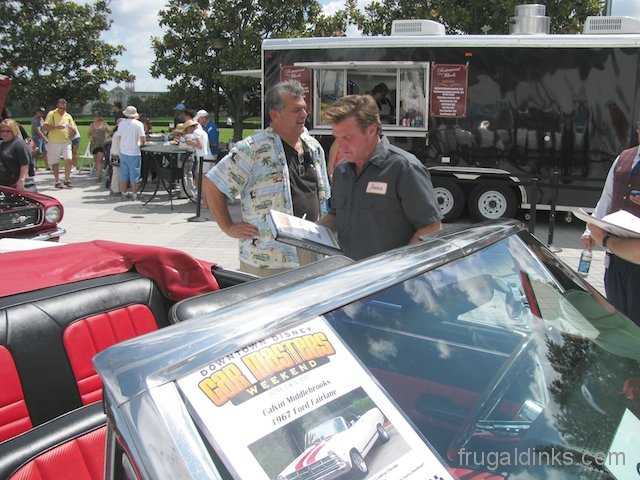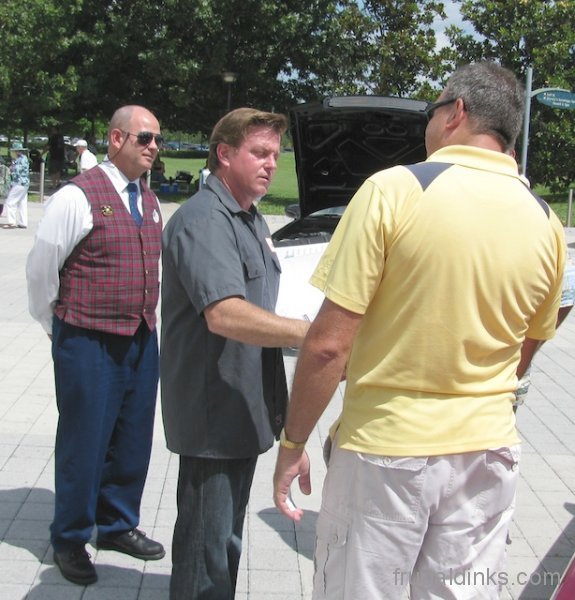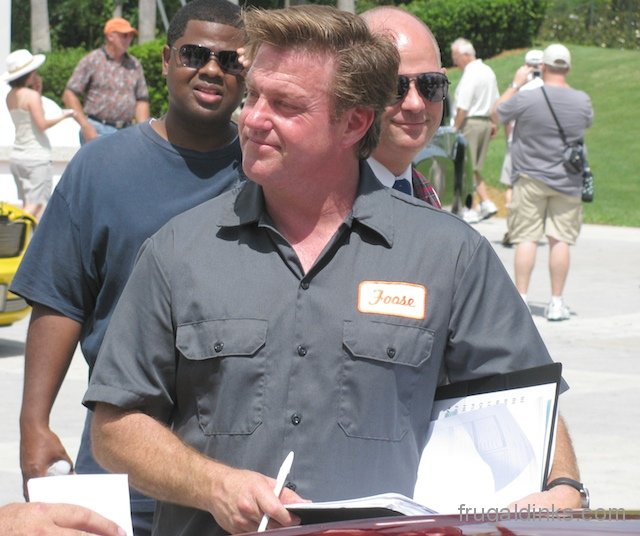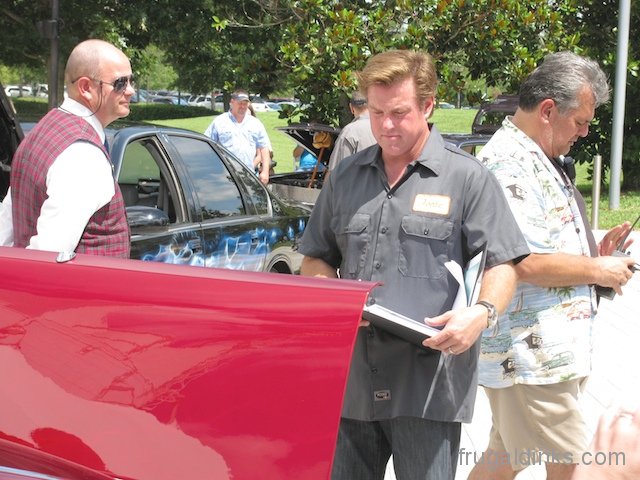 As Chip was the main judge it is doubtful his car won. Yes, Chip now has a line of limited production Mustangs and one owner was there showing his off at the show (he was quite popular).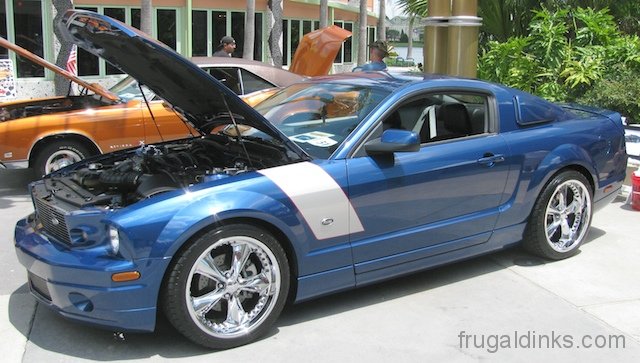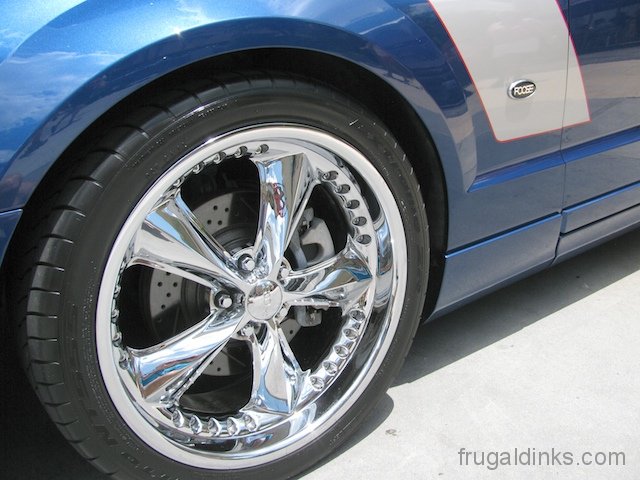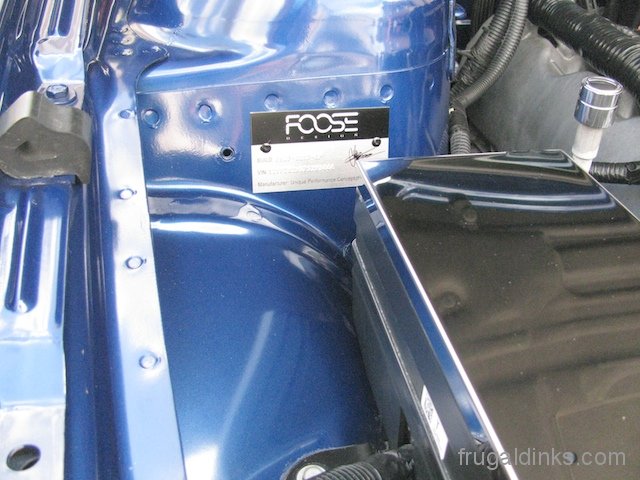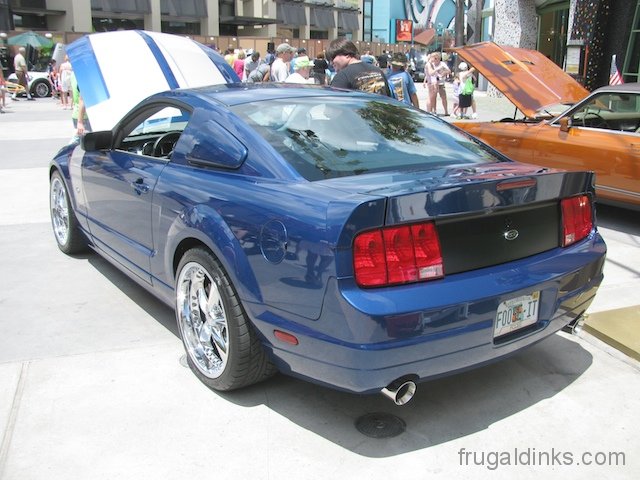 If I would have had more time I would have explored more, especially the cars that caught my eye. I wish I had better photos of some that really appealed to me… But what I have must do. So what cars did I see that I might cruise in (besides the truck I already highlighted earlier)? An Aston Martin, a late model Challenger, a very custom Mustang and a Roush Mustang that was very trick…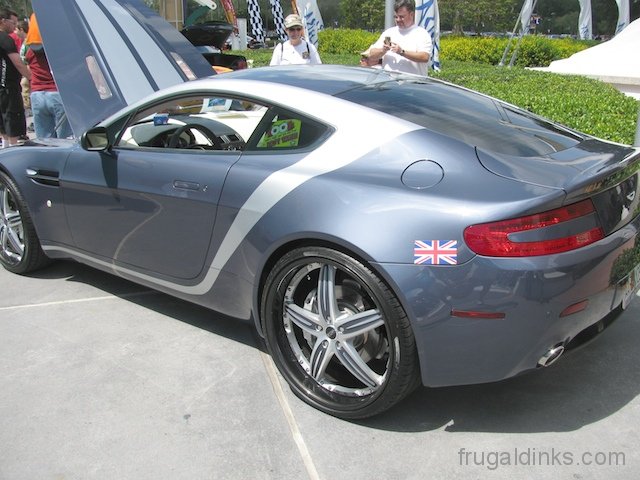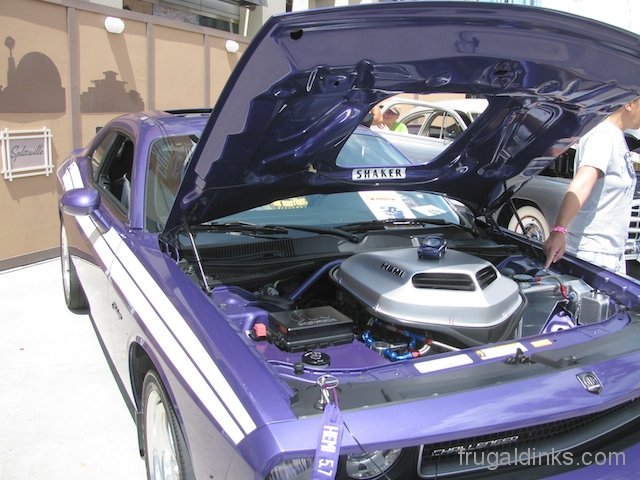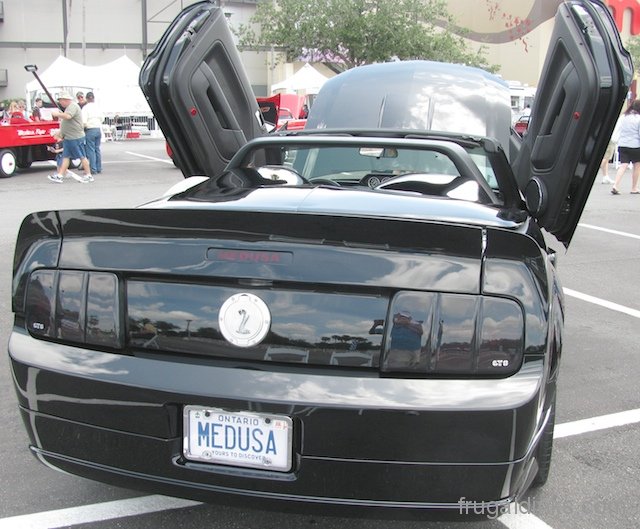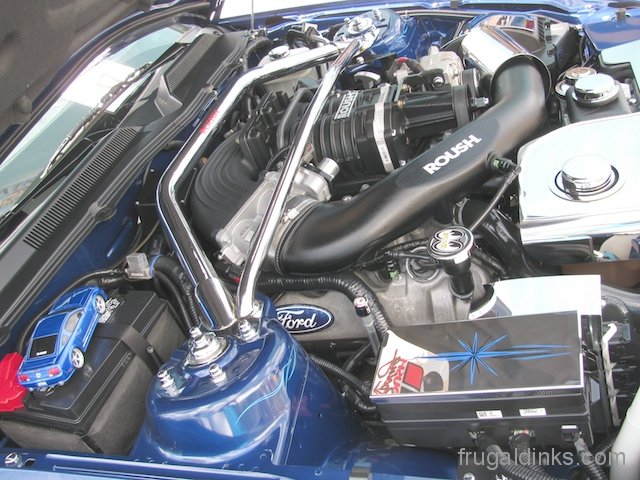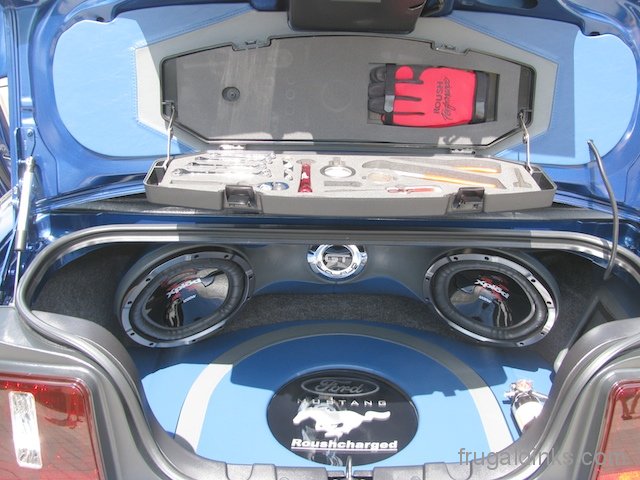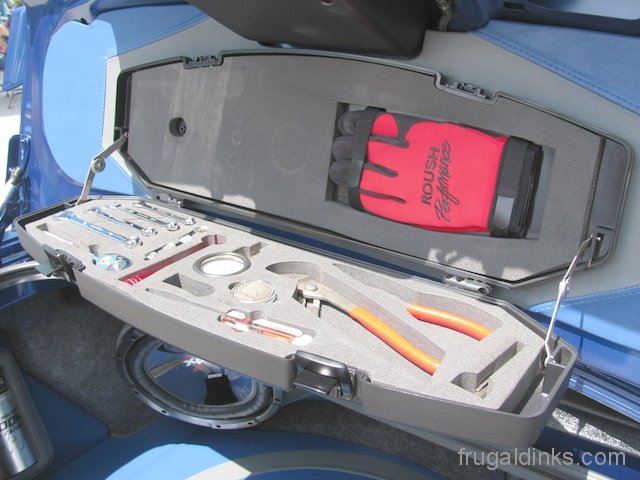 The Aston was just cool. The Challenger had a shaker hood with hood pins and all, plus it was in purple. I noted earlier that most cars were from FL. The super customized Mustang was from Canada – the farthest away of any car I noted. I hope they drove it down! I focused on the engine bay and trunk on the Roush Mustang – including the custom Roush tool kit.
I hope that this was popular enough that Disney brings it back again in 2013. I also hope I have more time to explore and talk to car owners. It is nice to see Disney adding "extras" that appeal to a fan base beyond what one might expect.
nick