The Festival of the Masters is an open air art festival held one weekend each November in the Downtown Disney area. To qualify for Festival of the Masters, artists must have earned a primary award in a juried art festival within the last three years. Prospective exhibitors also must go through a juried vetting process that is managed by Juried Art Services. This process ensures that visitors to the Festival will be treated to one of the finest displays of art in the nation. For 2011 approximately 150 artists were accepted to showcase their work. The art range is varied showcasing one-of-a-kind and limited edition painting, photography, sculpture, jewelry and more. In addition to the artists there is a House of Blues Folk Art Festival, a chalk art display, children's activities, live entertainment, specialty food and beverages.
Our focus is exploring things to do at Walt Disney World that are beyond a typical theme park day. We had never attended the Festival of the Masters as we are not "into" art. Fortunately, our friend Asta enjoys art, especially clay art and he was visiting during the festival. This was a great opportunity to do something new and learn about it while a "collector" wondered around. My apologies as I took few photos. It was way more crowded than I imagined it would be. But honestly I had no idea what to expect.
This year was the 36th Festival of the Masters. The Festival opens at 10 each morning and we arrived at 10:30. We entered near the Cirque "tent" and stopped at the very first booth. Asta enjoys music and is taking guitar lessons. We were all intrigued by the tuned wooden drum boxes that were being played. The artist even had a coffee table that was a drum! (Why didn't I take photos? I don't even have the artists name!) The sounds that come out of these simple looking wood boxes was incredible. I did some searching and found another artist online who makes these drums. To see what I am talking about, visit this link.
We moved on and soon found a clay artist that caught Asta's eye. The artist was from the Southwest. He applies multiple color layers with the last layer being black. He then etches it with very, very detailed geometric and mythical designs. His work has been featured in the Smithsonian magazine. It was quite stunning and very, very pricey with a quite small pot costing $600. His "nice sized" pieces were $3500+.
There was so much to see and we kept moving. Eventually a clay artist really caught Asta's eye. The artist is Vadim Malkin (visit his website here). Vadim does sculpture with his clay "pots". Asta spent quite a bit of time talking to the artist and wife team. They compared travel notes, Prague was a topic I recall. Asta sent a photo to Mrs. Asta and soon I saw him reach for his wallet. This is what Asta bought from Vadim (photo below). The jars have been named – Edgar, Allan and Poe…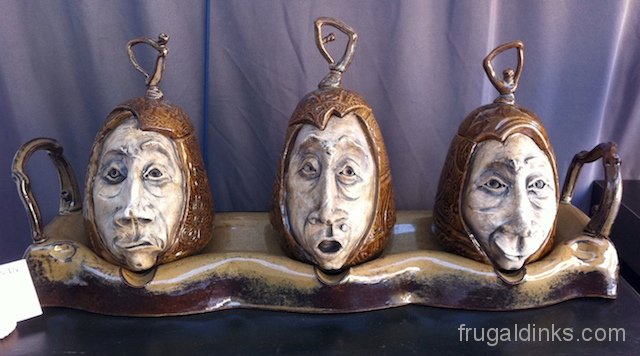 Asta encouraged Vadim to keep the jars on display. We had much more to see and it would have been crazy to carry this around. They agreed that we would pick up the "very well wrapped" jars at 3 p.m. and off we went.
Nora likes "dangly earrings" so we enjoyed stopping at the jewelry artsists' booths. Although Nora never found anything that wowed her or maybe nothing she would part with her money for, Asta found a pair of earrings for Mrs. Asta. (see below)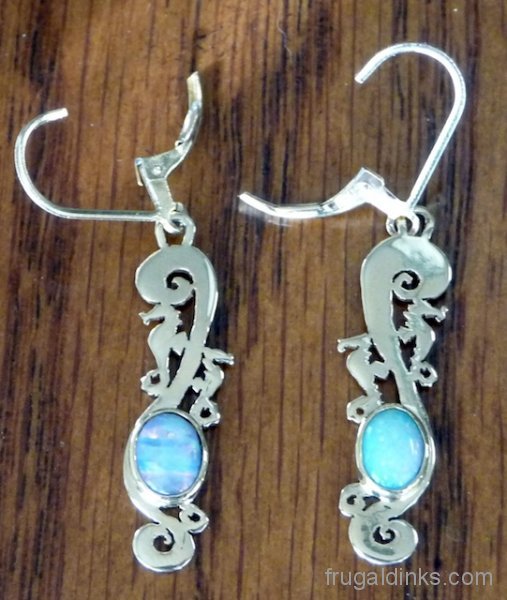 These earrings were handmade by Jack Forney. You can visit his website here. Asta enjoyed a conversation with Jack about how he forms the pieces and the inspiration for the designs. Asta did not send a photo to Mrs. Asta and as I have been told, she really liked her "surprise".
After this purchase we began to move a little quicker. It is surprising how long it takes to wonder through an art fair. There was so much to see and as we planned to leave at 3, we knew that only the most intriguing things would draw us in.
New this year was a special feature showcasing Disney artists. Their work was displayed on Pleasure Island. We spent very little time here. One thing I noticed was more typical "Disney" tourists in this area. Not that there is anything wrong with Disney tourists – I am one. It is just their focus was not on the art as much as the Disney focus. I hope that makes sense. If you like collecting Disney art I suspect that this area would be very appealing.
After walking through Pleasure Island we headed over to the shops at Downtown Disney to see the chalk artists. I was amazed at what I saw and for this I did pull out my camera. I still cannot believe what these artists can create on a sidewalk with chalk. Many were still working so I'll give you the best shots I got so you can hopefully tell how amazing this is.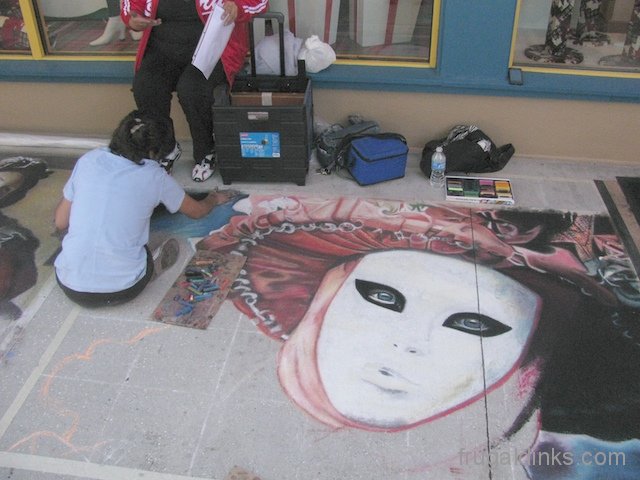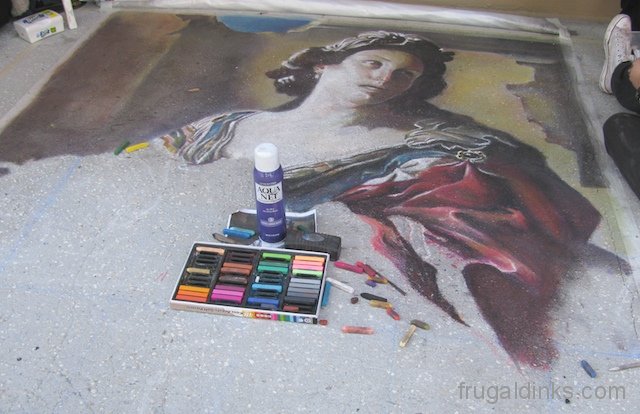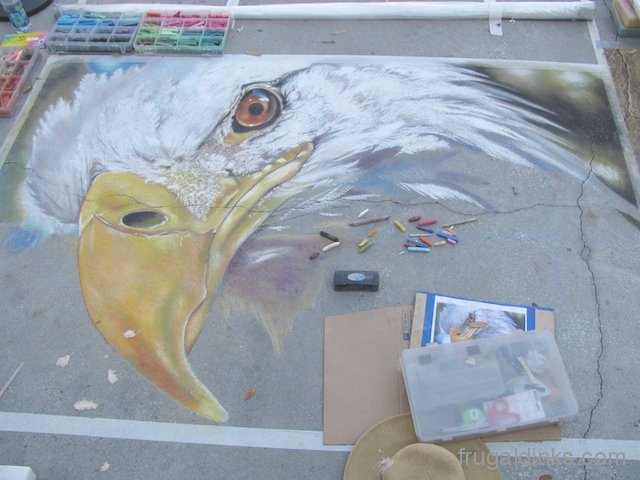 Each year there are Best in Show Awards presented. For 2010 there were awards in 10 categories. For 2011, 22 of the 30 winners in 2010 returned to exhibit. This says loads about the exposure (and probably sales) these artists make at the Festival. It is also possible that some of the 8 who did not return may not have "qualified"? After Asta made his clay pot purchase from artist Vadim Malkin we noticed in the guidebook that Vadim had taken second place in 2010. I don't know art but I think this says that Asta knows good art when he sees it!
2011 Best in Show Winners were published in the Orlando Sentinel. Plus there are 12 categories for 2011 – see the article and winners here. Congratulations to clay artist Vadim Malkin again this year as he took second place for "Tea Dutchess". Asta may have  snapped a photo of this piece (below)? Whether this is the winning piece, Asta must really know his clay art!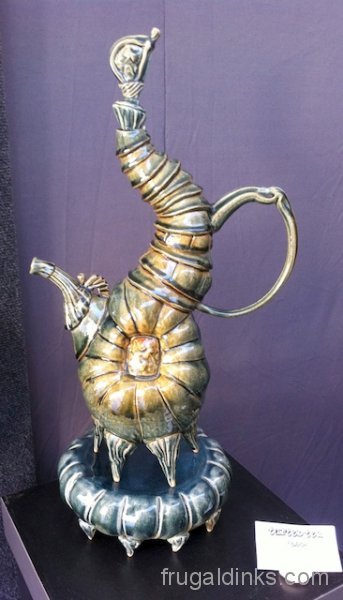 Scattered throughout the booths were also booths selling food, wine, beer and champagne. This is in addition to all the food and beverages you can typically find in the Downtown Disney Area. Some of the food this year sounded pretty good: lobster bisque, stone crab claws, gumbo, jambalaya, pulled pork sliders, California rolls and key lime tart (and there was much more!). We had a huge breakfast just before arriving and had early dinner plans so the food just didn't fit into our days plan.
The one other thing I hate we missed were appearances by performers from La Nouba by Cirque du Soleil. Asta is a big Cirque fan and I think he would have enjoyed seeing the performers up close. The only live performance we caught was the band from Bongos as they were performing while Asta purchased the earrings.
If you like art, mark your calendars for 2012 as the Festival of the Masters will be held November 9th, 10th and 11th. I think you'll find us there all day on Saturday the 10th; probably with Asta and maybe Mrs. Asta.
nick