We first tasted Unibroue beer the last time we ate at Le Cellier in the Canada pavilion. This was at least 3 years ago. We have never really understood all the hoopla surrounding this restaurant. It is ok but it does not deserve all the hype it gets on WDW fan sites and blogs. So we rarely spend the money or calories to eat here.
nora adds: Our last meal at Le Cellier was for Epcot's 25th Anniversary in 2007. I had booked us in there for dinner and a special Illuminations viewing area (it rained, it poured, I cried). I must agree with nick that we really don't understand the fan popularity of this restaurant.
For some reason though we did have a dinner there and enjoyed the mussels quite a bit. What we enjoyed most was our first experience tasting Unibroue beers. Nora had a La Fin du Monde and thought it was excellent. Nora also loves chocolate so she had a flourless chocolate cake for dessert. Now you might think having beer with dessert is weird. But with all the high quality beer available you would be surprised how tasty some pairings are. Nora thought the La Fin du Monde and the chocolate cake paired very well.
Since that first experience with Unibroue we've sampled a few others. However we have never found Unibroue on draft, only in bottles. I prefer draft beer (mostly lagers too) and am not as adventurous as Nora when it comes to trying different beers. So although there are numerous beer options at Food & Wine I wanted to stop at the beer cart in Canada to get a Moosehead. When I walked up I was greeted by a sign that gave me a huge smile.
Of course I asked the cast member about this. He explained that since they sell Moosehead in the Food & Wine booth they decided to bring Unibroue drafts outside to see how they would sell. He says that after the festival he expects they'll bring back Moosehead.  🙁 I understand that most people prefer to stick to what they know and that Canada needs to promote beers that are easy to obtain in your local market (LaBatts, Moosehead). But what a treat to have a Unibroue draft while walking around Epcot! We bought a Trois Pistoles to share (it is 9% ABV!).
nora adds: nick is correct that it's very, very difficult to find Unibroue in bottles; however, we did manage to find it once or twice before we moved to Florida (it was quite pricey compared to other bottled beers) – I suspect if you live in a large city where there is a good market for a variety of alcohol, you can find Unibroue – BUT the names and the brand are going to be very "foreign" to the non-adventurous consumers… too bad this isn't a compelling reason to put more unique beers out on the World Showplace promenade permanently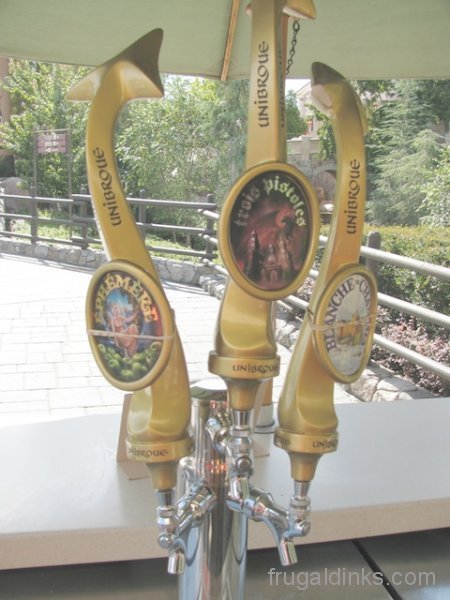 A few extra details on the three drafts (I'm heading back to try the other 2, I promise). Blanche de Chambly is a Belgian white ale (witbier) with a medium body and 5% ABV. Ephemere Apple is a white ale brewed with apple and also has a medium body but with 5.5% ABV. Trois Pistoles is an abbey style strong dark ale with medium body and 9% ABV (whew!). These are $8 each for a 20 ounce draft. This is the same price you pay for a 20 ounce Bass or Kirin (both of which I enjoy regularly). So although the $8 may look high, it is a good deal for such a large and high quality draft.
If you like beer and want to learn more, visit the Unibroue website.
nick