Food Who: Todd English from Todd English's bluezoo, Walt Disney World Swan & Dolphin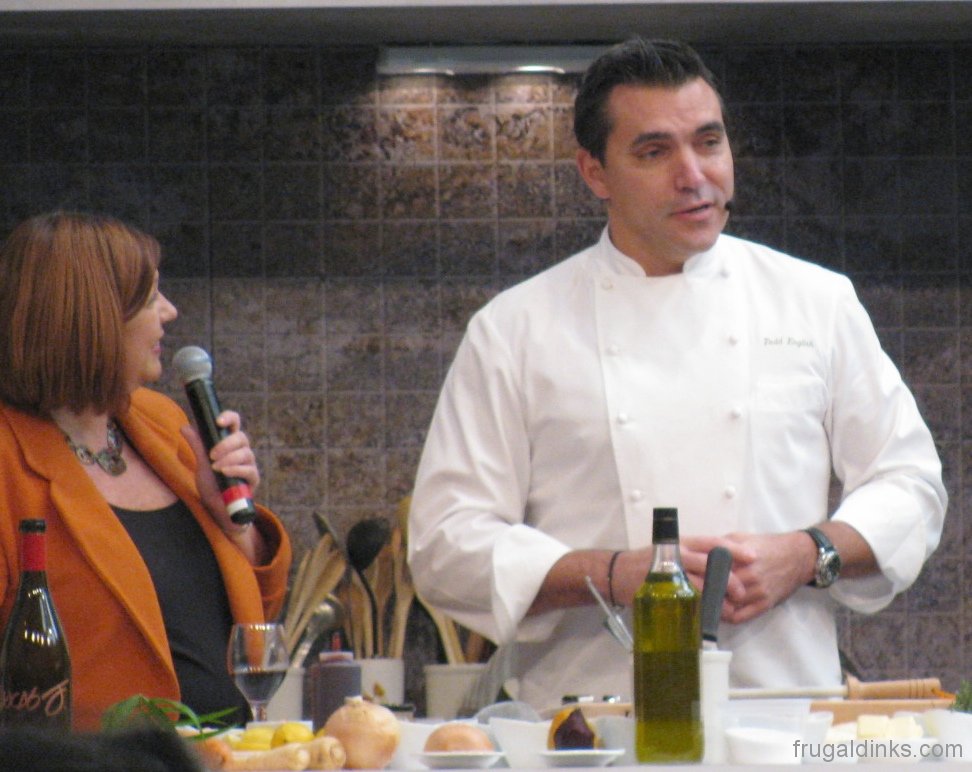 Wine Who: Lucas Meeker from Meeker Vineyards, specifically from Lucas J Cellar, Healdsburg, CA… Lucas J Cellar, Russian River Valley, Jasper Family Vineyards, Pinot Noir
Wine: Lucas Cellars Pinot Noir
In 2007, Lucas got out of college and went back to the family winery "for a while." The wine that we tasted was the very first wine that he created on his own. It was aged in 80% new french oak — adding significantly to the cost of the wine. This particular wine only recently became available; it's a big wine with lots of tannins, also it is more acidic than most pinot noirs. When this wine was made, the cap (seeds and skins that move up to the top during fermentation) was punched down eight times each day, much more frequently than is typical with Pinot Noirs. This caused more tannins to be released into the wine. Nora thought that the wine smelled very rich and warm. The taste was more like a cabernet sauvignon than other pinot noirs. Lucas decided to use this wine, it was substituted for another from the family vineyards, because of the pairing with Chef Todd's root vegetables. When a wine is paired with food, you want to not only complement the food, you want to add some similar taste notes so that the two act in harmony. Only 224 cases of this wine were made.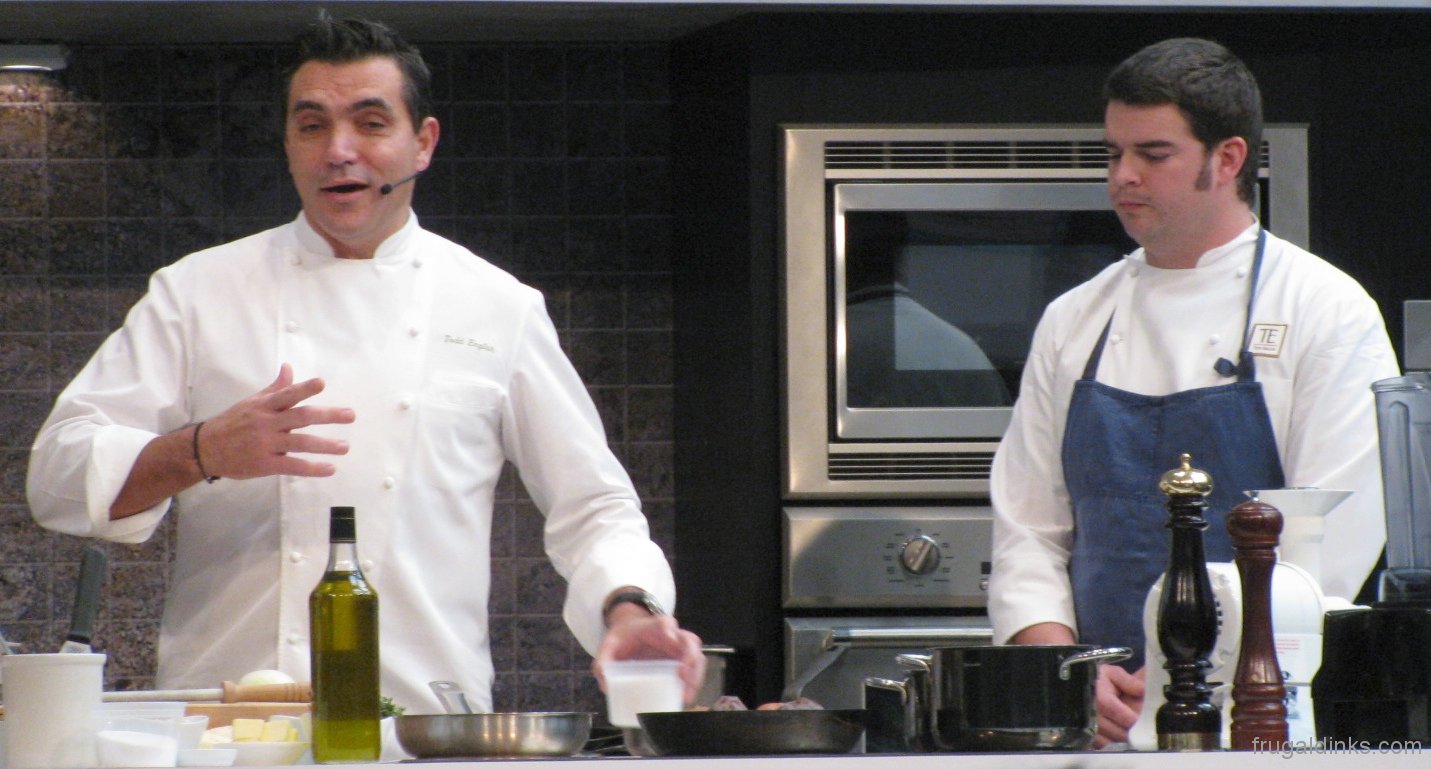 Chef Todd English has participated in the Epcot Food & Wine Festival each year for it's 15 year run. Assisting him in the culinary demonstration was Brad Baxter, the chef at bluezoo. The concept behind bluezoo was to create a fish restaurant that cooks food from all oceans and all walks of life, use common foods in uncommon ways. Like most of the other chefs we saw at Food & Wine, the goal with food is to eat local, eat fresh, and cook well.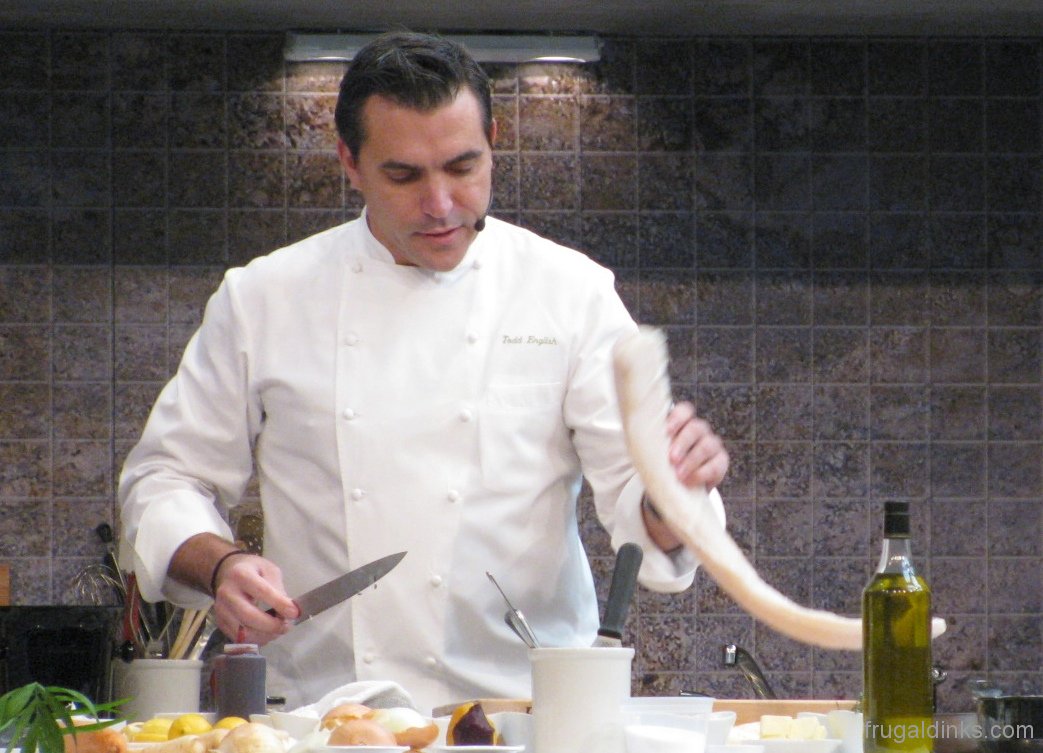 On to the food…
The idea of salt roasting the beets reminded us of a sushi chef we knew years ago. One day we got the bright idea to invite him to our home for dinner. As Nora was finishing the  touches on a rather simple dinner of barbequed chicken, fresh vegetables, corn bread and dessert, she suddenly realized that she was cooking for an honest to goodness Chef! That's when she had a moment of panic. It quickly passed, he and his wife were wonderful guests; they showed up with a five gallon bucket full of iced down Sapporo (rather uncommon beer back in the late 1980s!). Of course, he soon invited us to his home — on the menu — salt crusted tuna cheeks (at that time, the japanese restaurant where he worked didn't serve tuna cheeks to the guests). Wow! they were fabulous and very memorable. Full circle back to the salt roasted beets, they were very good and watching Todd English prepare them jogged that long lost memory of food and friends and new foods.
Most of the other notes from Chef Todd's presentation are repeats of food facts and preparation concepts that we're already familiar with…
parsnips are related to carrots, but they're typically sweeter – the best parsnips are those that are spring-dug, in other words, they've spent the winter in the ground
when slicing or chopping an onion, cut off the root end first, then the greens end; cut and chop from the green end
mero is a deep water fish, similar to grouper and sea bass in texture and flavor; the texture and flavor come from the fact that the fish has a lot of fat and collagen due to the coldness of the water it lives in
fish shouldn't smell like "fish", if you go into a fish market and it smells of fish and/or ammonia, go somewhere else for your fish
proteins coagulate at 140 to 160 C (at least we think he meant centigrade instead of fahrenheit) – ideal temperature for cooking fish — don't overcook fish (another lesson we learned years ago from our friend the sushi chef)
salt brings out the flavors of food – use it!
lastly "you can make a bad wine from good grapes, you can't make good wine from bad grapes," the same thing holds true for food and ingredients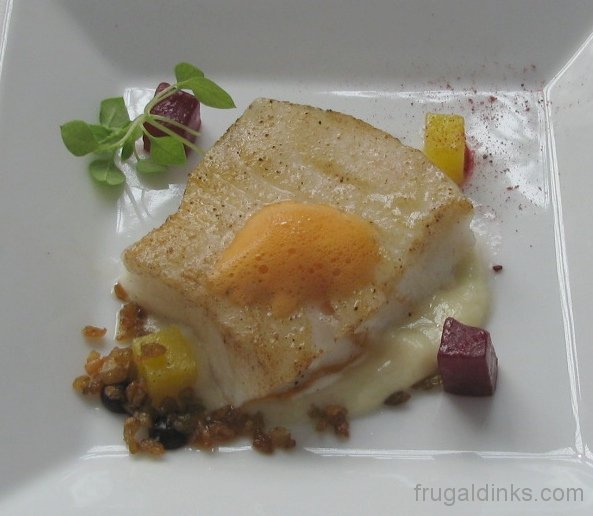 Recipe = Hawaiian Mero, Parsnip, Beet, Crispy Farro Verde and Spicy Carrot Air
4 servings
Hawaiian Mero (can substitute grouper)
4 each 5 ounce fillets
salt and pepper to taste
Method:
Season both sides of the fish with salt & pepper
Sear in a hot pan for 1 minute on each side with olive oil and butter
Finish the fish in the oven for 5 minutes at 350F
Parsnip
1 cup, peeled and diced parsnip
2 cups milk
1/4 cup diced sweet onion
1 sprig thyme
2 tbs butter
Method:
Sweat the onion and thyme in the butter
Add the parsnips and cover with milk
Simmer until the parsnips are tender, then puree and keep warm
Season with salt
Salt Roasted Beets
1 candy stripped beet
1 golden beet
1 red beet
3 tbs extra virgin olive oil
1 tbs lemon juice
fresh cracked pepper to taste
Method:
Bury beets in kosher salt
Drizzle with some olive oil (not included in list of ingredients)
Bake at 400F for 1 to 1.5 hours, until tender through center (check after one hour)
Once tender, remove from oven and let cool
Peel the beets, cut them into cubes or wedges
Dress the beets with olive oil, lemon juice, and fresh cracked pepper
Farro Verde
1/4 cup Anson Mills farro verde
1/4 cup water
1/2 tsp salt
Method:
Combine the farro and water in a cryovac bag
Run the cryovac machine and remove all the air in the bag and seal it
Put the bag in the microwave for 1.5 minutes
Remove from the microwave, open the bag carefully, drain the farro on paper towels
Fry the farro in 350F oil until crispy
As soon as it is crisp, remove from the fryer and season with salt
Reserve at room temperature in an airtight container for up to 3 days
Spicy Carrot Air
1 cup carrot juice
1 tsp lecithin
1/4 tsp espelette pepper
2 tbs acacia honey
1/4 tsp salt
Method:
Simmer the carrot juice with the acacia honey and the espelette pepper
Season with salt
Add the lecithin and froth using a portable hand mixer
This will create a soap bubble-like effect
To plate:
Spoon some of the parsnip puree onto the center of the plate. Place the Hawaiian Mero directly in the center of the puree. Arrange the beets around the fish. Sprinkle some of the farro verde around the fish. Spoon some of the carrot "air" on top of the mero and serve.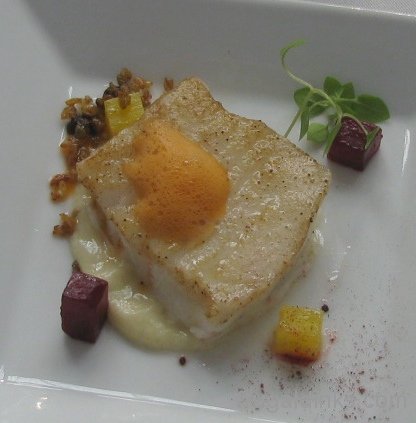 Our thoughts…
this presentation was not as enjoyable as the ones by Jose Camy (Paradiso 37) or by Kevin Dundon (Raglan Road — yes, we'll get it up very soon)
the food wasn't as good as those two either
strange, because we've really enjoyed the food at bluezoo
finally, perhaps not everyone is as good at doing these presentations regardless of the time they've spent in front of a camera etc…
this clearly isn't something that we're interested in reproducing at home, other than the salt roasted beets 🙂