The major components of this party that we were interested in were trick-or-treating, Mickey's "Boo-to-You" Halloween Parade, Happy HalloWishes: Grim Grinning Ghosts Come Out to Socialize, hopefully visiting a few attractions, and seeing if there was anything special going on at the Haunted Mansion. As two adults without kids, the character dance parties and the Disney Villains mix & mingle weren't at all important; actually, the character dance parties would prove to be an unmitigated nuisance for us personally.
When we arrived at Magic Kingdom, one of the first things that Nora noticed was that the Cast Members seemed to be in an unusually cheerful and friendly mood overall – very different from when we've gone over to see the Main Street Electrical Parade or Spectromagic Parade or Castle Dream Lights (granted these are more regular nighttime events and we don't do them very often – frankly, the CMs have ranged from disconnected to grumpy to downright rude in general when we've attended these). The CMs were dressed in special costumes with lots of orange, green, and purple decorated with candy stripes and little bats. They gave us our wristbands and goodie bags.
We meandered up the right side of Main Street, checking out the special Halloween treats in the Candy Shoppe and just taking our time as the non-party-goers emptied out of Magic Kingdom. We'd never stopped to visit the glass blowers at Magic Kingdom, but we did on this occasion. What a simple treat, the glassblower was eager to talk and explain what he was doing and why each step was done a certain way (he was making a "mickey mouse vase"). He used to have a glass studio (in an artistic co-op?) and while he had a lot more latitude creatively, the guests at Magic Kingdom and getting a regular paycheck make up for the loss — also, he said that he still has time and more importantly, resources, to pursue the "artistic" when away from work.
We went over to Tomorrowland and rode Space Mountain (wow! this is the first time that we'd ridden SM since sometime in 2009!). The wait wasn't too long at all, we didn't even have time to play around with the games in the line. At this point, we started stopping at some of the trick-or-treat areas and getting some candy – we didn't plan to eat any of it, in fact, we promised Walter that he could have whatever we got for his trick-or-treaters.
The families that were dressed up in costume, and some of the adult-only parties that had gone to the trouble and expense, were pretty interesting to see as we walked along. No regrets that we didn't do the same – at this point though we were thinking, "okay we're doing this because we've never done it, but it ain't really our thing."
We made our way over to the Haunted Mansion, Nora had read that the CMs over here go all out for the MNSSHP — eh…. There was a CM out front dressed as a ghoul talking to the guests stopping for photos – she was pretty neat. The CMs inside the ride had on extra makeup and some tried to be a little more ghoulish. It was nice to see that efforts were made, but we couldn't really call them HUGELY successful efforts.
We had planned to see the parade (Nora really wanted to see the headless horseman and the dancing grave diggers), from in front of the Diamond Horseshoe Saloon. Lisa & Andy had shown us this area when we all watched the Main Street Electrical Parade back in August. Well, in August there wasn't a loud dance party going on inside the Saloon. The noise level was too much for Nick – he wandered off to a quieter place while Nora saved a couple of spots.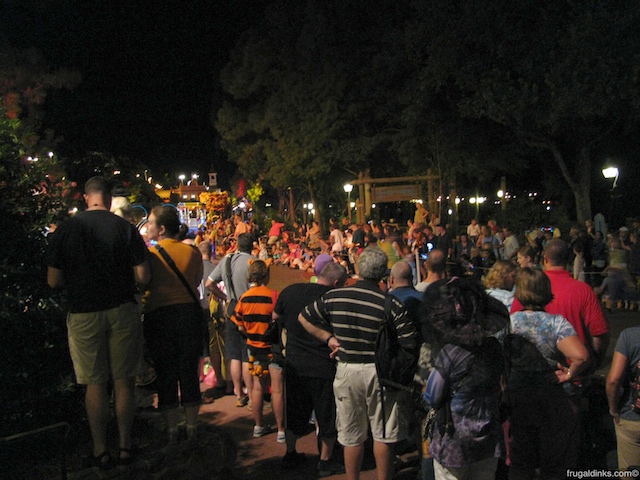 THE PARADE.
Number one: we're now nearly totally and completely certain that we are not parade people. We can't stand the way that you have to compete to get a spot to see the parades at Disney World. We don't really like parades in "regular life" – we don't watch them at Thanksgiving, we don't watch the Rose Bowl parade, etc… If you aren't a parade person, don't expect the parades at Walt Disney World to suddenly shoot sunshine and happiness up your butt. They're not bad, we don't mind going to them with friends, but they aren't something that we go out of our way to see on our own. Number two: we were successful in seeing the headless horseman (but not successful at getting a photo). The horse, John, that takes the headless horseman along the parade route is huge! We "met" John when we did the Segway tour at Fort Wilderness. At that time, the tour guides told us that the John is so well trained that the headless horseman can't see anything, he just trusts John to take him where they're supposed to go. Also, John works well as the headless horseman's horse because he's so big that the illusion that there's no head works better. Number three: we were also successful in seeing the dancing grave diggers. Yes, they dance in symmetry; yes, they dance with real shovels; yes, they bang and clank their shovels together, and yes, they drag their shovels along the brick walkway making sparks dance off the blades. Kewl…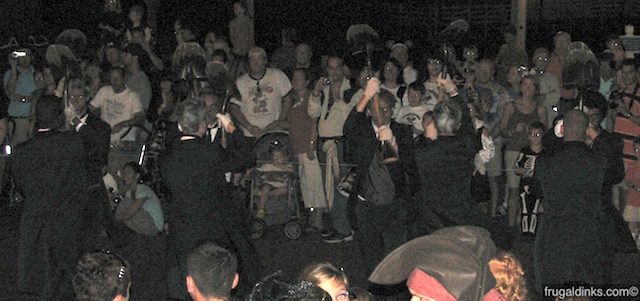 Lastly, THE FIREWORKS…
Goodness only knows how we got so lucky – maybe pixie dust was sprinkled on us to make up for the things that were less that WOW for us that night (no need to go into all the gory details) – we were able to stand in the middle of a nearly deserted Main Street staring up at the Castle, holding hands, and watching some pretty fantastic fireworks. We may not be parade people, but we are definitely fireworks people. The music and the choreography was spectacular. Now our only concern, how can we best see the special fireworks shows with music, without having to spend the money on special tickets.
Okay, things that stood out as YECK…
CMs handing out the candy were inconsistent. Some were cheerful and joyous, some were surly (and not in a spooky Halloween-y way), some were generous (within reason) and some were parsimonious (big word for the day).
The noise levels. This is something that we seem to harp on a lot. Nora's thought about it quite a bit – things just seem to be getting louder and louder at Disney World. Why? Is it to compete with the earbuds that so many people seem to feel compelled to wear 24/7? You know, the Imagineers used to design the music and the speaker systems so that sound was an integral component to each individual experience at WDW. Now it seems like somebodies somewheres have gotten it into their heads that finesse isn't the way to go, sheer volume is it! Yuck yuck yuck. Gotta get Nick that SPL meter he wants so that we can start quantifying how loud things are. Anyway, back to MNSSHP – the volume levels at the various dance parties was incomprehensible, just intolerable; even from OUTSIDE the parties. If loud sounds aren't your thing, if they make your blood pressure go up, if they make your heart rate go up, if they make you really uncomfortable, give the dance parties a wide berth.
Overall, would we go to MNSSHP again? Maybe. Probably not. Definitely not with just the two of us, maybe with a group or another couple. Perhaps it's simply that Halloween isn't our thing… if you're into Halloween, go for it though.
Some links if you'd like to see more photos & videos, courtesy of allears.net… here & here