We were a bit jealous when we heard that our friends Lisa and Andy had gone to a scotch tasting at Food & Wine last year and we had missed the chance to go! So this year, we kept our eyes on the schedule – and signed up to do the "scotch tasting" all 3 days that it was offered… And we're extremely glad that we did!
The Edrington Group
Highlands, Scotland
Presented by:  Martin Daraz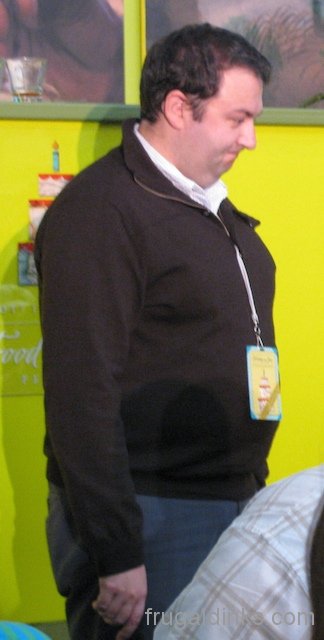 Sunday, October 24; Monday, October 25; and Tuesday, October 26, 2010
Tastings: Macallan 12yr old, Macallan FO 15yr old, Highland Park 18yr old
They produce Macallan, Highland Park, Famous Grouse, Cutty Sark
Disclaimer… Highland Park 12 has been our favorite, go-to, single malt for nearly two years…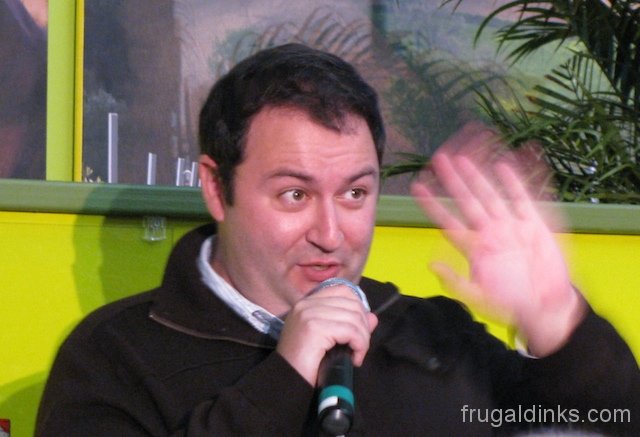 We thought that Martin was a very funny presenter. He used a lot of self-deprecating humor; on Sunday and Tuesday the presentations were punctuated with lots of laughter, on Monday, not so much. This is the fifth year that Martin has done the Edrington Group Demonstration at Epcot Food & Wine (as such there's a surprise at Tuesday's event — look at the end of this post). He told us that he's been with the distilleries for a quite a while, he started out in a boiler suit and is now in a business suit.
Martin tells us that "whisky is simple" and that there is a "culture of happiness in whisky". You don't need to see photos of Scotland in order to appreciate whisky. Single Malt Scotch Whisky is simple to understand… a single malt scotch is made in one location, by one distillery, through one distillation in the country of Scotland. Whisky is a simple product, made though a process similar to beer making. You make a beer solution without hops and boil it a few times… start with malted barley, soak it, sprout it, dry it, grind it up, add water to it, boil it, age it, and drink it. Of course, it isn't as simple as all of that, after all, whiskey is from the country that brought you golf!
The Edrington Group (the EG) is very focused on making their smaller line of whiskies in a particular way with a particular flavor profile. And, since the Scottish people don't like to spend money, they're very particular about how they spend it. 60-80% of the flavor in a single malt comes from the barrel, thus, one of the largest investments that the EG makes is in their barrels. While 90% of scotch whisky is "done" in american bourbon barrels (these cost approximately $3500 each and are used by most other distilleries as many times as they chose), the EG uses Spanish sherry barrels… dry amoroso sherry barrels (they cost approximately $1000 to $1500 each). Further, the EG uses their sherry barrels twice; the first time for regular Macallan, the second time for Macallan FO (fine oak) or Highland Park, and occasionally the barrels are used for holding whiskey (as a side note, sometimes used barrels are employed to create furniture). So, although their sherry barrels may cost less initially, because they use them sparingly the actual cost per bottle may be higher than the "barrel cost" per bottle for other distilleries. Additionally, the EG "toasts" their barrels rather than "charring" their barrels, toasting creates a different flavor profile. Another difference in the flavor profile of their whiskeys is the lack of or sparing use of peat, the southern Scottish Islands (particularly Islay and Skye) use quite a bit of peat. You may have noticed that some scotch whiskies have a heavy smoky flavor, that's from the peat used to smoke the barley. Scotch whisky from central Scotland and the Highlands tend to use little or no peat. A final difference in the whiskies from the EG is the "balance", Martin said that the three whiskies we'd be tasting were "all very well balanced." We agree, even though the Macallan 12 year old wasn't to Nick's taste, it was still well balanced.
The Macallan distillery is located in Speyside. Their whiskies are generally not peated, some are but it isn't "common. All Macallans use the unique Spanish Amoroso sherry barrels. It takes six years to make a barrel and season it with sherry, at that time, each barrel contains about 11 liters of sherry soaked into the wood. They use so many barrels that the spanish produce more sherry than the world would ever want. At present, there are 50,000 barrels in Spain, slowly seasoning with sherry. The EG spend approximately $20,000,000 on their wood barrels, twice as much as everyone else! With the time necessary to make the barrels, season the barrels, aging the whisky in the barrels, and then bottling the whisky, it can take up to 20 years to get a 12 year old Macallan to your mouth! One note we found fascinating — if a bottle of scotch whisky is labeled as a "12 year old," it means that the YOUNGEST whisky in that bottle is 12 years old.
One very interesting note… Martin began by saying that when you drink scotch whisky from the Edrington Group, "you're drinking for the kids!" It turns out that the distilleries were bequeathed by a trio of sisters (apparently not very attractive sisters because they all died spinsters) with the charge that the distilleries maintain Scottish traditions. The Roberston Trust (TheRobertsonTrust.org.uk) is therefore the main shareholder of the distilleries! The EG gives much of their profits to this charity.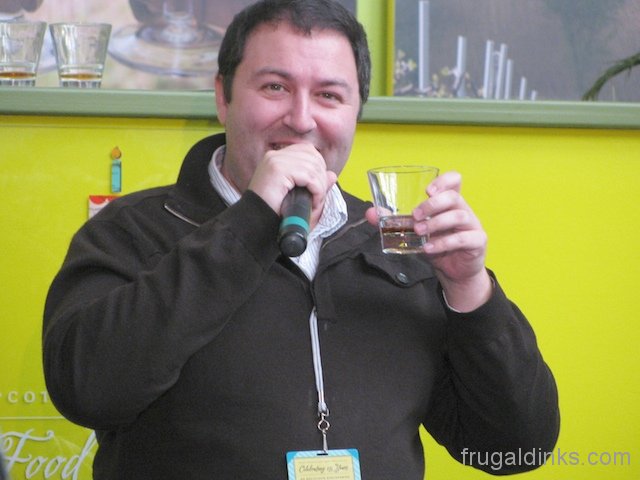 How to taste scotch whiskies
nosing whiskies

when nosing the whisky, keep smelling for a few inhales (at least 15 seconds) to get past the high alcohol smell — really stick your nose in there & keep your mouth slightly open
most reliable characteristic

looking at whiskies

viscosity can tell you what a spirit is… plus, heavier, slow rolling denotes older (typically) whisky… longer in the cask
viscosity – thick & oily means that the whisky is more mature and has spent more time in the cask
the slower legs/tears mean a heavier flavor (?stronger flavor)
color isn't an attribute you should worry about… it doesn't tell you anything real because some producers use spirit caramel to give their whisky deep/rich colors

tasting whiskies

when tasting the whisky, chew it for 4 to 6 seconds… aftertaste is everything
a small amount of water or even a single cube of ice will break up the conjoiners in any spirit/whisky
too much ice in your whisky – as it melts, the flavor is greatly reduced, Martin suggests a single cube or an ice ball for less dilution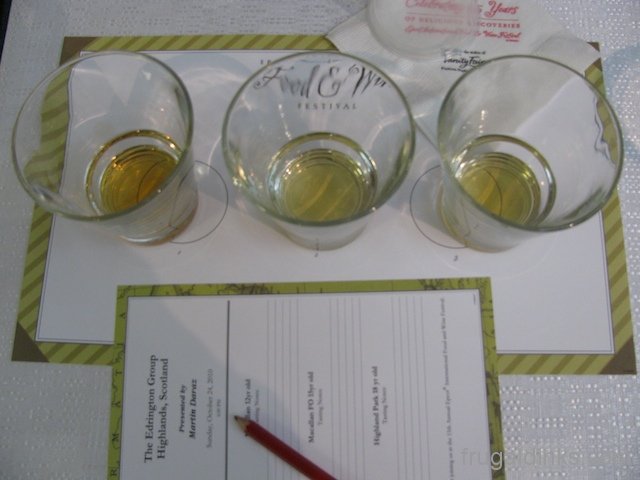 Macallan 12yo, Macallan FO 15yo, Highland Park 18yo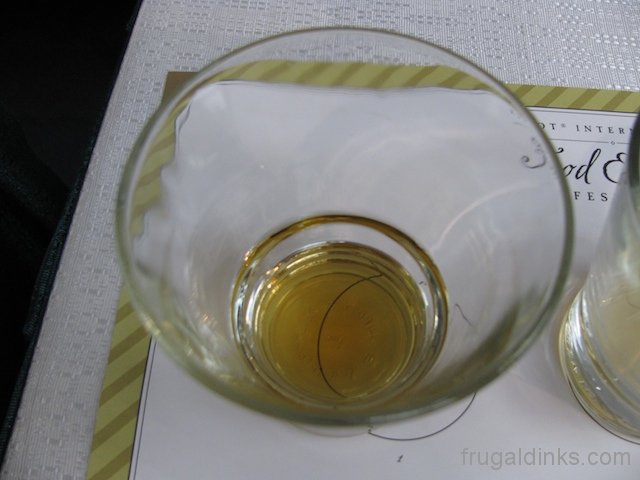 Macallan 12 year old — Salute to Ugly Women

Thank you to the unattractive spinster sisters that bequeathed their distilleries…
uses only Spanish Amoroso Sherry barrels – imparts flavors that you can taste
43 proof, that's why you can't just shove your nose in there and "nose it" like you would wine
Martin says … "sweet, dried fruit" and "earthy tones" and "it's tannic, it drys your tongue"

Nick

Nose – 1st day… I could not really catch anything. Did get past alcohol smell but no undertones; 2nd day… still don't detect anything specific; 3rd day… got over the harshness today, plus it smells good but I can't identify the flavors/scents
Taste – 1st day… almost harsh; 2nd day… too pungent; added drop of water and much better but still not to my preference; 3rd day… it does dry the tongue, then I get a salt/biting taste that I can't get past
Overall – odd, in the past I've thought this was okay, but today it seemed harsh; after adding a drop of water – much improved!

Nora

Nose – sweet, fruity, not a lot of peat; the "fruity" is actually dried fruits
Taste – raisin, sherry; a drop of water made the flavors more intense and took away the alcohol-ness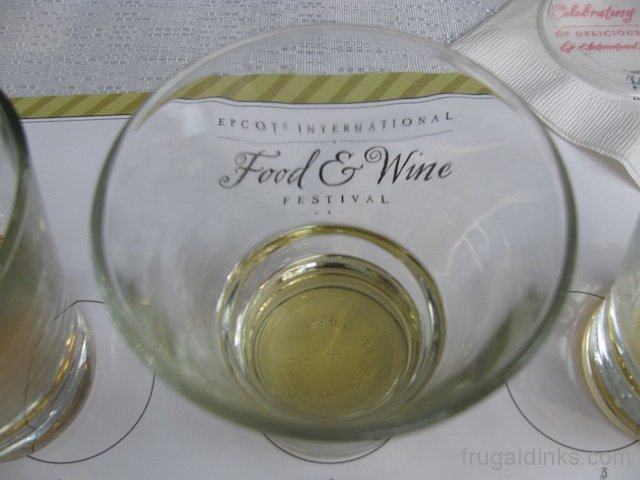 Macallan Fine Oak 15 year old — Salute to American Bourbon

Thank you to American Bourbon barrels and the tastes they impart…
good for before dinner
probably the easiest to drink
lighter
combination of spanish oak and american oak for barrels makes this a lighter flavor; also, small amount american bourbon barrels are used

spanish sherry oak barrels

hearty flavors from the wide grain

american oak barrels

smaller/narrower grain, imparts more fruity flavors, grassy, and citrusy and vanilla tones
these are sent to spain for aging (2 years), toasting, and filling with the dry aroso sherry

Martin says … "buttery, herbaceous"

Nick

Nose – 1st day… slight hint of grass maybe; definitely "lighter" smell than the 12 year old; 2nd day… light, slightly sweet; 3rd day… long nose ended with a soft and quiet smell
Taste – 1st day… light, not much there though; 2nd day… harsher today, but still smoother than the Macallan 12 year old; 3rd day… less tongue drying (compared to the 12 year old); no salt/bite but still slightly harsh; finishes a little spicy/hot

Nora

Nose – 1st day… herby on first smell, caramel on second smell
Taste – fruity; a drop of water again made the flavors more intense and smoother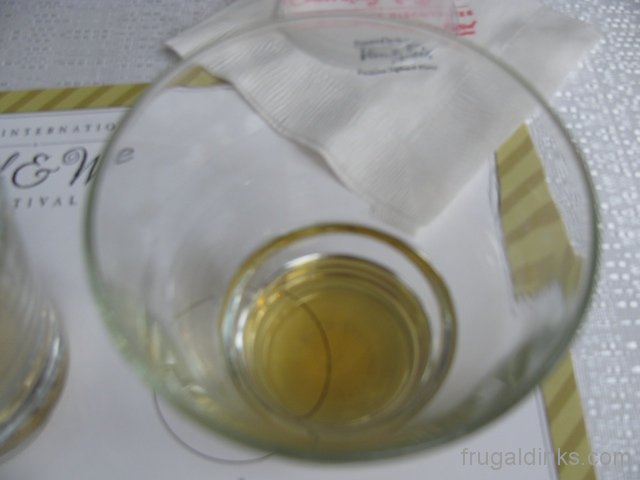 Highland Park 18 year old — Salute to Scottish Stubbornness

Thank you to Scottish stubbornness for continuing to make such a lovely whisky…
located in Orkney

northern most distillery in the world – same latitude as Alaska
4th oldest distillery in Scotland

lightly peated,

peat aka smoke give flavors of tobacco and chocolate
phenols can be measured in a whisky – indication of how smoky/peaty they are; as an example… Islay whiskies are typically 50-60 ppm (VERY smoky) and Highland Park is around 2 ppm

big brother to Macallan,
costs twice as much to make as Macallan,
handcrafted – everything but the distillation is done by hand
bottles are washed with whisky, NOT water before filling!!
Martin says… "darker, richer, lingers in your mouth, drier (makes you salivate)" and "this has hard, strong flavors such as coffee & chocolate"

Nick

Nose – 1st day… wow! light smoke, but "sweet"; 2nd day… do like it, but can't say why?!; 3rd day… WOW, just want to taste this (inviting), sweeter smell with just a hint of smoke, appealling!!
Taste – 1st day… sweet & smoke, full, more satisfying; 2nd day… spice; warm; not harsh, good without water!!, 3rd day… less drying, but still happens; may have tasted some orange peel, slightly bitter not a bad sort of bitter though
Overall – my most preferred; after adding a drop of water – WOW!

Nora

Nose – smoky and rich
Taste – sweet, rich, buttery; altogether yummy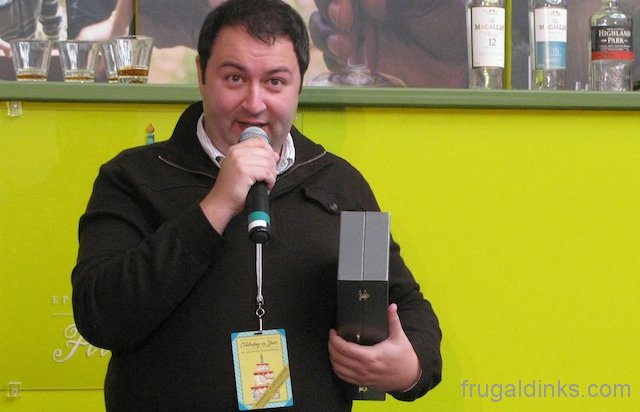 Surprise! To celebrate five years of coming to Food & Wine, Martin contacted a local supplier and obtained 2 bottles of Macallan FO 21 year old! On Tuesday, attendees were treated to a taste of this highly prized single malt. Retails for over $300 per bottle!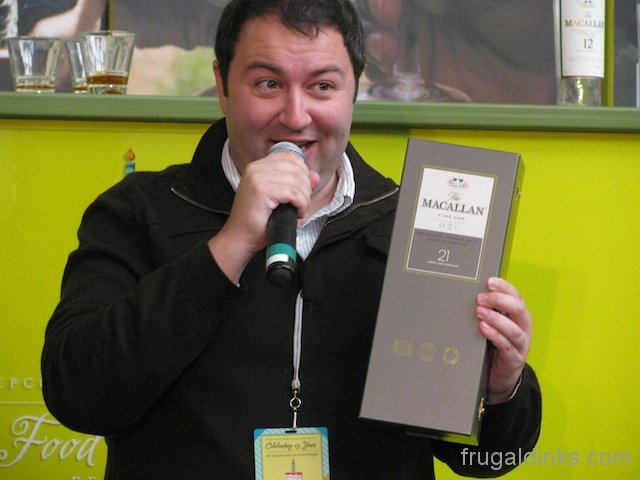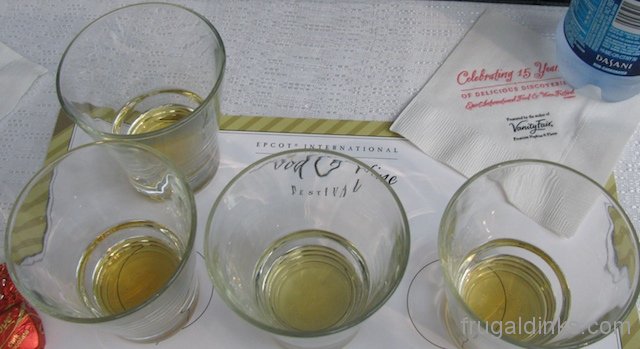 Nick says that when he nosed this whisky "I do get a fruity smell! Wow, can really tell the difference!" and he described the taste as "more harsh than Highland Park 18, it really bites on the side of your tongue… I probably wouldn't buy it. However, one tiny drop of water reduces the harshness, but still not detecting any distinct flavors. Highland Park is still my favorite, even after this Macallan."
Nora says "more sherry flavor, very good with dark chocolate (she had brought her own stash to the last day's event)"
Last notes…
Famous Grouse

Famous Grouse and Black Grouse are the only whiskies blended with Macallans, also include some Highland Parks

Black Grouse is a newer scotch whisky, it contains a higher proportion of Highland Parks and thus has a darker, smokier flavor

number one selling scotch in Scotland
one survey found Famous Grouse in more households than milk
Just a few thoughts…
The whiskies smelled wonderful while we were waiting to enter the demonstration area…
The pours, again, were pretty chintzy. We don't know if Disney World is afraid we'll all get toasted, if it's a cost containment thing, or what the devil is going on…