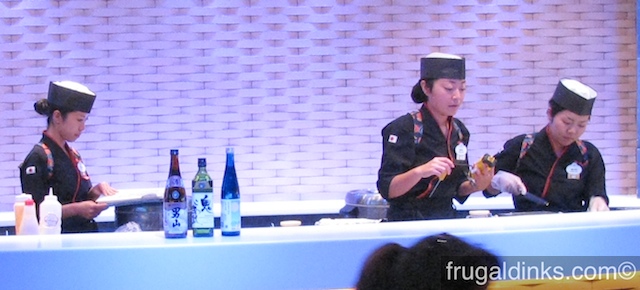 Serene Harmony – the Spirit of Edo in Modern Tokyo
Join us as our chefs expertly pair premium imported Japanese sake with samples of contemporary Japanese cuisine representative of Tokyo.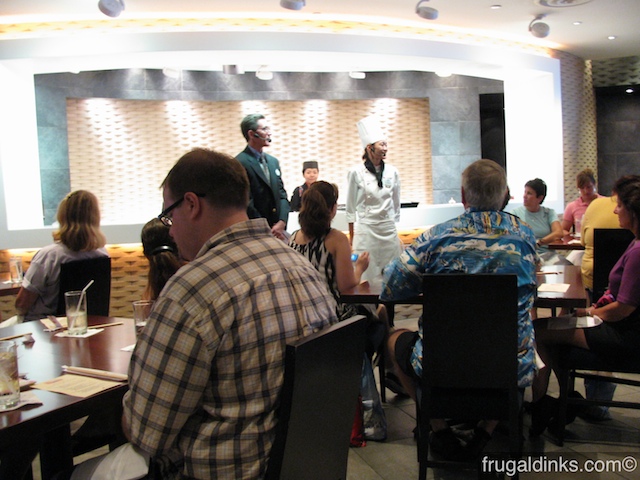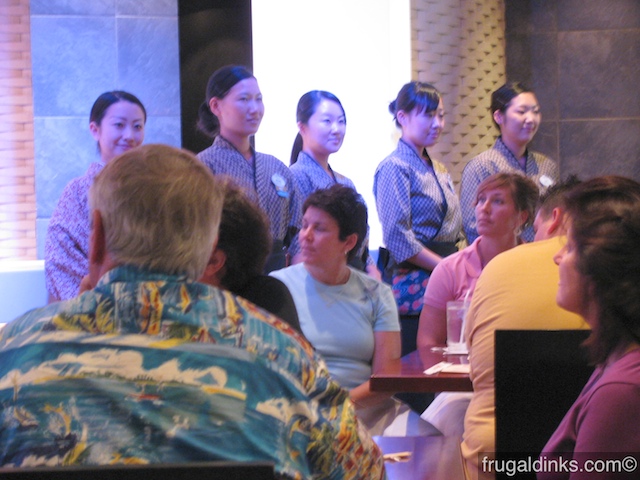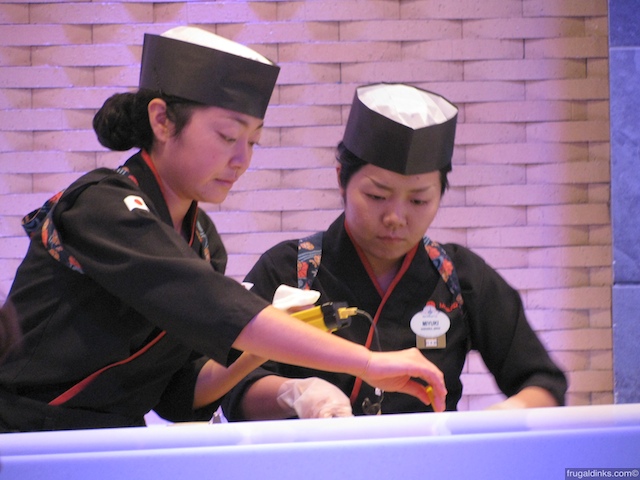 Event was hosted by Scott Farrow (manager of Mitsukoshi restaurants at Epcot) and we were catered to by one of Tokyo Dining's sous chefs, a group of servers, and three sushi chefs…
The original Mitsukoshi department store was opened in Japan in 1673. In 2007, this facility in Epcot was refurbished. Tokyo Dining offers traditional cuisine with a modern twist. Teppan Edo offers teppanyaki style dining.
We've already covered the history of sake and how it is produced in previous posts… This afternoon we would be tasting three sakes paired with six tastings…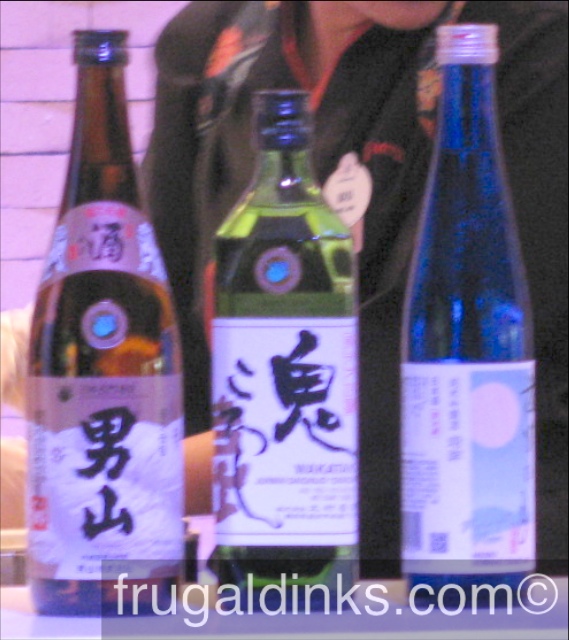 The primary goal with the pairings was that no single ingredient overpowers the others. We were invited to sip our sake, taste our samples, and then sip the sake again so that we could experience each component individually and when blended with it's "pair".
Pairing #1
sake:

Meibo Yowano Tsuki Ginjo (Premium Pure Rice Sake)

– served chilled
the name of this sake means "Midnight Moon"

chosen to be served chilled

nice mineral taste, crispy, good acidity, very light, and fruity

Sake Meter Value (SMV) of +4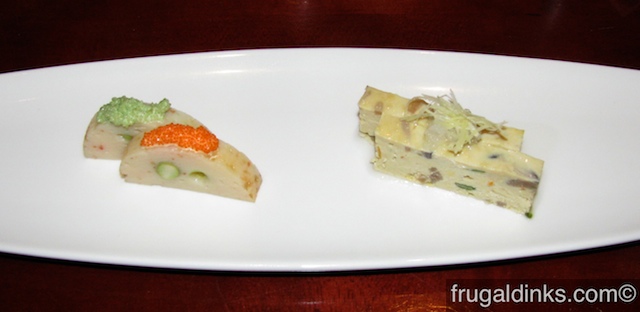 sample #1:

Kaisen Shinjyo

Coldwater sea scallops and large shrimp ground and mixed with edamame, then steamed. Topped with mayonnaise capelin roe.
the acidity of the sake is supposed to balance the sweetness of the seafood

the green roe is flavored with jalapeno (not wasabi) – we both felt that it enhanced this dish more than the orange roe

Nora thought the texture of this sample was a bit strange

Nick preferred the texture of this sample over sample #2 of this pairing
sample #2:

Gisei Tofu

Tofu quiche made with carrots, sauteed shitake, sauteed kanpyo, green beans, and Japanese egg omlet. Served with a clear dashi sauce.
Nora says "yum" while Nick says "weird texture, not doing much for me"

the texture was grainier and lumpier than the previous sample
Pairing #2
sake: Wakatake "Onikoroshi" Dai-Ginjo (Super Premium Pure Rice Sake) – served at room temperature
the name of this sake means "Demon Slayer"

round, soft, smooth, silky

slightly sweet with melon & apricot tastes

pairs well with richer food

SMV +3
sample #1:

Yuzu Tekka Maki

Inside-out roll of sushi grade tuna tartar seasoned with yuzu-kosho (citron pepper paste), cucumber, seaweed, and sushi rice. Served with soy sauce.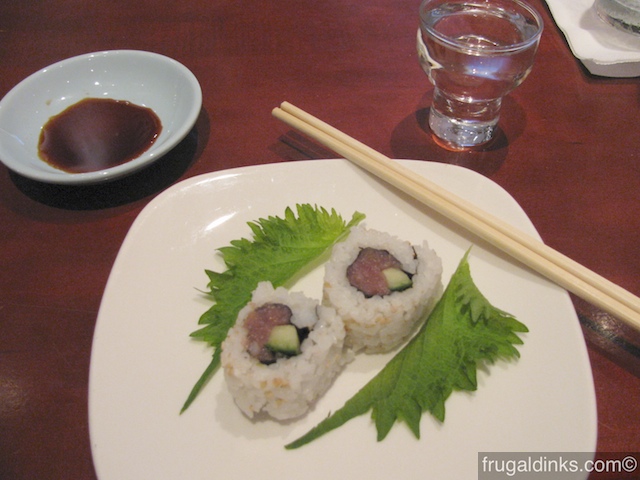 the citron pepper paste (yuzu-kosho) was judged to be either very strong (Nora) or overpowering (Nick)

we can see how it might please others, but it was just too strong of a flavor for our palates, we couldn't taste the tuna at all
sample #2:

Gyu Tataki Salad

Wasabi soy sauce marinated beef tenderloin that has been lightly seared, thinly sliced and tossed with daikon and cucumber threads. Served over wasabi-soy whipped cream.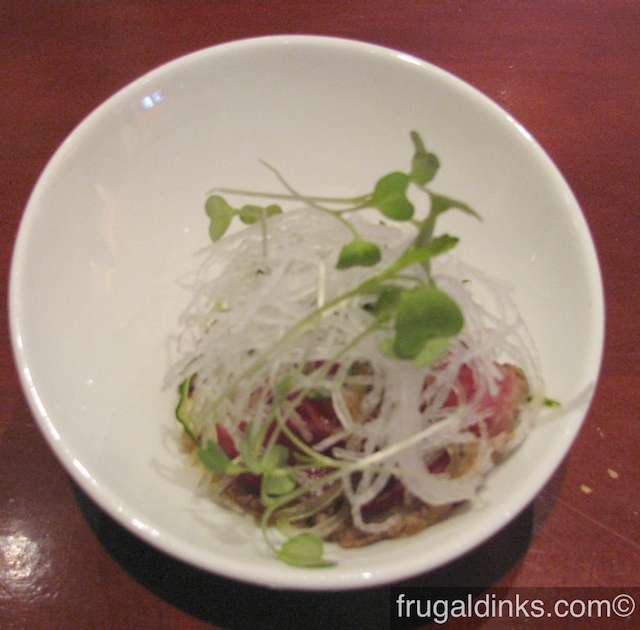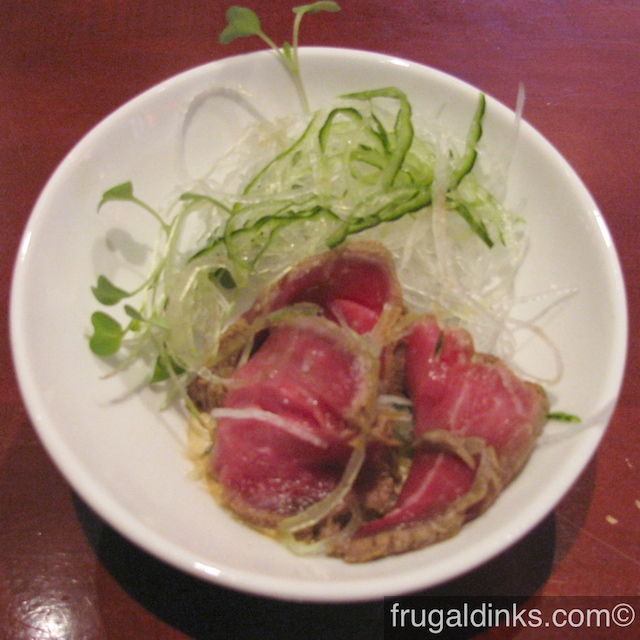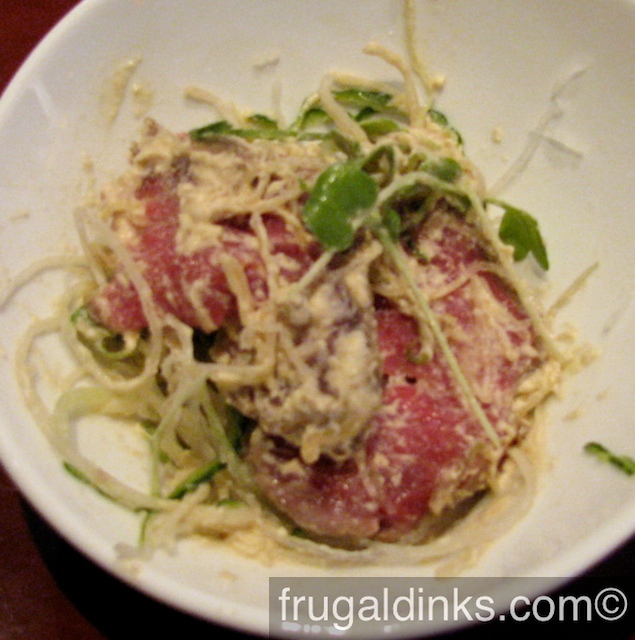 everyone at our table loved this & would have been happy to have stopped here – not to mention very pleased to see it on Tokyo Dining's menu regularly

imagine the best, really rare roast beef served with a delicate, extremely creamy horseradish — that's about as close as we can get with our description

the sake pairs very nicely with this dish

this was our overall favorite of the entire experience
Pairing #3
sake: Otokoyama Junmai (Pure Rice Sake) – served warmed
the name of this sake means "Man's Mountain"

sharp on the palate

grainy, rich rice flavors

flavors are too big, bold, powerful to be served at room temperature or chilled

SMV +10
sample #1: Butaniku no Ichiyazuke

Pork loin that has been marinated in miso (soybean paste), sake, and soy sauce for one night and then roasted. Served with sliced green onions and neri-ume (sour plum paste)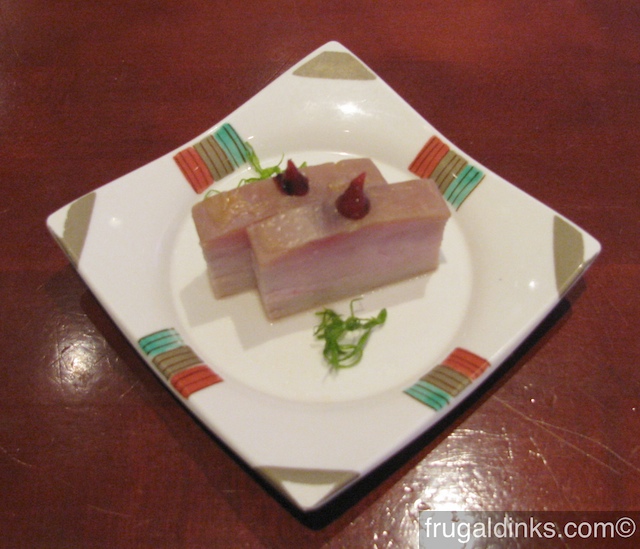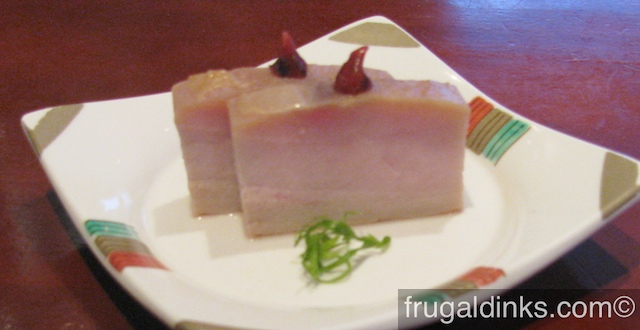 this was good but not fabulous – frankly the appearance was offputting

the pairing wasn't really that good either

we wouldn't say that this pork was "dry" but certainly wouldn't say it was "moist" either – very, very chewy

definitely not for Southern Pork palates
sample #2: Kajiki Maguro no Miso-ni

Swordfish steaks that have been slowly sauteed in miso (soybean paste) and sake. Served with thin slices of ginger.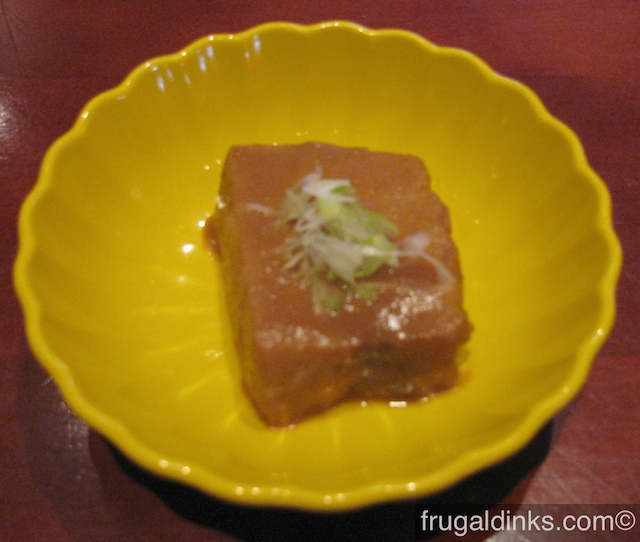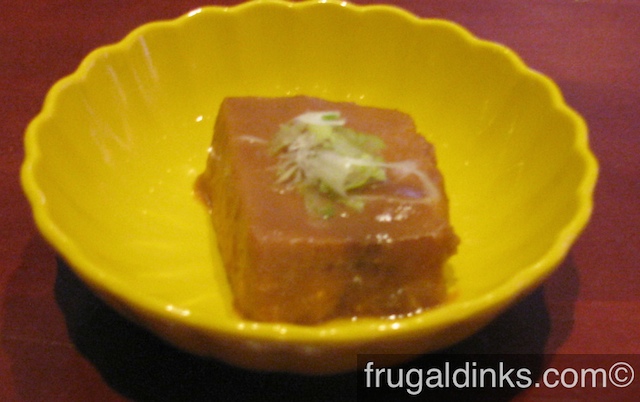 the swordfish was very meaty – and again, the appearance was a little offputting

tasted much better than it smelled

the pairing was much better than with sample #1, but not close to the pairing of sake #2 & sample #2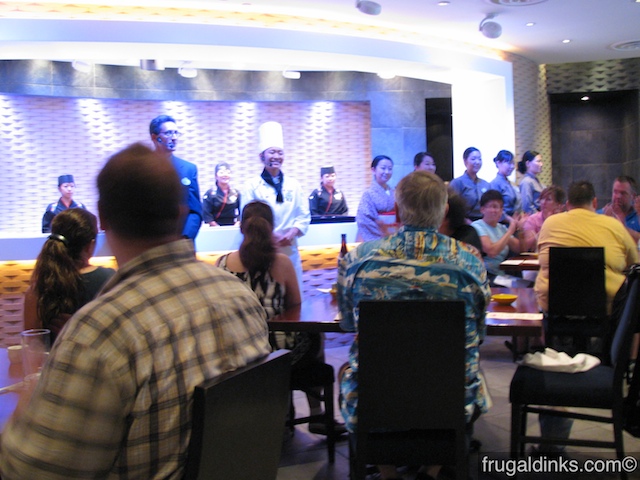 Not so random notes & thoughts:
to figure out if a sake is better chilled, room temperature, or warmed when pairing with a particular food — try it and decide! figure out what works best for that food
the sake bomb is not Japanese – it's an American "invention" – basically a boilermaker made with sake
the venue was extremely NOISY

the event was held in the sushi area of Tokyo Dining
there was no separation from the waiting area for Teppan Edo and Tokyo Dining

Nora hadn't thought this would be a problem because the event was held from 3:30 to 5:30
we were seated at the far edge of the tables, up against the "screen" – as we were a party of two, we were grouped with another specific party of two and they were a bit late arriving from the Mexico pavilion

frankly, its too bad that (1) people don't know how to wait quietly and (2) there isn't a separate area for table-waiters at WDW restaurants

it's really annoying at any time when we're at WDW restaurants, but especially so for events like this

compared to the Morocco Food & Wine Pairing last week – there was A LOT of food, we definitely left with full bellies
we've really developed an appreciation for sake in the last few weeks and are looking forward to enjoying it more in the future
Details:
This particular event is held on Mondays from 3:30 to 5:30 during the Food & Wine Festival
Cost = $65 + tax per person