Tequila Tasting presented by Hilda Castillo, Tequila Ambassador
Background information about tequila – Hilda uses the mural on the wall as a teaching aid
all of their tequilas are 100% blue agave
takes 7 -10 years for blue agave to mature
"the best tequila is the one you like"
Mexican law states that tequila can be produced only in

Jalisco, a region in highlands of western Mexico, and in limited regions of

Guanajuato
Michoacan
Nayarit
Tamaulipas

new words

"jimador" – harvesting person
"coa de jima" or simply called "coa"- chopping tool
"pina" or central pineapple – the mature blue agave flower

basic process of tequila production

pinas are harvested by hand by jimadores
pinas are cooked with steam, they come out soft, sweet, and brown
cooked pinas are milled to separate the juice from the fiber

some distilleries blend the cooking and milling process
agave fiber from the milling process is used to make cookies and agave nectar syrup

the juice is fermented in wood or stainless steel vats to convert the sugars to alcohol
distillation occurs

first distillation lasts about 3 hours
second distillation lasts about 6 hours –> clear, silver tequila

to create reposado (rested) and anejo (aged) tequilas, the silver tequila is aged in oak barrels

tasting tequila

Hilda has a horn cup around here neck, originally tequila was drank from horn
she had place platters on the table with lime peel, cinnamon sticks, and roasted coffee beans – these were to help us with detecting aromas and flavors in the tequilas
1) look / visually observe the tequila

color
"legs" or "tears" that the tequila leaves on the edges of the glass after you gently swirl the tequila

thin and quick – less sugars in the tequila
thick and slow – more sugars in the tequila

2) smell the tequila

close your eyes
slightly open your mouth
inhale

first inhale is from the close rim of your tequila glass (by the way, this resembles a smallish wine glass)
second inhale is from the center of your tequila glass (really stick your nose in there)
last inhale is from the far rim of your tequila glass (inhale deeply)

3) taste the tequila

take a little on your palate
wait 4 seconds
swish
swallow
exhale
Tasting notes
Silver Tequila

drink as an aperitif to open your palate
we smelled the lime peel before and during our tasting of this tequila
specifically we tasted "Don Julio Blanco"

famous in Mexico City and the United States
barrel aged less than 2 months
crystal clear

this tequila was very spicy
served with a shrimp cerviche (shrimp cocktail)
paired very nicely with the spicy meatiness of the cerviche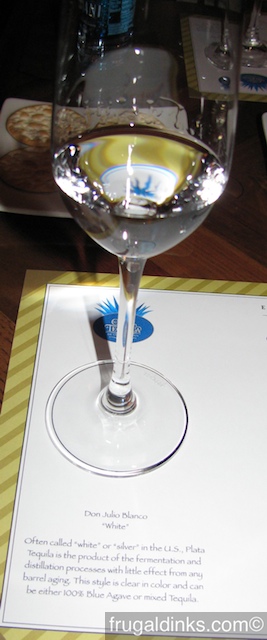 from the tasting sheet

Don Julio Blanco "White"

Often called "white" or "silver" in the U.S., Plata Tequila is the product of the fermentation and distillation process with little effect from any barrel aging. This style is clear in color and can be either 100% Blue Agave or mixed Tequila
Reposado Tequila

reposado means "rested"
we smelled the cinnamon sticks with this tequila
specifically we tasted "Tres Generaciones Reposado"

barrel aged 2 to 12 months
straw colored

this tequila was much smoother and Nora detected a hint of black pepper
served with a fresh crab tostado
the ocean richness & crispness went very well with the reposado

from the tasting sheet

Tres Generaciones Reposado

Reposado (ray-po-sah-doh), or "rested" Tequilas age in oak barrels for 2 months to 1 year. Through this contact with the wood, the Tequila develops a light straw or gold color while becoming smoother and mellower. Most Reposados are 100% Blue Agave.
Anejo Tequila

anejo means "aged"
drink as an after dinner drink (drink after food)
we smelled the roasted coffee beans this time
specifically we tasted "Gran Centenario Anejo" from the Jose Cuervo distillery
while it was even sweeter & smoother, it was also much oakier – not as much to our liking as the reposado
served with a chicken and black bean tostada
the food and the tequila went well together, but we really preferred the reposado over the smoky oaky anejo

from the tasting sheet

Gran Centenario Anejo

Anejo (an-yay-ho), or "aged", Tequilas usually mature 1-3 years in oak barrels, although many ultra-premium brands age even longer. This aging process imparts Anejos with an amber hue that is darker than a Reposado and a rich, complex flavor.
Final Thoughts:
this tasting experience was clearly superior to those thus far at the Festival Center

the pours were adequate for repeated tasting & smelling and most important, for enjoying and toasting
Hilda's enthusiasm and passion for Tequila was evident

she sincerely wanted everyone to learn about Tequila and to enjoy the learning & the Tequila itself

the foods paired with the tequilas was superior to anything we'd ever had inside the Mexico pavillion (specifically San Angel Inn)
we'd recommend this experience at any time you can do it
this deepened our appreciation for Tequila and made us feel more secure in trying other Tequilas

Hilda encouraged us to try other tequilas and keep notes, that way we could begin to identify why we liked certain ones and perhaps even learn why there were differences (regarding where the agave was grown, how it was processed, and how it was aged)
in fact, we returned a few days later and tried 2 other reposados from their menu along with a full serving of the chicken tostadas

Hilda ended the seminar with a toast — sobre, abajo, afuera, dentro, salud (over, under, outside, inside, salut) — accompanied by raising your tequila high, low, in front of you, down the hatch, salute
Another visit to La Cava
Corazon de Agave Reposado (Nick's choice)

price $14.00
peppery with the food
did not like as much as the Tres Generaciones Reposado (we agreed on this)

El Tesoro de Don Felipe Reposado (Nora's choice)

price $14.00
resin & spice – these tones did not go away or calm down with food (Nora's notes)
again, we didn't like this tequila as much as the Tres Generaciones

Chicken Tostadas

Nick felt that these weren't as good as when we had them previously
Nora thought they were just fine
perhaps the Crab Tostadas would have been a better choice

The experience this time at La Cava

the waitstaff was a bit humdrum

the server actually sloshed out some of our tequila when she put it on the table
she was also extremely eager to clear our table, we had hoped to come in and sit down for a bit before our next F&W event (we felt rushed)

the tequila was served in shot glasses with lime wedge, salt and a tomato based chaser
we asked for tequila glasses so that we could look at the legs and really smell them, the server again sloshed the tequila losing some of it in the process of transferring it to the glasses
while we've enjoyed 2 out of 3 experiences at La Cava, we really hope that our experience with this server is an anomaly and not the standard of service