Food Who & What: Jose Camey, Paradiso 37, Downtown Disney, Pleasure Island; menu = Beef & Chicken Enchiladas with Quesadilla Mix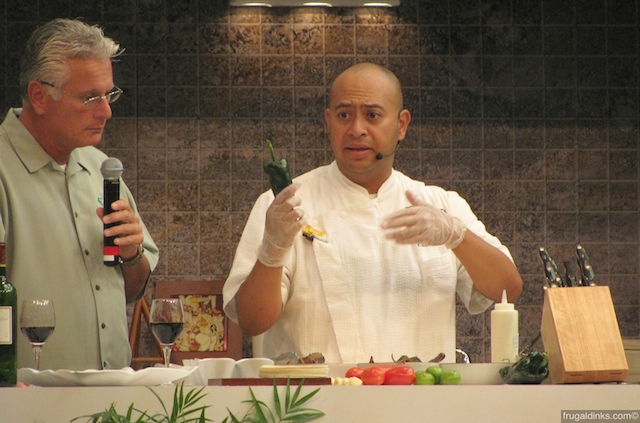 Wine Who & What: Lovely Miss Eva (that's what the announcer called her), Domaines Barons de Rothschild, "Lafite Around the World"; wine = Lafite "Reserve Speciale" Bordeaux Rouge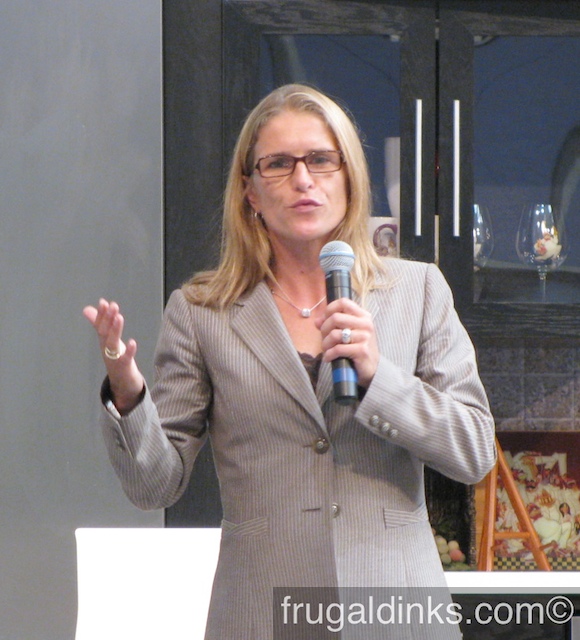 When: Tuesday, October 19, 2010
Where: Festival Center Epcot
Menu: Beef & Chicken Enchiladas with Quesadilla Mix
Not including the recipe because there are a lot of steps and "hidden ingredients" – and frankly – he was an entertaining and enthusiastic speaker & I couldn't listen to him and enjoy the presentation and take down all of the information he was so eager to give us! (nora)
First off, the wine discussion from the Lovely Miss Eva
you should buy and drink what you like

wine doesn't have to be expensive – only enjoyable

wine should be simple and enjoyed with good company

at this point she remarked that the pours we had were going to allow us to actually taste the wine and enjoy it – unlike the pours at the beverage seminar she had just conducted

Lafite "Reserve Speciale" Bordeaux Rouge

70% Merlot and 30% Cabernet
Bordeaux is astringent, great marriage with food
2009 Vintage

the best vintage since sometime in 1960's

you want your food and wine to complement each other

Nora: back to what I keep thinking about alcohol and food — you want good yin and yang
Now, to the food – this is a laundry list of notes that Nora took while listening to Jose Camey
Paradiso 37

95% of the menu is made in-house

mole

moles don't have to be chocolate
they are typically a thick sauce – may be smooth or may be chunkier
basic ingredients in a mole are tomatoes, garlic, and onions
can be stored in the refrigerator for up to four days – no longer
if you vacuum pack moles, you can freeze them for longer storage

let thaw completely before reheating

chiles

to remove the heat from chiles

the longer you cook them, the more the heat dissipates
if you cook with the chile flesh, not the seeds, you'll get more flavor than heat

chiles have different names depending on their ripeness, their preparations, etc…

roasted and smoked POBLANO is called an ANCHO
roasted and smoked JALAPENO is called a CHIPOTLE

the heat and flavor of chiles varies greatly depending on the time of year they're grown and the region they're from

never use a recipe containing chiles without tasting your chiles beforehand

always wear gloves, even dried chiles contain oils – and when they get on your skin or in your mucous membranes (eyes, nose) – you'll feel the heat
cooking with dried chiles

remove the stems and seed and soak in hot water for an hour (?)
rinse them off thoroughly before using

flour tortillas vs corn tortillas

flour tortillas cook faster and heat up faster – thus fillings may not have enough time to get heated/cooked before the tortilla
corn tortillas allow the fillings to cook in the oven
heat corn tortillas in a pot of oil, not frying them, to moisten and warm them so that they don't crack

cheese

a blend of cheeses adds silkiness and moisture to shredded meat
shredded cheese mixed into your cooled shredded meat helps the meat to heat up more quickly and evenly inside your enchiladas (etc)

spices

add at the end when you're making sauces – keeps their flavors distinct
toast spices before using them to release their oils

pico de gallo

simple!
fresh, ripe plum tomatoes – don't refrigerate them!
serrano chiles
cilantro
fresh lime juice
salt & pepper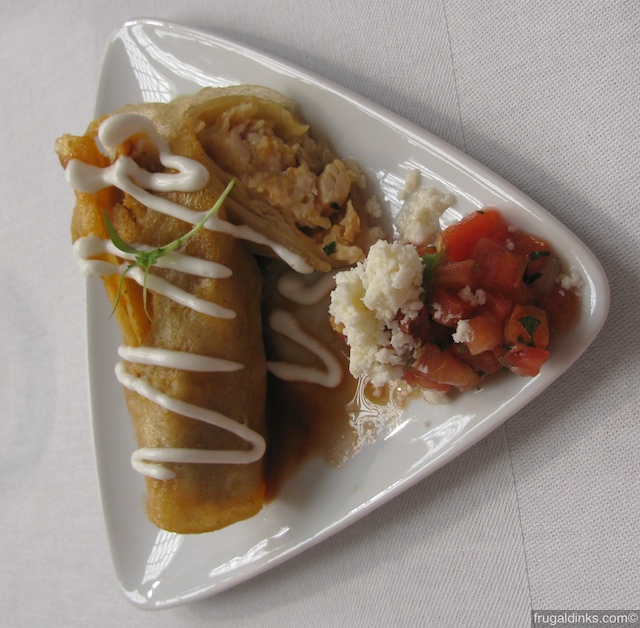 What we ate…
Beef Enchilada with Guajillo Sauce

red mole sauce, very smooth
spicy & earthy

Chicken Enchilada with Mole Verde

green mole sauce, more texture
crisp-flavored, tart

Pico de Gallo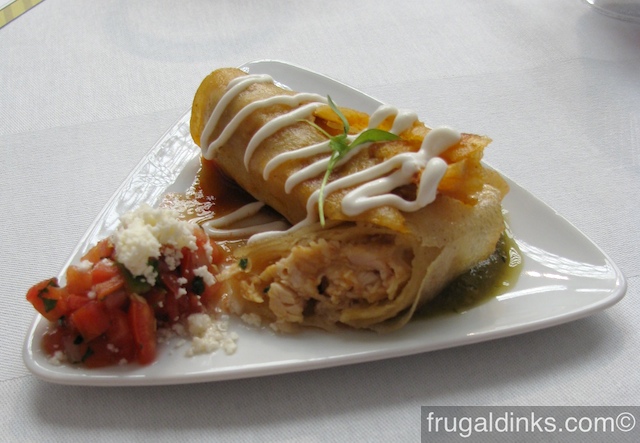 Final Thoughts…
portions were quite decent, we got half of a whole-sized beef enchilada and half of a whole-sized chicken enchilada
the pico de gallo that was served with the enchiladas was topped with queso fresco and it was marvelous – I could eat a whole bowl of it like gazpacho!
we prefer flour tortillas to corn tortillas, even if they aren't always "the way" or "traditional"
are we brave enough to go to Paradiso 37? there's no way the food will be as good, is there?