This Food & Wine dining experience took place on October 2, 2014
Usually, dining events at Raglan Road Pub take place in the small room off to the side of the bar. Just like at the Supper Club event, there was a sound barrier in place. Unfortunately, unlike the Supper Club event, I forgot to stick our noise dampening ear plugs in my purse. The ONLY drawback in our minds to Raglan Road Pub in the evenings is the NOISE…
The room was beautifully appointed, as always… We appreciate that the floral arrangements on the tables are appropriate for communal dining and not so massive that they interfere with conversation with your table mates.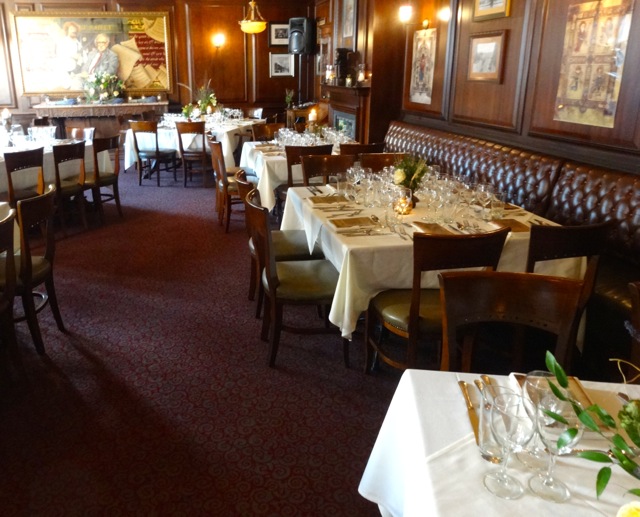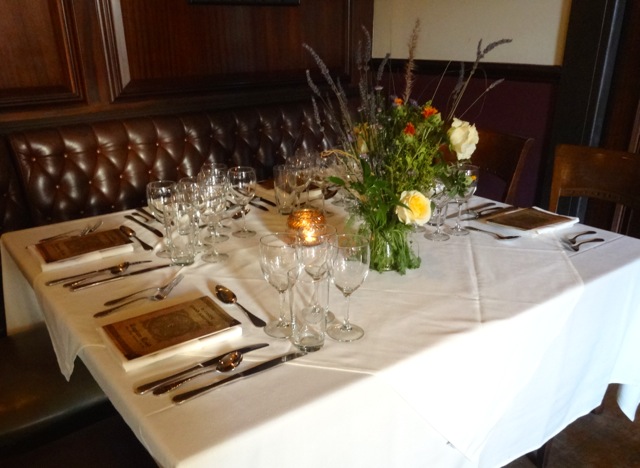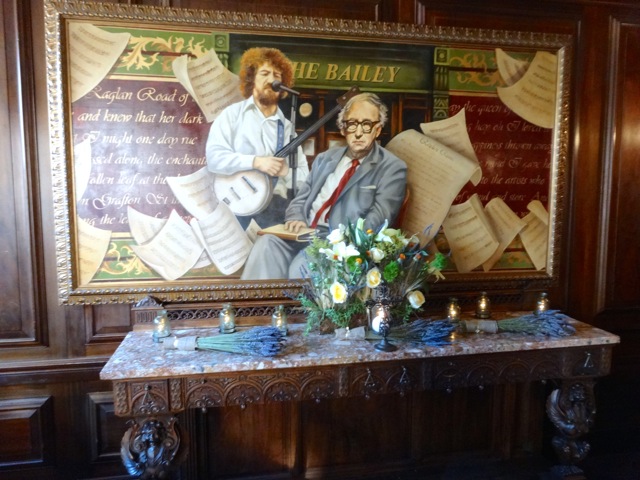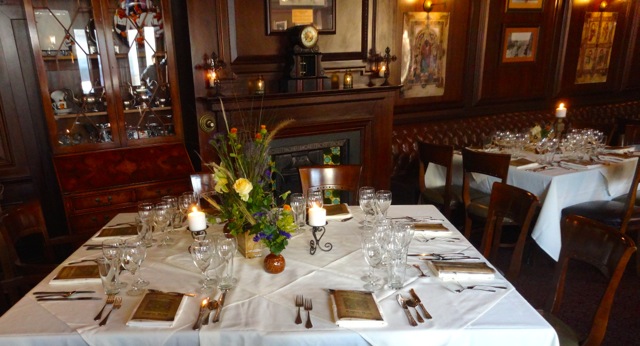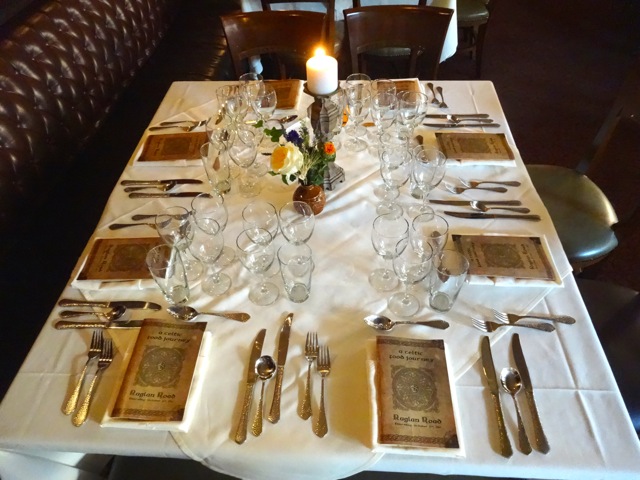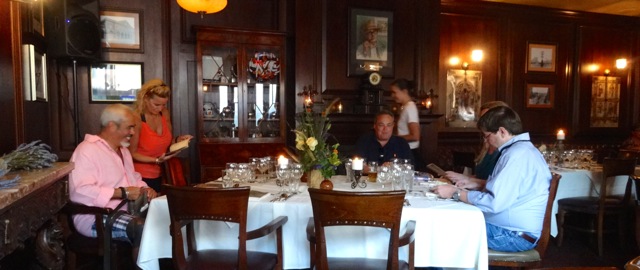 Before being seated, we were able to get a pint at the bar and meet some of the other diners. We were also able to talk to Kevin Dundon briefly… That's when we commented about his Culinary Demonstration the day before and he confirmed our suspicions re: only one dish. It's so lovely that Kevin takes the time to come out and chat with his guests before the events at Raglan Road Pub… Just another reason why we so enjoy attending his events.
Rumor Alert… When we were talking to some of the other guests before being seated, they said that Kevin confirmed that the new construction attached to Raglan Road Pub is going to be fine dining – eeee! We're so excited. We don't think it's likely that it will be able to open before the end of the year, but we're hopeful to be able to go there very soon.
The menus were very nicely done, and more like a book that a single sheet menu, it contained some history and two stories, the edges were bound in a nice metal fitting too. The theme of the night was "A Celtic Food Journey"… As such, we had courses from Basque, French, Scottish, German/Polish and one region that I didn't make note of (sorry, it was the last course)…
We had a very interesting group of table mates: 3 were from the race track in Sanford (Nick loves the ponies and Walter goes up to the Sanford track nearly every Saturday to bet on the horses and the dogs; one man was Irish and he certainly enlivened the evening!), 2 were from Chicago (they've been coming to Walt Disney World for so many years, their college aged sons learned to walk at WDW! This is their wedding anniversary trip and later in the week, they're taking a largish group of friends to dinner at Victoria and Albert's to celebrate – wow!), and 1 was a Disney World Cast Member (but we didn't learn what she did or where she works).
Kevin came out before each and every course and explained what was going to be served and the story behind it (the connection with the Celts). The first time we did a signature dinner here, one of our concerns was that the Chef wasn't much in evidence… That's definitely been corrected in the intervening years!
One of the dishes that he contemplated over the months that it took to create this menu was "goose toes" (that's what my notes say!) – they cost "a shit load of money" and looked awful steamed even though they tasted great [can I just say, I'm pretty glad that I didn't have to eat poultry feet – I've done it before but it can be very disconcerting!]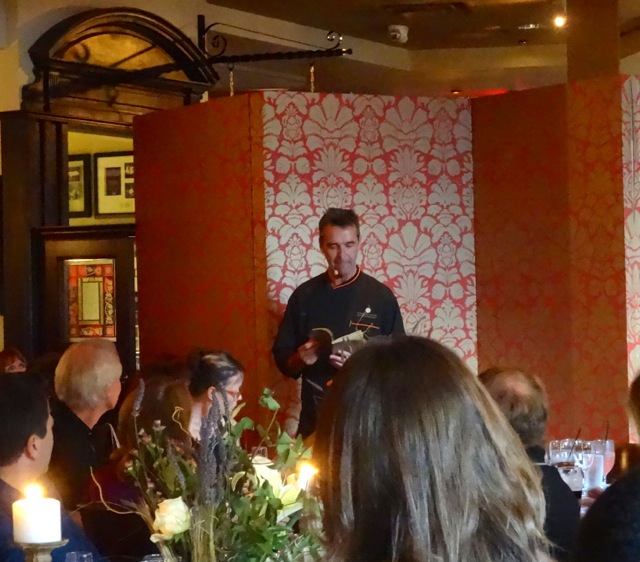 First Course
Lightly spiced duck breast, duck leg confit and duck heart with a chili and mango salsa
Chandon Etoile Rose
The first course was quite similar to the tasting at the Culinary Demonstration the day before – Duck Three Ways. This was paired with a Chandon Rosé (a bit dry to my tastes, but it went well with the rich duck confit). Our wine expert was Kate instead of Amy (Amy is on her honeymoon in Napa Valley).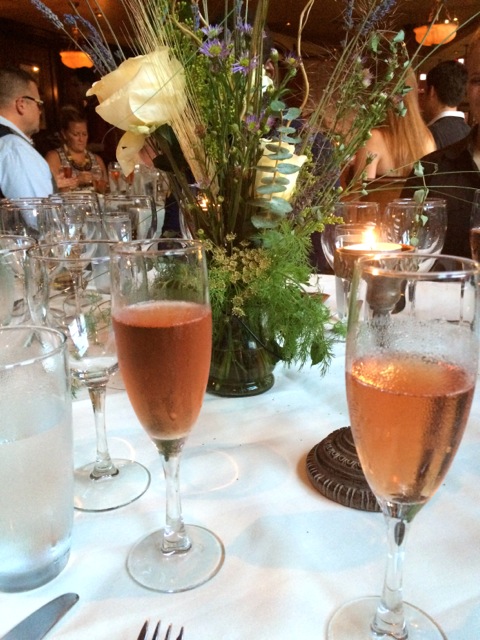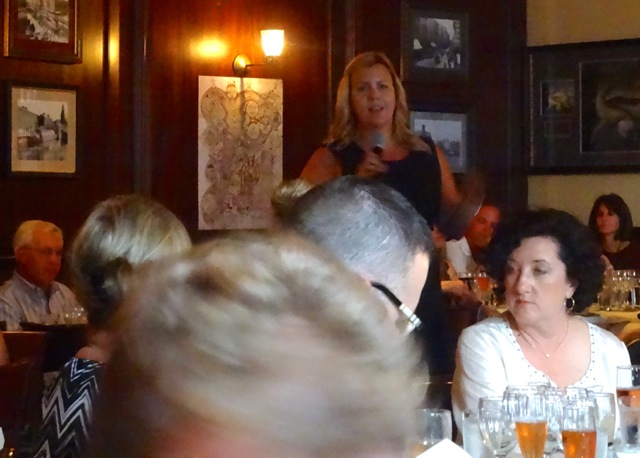 This wine is a bit special – it's aged a minimum of five years in the bottle and is created from older reserve vines. There are three grapes: Chardonnay, Pinor Noir, and Pinot Mignet. Given that it's predominantly Pinot Noir, I expected that we would be wowed by it… we weren't. The color was beautiful though.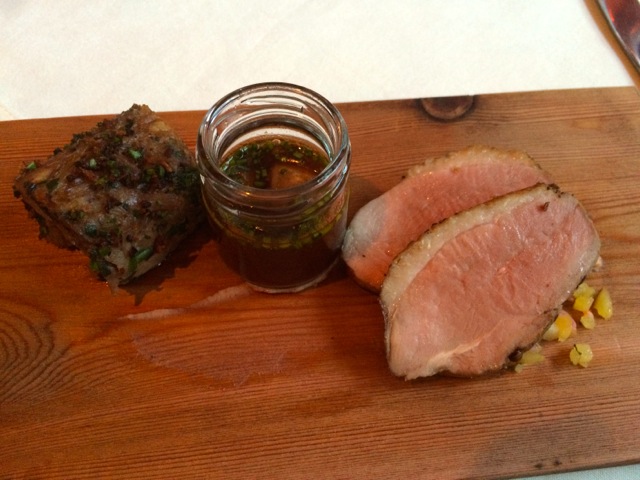 The duck leg confit (on the left) was great. The duck heart (in the little jar) was not bad, actually, it was pretty good, especially with the wine. The pate under the duck breast was excellent. We really liked this dish.
Nick noted that his duck was moist but wasn't as juicy as it had been at the Culinary Demonstration. However, that being said – this was excellent. All of the components were flavorful. Nick's favorite item was the duck heart paired with the wine.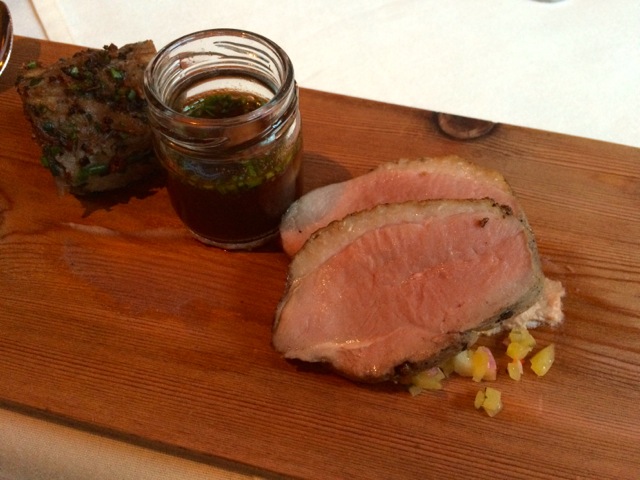 Second Course
Sherried onion soup with roasted onion and almonds with garlic migas
Newton Red Label Chardonnay
It was during this second course that I noticed that the servers were serving all of the ladies at our table before putting anything down in front of the men. Nice touch! We also noticed that the wine wasn't flowing as freely as it has sometimes in the past at other signature dinners. Frankly, I didn't much care for this wine without food.
The Newton vineyards are in Napa – they're very small on very rocky soil, not very hospitable. The wine is finished in french oak for nine months – not overly oaky and very food friendly.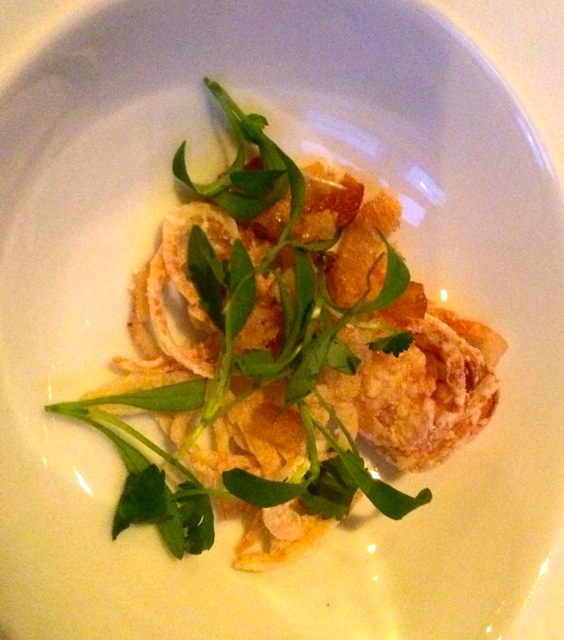 The sherried onion soup was poured over the "makings". You could really taste the sherry (it was a bit overpowering to us). The soup was quite creamy and the aroma of onions were prevalent if you closed your eyes and inhaled. Nick liked the pairing. I thought it was okay, but I wasn't amazed with this course. We noticed that a few people at our table didn't clean their plates with this course, I'm thinking it was a bit rich for most of us.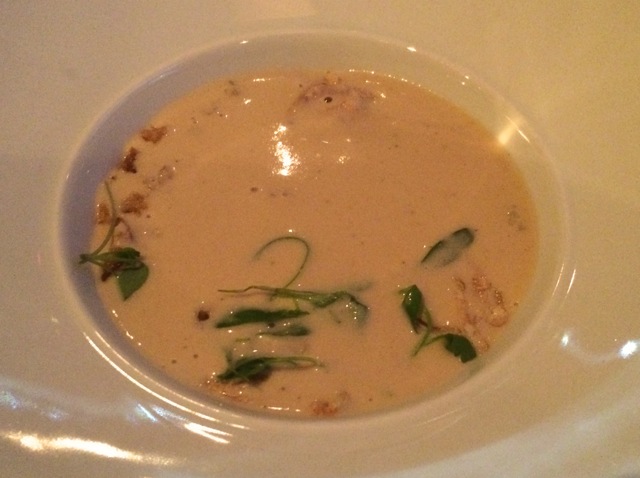 Kate came out to introduce the next wine after Kevin talked about the third course (more on that below).
Kate had been having trouble with her handheld microphone from the very beginning. The first time, there were problems: turning the microphone on, getting the volume level correct, and feedback screeching. The second time, Kevin helped her turn it on and adjust the volume, but it was still acting up a bit. This was the third time, Kevin took the handheld microphone, looked at it and laid it back down – then he took off his headset microphone and placed it on Kate's head. Keep in mind that the transmitter was still attached at Kevin's waist and the wires ran up the back of his chef's jacket… they're now literally attached to each other like Siamese twins – they had to stay shoulder to shoulder and hip to hip. This was so funny… She'd start to talk and he'd interject, or she'd turn to answer a question and he'd have to go along. Just another reason why we so love seeing Chef Kevin Dundon. He really relaxes with his guests and makes everyone feel so damned comfortable. At one point, Kevin said "I actually enjoyed that more than she did!"
Apologies for the following photos: Poor lighting, moving subjects, everyone getting photos of the "unexpected entertainment"
Hot smoked salmon on beetroot and celeriac salad with a caraway dressing
Cape Mentelle Sauvignon Blanc Semillion
 This course was a "touch of Scotland"… The salmon was brined for two days and then smoked and it's served with root vegetables. Kevin thought this dish was very interesting (well, that's what my notes say, but I didn't catch why it's "very interesting" – I think it had to do with how they hot smoked the salmon, that the technique was untraditional).
We both thought that the wine was stinky on the nose without food, Nick said it smelled of burned rubber and I said it was "just icky" without food.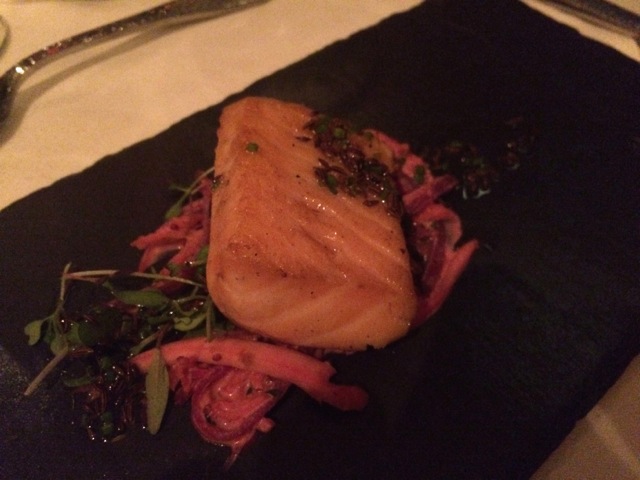 The salmon was delicious but even the great chefs at Raglan Road can't get everything plated perfectly every single time – see the big difference in the two pieces of salmon? The flavors were fantastic, but there's a clear difference in the photos.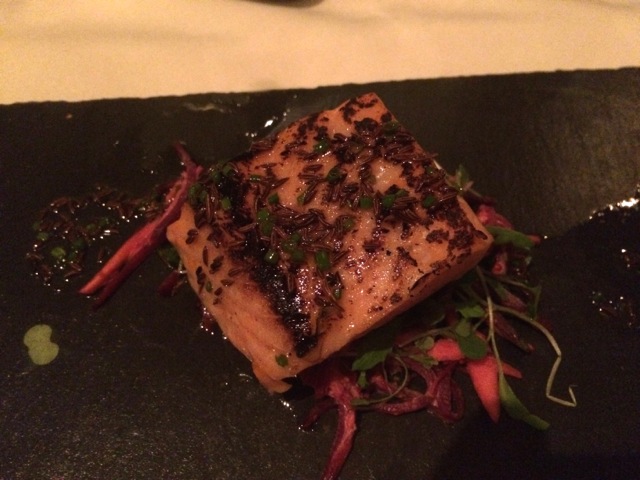 When this was placed in front of us, I could immediately smell the beetroot salad and the salmon's flavors were very Scottish. While this was good, so far, the first course duck heart is the best thing (Nick said, and I had to agree).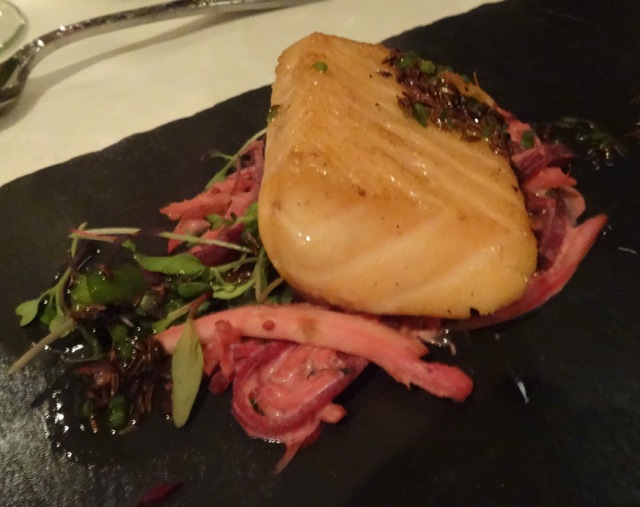 The lighting is different on these photos (above and below) – it's much easier to see that the salmon is smoked rather than grilled.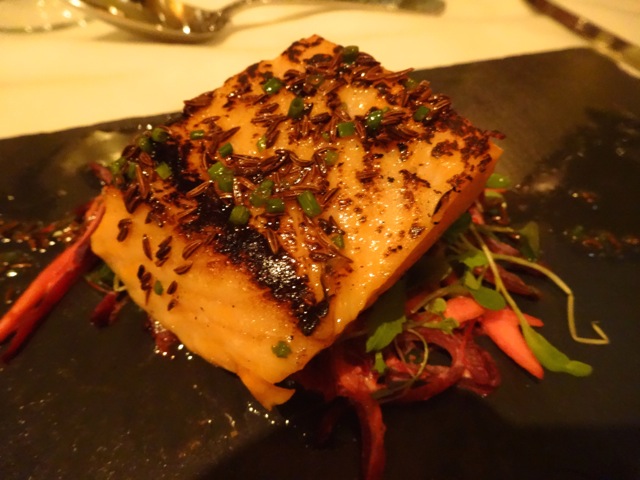 Fourth Course
Roasted smoked sausage served on pickled cabbage with roast garlic mash and a Polish mustard sauce
Cloudy Bay Pinot Noir
This wine is from New Zealand – Nick didn't care for it without food, saying that it was bit thin and tasted of rubbing alcohol. I thought it had loads of tannins, maybe too much… We'll have to see how it goes with the food.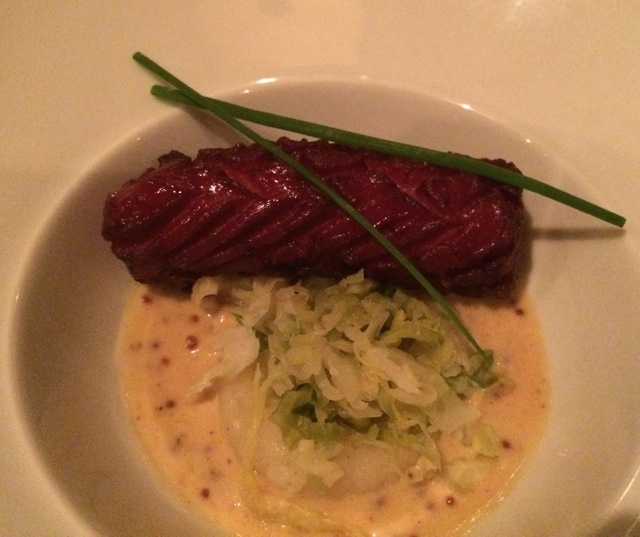 This sausage is a contender with the duck heart for my favorite. It smelled like a Carolina Red Hot when placed in front of me. It had a really nice crispy exterior and the accompaniments went well with the protein. The wine on the other hand… not so much, it continued to be weak and acidic with the food… we just didn't like the wine.
Fifth Course
Coteletta all Milanese, potato wrapped kidney, stuffed marrow bone with marrow custard foam.
Terrazas de los Andes Reserva Malbec
This wine was a Argentinian Malbec, I thought it was a bit dry. It just didn't work for our palates with or without food.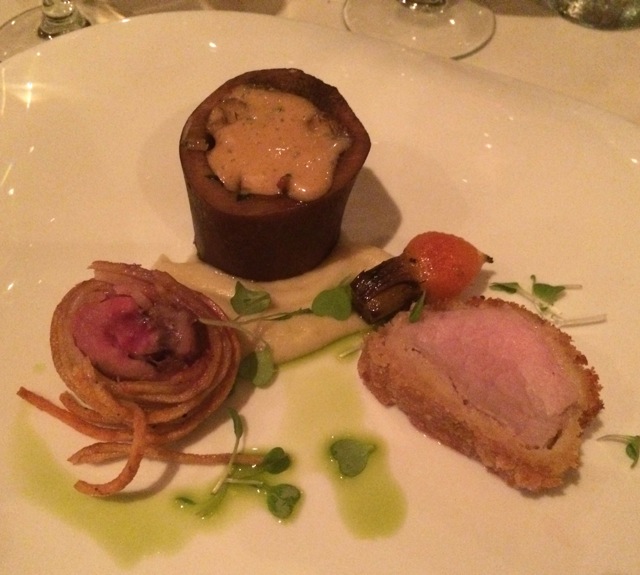 The kidney was deep fried. Of the two unusual organ meats thus far, the duck heart from the first course was much better. Nick ate all of his kidney, I could only eat one bite. This course was much more challenging in terms of textures and tastes. The general consensus at our table was that the bone marrow and the duck heart were both quite good (if unusual for American tastes) but they could have kept the kidney. This surprised me a little bit because I liked the steak and kidney pie from Cooke's of Dublin next door. Nick and I both felt that the veal had been sitting a bit long, it wasn't very moist.
Last Course
Panna Cotta with Blackberries and a Raspberry gel
Chandon Cuvee Riche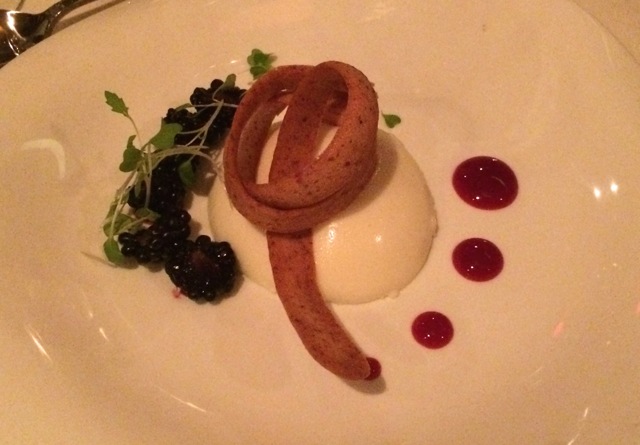 This wine was very sweet, a bit much for our palates. And I hate to say this, I don't like panna cotta – even when Kevin Dundon makes it. Just not my thing.
…
At the end of the evening, each party received a gift… A signed copy of "Back to Basics' from Kevin Dundon. Kevin was gracious and friendly with everyone! He even signed a copy of "Backdoor Buttered" and another copy of "Back to Basics" that we picked up before the dinner.
Although all of the food wasn't my cup of tea – it was a very interesting and enjoyable meal; the food highlights were the duck heart and the sausage. The BEST part of the dinner party was Chef Kevin's interactions with the guests; he's a natural expert at creating smiles and laughter! If we're in the Orlando area whenever Chef Kevin comes back to Raglan Road (or it's sister restaurants), we'll be on the guest list because of Chef Kevin!
Thank you to the staff at Raglan Road Pub (the service was really superb and definitely stepped up a notch from our first Signature Dining Experience in 2010). And a huge Thank You to Chef Kevin Dundon.
Happy memories from this evening!