This dining experience took place on June 8, 2014
We often walk to Downtown Disney, and let me tell you this year… May and June have been hotter than usual and stopping at Splitsville at the outside bar for a cold beer and a cool bite to eat has been very attractive!
So, on this hot sunny Sunday… we both ordered a salad. We were really craving something cold and crunchy and not too heavy (after all, we have to walk back home when we're done!).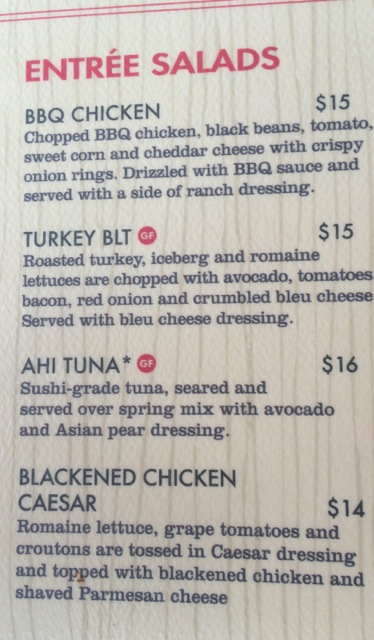 Nick got the Turkey BLT salad again, this time the components weren't as thoroughly chopped as before – especially the turkey… It was rather chunky and a bit difficult to eat in small tastes.
The Turkey BLT Salad comes with Ranch Dressing on the side – and it's pretty doggoned good ranch dressing too (tastes freshly made, not like bottled Hidden Valley or Kraft). Nick usually eats his salads with very little dressing. The lettuce was crispy and this was rather refreshing on a hot day.
I ordered the Blackened Chicken Caesar Salad with dressing on the side and some jalapeños on the side.
We were both pleased with our salads, we were both surprised at how good the caesar dressing was (very good), and they were good choices on a hot day… and I'd happily eat either of them again!