This dining experience took place on May 23, 2014
We returned to Il Mulino for dinner on a Friday night, thankfully, it wasn't a Friday associated with a holiday or a Disney Running event… We had no trouble getting a table, but we discovered why we hadn't heard back from Angela (GM), she's moved on to Garden Grove!
Our servers were Rebecca (she served us on our last visit) and Howie (from Liverpool, England)…
Let's start with the bread service, olive oil, caponata, and salumi… The olive oil was distinctly different from the olive oil we get at Spice Road Table, this olive oil is more grassy and that is more fruity.
We tried two new cocktails…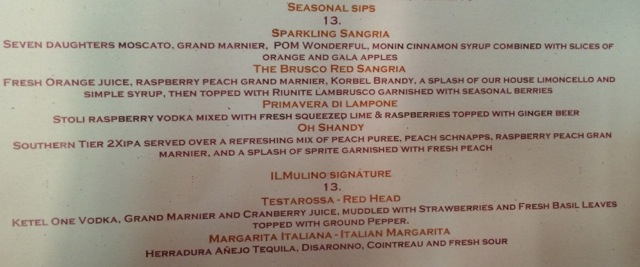 Nick had the Testarossa – Red Head (signature cocktail) made of Ketel One Vodka, Grand Marnier and Cranberry Juice, Muddled with Strawberries and Fresh Basil Leaves, Topped with Ground Pepper… We were a little cautious because of the basil leaves and the black pepper (they can be off-putting for Nick)…
This was slightly spicy with a good balance of sweet and sour – we liked it better than our other choice.
I ordered the Brusco Red Sangria (seasonal sips) made of Fresh Orange Juice, Raspberry Peach Grand Marnier, Korbel Brandy, A Splash of House Limoncello, and Simple Syrup, then topped with Riunite Red Lambrusco garnished with Seasonal Berries…
this was a bit too sweet for us, not likely to order again…
Word of Warning if you continue to read this… This was the highlight of our meal… It goes downhill from here. The service was fine, in fact we were really pleased with Howie and Rebecca. The food was a disappointment.
Disclaimer: we were quite displeased with the food but we weren't nasty about it, we were calm and polite and just said we didn't particularly care for it; some of our meal was comped, we were appreciative, but it wasn't necessary… when you eat out a lot, you're going to run into food that you just don't care for (either because of how it was cooked or because of how it tastes).
We decided to start with Calamari Fritti  (fried calamari with red sauce) – lots of photos…
Next up, we split a half order of Frutti Di Mare – we asked Rebecca to bring us two wines to pair with the pasta course:
Tolly Pinot Grigio (we had this with the grouper the last time we were at Il Mulino),

I thought that the nose was very citrus and sour, Nick liked the way that it smelled
I thought that this wine tasted better without food than the second wine, Nick thought it tasted "way better" without food than the second wine

Uncensored Geyser Peak (we also had this with the grouper)

I thought the nose was very sweet with some stone fruits, Nick didn't really like the way it smelled
I thought that the flavor wasn't as sweet as I expected, Nick didn't really care for the flavor without food
The Tolly went better with this dish than the Uncensored, but the Uncensored wasn't bad. This dish was better than the calamari fritti – but there were still some glaring mistakes with the cooking of the seafood. Maybe we can have them make the mussels and garlic wine sauce and serve it over linguini or fettucini in the future! (we asked Rebecca later and she said "yes, we can do that").
Our "main" was Pollo Fra Diavolo – now we loved the mussels far diabolo and hoped that this version with chicken would be really good (even though we rarely order chicken at Disney World restaurants)… Rebecca brought us two wines to go with this spicy meat dish
Allegrini Renacer Enamore (Malbec- Cabernet Blend) – we had this with the Rigatoni con Funghi on our last visit to Il Mulino

Nick really liked the nose of this wine, I thought it smelled like old red fruit
Nick thought the taste was nicely rounded and not too much tannin, I said it tasted like sweet smoke

Antinori Toscana (Sangiovese Cabernet Merlot Syrah Blend ) – we also had this with the Rigatoni the last time Rebecca served us

I thought the nose of this red blend was buttery, Nick though the nose was nothing amazing or very interesting
I thought the taste was rather dry, Nick thought it tasted dry too (hey! our palettes agree!)
We didn't finish this either. Tonight there were some glaring (at least to us) missteps in the food preparation and seasoning.
We think that from now on, we need to alternate between mussels or clams or grouper, maybe with pasta.
Again, the blame doesn't lie with the servers, they did a good job and we enjoyed talking with both of them. The set-up and water boy (hate that "name" but don't know what else to call him), Luis, was excellent (we had a lot of time to watch him) – we even told the manager that he was doing a very good job.
Thank you for taking some items off of our ticket, it wasn't necessary. Thank you.