This experience took place on Wednesday, May 14, 2014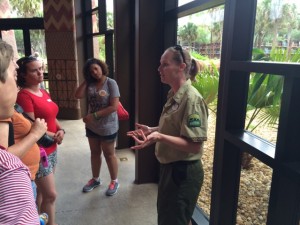 After lunch, we all went outside to view the animals on the Savanna… Today, instead of seeing the tortoises again, we watched the hooved animals and the birds. There was another cast member out on the savanna training the Maribo Storks – they were "stationing" – this is where the birds are treated with meal worms when they get up on the fake stumps… again, this is encouraging behaviors that make caring for the birds easier on the birds and on the humans.
One of the older storks was a bit of a bully, he was very happy to chase off the youngest member of the group. The trainer didn't reward this behavior and made the older guy get down and re-station when he was rude.