This experience took place on Thursday, May 15, 2014
On nearly every visit with Lisa and Andy, we have to go to the bluezoo lounge for drinks and nibbles. Lisa is particularly fond of Chad's Barrel Aged Manhattans (if you haven't tried one yet, you're missing something GOOD).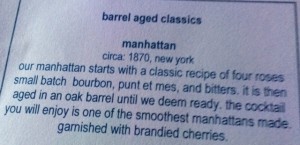 Andy likes gin and tonics, so on this visit he went with the Antidote because it's similar but not exactly the same.

The two of us had White Negronis… yum yum!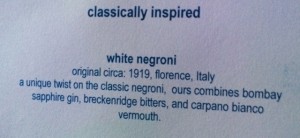 First round of food…
Lisa & Andy split the BZ Burger – Chad's right, it's an amazing burger and Lisa whole-heartedly agrees!
We split the heirloom tomato salad – we really love this addition to the menu, we keep ordering it again and again (we will probably have it on our next visit too!)
Lisa & Andy decided to have the heirloom tomato salad for their next course and we went for oysters and beer (another standby favorite of ours)…
This was a pretty rich ipa, we both preferred it with food rather than on its own.
The sculpin was pretty light and we both thought it would pair well with the brininess of the oysters.
We chose Waianno and Turtle Cove oysters, both from Massachusetts. We've found that we tend to like oysters from New England, their size suits us and their brininess suits us too. As usual, we asked for plain grated horseradish and sriracha mayo (we usually get plain sriracha, but lately they've not had that available).
I preferred these with the sculpin and Nick preferred these with the hercules.
These were nicely briny, they're pretty consistent. These went okay with the sculpin.
At this point, Lisa and Andy were getting pretty full but we wanted one more thing – so we ordered the seared scallop and short rib… So, here's some food porn of another of our favorite dishes…
We had a lovely time as always – bluezoo is a standout favorite and we really enjoy being with Lisa & Andy!