This dining experience took place on March 24, 2014
In all honesty, I can't remember how long it's been since we went to Shutter's at Caribbean Beach Resort. If pressed to guess, I'd have to say maybe all the way back to 2008 or earlier – mostly because we typically ate at Shutter's when we were staying at Caribbean Beach and just didn't want to venture off-resort and were tired of the quick service food court.
However, we'd heard quite a while ago that the food and the menu had improved over the last year when a change in Executive Chef took place (link to Disney Parks Blog from January 2013!! Oh well, we gave them plenty of time to work out the kinks, ha ha ha!).
When we were seated, right away a few of things stood out…
there was food debris on both the table and the chairs (oh, super duper yucky, it creeps out Nick more than me, but neither of us are at all fond of being seated in someone else's food debris)
there were loads of children (they were quite well-behaved when we first sat down, unfortunately for us, this didn't continue throughout our meal – the screeching and shrieking level went up quite a bit for the middle of our meal, then it quieted down a bit towards the end)
it was REALLY COLD in the dining room (nothing to do about that, Nick froze through most of the meal and I shivered)
Our server, Robin, did a very good job and was understanding about us "dining" as opposed to "give me my food I gotta rush out of here!"
We began with Black Bean Soup…
We could smell the Caribbean spices and the chorizo when it was placed on the table.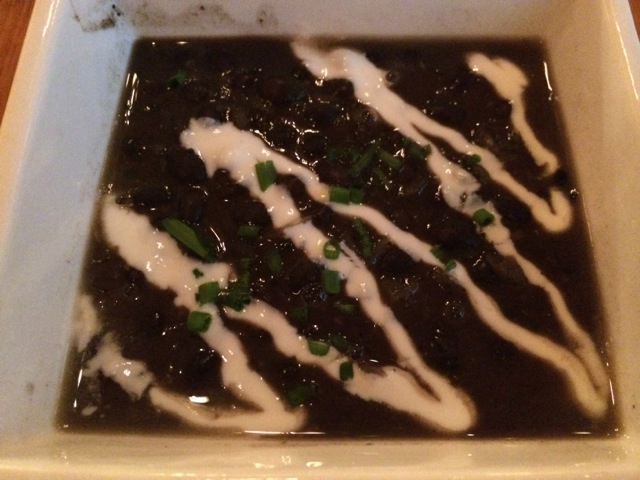 This is pretty standard black bean soup. That doesn't mean that it wasn't good.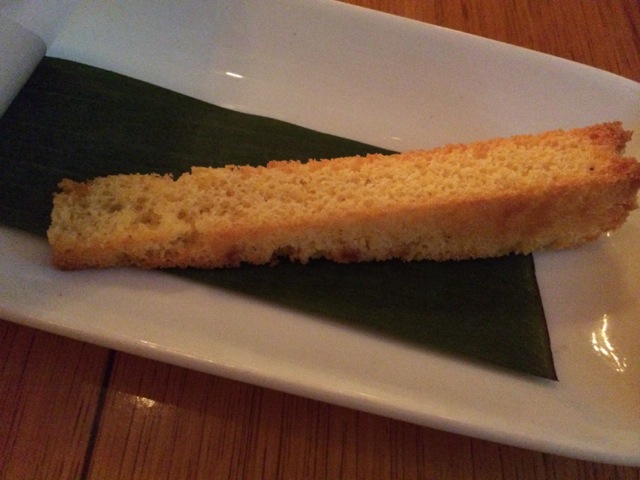 The cornbread "stick" was slightly sweet with some corn kernels and there was a nice toast on it.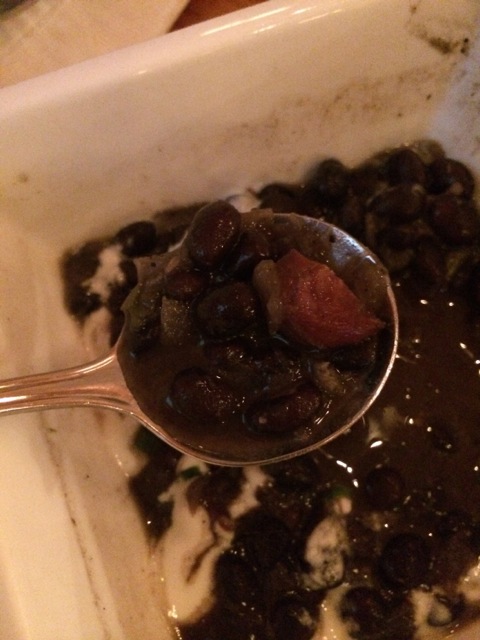 The beans were nicely soft without being mush (so it wasn't like eating refried black beans). And there were small pieces of chorizo scattered throughout. I can't really say that the lime cream contributed much more than a creamy coolness to the over all dish.
This was a good starter, the flavors and the textures went together well.
Our next choice was the Mahi Bake and two Red Stripes. Interestingly, the Red Stripe is served in a large, 1 pint, lined can instead of in a bottle. It tasted great by the way.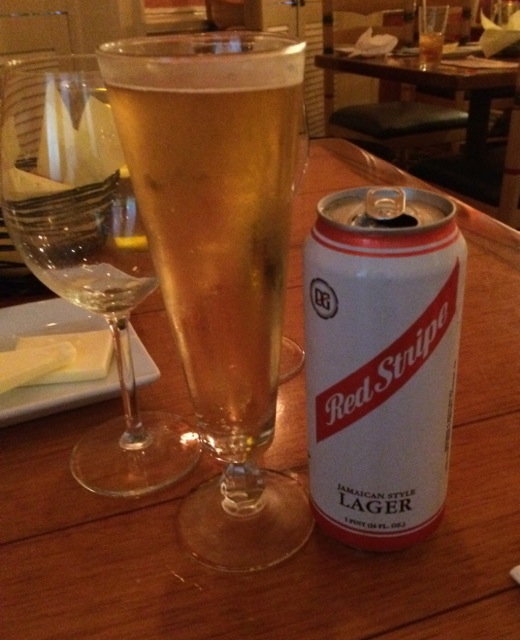 Now, on to the Mahi Bake a.k.a. Mahi Mahi Tacos… We've been given to understand that "real" fish tacos are made with grilled or baked fish on flour tortillas with shredded cabbage. This isn't that.
The "tortilla" is really more like a pocket pita. It's lined with shredded lettuce. There's a pretty substantial piece of fried mahi mahi on top of the lettuce. And on top of that is a mango salsa and a slice of lime.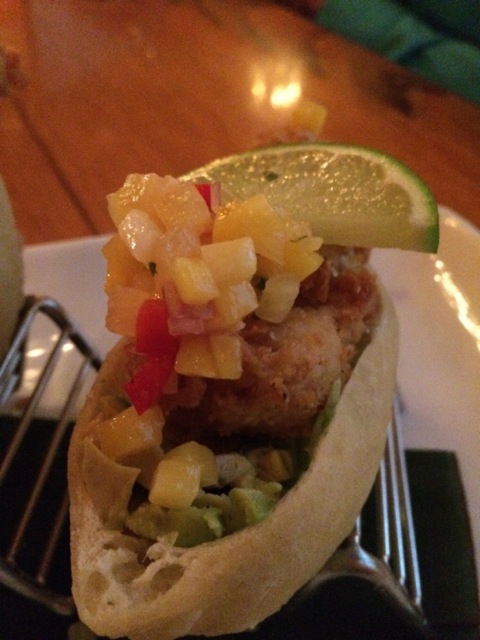 This was really difficult to eat neatly and/or to get a bite of all the components at once.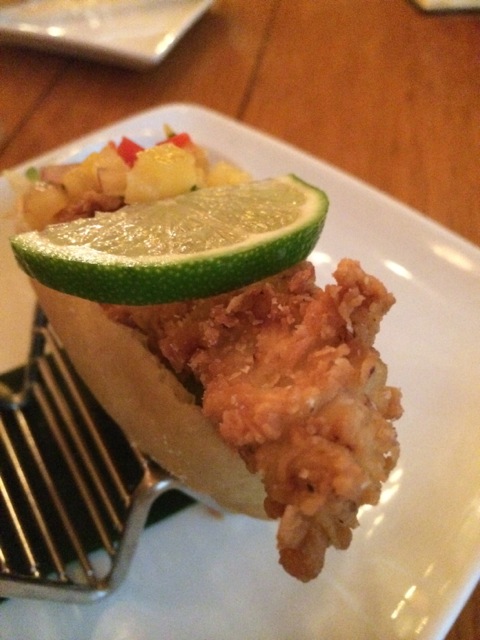 We were a bit disappointed with this choice (we even told Robin who told Chef Mike who came out later in the evening and discussed it with us – it wasn't really necessary, but the attention to detail was appreciated). We probably wouldn't have ordered this if we knew that the mahi was deep fried – we can be pretty particular about fish tacos. We really prefer grilled or broiled fish in our tacos, personally, I think that frying is sort of "cheating" on presentation.
back to the children… our fish tacos were around 8:00, the children in our room were LOUD and very disruptive (for goodness sake people, I don't want to listen to your children whine for 20 minutes while you eat your dinner… maybe that's how you do things at home, but you're in public even if it is Walt Disney World)… we wondered aloud if we should stick to fine dining
Time for the main course: we decided to go with Seared Mahi Mahi over Conch Chowder. Robin obligingly put in a request for the fish to be extra spicy. We also asked Robin to recommend two wines to pair with this dish –
Conundrum, California – Nora = nose was fruity and a bit of mineral; Nick liked this one; we both thought it wasn't bad with the conch chowder – as it warmed, it became a bit more fruity and sweetly smooth
Chardonnay Deloach, Russian River Valley – Nick = nose is grassy, Nora = nose is grass and rocks (a.k.a. minerals); we both thought this was okay with the chowder, Nick liked this a bit more with the spicy mahi mahi
At first, we didn't really care for the conch chowder. There was a strong flavor of celery and a big sensation of crunchiness without any meaty conch. If pressed, I'd say that it tasted a bit "raw" as in the flavors and umami hadn't been developed during a longer cooking process… that could be how conch chowder is supposed to be, I'm not sure.
The spinach under the fish was quite nice and there was a good portion.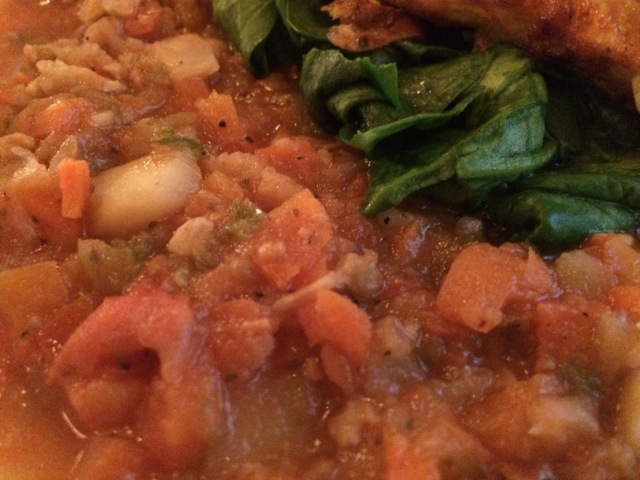 The fish was well-prepared and seasoned nicely.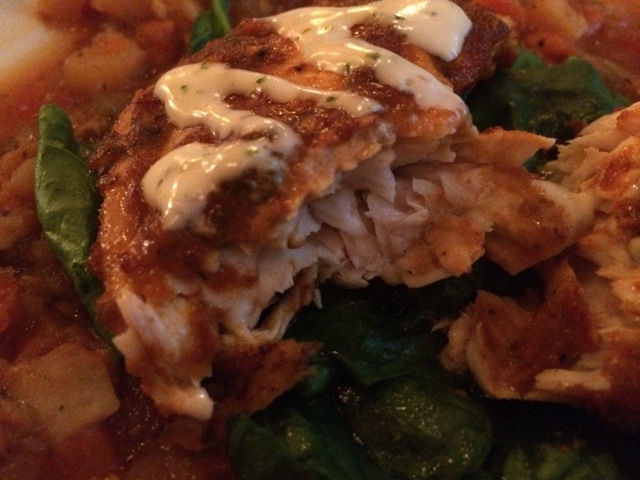 We ended up unanimously preferring the Chardonnay with the mahi mahi. However, both wines paired well, it was just personal preference. I really liked the Red Stripe with the main dish over the wines in general.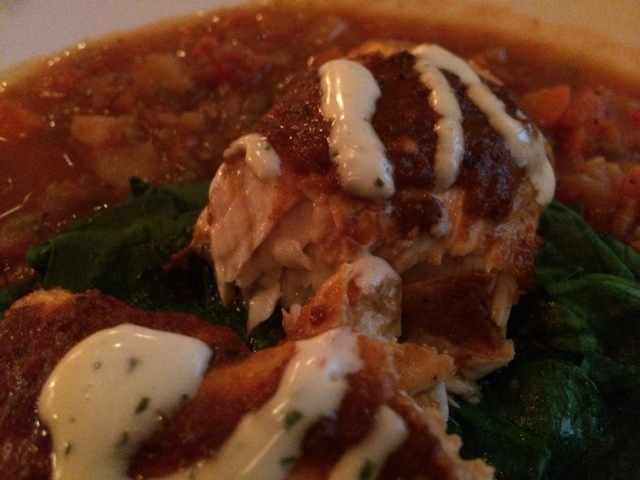 As we continued to eat this, the conch chowder started to "grow on us".
We were finishing up when Chef Mike came out to talk to us (mentioned above). He told us that if we wanted, we could order the mahi bake with grilled mahi mahi if we'd prefer.
All in all, the food and service was quite good for dinner at a moderate resort. We wouldn't mind having Robin as our server again (in fact, if/when we return to Shutter's at Caribbean Beach, we're going to ask for her). And when we were talking to her about our main course, we said that we thought the mahi mahi extra spicy would be really good on a salad made with the mahi bake fixings (lettuce, avocado, mango salsa, and cilantro lime mayo drizzle) – she agreed!
A final note:
We've complained in the past about children at fine dining restaurants (sometimes here on the blog and sometimes just to each other, ha ha). Our dinner on this evening was evidence that it's been a long while since we've eaten at table-service at a moderate resort. The children tonight were unruly, loud and they needed to go to bed or they needed to go outside and run around shrieking like banshees, anything other than having them behave like brats in public.