This lunch experience took place on Thursday, March 20, 2014
We really like to stop at Raglan Road Pub for lunch, we haven't done it in quite a while – and intend to fix that by stopping in more regularly. Frankly, we tend to prefer lunches or "nibble bits" (a.k.a. appetizers) over the mains at Raglan Road; so lunch is an ideal meal for us 🙂
We sat at the bar and Amy was the bartender on duty. I started with a 12-oz  Terrapin Hopsecutioner IPA (strangely, I had tasted it for the first time the evening before) and nick ordered a pin of Carlsberg (for Harry :)). Amy told us that they offer the Hopsecutioner in a 12 ounce unless you ask for a pint because the ABV is so high (smart move).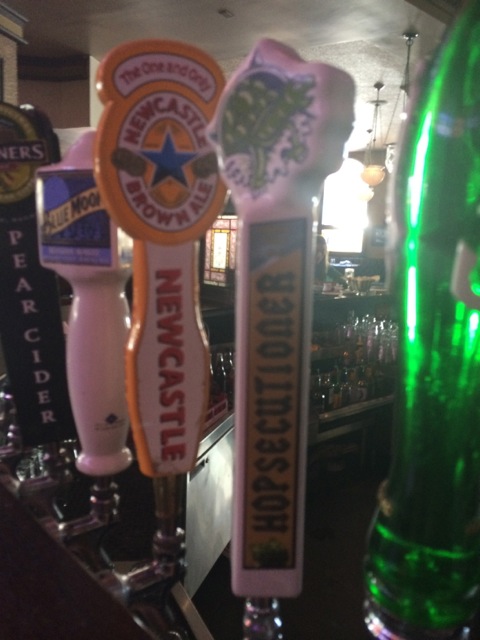 We started with the soup and salad combo (we split).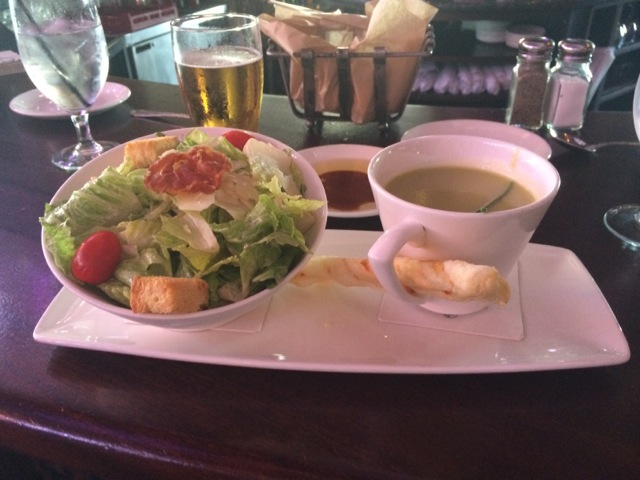 The soup of the day was colcannon (colcannon is a traditional irish dish consisting of mashed potatoes and cabbage or kale).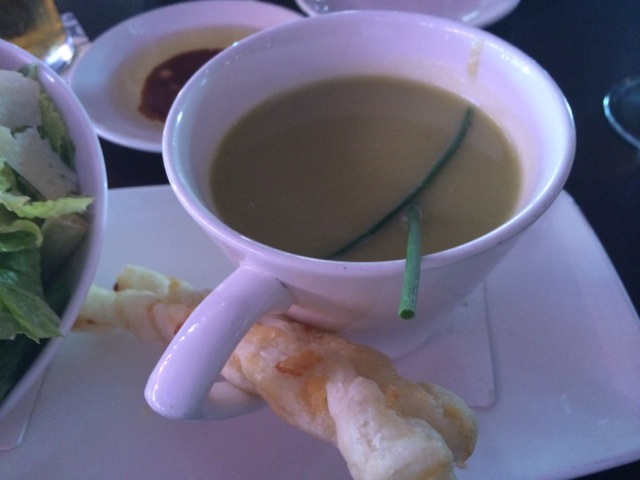 We both LOVE Raglan Road Pub soups – this one tasted of cream and butter and potatoes and cabbage (of course). The chefs straw was a bit bland and we didn't eat them, preferring instead the brown irish soda bread (I've got to make this at some point when there's someone else around to help us finish the whole loaf – it's just so damned good and sweet and moist). Anyway, the soup was very tasty.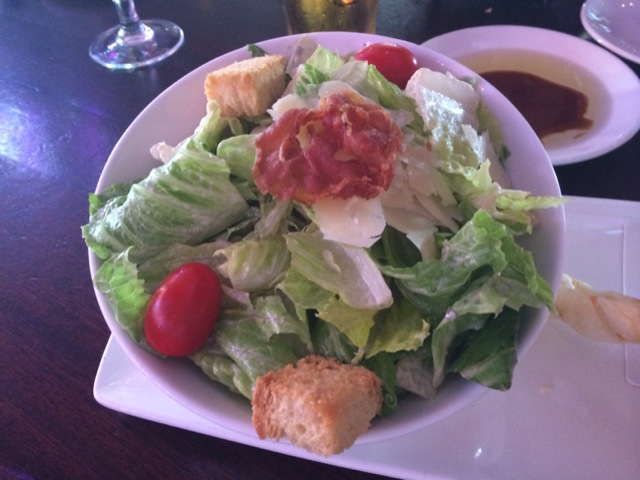 The Caesar Salad was another hit. The lettuce was crispy and crunchy, the dressing wasn't over applied (i.e. it wasn't swimming in dressing), the cheese was flavorful, and most wonderful to us, there was a hint of anchovy without it being "too much"…
This soup and salad was "all just right" (okay, think about Goldilocks and the Three Bears when you say this to yourself).
So, for our "sanger" (sandwich to us Americans)… we ordered something new..
Three Times a Boxty – Sliced Gammon topped with Dubliner cheddar sandwiched between two pan seared boxty potato cakes with a fried egg on top.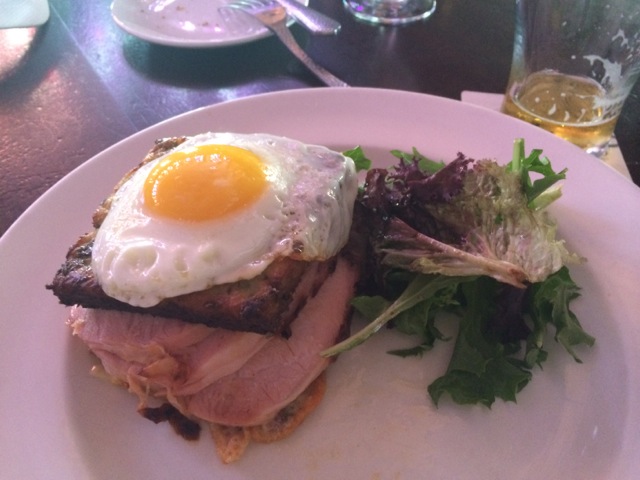 And, since we like our vegetables (okay, I admit, they're mighty doggoned good at Raglan Road Pub, not the least of which is because of the butter!) – we also ordered a side of green beans.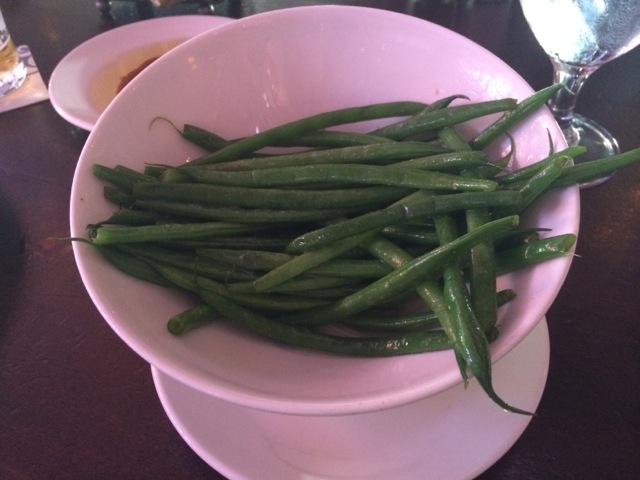 The vegetable sides at Raglan Road Pub tend to be the size that a vegetable serving ought to be (in other words, you don't get three green beans or two spears of asparagus and call it a serving of vegetables). These were tender crisp, lightly salted, and very delicious… I'd love to have a bowl of them right now! In case you're wondering, yes, we ate these with our fingers like they were french fries.
Back to the "sandwich"…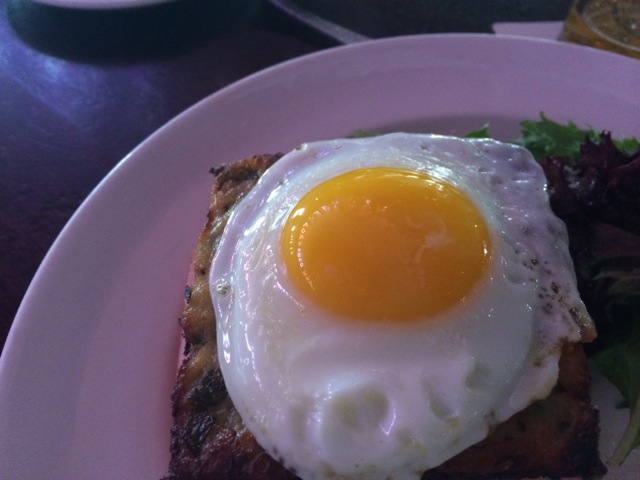 The fried egg was perfect, when we sliced into it, the yolk was firmer than we expected which made splitting this much easier.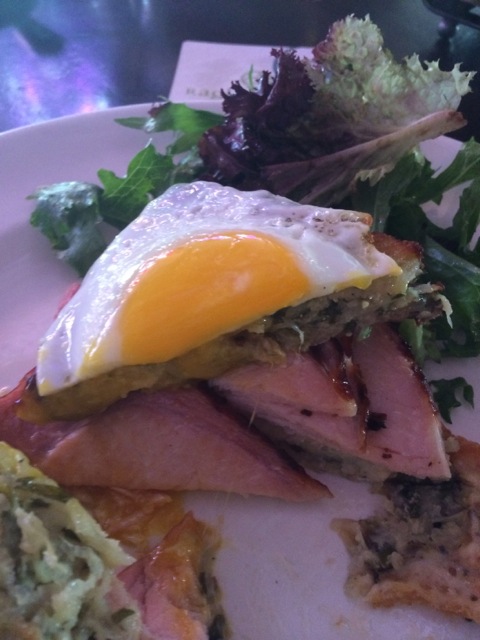 See, not a lot of egg yolk runiness.
The gammon (ham) was hammer than we remembered the gammon being in Edinburgh. The slices were nice and thick and there was a generous portion.
The potato cake had greens in it (maybe kale?), the texture didn't hold together well, making this a bit difficult to eat with a knife and fork (and you sure as heck couldn't have picked it up and eaten it without getting it all down your arms and chest).
The Dubliner Cheese was griddled on top of the bottom potato cake, some of it slid off and got very brown and tasty (think Alton Brown GBD = golden brown delicious).
Although we liked all of the elements of this dish, I'm not sure we'd get it again. As I said, the potato cake was soft and squishy.
BTW a couple of pints of Guiness went very well with this lunch choice!