We did a quick summary of wines, beer, etc… part way through the Festival (here).
Quick recap if you don't want to follow the link…
Brazil Marketplace – Xingu Black Beer, not so great but not bad
Outpost (near Africa) – St George Beer, not likely to go out of our way to have again
Hops & Barley Marketplace – Samuel Adams Octoberfest & Rogue Chocolate Stout, really the only reasons to get these (1) you're thirsty for beer and (2) you like draft beer – these were both all that we expected and quite tasty, I had another Rogue Chocolate Stout and Nick had another Octoberfest as the Festival continued, so yes, they're pretty darned good
Intermission Cafe in the Festival Center  – 2 reds: The Seeker Pinot Noir & Kaley's Rescue Red Blend (neither were very impressive and we didn't have them again during the Festival) and 1 sparkling: Caposaldo Sweet Sparkling Moscato, I thought it was good but not good enough to have again
Items new to this review…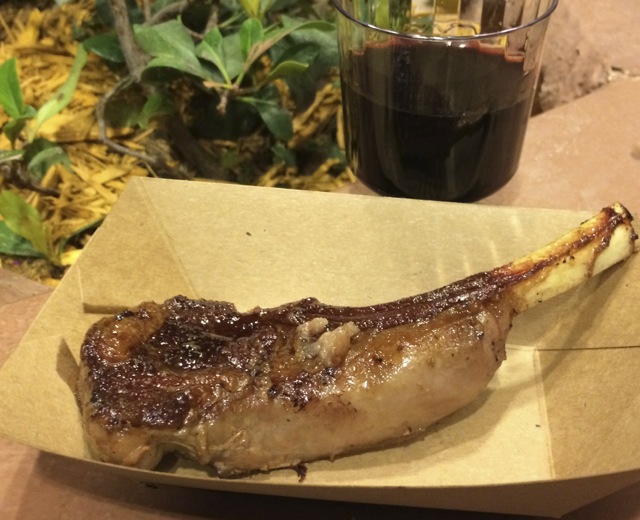 Australia Marketplace –Penfolds Bin 8 Cabernet Shiraz (featured pairing with the Lamb Chop), wine went well with the meat, but was pretty "eh" on it's own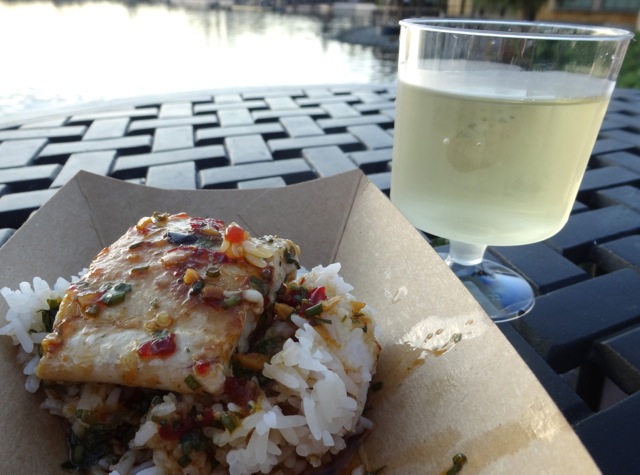 Singapore Marketplace – Marques de Caceres Satinela (featured pairing with the Mahi Mahi), I really liked this wine and so did Nick, wish I'd stopped for another "glass" before the Festival ended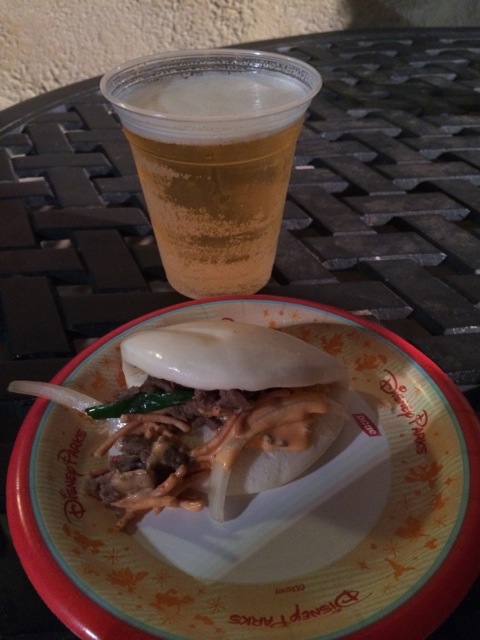 China Marketplace – Tsingtao Beer (featured pairing with Mongolian Beef in a Steamed Bun), it's Tsingtao, we've had it before numerous times, it's good with Asian food 🙂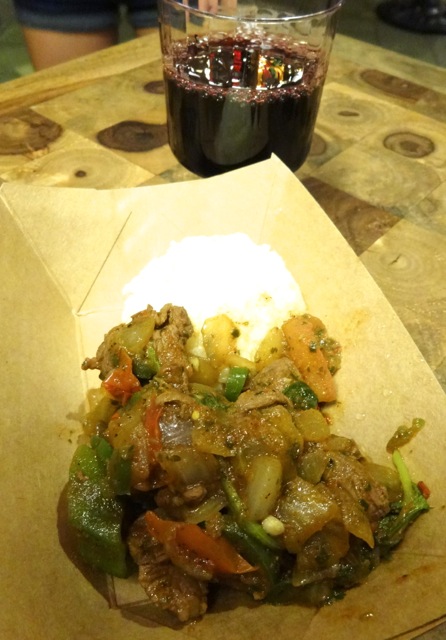 Africa Marketplace – Wolftrap Red (featured pairing with Berbere Style Beef), we just didn't like this much, it wasn't the worst wine of the Festival by any measure! but we didn't even finish it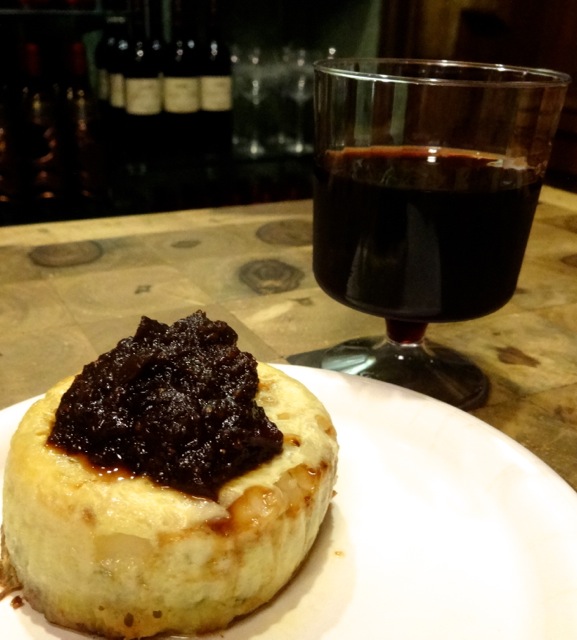 Cheese Marketplace – Once Upon a Vine's The Big Bad Red Blend (featured pairing with blue cheese soufflé), at that point in the Festival, we decided this was the best pairing so far (we had tummy aches later from the richness of the soufflé…)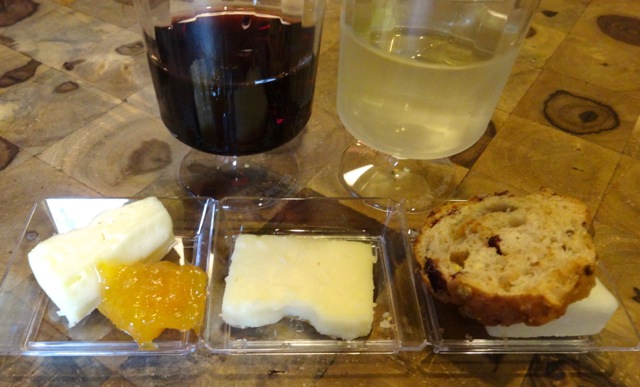 Cheese Marketplace – Once Upon a Vine's A Charming Pinot, not good with any of the cheeses and not good on it's own
Germany Marketplace – J&H Selbach Berkasteler Kurfurstlay Riesling Kabinett "delicate sweetness and mild acidity", better pairing with the cheeses than the Pinot; I liked it so much that I had it again later in the Festival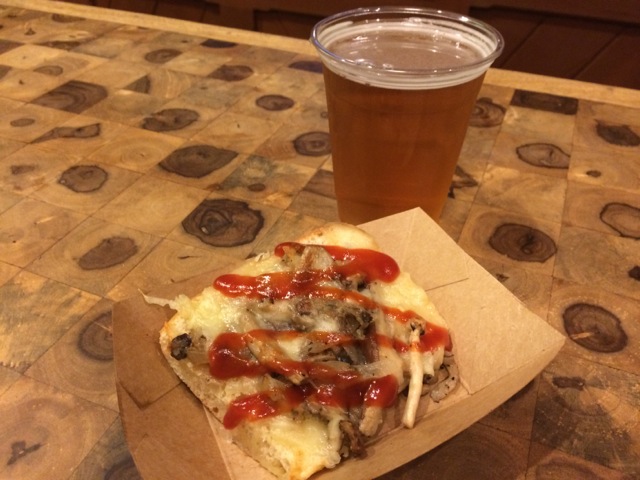 Poland Marketplace – Okacim O.K. Beer, it was better than a couple of other beers, but not really outstanding
Poland Marketplace – Nick had the Frozen Szarlotka (Apple Pie) featuring Zubrowka Bison Grass Vodka [NO PHOTO] – it tasted like frozen applesauce, a bit too sweet but rather refreshing in the heat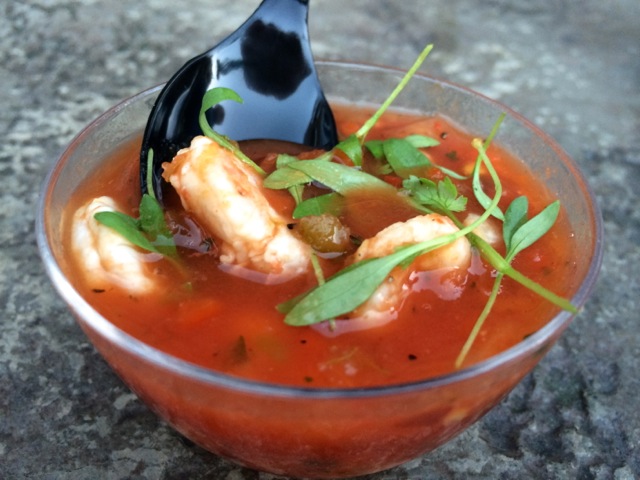 Florida Local Marketplace – Cigar City Brewing, Florida Cracker Belgian-style White Ale, [NO PHOTO, it looks like beer] ummm, not good, we didn't drink all of it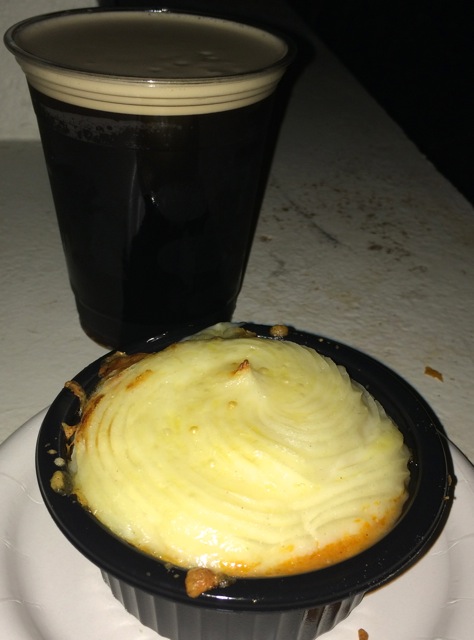 Ireland Marketplace – Guinness Draught, while not unusual by any measure, this was the best beer we had on one of our visits to the Food & Wine Festival (we sample 4 that evening, we shared ;))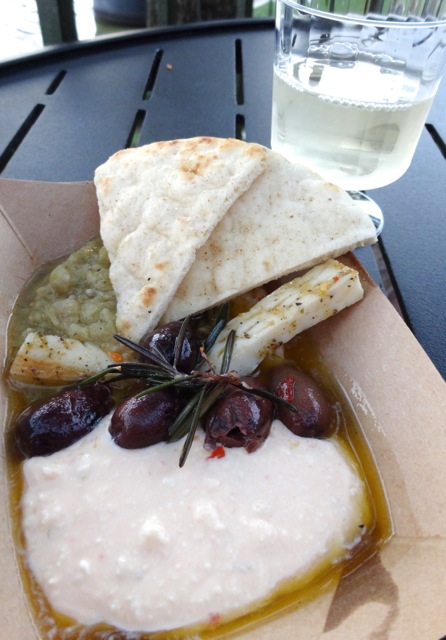 Greece Marketplace – Domaine Skouras Moscofilero (featured pairing with Taste of Greece), this wine was a pleasant surprise (it had been on our "do not have")
NO PHOTO FROM DESSERTS & CHAMPAGNE MARKETPLACE
Dessert & Champagne Marketplace – there aren't any photos because the only thing that we tried from this booth during the Festival was the Pyramid Weiss Cream Beer – verdict? I liked it, the texture and head were very similar to Guinness, the flavors were creamy and slightly sweet, easy to understand why it would go with desserts (which we never sampled)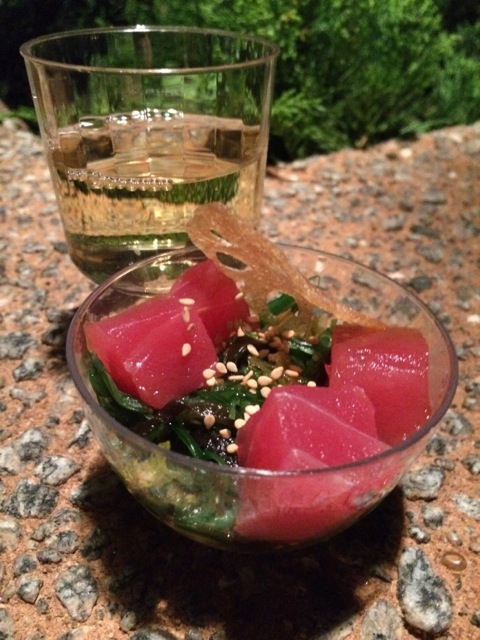 Hawaii Marketplace – Kona Brewing Company's Big Wave Golden Ale (NO PHOTO), Nick had this one evening, he tossed about 70% in the trash, just. not. good… too floral and funky
Hawaii Marketplace – Lucien Albrecht Gewürztraminer Reserve (featured pairing with tuna poke), I'd had this earlier in the Festival when Nick had the Big Wave Golden Ale, I liked it enough to have again, it had a very light sweetness (in other words, it wasn't syrupy)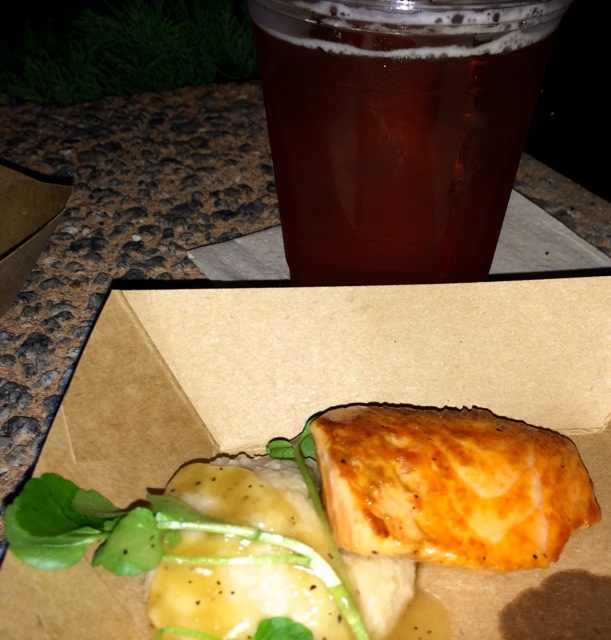 Scotland Marketplace – Innis & Gunn Original, now we've had Innis & Gunn before, but only bottled; on draft, it's even better 🙂 I'd like one right now!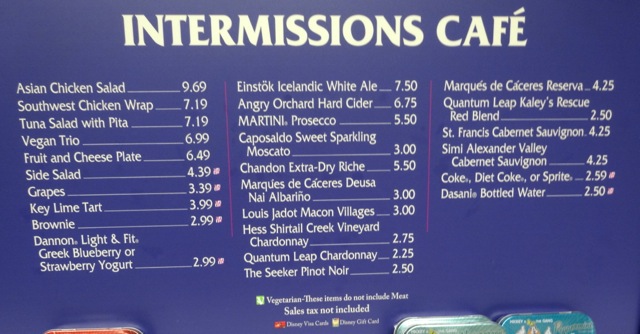 Festival Center – Simi Alexander Valley Cabernet Sauvignon (Nick's choice) He thought that the Cab was better than my choice; I thought the Cab was lighter
Festival Center – Marques de Caceres Reserva (My choice) I was expecting the same Caceres that I had at the Singapore booth, nope, this was a very heavy red with lots of tannins, not that good