Warren Brown, CakeLove, Washington, DC
November 10, 2012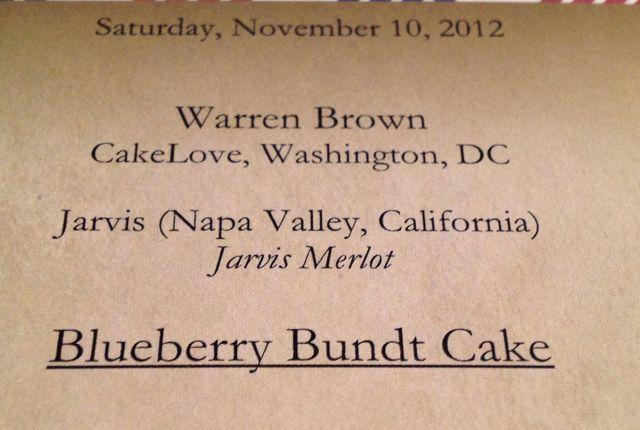 Wine: Jarvis Merlot
David Crane, Presenter
Talking about Merlot… the movie "Sideways", while not at all favorable to California Merlot, had the positive effect of causing a lot of bad California Merlots to be "weeded out"… The Merlot grape was originally used in France to blend with Cabernet Sauvignon. On it's own Cabernet Sauvignon needs some help, it isn't perfect and is usually blended. Thus when Merlot grapes were brought to California, they weren't brought in to become single varietal wines, they were brought in to help out the Cabernet Sauvignon. When "merlot" was introduced in California, they were actually pretty good (as a strange twist, "merlot" was usually 80% merlot and 20% cabernet sauvignon while "cabernet" was 80% cabernet sauvignon and 20% merlot)… but merlot grapes grow very easily, it is easy to make huge, fat berries (grapes) without a lot of flavor, that makes pretty poor Merlot.
Three tons per acre is considered to be low production in California, Jarvis grows 2 tons per acre – that way they can ensure that the grapes are a higher quality. They have a cool climate, producing grapes with thick skins and lots of Merlot flavor. Today we're tasting the 2007 Vintage, best of the decade ($80 per bottle is a good price), only 600 cases were produced and about 1/2 case is being used in today's Culinary Demonstration.
Tasting Notes:
nick says that the nose is a bit spicy; the taste is dry, heavy/full but no fruit, however it's complex… it might pair well with food?
nora says that the first nose is similar to a Cabernet Sauvignon and the second nose is licorice, berry and chalk; first taste is spicy, lacks tannins from Cabernet Sauvignon, dark, rich, not fruity at all
Menu
Blueberry Bundt Cake
Warren Brown, owner of CakeLove in Washington, brought along Jasmine (she's been a baker with him since 2003?). Warren has a new cookbook, "CakeLove in the Morning," it's a brunch cookbook and includes savory and sweet for a big morning meal (although nick would argue that breakfast and brunch foods don't have to be eaten only in the morning!).
Today's Blueberry Bundt Cake is a blend of blueberries and pound cake, it should be balanced, not too sweet.
Notes:
Please weigh your flour for more consistent baked goods (nora argues that not many recipes use weights, they tend to use cups, BTW Warren says that 5 oz is one cup).
Take time to cream your butter and sugar, that's what gives your cakes lift
Superfine sugar is preferred to standard granulated sugar, it creams better and allows more air to be incorporated into the fat
You must have patience when baking from scratch
Tip: fresh blueberries, wet with a little of the wet mixture for your cakes or muffins, then coat with a little of the dry mixture — this will help keep the blueberries from sinking
Why use potato starch? Because it breaks up the flavor of the wheat flour and the protein found in wheat flour (a.k.a. gluten).
Fat in the baked goods (butter, cream, shortening) helps shorten gluten strands and thereby makes baked goods more tender
Don't fully incorporate dry ingredients before adding more wet ingredients (this is when you're alternating between wet and dry), the more you work the batter, the more you're activating the gluten
Doesn't like nonstick pans for all cakes, affects browning and cooking…
Suggestion – for a nice crusty bit, put sugar and/or salt on your cookie sheet before baking cookies or in your cake pans before baking cakes
Last thing… he can really clean out a bowl! Nick's grandma would have been impressed!
Our cake was cooked in a sheet pan, tasted too heavy also (too much flour) – not very palatable. It was pretty clear that his batter didn't make our cake!
servings – one 9 cup bundt
12.5 ounces all-purpose flour
1 tbs potato starch
1/2 tsp salt
1/4 tsp baking soda
2/3 c milk
2/3 c heavy cream
2 tsp vanilla extract
7 oz (1 3/4 sticks) unsalted butter
20 ounces (2 3/4 cups) super fine granulated sugar
5 eggs
1 1/2 cups fresh blueberries
Preheat oven to 325 degrees F and place the rack on the middle shelf.
Mix together the flour, potato starch, salt, and baking soda in a large bowl and set aside.
Combine the milk, cream, and vanilla in a separate bowl and set aside.
Mix the butter and sugar in a stand mixer fitted with the paddle attachment on low speed for 3-4 minutes (nora's notes: 3-4 minutes my foot! it took longer than that; really must take the time to properly cream the butter and sugar).
Add eggs, one at a time, until incorporated.
With mixer on, alternately add the dry and the liquid ingredients in 3 batches each.
Stop the mixer, scrape the sides, and turn the mixer on again to run at medium speed for 1 minute to fully combine.
Spray the non-stick bundt pan well with a non-stick spray containing starch. Sprinkle with coarse sugar.
Using a spatula, add the blueberries and gently fold into the batter. Scoop the batter into the pan to fill about 3/4 full.
Bake for approximately 50-60 minutes or until a wooden skewer comes out clean.
Remove from oven and cool for 5 minutes, invert pan onto cooling rack.
Serve immediately or store under a cake dome once it's cooled to room temperature.
The cake we were served was downright embarrassing. It had a very tight crumb and was HEAVY. Nick didn't even finish his. After the demonstration, we went up front so that nick could get a photo of the real bundt cake…
This cake had a wonderful aroma, and a nice crumb. The crust was nicely golden brown… this was REAL CAKE.
As a delightful surprise, we were able to eat a slice of this cake! It was wonderful (and quite redeemed the bakers in our eyes).
NOTE: The Merlot today is not "paired" to the cake that Warren Brown is going to make. Both David and Pam were quite clear that Merlot doesn't go with Blueberry Bundt Cake. David even said that there wasn't any coordination between the wine selected and the food selected – we interpret this to mean that unless someone is really bang bang on top of things, the wine representative (even if it's the vintner him/herself) and the chef do not coordinate or collaborate… Poor show. Explains why it takes so long to LEARN pairings. The cast members typically try to put a happy face on things, but this year, we've noticed that sometimes things just don't go no matter what anyone says or how much everyone smiles. David explains that he usually pairs this Merlot with Duck a l'Orange or with cheese for dessert.