Yes, it's becoming a habit with us – Friday evening at bluezoo. Of course, we have at least four good reasons why it's a habit…
The food is typically very good (thanks to a very good kitchen that uses real food)
The service is usually spot on (thanks to good management)
The drinks are generally excellent (we rarely want one… two or more is better)
The Friday night entertainment is just our speed (thanks to the Beu Sisters)
We had the pleasure of visiting bluezoo on the last Friday in August and the first Friday of September. Surprisingly, the two visits were more of a study of contrasts than we've come to expect at bluezoo.
The first visit, nora started with a "blood and sand" – oh my, how nice 🙂 and nick started with a Shipyard Pumpkinhead Ale – not so nice. It took a while to tease out the unexpected flavors of gingerbread. We were expecting more of a pumpkin ale or octoberfest sort of lager – nope. We later found out that it had just been added to the menu, and Disney World guests have come to expect seasonal options in the true bars…
We started with a half order of Crab Nachos…Start with fresh, crispy tortilla chips; add some black beans and a bit of cheese; some green onions and pico de gallo; and don't forget the fresh-picked crab! OMG! These were good and it's a good thing we didn't order a full-size order – not sure we could have finished them and moved on to pasta!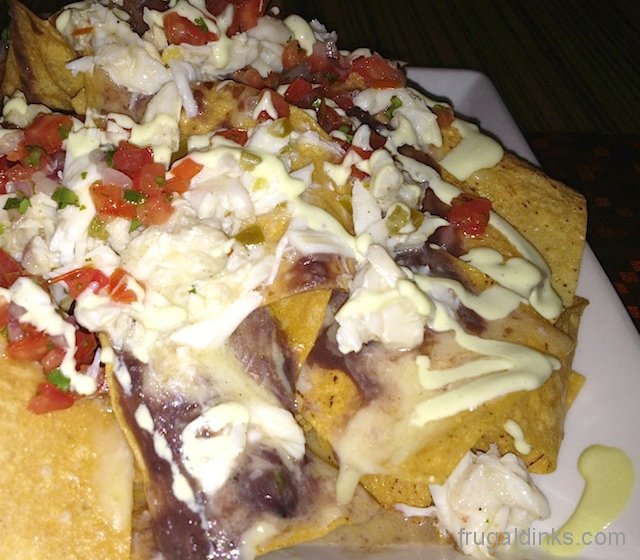 The pasta is made in-house and for the first time, it wasn't a filled pasta. It was called "torchio" (?), it was a twisty twirly loose pasta. It was topped by a sweet corn cream fraiche, rroasted maitake mushrooms, broccoli, leeks, cauliflower,  and yellow squash;  and a large scallop for each of us. The whole thing was topped by a lightly dressed arugula salad and foccia crumbs; and finished with a slight drizzle of basil oil. As always, each component of the pasta had it's own flavor and stood out.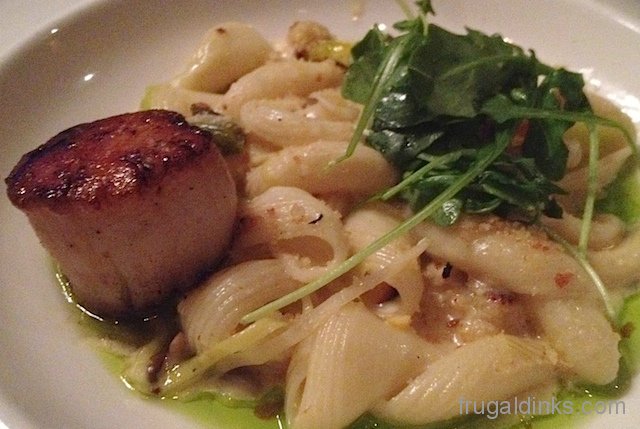 The manager brought out some very nice chocolates for us to try (Thank You!). From left to right: Exotic, Coffee, Banana, Passionfruit, Raspberry, Orange, Lime, and Salted Caramel. Nick had the coffee all to himself (nora avoids caffeine) – quite good. Nora had the salted caramel all to herself (well, nick got a whole one :)) – also quite good. The two that really stood out for us though… The Exotic with tastes of grapefruit and tropical-ness and The Banana. The Banana was really good, the best description… it tastes like pureed bananas and dark chocolate… yum!

The service at this visit was a bit more disjointed than in the past. Perhaps it was because we were sitting in the lounge rather than the actual bar area or perhaps it was because we had a different server…
The next visit was a week later. There was a group gathering in the lounge, but we were able to get a small table next to the windows. The Beu Sisters remembered us from the previous week… guess that nora singing under her breath the previous Friday wasn't too horrible. We had another server this evening, she was a bit slapdash to be honest. When we'd ask questions, she seemed very unsure of the answers.
Nora began with a Backporch Lemonade – yum yum yum. Nice and tart, the rim is coated with a mixture of sugar and very finely chopped candied ginger. Nick ordered an Old Tom Negroni – he found the bitters to be a bit too much, although they do make you drink a bit slower. As an extra surprise, two of the men attending the group gathering turned out to be Joe and Aaron from the Food & Wine Classic Sake course! How nice to see them again! And that they recognized us first and surprised us by stopping by to see if we were coming again this year.
We ordered the Jumbo Poached Chilled Shrimp to begin with… the description in the menu said it came with avocado puree, bloody mary sauce, and fennel salt. What we received was quite different, there were four shrimp with four different sauces. The shrimp were slightly overdone, the sauces were not very distinguishing, and the salt at the sides didn't seem to have any fennel flavor at all – it was the first time we've been not impressed at bluezoo.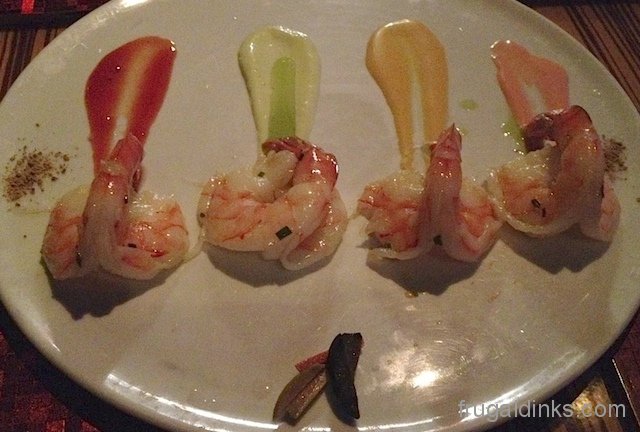 We again ordered pasta and split it for our dinner. The server gave us a description – garchinella pasta (it ended up being tulip shaped) made at bluezoo, scallops, lobster, a cream fraiche sauce, and vegetables. We stepped outside of our usual and ordered a glass of Doctor Loosen Reisling for each of us (the server checked with the chef for a recommendation). The pasta was good, not as OMG Outstanding as the stuffed pastas are; but it was quite good. Nick even remarked that he liked the flavor of the lobster (which he usually doesn't). The sauce was more of a cheese sauce this evening, there were nice shavings of a parmesan sort of cheese, tomato pieces, and each of us had a piece or two of prosciutto. Would we eat this dish again, oh yes.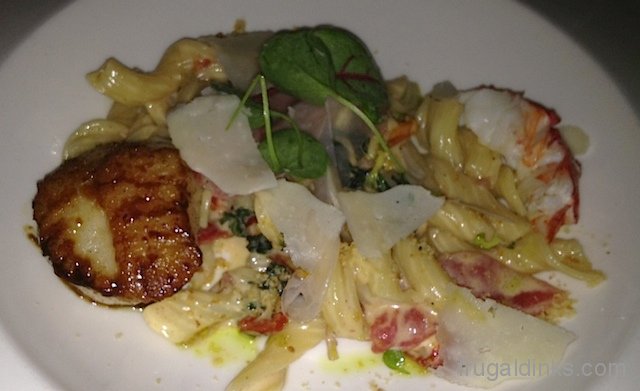 So, the two evenings were a bit of a study of contrasts.
Perhaps we've become a bit spoiled by so many outstanding visits and our expectations are too high…
Do we still enjoy bluezoo? Of course!
We plan to return very soon!