This dining experience took place on March 27, 2014
It's Thursday, time for a pint and lunch at Raglan Road Pub (P.S. we know from Twitter that Chef Kevin Dundon is in Orlando, hoping to see him here today). We happily sat down at the main bar and said hello to Gina!
Last week, we enjoyed the Irish Soda Bread with the Guinness Reduction and Olive Oil – this week, Nick wanted butter with his soda bread…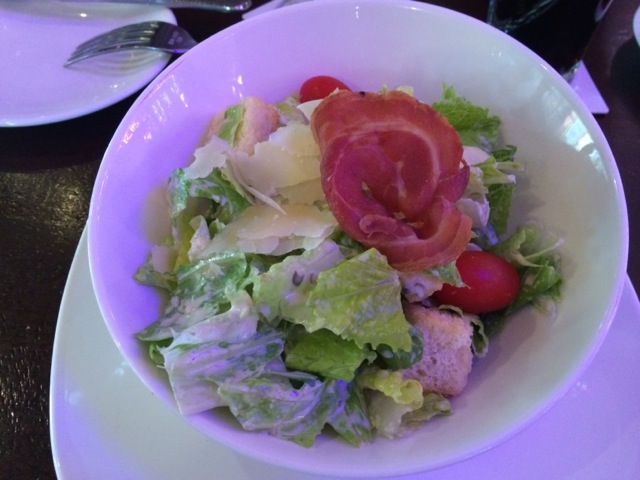 We each ordered a side Caesar Salad to start…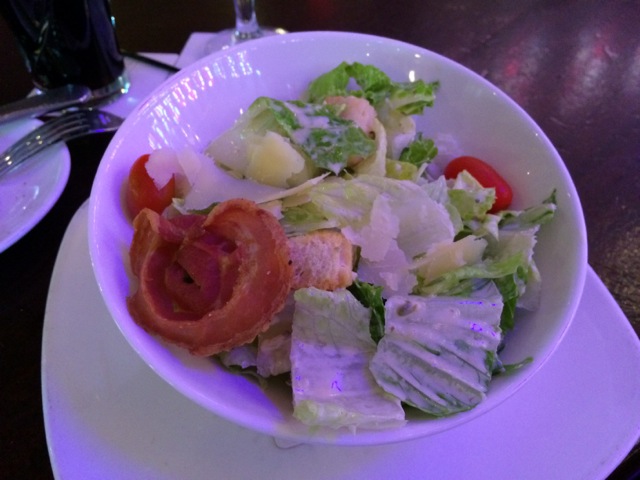 These are so d*mn*d good. The dressing isn't too thick or heavy. You can taste the anchovy paste in the dressing.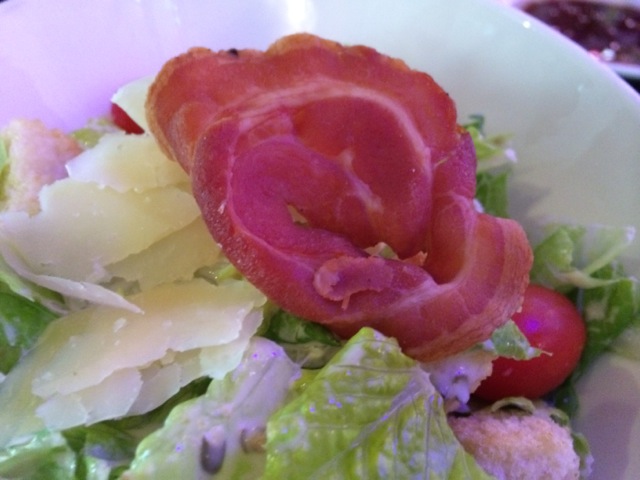 The pancetta (bacon), slivers of parmesan , and anchovies combine to create a salad with a lot of umami.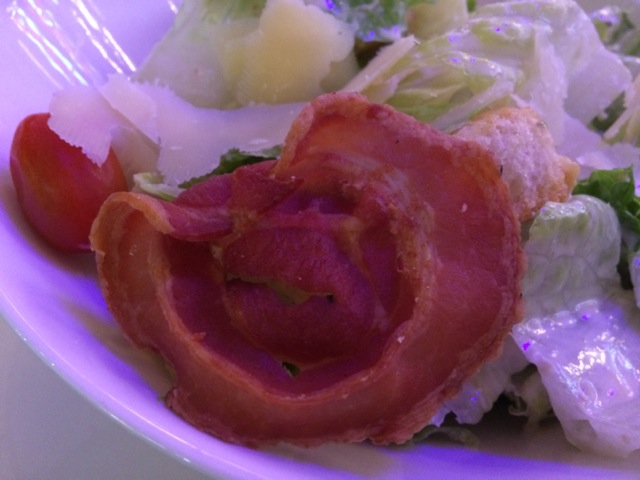 And, as an added bonus… the croutons are nicely buttery without being hard crusty knots. The romaine is very crunchy (my favorite aspect of a good Caesar salad). Nick really likes this salad!
We usually consider the specials of the day when we go to Raglan Road Pub – today the soup was colcannon (we had that last week) and the pie was chicken (we haven't had that in the pub in quite a while, we had chicken and leek pie most recently at Cooke's of Dublin). We decided to order the Chicken Pie and split it.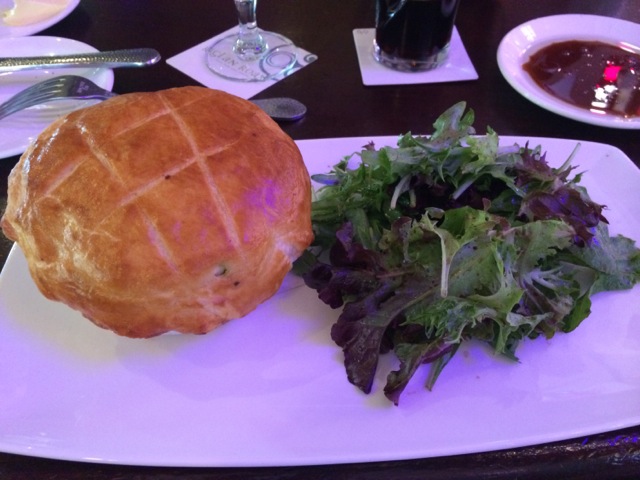 Topped with buttery pastry and served with a very lightly dressed salad of greens, this is an excellent choice in our estimation. The smell was so great when this was sat down, just made you even hungrier!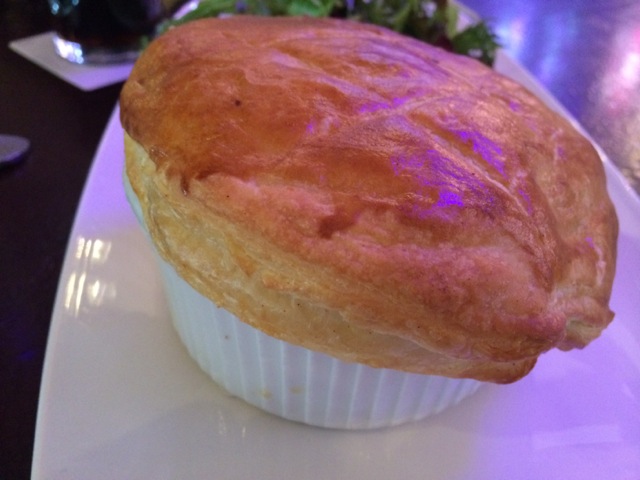 If you get a chance to see Chef Kevin Dundon's television series "Modern Irish Food", you'll see that he uses a pot lid to cut the butter disk of pastry to top his pies.
The water in the butter evaporates as the pastry bakes, creating these large pockets and loads of flakiness.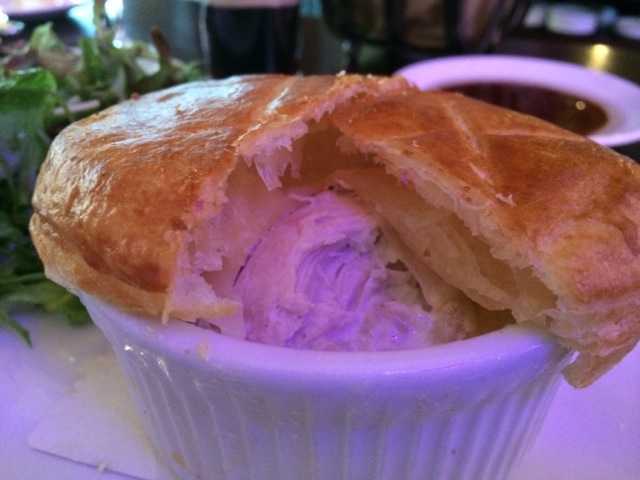 See that huge piece of chicken breast? The chicken was so soft and tender and moist that you barely need to chew it!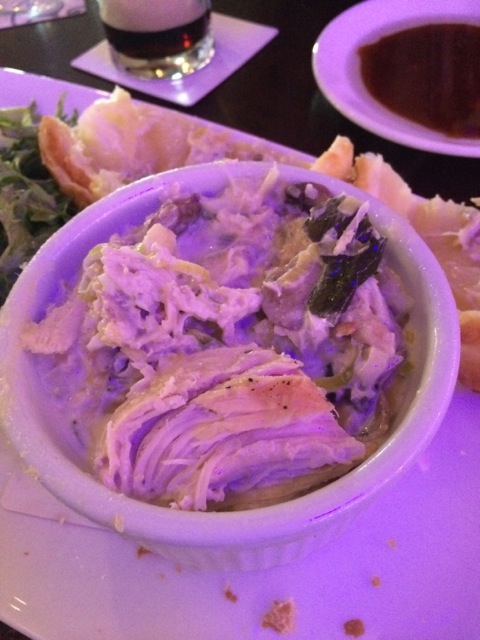 There was loads of moist chicken breast. The leeks, mushrooms, and cream made a "light" creamy gravy to go with the chicken.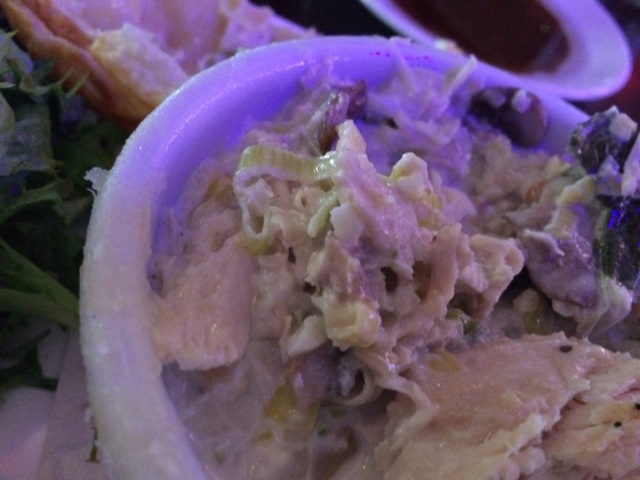 This dish is so deceptively simple. It's really fantastic at Raglan Road Pub, but it could be screwed up so easily.
This was well-seasoned, not over salted or under salted.
There was some of the famous mash (mashed potatoes) at the bottom of the casserole – very yummy!
Hate to say it, but this is SO MUCH BETTER than the version from Cooke's of Dublin.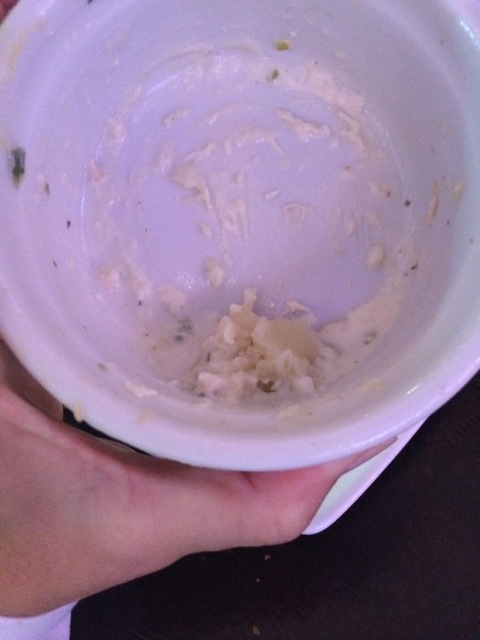 This was very tasty and very satisfying lunch. In the end, just the right size to split (I'd be stuffed if I ate this entirely by myself!).