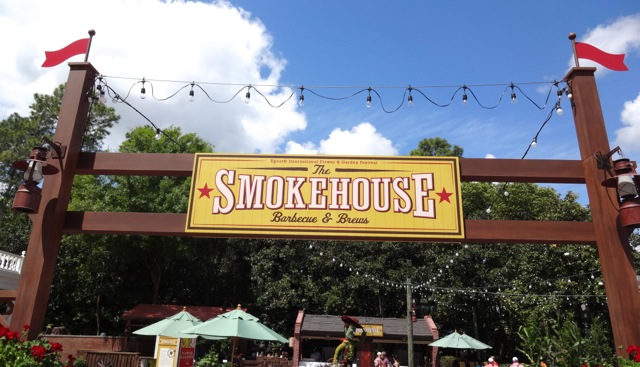 The Smokehouse Barbecue & Brews area is located at the America Pavilion… And since barbecue and beer are two of our favorite food groups, we tried all of their offerings recently. Before we get to the food, we want to let you have a look around.
It's obvious that a lot of thought and care went into the theming of this area. There is a lot of detail and even some unusual bits of Americana, including one item that is very familiar to nora…
While we were there taking photos, Chef Jens Dahlman (executive chef to all of Epcot) and Chef Wade came by and struck up a conversation with Nick about cookers, Chef Jens showed us what was inside the cooker-on-stage. Yes, it's a real cooker and yes, that's real meat in there… they use it as a holding spot for the meat that's being served. The meat is actually cooked backstage on a huge grand-daddy cooker that uses gas for cooking and wood for the smoke flavors. That huge cooker has a continuous conveyor belt inside so that the meat is being constantly produced.
Unfortunately, Nora didn't point out to Nick that the chef he was enjoying a conversation with was The Man re: Epcot International Food & Wine Festival… if she had, Nick would have had the perfect opportunity to discuss some of his ideas for the Festival. We did get a chance to chat a bit about the food and beverage offerings during the Flower & Garden Festival… one of our concerns is that bean-counters might decide to not give the food and beverage aspects of the flower and garden festival a chance to grow and develop (that day there were NO lines). There hasn't been any noticeable advertising in the Orlando area to let locals know that this is like a mini-Food-&-Wine-Festival – there's been chatter in the ether about it, but let's face it, not everyone devours Disney World information the way that we do.
This year, each of the food booth areas has container gardens with featured plantings… The Smokehouse Barbecue and Brews featured: live oak, cabbage, collard greens, and jalapeño peppers.
Now, on to the food!!!
Like we said earlier, we ordered all the food offerings: the pulled pork, the smoked brisket, and the rocky road mousse dessert. We also ordered the beer flight (Mama's Little Yella Pils, Liberty Ale, Red Ale, and Blackwater Porter) and the Original Rib Shack Red Wine. While we liked the wine quite a bit, even went back for a second glass to go with dessert, the beers were nothing to write home about… not bad, not great, just beer…
Chef Jens actually served us when we went through… he suggested that we use the hot sauce on the pulled pork sandwich… but first it has to pose for it's close-ups…
Nora thought that the pork was a nice blend and that it wasn't too sweet; Nick's comment was that the pork seemed sweet (well, we don't agree on everything!). The cole slaw had a nice crunch and a good touch of sourness (good slaw needs a bit of vinegar). The hot sauce that Chef Jens recommended was actually hot, but not excessively so – it went very well with the pork. The red wine didn't go too well with this sandwich. This pulled pork sandwich is something we would definitely get again!
Next up, the beef brisket with collard greens and jalapeño cornbread..
Each item was very good. The collard greens were nicely sliced into thin strips, flavored with some pork, and properly cooked (they were still quite green, the stalks were cooked through, and nothing was mushy).
The brisket had a nice smoke bark on it, unfortunately it was a little bit dry – but some more hot sauce fixed it right up. The Rib Shack Red Wine went wonderfully with the brisket, none of the beers provided any particular outstanding pairing.
The cornbread was a bit dry, it was best when it had some of the pot liquor from the greens on it. The amount of jalapeño in the cornbread was spot on, just a bit spicy.
We got a second glass of red wine to go with the Rocky Road Brownie Mousse … after all, nora loves chocolate and red wine pairings (usually).
This was fine, not overly sweet, not too heavy for the Florida heat, it was good. If you're a fan of really rich, dark chocolate, this is not going to satisfy that craving… this is more of a milk chocolate sort of dessert. The wine did NOT pair well with the dessert, there wasn't enough heavy, dark chocolate notes in the mousse to counterbalance the tannins in the wine.
Final Thoughts
They ought to be serving those collard greens inside the Liberty Inn!
OUR IDEAL DISH would be 80% collard greens topped with 20% pulled pork and a huge chunk of cornbread… Goodness Gracious, if this were at Liberty Inn, we would finally have a reason to eat there!
The portion sizes were good.
All-in-all, the food here went above and beyond our expectations for food at a Disney World event… it met our expectations regarding barbecue, and that's not an easy thing to do.
The pork and the brisket are good enough that we think it's worth the drive over to Epcot just to have this for lunch (that's about a 2 hour round trip for a pulled pork sandwich and some brisket!).
The food at The Smokehouse is SO MUCH BETTER than the food, any of the food, during Epcot Food & Wine Festival.
Two final items: the picnic tables in the shade are very nice and people who are slobs in public places are not nice at all.