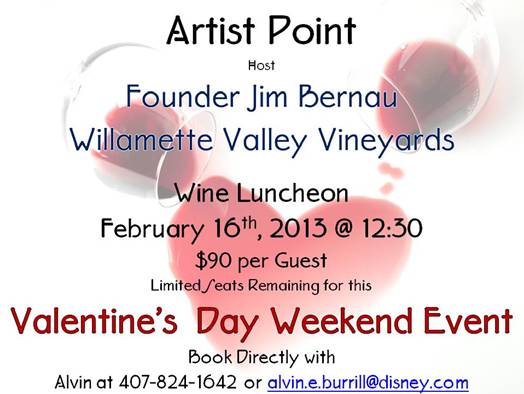 So, why would we want to do a Wine Luncheon at Artist Point with Jim Bernau from Willamette Valley Vineyards? After all, we know that wine dinners don't usually end up being really enjoyable for us and we've figured out that we aren't huge wine people… Well, we had met Jim Bernau during the 2012 Epcot International Food and Wine Festival (here) and enjoyed his wines so much that we bought two bottles of the Bernau Block Pinot Noir. Plus, Artist Point has a sentimental spot for us (it was the location of our first "fine dining" experience at Walt Disney World in 1994). We've eaten at Artist Point a few times over the last 20 years (5 or so) and the service and the food has always been either fantastic or wow-we're-disappointed, so we thought it deserved another try…
Alvin Burrill is the area leader for Artist Point (think "general manager"), he's been here for 3 years along with Marco Chaves (the head chef). The two of them have been working hard to improve both the service and the food at Artist Point; we had a nice discussion with Alvin about business and culture and continual education. This is the first wine event held at Artist Point in over 3 years – Alvin is hopeful that it will not be the last such event (we put in a request for luncheons instead of dinner – two reasons… 1. We're selfish and we prefer luncheons and 2. The restaurant isn't open for lunch so the wine events can be more intimate and adult.)
This event was limited to 40 guests, 30 attended. Cost was $90 each, well worth it.
Not only was Jim Bernau present, Mary Joli was also there from Willamette Valley Vineyards (in general, you're more likely to find Mary Joli at Walt Disney World than Jim; she travels A LOT for work). Between the two of them, they were wonderful hosts and very approachable regarding the wines.
Reception
We began in Territory Lounge with a glass of Willamette Valley Vineyards Pinot Gris 2011, Mary called this a "summer patio wine". The servers brought around three small bites: asparagus roll, duck pastrami, and diver scallops.
Wine without food:
nora detected a slightly grassy nose and some notes of minerality; the taste was slightly tart, pretty good for a non-Reisling white wine

nick thought that there was more nose than flavor in this first wine (perhaps because it was served too cold?), the nose is "green not grassy" (if the color LIME GREEN had a smell, this would be it)
Crispy Asparagus Roll with Garlic Aioli… we both thought that this was a bit bland excepting for the garlic aioli, it definitely made the wine taste "greener".
House-made Duck Pastrami with Citrus Panzanella (blood orange) and Mostarda di Frutta… if we had to describe it, we'd say "duck pastrami with mustard and a little bit of blood orange, served on brioche toast." Nora thought that this was good but a bit too salty. Nick said that it had more flavor than the Asparagus Roll but that it wasn't as spicy as pastrami usually is, again it was served too cold and the flavors were diminished by that. The wine went better with this offering, but it was only "okay".
Smoked Diver Scallops with Bacon Jam and Micro Cilantro served on an Idaho Potato Chip… This was the best of the three reception offerings. The scallop was tender and had a slightly barbecued and smoked flavor (when we were eating this, we didn't know that the scallops had been smoked in the Wilderness Lodge smokehouse). The homemade potato chip was nice as the delivery vehicle. This paired with the wine better than the other two.
A little lesson on Pinot Gris…
Pinot Gris is the daughter of Pinot Noir
The French were growing Pinot Noir grapes, but they only got to a mauve color, it was a spontaneous mutation of Pinot Noir
Pinot Gris is delicious with seafood
It has a weakness, like a doughnut, Pinot Gris has a great start and a great finish but there's a "hole" (it's weak in the mid-palatte); to compensate for this "hole", Jim grows a little bit of Pinot Blanc (Pinot Gris' daughter) and uses about 6% to fill up the doughnut hole
Luncheon
We were taken into Artist Point and allowed to pick our own seats, of course, we tried to get a spot with good lighting and a bit away from hubbub. There was a menu at each place setting, along with a number of wine glasses…
First Course –
Heirloom Beet Salad, Charred Leek "Soil", Date Puree, Goat Cheese, Heirloom Apples, Celery, Thyme, and Cider Vinaigrette
Willamette Valley Vineyards "Whole Cluster" Pinot Noir 2011
This course was presented by Chef Matthew Reid (throughout the meal, the chef responsible for each course came out and introduced the menu to us). We both enjoyed the salads, especially the goat cheese which was more like a mousse than lumps of cheese. The date puree was really yummy and the small pieces of apple went very well with the rest of the dish. We both thought that the wine was a bit chalky without food (even though it has lower tannins), with the salad … it was all great.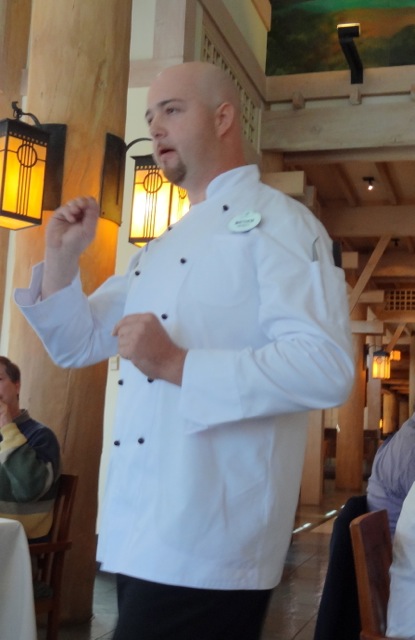 Jim Bernau loves to use stories to teach and inform…

In the late 1950's, there was a student at University of California at Davis who told his professors that Oregon was the place to grow Pinot Noir (not California, and no this isn't Jim's personal tale yet). This man was the first wine grower to come to Oregon, when he got there, he had to do a bunch of legal stuff in order to make wines and he hired Jim's dad to help out with the process of setting up a winery. Since he was very young, Jim has followed the wine makers who came to Oregon from California. When Jim Bernau started his own winery in 1983, he chose the name Willamette Valley Vineyards because he was in Willamette Valley (simple, makes sense). "Willamette Valley" later became a specific designation for wines made in that part of Oregon… Jim's winery had been around long enough that they were grandfathered in and allowed to keep their name "Willamette Valley Vineyards".
"Whole Cluster" Pinot Noir…
The name "pinot noir" comes from the appearance of the grapes – a cluster looks like a pine cone (hence "pinot") and they're very dark (hence "noir" for "black)

It's a fun wine that's great with spicy food and with barbecued food
You may find it in sushi bars because it pairs well
Wine Advocate said of the 1991 Vintage that it was most accessible and enjoyable pinot noir – this wine made Willamette Valley Vineyards
Next, we had a quiz… What happened in the 1990's that changed wine globally?

Nora knew the answer "drink a glass of red wine everyday for your heart"

1991 – 60 minutes ran a story on "The French Paradox"… They eat fatty foods and drink lots, but have lower heart disease than most civilized countries.

Dr Leroy Kriese at Cornell University asked the question "Do all red wines have the same cardiovascular benefit?" The answer he found was "no" – it's the amount of resteravol – resteravol comes from the skins of grapes, but why is it there? the vines produce resteravol to protect the grapes (thin skins)… Jim was interested to see how much resteravol was in his wines… His whole cluster pinot noir contains the most of any wine that Dr Kriese tested.

The Rest of the Story…

Willamette Valley Vineyards Whole Cluster Pinot Noir … label includes the resteravol content and a line about resteravol being an antioxidant. When the federal government realized it was on the bottles, they told him to remove it… Jim and his lawyers were finally able to convince the federal government that the label was okay… they argued that states not the federal government regulates alcohol (21st Amendment).
Fish Course
Pacific Big-Eye Tuna, Daikon Cucumber and Mushroom Salad with Red Curry Sauce
Willamette Valley Vineyards "Founders Reserve" Pinot Noir 2009
This course was presented by Chef Russell… it was a presentation of sushi grade tuna slightly different from what we're used to (typically it's presented with soy and ginger flavors). Nora thought that it was yummy, slightly spicy (that's from the japanese seasoned salt on the outside of the tuna) and the curry sauce plus salad was nice. Nick like the flavors and thought it was a good quality of tuna, he thought it was served a bit too warm (it was body temperature, room temperature would have been better).
Our thoughts on the wine varied… Nick thought that without food it had a rich body and a well-balanced nose (not too strong), paired with food… it was okay. Nora found this to have a spicier nose than the whole cluster and nice low tannins, yet not preferable to the whole cluster; the pairing worked well.
This wine is very traditional… it is aged in French Oak for 16 months. That may explain some of our hesitation, we're not really into wines or whiskies that have a heavier oak component.
Oregon is grey and wet nine months out of the year. You get great weather from late June until early September. The Pinot Noir grape is a vinifera variety – it blooms in June and ripens in late September… Oregon produces better grapes and thus better Pinot Noir (than Burgandy France) because the weither is the driest when the grapes are ripening. Additionally, the soil is very favorable – iron rich, volcanic, granular, well-drained – this lovely soil was created by floods and glaciers…
Alvin took a few moments to explain the food sourcing at Artist Point. Many of the products used in the menus are fresh from the Northwest (in keeping with the theming) – they are delivered to Artist Point via Same Day Shipping. The food choices that the chefs and Alvin make also pay attention to the sustainability of the production methods.

Also, he explained what an "Oregon-Style Wine Luncheon" actually is… He had gone out to Oregon to meet with Jim and Mary and attended a few wine luncheons. Out there in Oregon, the bottles are left on the table (informal), if your bottle(s) are empty, ask for the bottle from another table! Wine is for SHARING…
Intermezzo
The Swirly Puppet
Alvin and the Chefs call the creative brainstorming process a "swirly puppet" – bright, colorful, imaginative, never still and sedate. As a treat, they created a Swirly Puppet for us – it contained poached apple and gelee and other things that we couldn't identify. This was a one bite, pop it in your mouth and enjoy experience.
Nora thought it tasted like something that the chefs at bluezoo would dream up… yum! Nick really liked it!
Entree Course
Sous Vide Buffalo Tenderloin, Asparagus Salad, Walla Walla Onion Ring, Truffled Pomme de Terre, Poblano Ketchup, and Wildberry Gastrique
Willamette Valley Vineyards "Bernau Block" Pinot Noir 2009
Chef Marco presented the entree course, he explained that buffalo is both lower fat and lower calorie than the same portion of beef. We were so pleased to see the Bernau Block Pinot Noir – we know we like this one! This was excellent, we both loved the pairing. Everything on the plate was treated with care and it showed. It would be lovely if the buffalo regularly on the menu was of this quality.
Bernau Block Pinot Noir from Willamette Valley Vineyards

Nick's notes are "still smells fantastic!" and Nora's are "fantastic! yum!"

Very little of this wine is made, the vines are pruned so that there is only one cluster per shoot and only six to eight shoots per cane. Jim planted these vines 30 years ago (1983 remember?) – he used wine maps and topographical maps to find the elevation that he thought the Pinot Noir grapes would like (air density specifically)… The land was a plum orchard, the lady that owned the land told him that he didn't want it… the plums at the top of the fields were too small, they were whiskey prunes… That was exactly what he wanted.

This wine tipped the scales for the vineyard – in 2011 it helped the winery get "one of the top wineries in the world"
Surprise…
We were served a surprise wine… The Taulatin Estate Pinot Noir, the name comes from the Frenchman who brought clones of pinot noir to Oregon and California, thus they are old vines. The nose was iron and the taste was mild and slightly peppery. Nora thought this was an okay wine, but it doesn't edge out the Bernau Block.
Oregon Cheese Trail
Chevre Goat Cheese with House-Made Fruit Ribbon, Rogue River Caveman Bleu Cheese with Raisins on the Vine, and Rogue River Bleu Cheese with Honey Comb
Willamette Valley Vineyards Riesling 2011
Chef Renee introduced this course, it was a hit with us – we really like good cheeses and we really like balanced rieslings.
Memory to share – in 1994, Artist Point was the first place that Nick ever tasted bleu cheese… and he liked it! This cheese course didn't disappoint. It paired well with the wine and it took a lot of restraint to enjoy it slowly (even though we were stuffed when it came out).
Dessert
O-X-O
Hugs & Kisses
Sultry Chocolate Panna Cotta with Wildberry Compote, Dark Valrhona Chocolate with Hazelnut Crumble, and Long Stemmed Wild Strawberries paired with
Tualatin Estate "Frizzante" Semi-Sparkling Muscat 2010
The wine was "springy" and "sweet" – we preferred the red wines with the chocolate desserts (personal choice?).
Normally, Nora doesn't care for panna cotta, this was rather nice, the chili added a bit of bite and the fruit paired well with the creamy chocolate and spicy chili.
The Valhrona Chocolate definitely needed the bigger bodied pinot noir to bring it out fully. This was a nicer pairing than the fizzy moscato.
Another story from Jim Bernau…

This moscato was served during Bill Clinton's administration for an Italian state visit. Jim got a phone call from Daniel Shanks at the Oregonian, the conversation went something like this…

The President likes wine. Could you donate some wine? More than 1000 bottles.

Well, that's a lot of wine. You haven't been that good of a customer. Can I get a photo with the President and the wine?

No.

… so Jim calls his local congresswoman, she said "I'll get the photo for you, you bring the wine."
Final Thoughts…
This was very enjoyable and the venue was just right for the two of us (middle of the day, no children, quiet restaurant not serving the general public). The price was very nice for the quality of the food and the wine. We would definitely do another wine luncheon at Artist Point… Alvin and Chef Marco are to be commended for their efforts to make Artist Point into a true fine dining establishment.
Now we need to go back for a regular meal!