We took this tour two years ago and enjoyed it quite a bit (here). As we did with the Yuletide Fantasy Tour (here), we're going to stick with new stuff.
Two of our guides were also our guides in 2010… Mark & Jeff. So, as it turned out, we had Mark, Jeff, and Monica as tour guides 2012. For this tour, Mark and Jeff were joined by Carmen (she was helping out and would be leading the tour the next evening).
This was the second tour of the holiday season. They started a week later than usual because of the Christmas Parade filming (usually starts on the Monday after Thanksgiving).
A bit about our guides
Jeff has been with Disney for 13 years, he's on the road with Disney Institute things about 70% of the time, but loves doing the Christmas tours because he can stay at home for the holidays
Mark has been with Disney for 23 years and has worked in all kinds of jobs/areas at Disney (especially at Walt Disney World), he's a Christmas junkie and does lots of decorating at home
Carmen has been with Disney for 12 years, she's spent a lot of that time in Park Operations and Food & Beverage (turns out she worked at Whispering Canyon at Wilderness Lodge – it's importance coming up later)
Our motorcoach host was Dwayne, without him none of this tour would be possible.
There were 34 guests on our tour (someone never showed up); we had one ECV, one wheelchair, and one "slow walker". Now we're personally familiar with all of these, the limitations for the person, for the friends/family, and for those who just happen to be around. The biggest limitation on a tour like Holiday D-Lights… timing timing timing! Disney, please, we're begging you, make it very clear that this tour involves being onstage in large crowds in the dark AND that this tour is fast moving (on the bus, walk around, off the bus, repeat). This year, we didn't feel short changed by the mobility impaired people (unlike 2 years ago), but it was still a bit concerning. When we were getting on the bus, Carmen was strongly suggesting that the frail slow walker use a wheelchair at each of the three theme parks.
Right away, we were concerned that timing was going to be TOUGH. If we weren't the youngest people on the tour, we were the youngest looking (and that's saying something as we're developing wrinkles and silver sparklies in our hair!)
Quick Synopsis of what we'd be doing
Dinner at Whispering Canyon at Wilderness Lodge (no dessert, we'd get a sweet treat later)
Decorating Support, where we'd meet Patrick
Magic Kingdom for the Castle Lighting
Disney's Hollywood Studios for the Osborne Spectacle of Dancing Lights
Epcot for the 8:15 Candlelight Processional and then for the Illuminations Fireworks with the Holiday tag (we decided to pass on this because we're doing it all on Sunday night)
Most of this is straight from our 2010 tour, all except the dinner at Wilderness Lodge – that's new since 2011. The meal was better than we expected, served family-style we were served
Roasted chicken … Quite good, moist, flavorful
Broiled fish … Very surprised to see this, it was enjoyed by everyone at our end of the table
Ribs … Pretty standard, okay
Pulled pork … Nick had two helpings, it was rather tasty
 Sausage … Very flavorful, almost too much so, Nora was tasting it all night
Roast beef …Looked a bit dry, no complaints though
Mashed red potatoes … Good, not outstanding
Corn on the cob … Standard WDW coc, nothing special
Sautéed vegetables … Very good, still had a bit of crisp to them, would have gladly eaten more
Baked beans … Neither of us tried these
Corn bread … Sweet cornbread, we both had a chunk at the end of the meal for dessert
We didn't note the time when we arrived at Wilderness Lodge, we left at 5:25 on our way to Patrick at Decorating Support. Mark explained that Decorating Support is unique, it is the only one worldwide and it serves all of DIS. Mostly, they do set pieces – special sets for cruise ships, for conventions, for family reunions, etc. As we went backstage to where Patrick was waiting for us, we heard some more about what nora calls "legacy support"…
Walt Disney World has their own power plant, at present it produces about 25-35% of the power used at WDW
There are three laundry facilities, the original one backstage behind the Magic Kingdom is used only for costumes these days. There's a second laundry near Disney's Animal Kingdom, it's used for food and beverage linens. And the third laundry is located near Downtown Disney, it is the biggest private laundry and handles all of the bed linens… with 60 cast members, they process 50 tons of linen in 8 hours <omg!>
We departed the bus at 5:45 and met Patrick Logan (he's been at Disney World and working in Event and Decorating Support for 31 years, he was working on a graduate degree in International Relations and working part time at a museum when DIS contacted him about coming to work at WDW). We met Patrick back in 2010 on that Holiday D-Lights tour, and he's a jokester… He started out by looking at a piece of paper in his hand and saying "is Michael here? Is there anyone named Michael here?" We all looked around puzzled, then Patrick said "That was my mike check :)!"
Patrick started off by telling us about Event & Dec Support…
The department is 44 years old (meaning that Event & Dec Support existed before WDW officially opened, makes sense)
This is the only source of this sort of event and decorating support within the Disney Corporation
There are 12 full time employees (of course they can contract for more people and pull cast members from other areas as needed)
They often do the design, drawings, construction, and install (usually, they're presented with an idea or concept, or told "we need xyz, make it happen")
There are 3 areas: Convention Events, Theme Park & Signature Events, and then Patrick's particular area of responsibility: Disney Vacation Club, Disney Cruise Line, ESPN, etc…
Oh yes! The Osborne Spectacle of Dancing Lights is NOT done out of Event & Dec Support shops
So, why are we here tonight? Because Dec Support lights up Cinderella Castle! About seven years ago, the idea came about to put lights on Cinderella Castle… So how does that happen?
It takes a lot of LED lights (this wouldn't really be possible without LEDs, they maintain their color and use much less energy – lighting the Castle takes the equivalent of drying 3 loads of laundry in a typical household dryer) = the conservative estimate is 200,000 LED lights, but this is truly an educated guess
It requires 40,000 square feet of fish netting – the lights are placed on the fish netting, the cords and such are painted with marine grade paint to match the colors of the different areas of the Castle
There is a light string "artery" on the roof that provides power to a series of LED strands, each strand is only about 1.5 inches from the strand next to it
They had to install permanent hang points on the Castle, keeping in mind that the Cinderella Castle is sheathed in fiberglass so each hole for the hang points had to be carefully drilled and then filled to prevent water from leaking into the fiberglass structure
They begin putting the lights on the Castle after Labor Day, it takes 8 Cast Members 7 weeks working only at night suspended in crane buckets to install the whole shebang
It takes 3 weeks to take the lights down, they're all boxed up until April when they're inspected… light by light, connection by connection (that takes about 4 weeks)
Two years ago, there was a display of "spare parts" that we were able to see up close – there are no more spare parts; if some of the lights aren't working, there's a fix-it-repair-it team that goes in overnight to get things up and functioning properly (they can't rely on those spare nets of lights anymore)
We left Event & Dec Support and loaded the bus for Magic Kingdom at 6:00. On our way at 6:05. We arrived at Magic Kingdom backstage pretty quickly, unlike two years ago, we entered from a more central door half way down Main Street (we didn't realize there's a backstage cast entrance that opens into the "artists alley"). The guests were split up into "Mark's charges" and "Jeff's charges" – we were in Mark's group, it was so much easier to move and get to a good viewing spot for the Castle Lighting.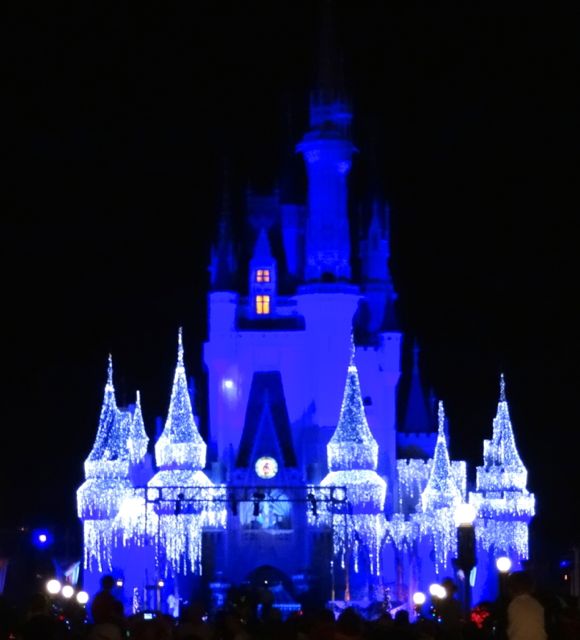 The story behind the Cinderella Castle Dream Lights – Francois La Roux was a new CM (a highly placed CM to be sure) at Disneyland Paris. His first Christmas, he was amazed at the level of detail of the holiday trimmings at Disneyland Paris, but noticed that the Castle was bare (this is also where we get the story for the little show before the Castle is lit each nigh, where the characters try to come up with an idea for how to decorate the Castle for Cinderella).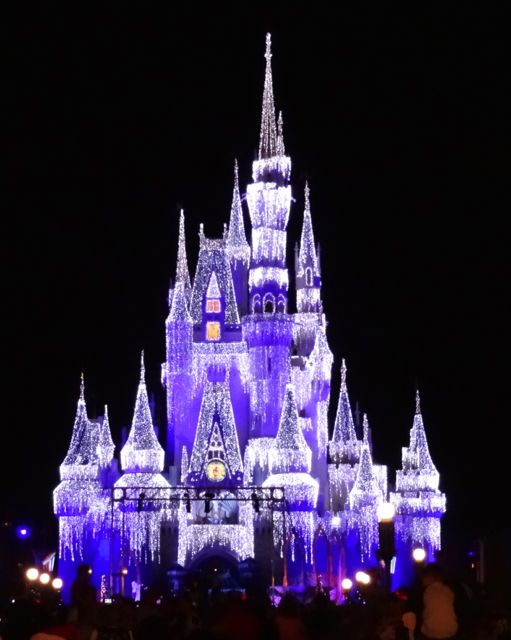 The next Christmas, the Sleeping Beauty Castle at Disneyland Paris was all decorated with lights! Disney Execs were so pleased that they brought Francois to Florida, pointed at the Cinderella Castle and said … "do this one next" … in time, he would repeat the feat at each of six theme parks (Cinderella Castles at WDW, Tokyo, and Shanghai (when it opens) and Sleeping Beauty Castles at Paris, Hong Kong, and Disneyland).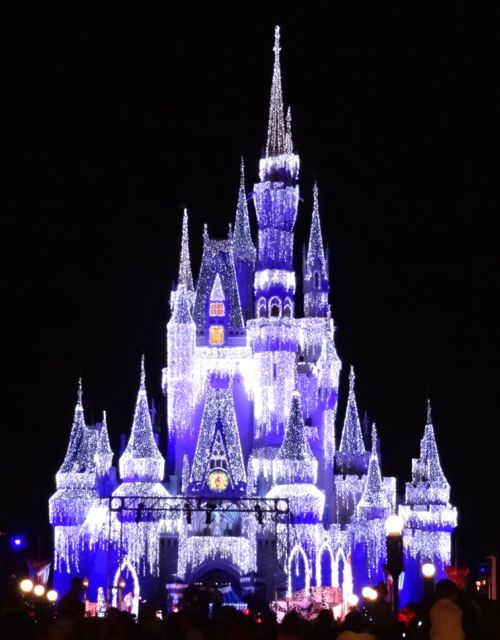 We left Magic Kingdom at 6:34 and headed to Disney's Hollywood Studios. When we got back on the bus, Mark told us about the first year of the Cinderella Castle Dream Lights (2007). It wasn't like a usual WDW new event, it was a totally organic surprise, no press event, no big announcement, no billboards. There had been a lot of rehearsals going on backstage, but of course there had to be a live dress rehearsal onstage – Disney was very careful to make sure that none of the performers had cameras or other recording devices. So, the dress rehearsal was taking place, and it came time for the Castle to be lit – the performers just stopped they were so shocked and amazed (of course, the soundtrack kept playing while they're all standing around staring up at the Castle). But Disney had forgotten something… they didn't ensure that the custodial staff didn't have recording devices – it went viral on the internet pretty quickly. Oh yes, the very first night that the Cinderella Castle was lit for the general public… November 12, 2007.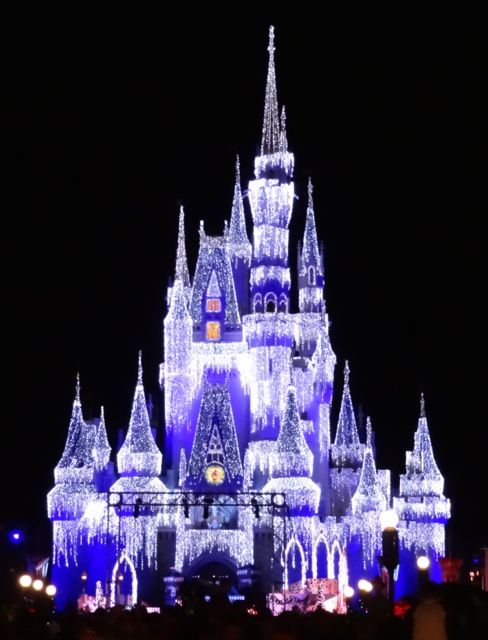 We arrived backstage at Disney's Hollywood Studios at 6:55 – we spent a little time backstage getting organized, looking at and touching some of the extra "forms" for the Osborne Spectacle of Dancing Lights (ex: the razorback hog). We're going to just share some photos of the lights, the story of how they came to have their home at Hollywood Studios is a well-known one by now (and you can check it out in our 2010 post).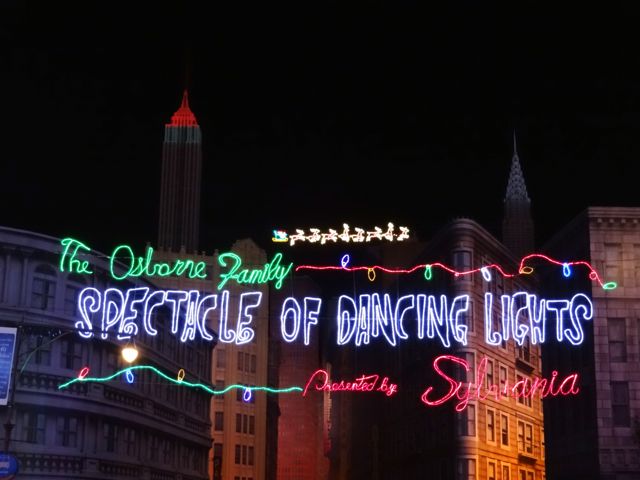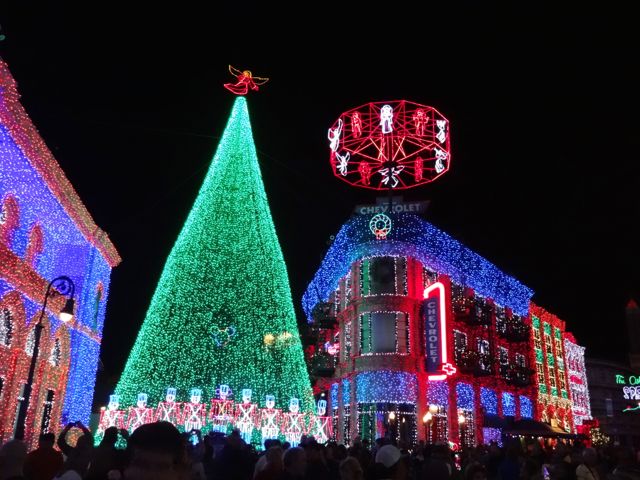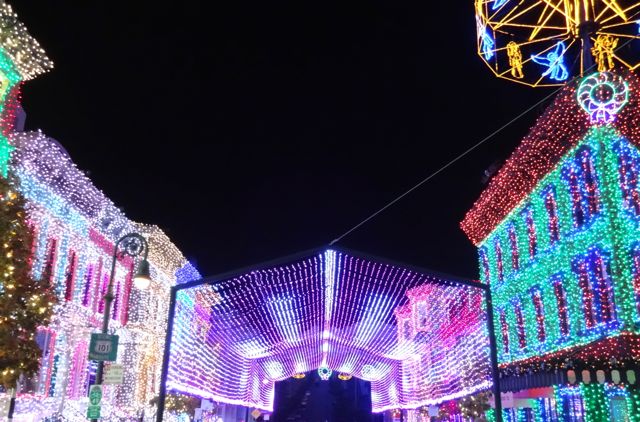 At 7:35 we're back on the bus, with a treat (some of the guest ate their treats during our visit to the Osborne Lights, we saved ours to bring home)…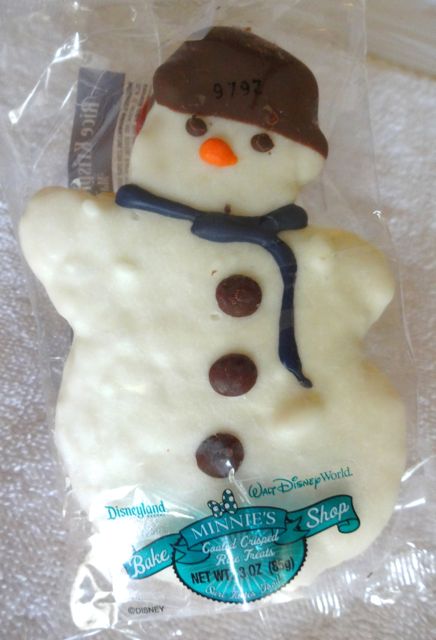 A few facts about the Osborne Lights…
There are pipes at the base of the buildings and at the tops of the buildings, the lights are strung and anchored around these pipes
The lights are truly strung by hand
They're LEDs now, when they were incandescents they faded so fast in the Florida sun that they were just cut down and thrown away
On our way to Epcot for Candlelight Processional and the Illuminations Fireworks, Mark told us the story of Toys for Tots…
Way back during the Great Depression, Walt didn't want any of the children of his employees to go without a gift at Christmas, so he arranged for some of his staff to "play Santa"… each child under the age of 13 got a gift and children over 13 got a card signed by Walt (wow! what those would be worth now). In the 1940's some Marine Reservists had the same idea, all children should have at least one toy at Christmas… Major Bill Hendricks was working at Walt Disney Studios and asked Walt to help out with designing the logo… of course Walt did. As the years passed, donations dropped off and by 1964 the Toys for Tots organization asked Walt to do a 30 second spot asking for donations and promoting Toys for Tots, Walt also redesigned the logo to be the Casey Junior Train from Dumbo ridden by Santa Donald (note: that was Walt's last Christmas).
We arrived at Epcot, backstage behind the American Pavilion, we waited for everyone else to get their Candlelight Processional badges (reserved seating with the Candlelight Processional Dining Package guests) and asked Jeff & Carmen if we could have the pins and let them know that we were going to be leaving [well, we had plans to do the D23 Magic & Merriment Event – that included CP again (and it isn't a favorite for us) and a dessert party for the Illuminations]. For your continued holiday enjoyment, here are some photos of the Illuminations fireworks!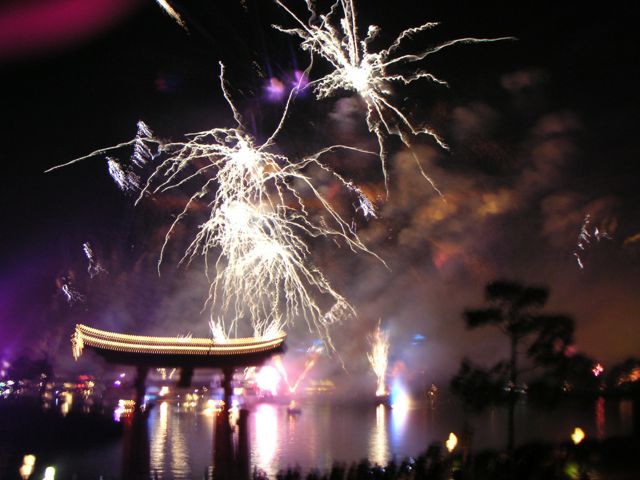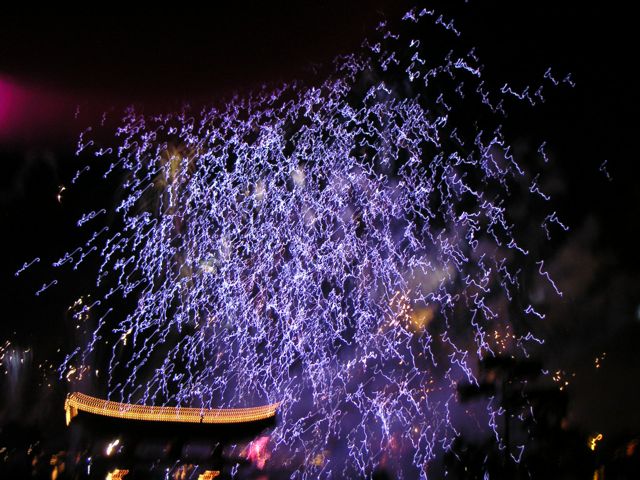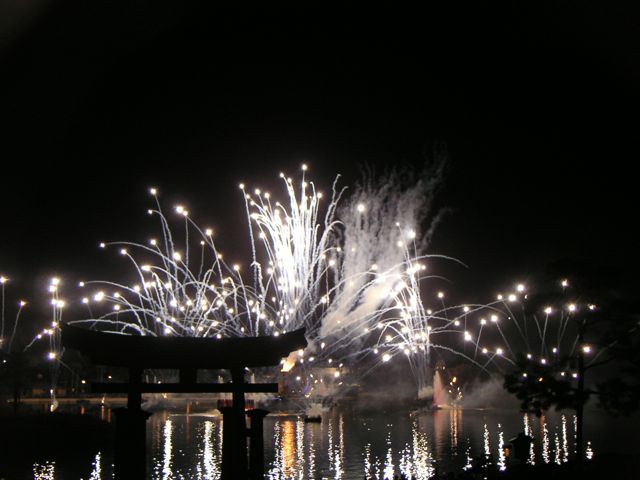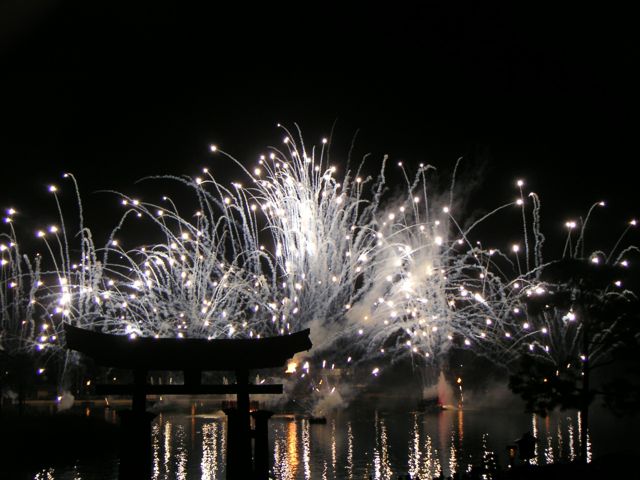 Interesting Tidbits…
When Neil Patrick Harris was here doing Candlelight Processional, the standby line wrapped all the way around to China!
The christmas tree outside the Contemporary Resort is the tallest at Walt Disney World, 70 feet. Although most of the lights used at WDW are LED (98%), the lit ornaments on the Contemporary Resort outdoor tree are CFL (2%)
The big Mickey head on the side of the Contemporary facing Bay Lake Towers is the biggest Mickey on property, the main circle is 25 feet in diameter and the two ear ellipses are 18 feet in diameter (by the way, the Cirque d'Soleil wreath is 30 feet in diameter, but it's only a wreath & the ears make the Contemporary's the biggest).
When Shanghai Disneyland opens, their Cinderella Castle will be bigger than the one at Walt Disney World (at present, our Castle is the biggest.
Final Thoughts…
The tour was much more focused this year than 2 years ago… It was all about LIGHTS! There were lots of facts and data and stories – definitely appealing to a Disney (and particularly Holiday Disney) geeks.