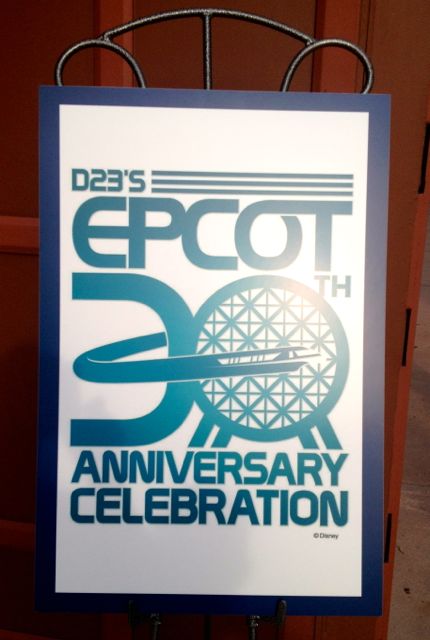 On September 30th, we attended the D23 EPCOT 30th Anniversary Celebration. Nora really wanted to do this, and nick wanted to humor her (although he grumbled about having to go to a whole day of boring powerpoint presentations).
The good news… it wasn't an entire day of boring powerpoint presentations.
The bad news… about half of the presentations could be easily and truthfully called "boring powerpoint presentations".
(note: this is a word heavy post because you couldn't take photos)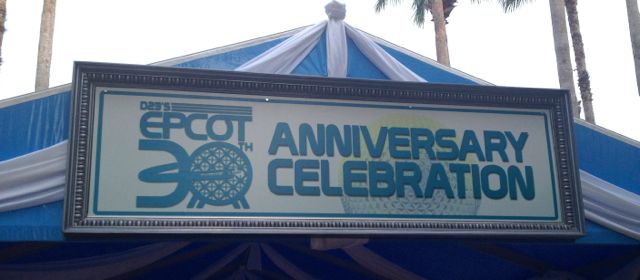 The event was held at the World Showplace Pavilion (what used to be the Millenium Pavilion back in 2000). We were able to register and get our badges and such on Saturday afternoon.
When we entered the venue, it looked very much like it looks for the Party for the Senses and for the 3D Dessert Party during the Epcot International Food and Wine Festival (not a surprise since there was a Party for the Senses in there on Saturday night). It was  a rather simple set-up — rows of chairs; lots of chairs.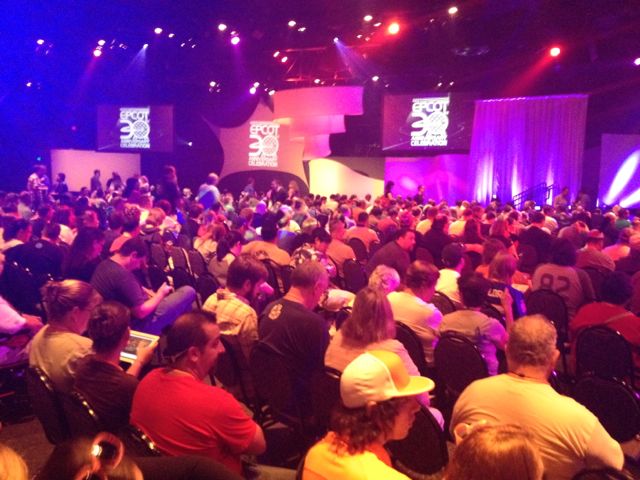 There were over 1200 attendees — damn shame that it takes the internet geeks to get DIS to realize that people WANT to celebrate Epcot. Also, nora still thinks it's a stinking disgrace that DIS tried to ignore Epcot's 25th Anniversary, at least this time they really planned and promoted SOMETHING to commemorate the event. In fact, there were more presentations on October 1st that were available on a first-come-first-seated basis for anyone inside Epcot.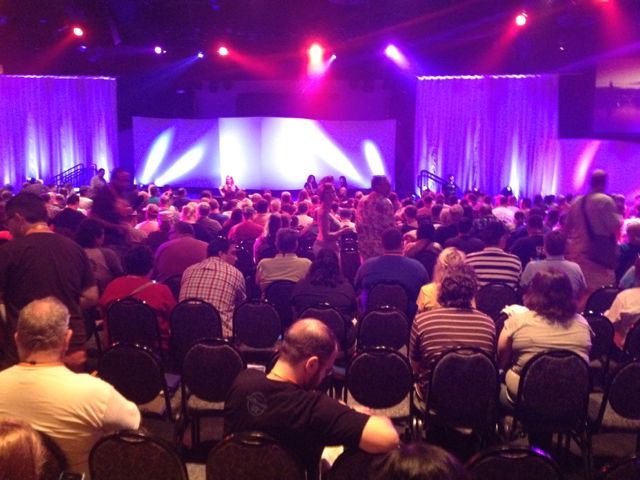 The event was kicked off by Steven Clark, the head of the D23 Community… he said that they had "scoured history and archives" to find stuff that had never been seen and that the presentations tomorrow would contain different material than today's.
Marty Sklar, Epcot: The Dawn of a New Disney Era, joined us next, via video, he was unable to attend Sunday's events but would be on hand for Monday.
Former Walt Disney Imagineering Principal Creative Executive Director Marty Sklar shares favorite memories from his work with Walt Disney and a team of creative leaders to bring the dream of Epcot to reality.
More information about Marty Sklar…from Wikipedia, from Disney Insider (a bit outdated), and an article about "The Genesis of Epcot Center" written by Marty Sklar published on MiceChat.
Marty was followed by a panel discussion entitled… "We Can Do It!"
Disney Legends and EPCOT Center curators review the immense challenge that loomed ahead of them when bring the park to reality. Panelists include Duncan Dickson, Bob Matheison, Jim McCaskil, Tom Nabbe, Charlie Ridgeway, Howard Roland, Bill Sullivan, and host Jason Surrell.
Nora found some very nice videos on youtube from JeffLangeDVD and mousesteps (take a moment to check out Jeff's website and mousesteps) with the Disney Legends that were on this discussion panel… Session #1 featuring: Disney author and Imagineer Jason Surrell; Disney Legend and executive vice president of Parks, Walt Disney World, Bob Matheison and Former president of Disney Participant Relations Jim McCaskill; Session #2 featuring: Disney Legend, original Tom Sawyer on Tom Sawyer Island, and former manager of distribution services at Walt Disney World, Tom Nabbe; Former Imagineer, Film Produver and Director Bob Garner and Disney Legend Charlie Ridgway, who helped launch the opening of Walt Disney World in 1971 and EPCOT Center in 1982, among other Disney theme parks around the world; and Session #3 featuring: Disney Legend and former vice president of the Magic Kingdom Bill Sullivan; Former Walt Disney World vice president of purchasing and contract services Howard Roland and Former director of Walt Disney World Casting Duncan Dickson.
After a short break, it was time for Looking Back at Tomorrow.
Archivists Steven Vagnini and Michael Crawford take you behind the development of some of your favorite Epcot attractions of the past!
Honestly, we thought this presentation was rather boring and too geeky (even for us). They went through EPCOT attraction by attraction… There was a LOT of material on Horizons, including a "never seen before" 35mm film (nora thought this film was very depressing). Note: There is a segment of the Disney World Fandom that is really bananas about Horizons, we think that we may have ridden it on our first visit in 1990 but we don't remember anything about that ride.
Next up was Makin' Memories: Epcot on Film
Join former Disney Imagineer Bob Garner and Disney author and historian Tim O'Day as they cast a "Magic Eye" on the marvelous world of Epcot on film.
This presentation was more interesting… Bob started out in television on the Carol Burnett Show (wow 🙂 ). He started with the Disney Corporation in 1976 at Disneyland. His job during the creation of EPCOT was to capture the Imagineers on film.
Time for a 2 hour afternoon break. We wandered around opening weekend of the Epcot International Food & Wine Festival…
The first afternoon session was Imagineering Epcot: An Extra Perceptive Close-up Of Things
Disney Imagineers explore the details that make Epcot so unique. From miniature gardens to massive buildings (and every international food and beverage offering in between). Panelists Jason Grandt, Jason Surrell, and Alex Wright will show you what makes Future World and World Showcase like no other place on earth.
Using images and other items from Disney Archives, they went through each EPCOT attraction… (a lot of this information is available in the excellent book "The Imagineering Field Guide to Epcot at Walt Disney World" by Alex Wright)
The next two presentations were really just not our cup of tea, they had a lot of potential and failed to reach that potential…
"We've Only Just Begun to Dream" Disney entertainment veterans reminisce about the official EPCOT Center opening festivities that remain among the most elaborate ever staged in Disney history! Panelists include Ron Logan, Carol Campbell, Gene Columbus, Gary Praben, Tony Peluso, Bob Radock, and Steve Skorija.
This presentation had potential, but it wasn't a discussion or storytelling; each person on the panel talked one at a time… it wasn't very engaging.
EPCOT Illusioneering and Beyond – Daniel Joseph gives an inside look at the groundbreaking technologies and special effects "illusioneered" by Disney Imagineers for landmark attractions at Epcot. With a glimpse into the world ahead, this presentation will truly demonstrate what the "P" means in EPCOT!
We were pretty excited about this presentation. Unfortunately, the person giving the presentation was an engineer – and most of the time, engineers aren't very engaging or personable as a general rule. And when the guy is more like a character on "The Big Bang Theory" than like Bill Nye the Science Guy… it's pretty boring.
We left after this presentation and thus missed the last two "Journey into Imagination" (we probably would have liked that one!) and "The Music of Epcot Center (expect we would have liked it too!)… we had two food and wine festival events to attend. Since we didn't get the schedule until a few days before the D23 Event, we had already planned on attending those Food & Wine Festival events…