"Beer, Please!" is a seminar we had hoped to do in 2010 – the first year for the Swan and Dolphin Food and Wine Classic. However, it sold out very quickly in 2010 and we could not get tickets. That was lucky for us as we did the "All Things Sake" seminar and got to meet Chad Lobner (the presenter). Chad has since introduced us to many fantastic pairings at bluezoo where he is General Manager. Nora has attended all 6 of Chad's sake seminars! Nick has only attended 5…Yes, we like sake and enjoy Chad's seminar.  For something different this year nora and I split up with friends and I attended the Beer, Please! seminar on Saturday night, October 13th.
The 2012 "Beer, Please!" seminar was taught by Brian Exner – B.A.R. Certified, Certified Sommelier and General Manager of Kimonos along with DJ Robertson – Assistant Banquet Manager. DJ is also an avid home brewer. DJ brought his home brewing kit along with bottles of one of his latest creations that we could sample at the end of the seminar. Our seminar had room for about 30 but we only had 16 attendees. Brain and DJ did a good job presenting the materials and leading us through sampling and pairing. It was obvious they are knowledgeable and hearing DJ discuss home brewing was quite interesting – especially the challenges of brewing in the heat here in FL.
There are two basic categories of beer – ales and lagers. The primary difference is in the yeast used – ales use top fermenting yeast while lagers use bottom fermenting yeast. These yeasts have different needs and ale yeast ferments best near room temperature while lager yeast needs it cooler like 45 – 55 degrees fahrenheit. Thus ales tend to be cheaper to brew because you don't need to keep them cool. Also ales are typically "ready" at least 1 if not 2 – 3 weeks faster than lagers.  Finally because lagers traditionally had many purity laws, there was never a lot of experimentation. Ales are not encumbered by these purity laws so brewers typically have been more experimental with what they toss into a batch.
Craft beer in the US has exploded. As of July 2012, the Craft Brewers Association reports there are 1072 brewpubs and 922 microbreweries in the US. The volume of craft beer sold compared to the big brewers (Bud, Miller, Coors, etc) is still tiny – reported to be 5.7%. However the dollar volume is 9.1% due to the much higher price points. And although total beer sales slipped in 2011, craft beer sales increased 13% by volume and 15% by dollars. So in a tough economy – craft beer is a tiny bright spot. But enough about the facts – we came to taste beer.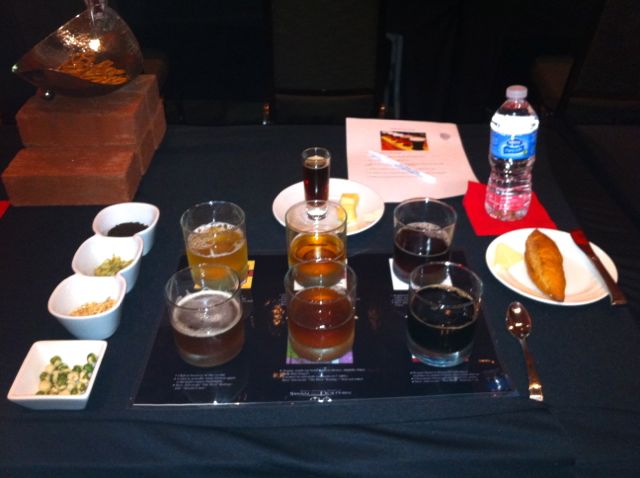 The tasting consisted of 7 beers and 5 foods/snacks. I snapped this photo before we started and didn't realize that at the upper left attached to the back of the pretzel tray was a cone filled with perfectly cooked bacon. (more to come about the bacon) At top center is a small plate with a beer in a smaller glass and 3 cheese cubes. The cheese was made from the beer – Morimoto Soba Ale Cheddar from Rogue Creamery. On the right is a bread made with Mama's Little Yella Pils. At the lower left is small dish of wasabi peas (yum!). So we had cheese, bread, pretzels, wasabi peas and bacon.
We started at the top with the Rogue Morimoto Soba Ale and cheese. First taste, the ale was a bit bitter for my liking. However, when paired with the cheese it was very sippable and I could pair this any day. The strong but smooth flavor of the cheese truly took away all the bitter I felt the ale had. This was a pleasant surprise and a good first "learning" for me.
Next we tried the Oskar Blues Brewery "Mama's Little Yella Pils". This beer is canned. Brian explained that we need to forget about how bad canned beer tastes. The canning process has evolved in recent years and you will no longer find any aluminum taste. The cans are now lined such that the taste of whatever goes in stays the way it was intended. Plus if you like to carry a few beers when you go on an outing the cans are much easier to handle and no risk of broken glass – not to mention most public places (where you can drink) do not allow glass. I recently tried the Yella Pils at bluezoo and was not impressed. Even though I enjoy light lagers I thought the Yella Pils was lacking in character. This tasting did not change my mind. Even pairing with the bread did not improve the taste – although I did enjoy the bread and butter.
Next up was the Innis & Gunn. I found this beer a few months ago. We were heading to a friend's for a cook-out and I wanted to take a selection of summer beers. I ran across the Innis & Gunn Limited Edition Independence Day 2012 brew. This was quite enjoyable and I was excited to see Innis & Gunn included in this seminar. Innis & Gunn is on the market for a reason that is near and dear to my heart – aging scotch in barrels. The story goes that a whisky maker contacted master brewer Dougal Sharp to come up with an ale to barrel age and then have the barrels for aging whisky. The short story is that it worked BUT they were dumping all the beer out! Someone finally decided to taste it and alerted Dougal how good it was. Dougal quit his job and started Innis & Gunn which now makes a whole range of barrel aged beers.
I found the oak aged Innis & Gunn quite drinkable. It is medium bodied and has lots of flavor but no bitterness. I had reserved some cheese and bread. Neither pairing worked well for me and I liked the Innis & Gunn by itself. However I can see this beer pairing well with food. In fact I'll jump ahead in the story. After our next beer DJ blurted out – " you've got bacon". This is when I discovered the bacon behind the pretzels. DJ explained that they hoped we'd try every beer with the bacon. Fortunately, I was saving a few sips of everything and was able to try all the beers with bacon. The Innis & Gunn goes really well with bacon – could this be a breakfast beer?! I had plenty of bacon to try — The couple sitting next to me were eating lots of pretzels. The servers brought them two more bowls which had bacon attached to each. The couple does not eat pork! So we (I haven't mentioned yet that Calvin was attending this seminar as well) had 3 extra servings of bacon to use in pairings. I know I enjoyed it. The bacon was very meaty with maybe only 33% fat. It was thick and not sweet cured (which I am not a big fan of anyway).
The fourth beer we tried is the one at upper right – Einbecker. This brewery opened in 1555 so they have a bit of experience. This was a darker beer but was not heavy. Hints of coffee maybe but I found it very sippable even without food. But paired with bacon it was even better. Maybe not as good as the Innis & Gunn but they were both very close. The flavors were very different between the two but both had good appeal for me.
Next up we sampled a beer from a brewery that first crafted beer in 1040. Yep – 1.0.4.0. Okay they have not been in continuous production but still that is a long time. Weihenstephaner Hefeweissbier Dunkel was flavorful yet not bitter. It paired nicely with the bacon but it had enough flavor that something was not "ideal" with bacon. It was a good beer that I could definitely sip.
Seminars and tastings are good to help you learn and refine your taste. When I smelled the next beer I knew I would not like it. (I did not want to dwell on science numbers but need to mention them here. Beer is ranked from 0 – 100 on the International Bitterness Unit scale, IBU. American light beers are 10 – 12 on IBU.) My tasting notes say, "This is the smell I really don't like." We were tasting Crazy Mountain Brewing Company – Mountain Livin' Pale Ale. I think it was very hoppy and although it was "only" 40 on IBU scale it had no other flavors or enhancements (which can take away the bitterness), so all I experienced was what to my nose is "yuck". I did taste it. Then tasted it with my last nibble of cheese – no help. Okay try it with bread – worse. Add butter to bread – nope. Pretzels – no help. I know – a handful of smokin' hot wasabi peas. Nada – nothing could make this beer drinkable for me.
The final "official" beer sampled was Rogue Chocolate Stout. When DJ said the IBU was 69 and I had disliked the previous beer at 40 IBU I thought, "uh-oh". But when I nosed it – nice smell I know. Chocolate heaven… Swiss chocolate is added to the brew and wow did this help mask the hops. This is a really tasty beer. I did try it with the bacon. Not bad but this beer is like dessert. I could see occasionally having one of these sweet tasting beers but it is not something I would look for.
Speaking of dessert and the Chocolate Stout. Out comes a dish of chocolate and cappacino ice cream followed by DJ and Brian adding a pour of the Chocolate Stout over the top. Yes – it was good. Yes – I tried the bacon with it. The "ice cream float" was something that would be fun to "shock/surprise" people with. It was good enough to use as a fun twist to end a BBQ where beer was served throughout the meal. As far as with bacon crumbles (I hear bacon sundaes are popular right now.) – I'll skip the bacon on this one.
After I finished my float I re-tasted each beer (I had saved a little sip of everything but the really small Rogue Morimoto Soba Ale) with bacon. I used the bacon between sips as a palate cleanser as well. These sips were small but I got a sense from the 6 beers of what I enjoyed most. My top 3 were Einbecker, Innis & Gunn, and the Weihenstephaner. Offered a glass of any of these 3, I'd smile and ask for another in short order.
After we finished DJ offered a sample of his home brew. DJ brewed this to be similar to Rogue Dead Guy. It was poured quite cold which masked the flavors. (Americans typically drink beer too cold. It should be enjoyed more at the 45 – 55 degree fahrenheit.) So I cannot say for sure whether I liked DJ's brew or not. I can say it was nice of him to bring his personal brew kit and to share his beer with us!
I'd do this seminar again (all seminars were $45 this year). Talking to nora I feel it was not a good "deal" compared to say the sake seminar. Sake is hard to find and tasting 6 – 8 sakes for $45 exposes you to so many you may never see again – it is fun. The beer pours were not large. I estimated we had 2 – 3 pints total. Yes – we had some snacks but even allow $10 for the snacks, you are still paying $35 for 2 – 3 pints. Yes, there is education with it. (I did wonder why we did not get educated on beer glassware as I know that is considered important for tasting.) But I had tasted 3 of these beers before and beer is way easier to find than sake… Thus IMO Swan & Dolphin should consider pricing their seminars at different levels. This way they could offer scotch tastings or higher end wines for more money and maybe beer at a slightly lower price point. Just saying…since I can.
It was fun to do a seminar with someone besides nora and thanks to Calvin for joining me.— Cheers!
nick