We've read that Kouzzina does a good breakfast. Then when friends (who we trust) recommended it, we knew we should give it a try. After all, breakfast is our favorite "dining out" meal. On Thanksgiving Day we had a good reason to try it out – visiting friends. Kris and Kevin (K2) were visiting from Savannah. We had a big day planned (we'll post about that in the coming days) and knew starting with a good breakfast would be important (we were going on the Wild Africa Trek at Animal Kingdom).
I cannot give Kouzzina's top ratings for breakfast. However, it was good enough that we will go back. As with all things Disney, the prices are a bit high but if you are in the Boardwalk area – it is a good choice. The selection has more variety but you can also get a typical American breakfast if you don't feel adventurous (menu here).
Thanksgiving Day 2010 we were also fortunate to hang out with K2. We played golf and although three of us enjoyed beer, one opted for a Bloody Mary. So when we saw that Kouzzina's had a Bloody Mary, it was ordered – although the others did not ask for beer at 7:30 in the morning!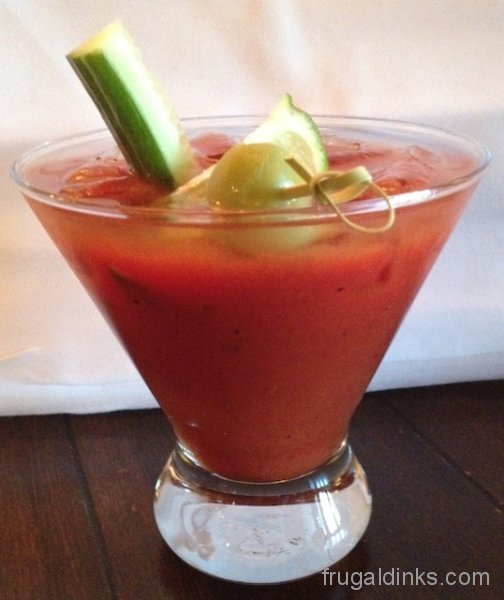 Although this Bloody Mary was enjoyed, it did not get the rave reviews the one from last year did. Maybe it was too early to enjoy thoroughly?
K2 went for the breakfast scramble and the waffle with mascarpone cheese. While I didn't take a photo of the Breakfast Scramble (Spinach, Tomato, and Feta Scrambled Eggs – served with Breakfast Potatoes with choice of Bacon or Chicken Sausage), I did get one of the waffle. The breakfast scramble was described as "very tasty".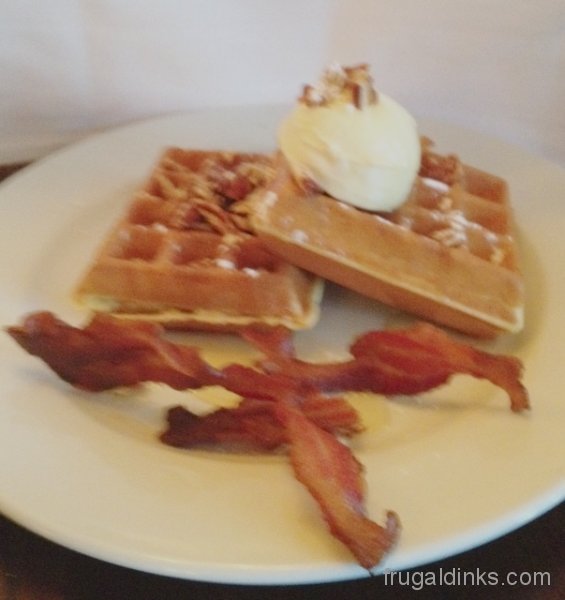 Sorry the photo is blurry… K2 said the waffle was done perfectly with a crispy outside but tender interior. The mascarpone complemented the waffle well and the bacon was cooked just crispy enough.
Nora and I elected to do one savory and one sweet to share. Although I had been eyeing the Stacked Kouzzina Breakfast made with Kalamata olive toast, Nora wanted to try the Breakfast Skillet. This was fine as I have a bigger breakfast sweet-tooth and I wanted to try the French Toast (we had been told by friends it was excellent).
Breakfast Skillet – served with eggs, Pequillo peppers, Nueske's bacon, onions, and Greek cheese on Sweet potato hash and topped with arugula.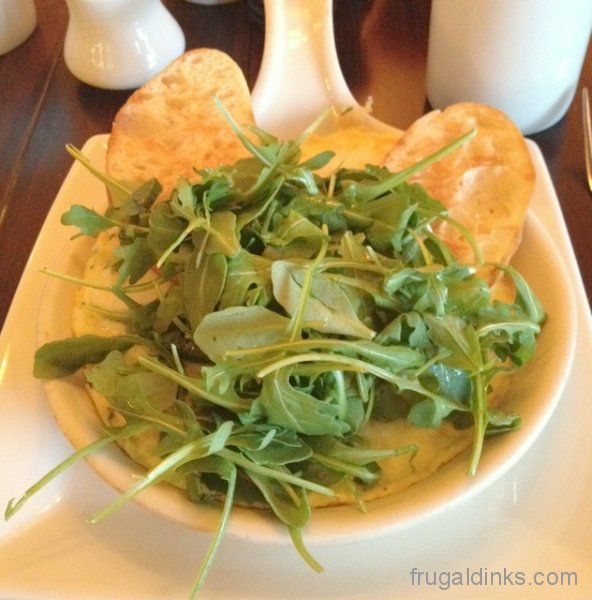 This was actually a bit flat, the saltiness was not evenly distributed… the broiled cheese on top of the eggs was appropriately salty and so was the hash underneath the eggs, the eggs themselves would have benefited from some appreciable seasoning. The eggs were a bit chewy and dry, most likely because of the extra heat from broiling the cheese. The pequillo peppers were mixed into the eggs, nora had expected some green peppers with more umph (like the peppers at La Hacienda) – these were more like bottled roasted red peppers, while pleasant, they weren't what we had hoped they'd be. The arugula salad on top was a very pleasant surprise, quite tasty and a nice addition to breakfast. Nora has read a few reviews online where people were a bit dubious about having a light salad at breakfast, but if you can eat a fruit salad with your eggs, why not a nicely dressed simple green salad? This is not likely to be an "order again" meal, there are other things on the menu that we'd like to try.
French Toast Baklava – Grilled Fig and Anise country bread with honey, walnuts and cinnamon with Chicken Sausage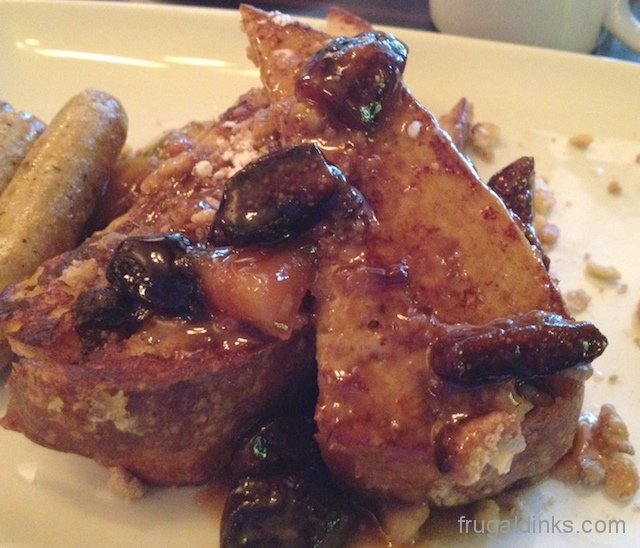 In a word – yummy! This is a definite get again. The fig, honey and walnut "compote" was delicious. This was so good that I can still "taste it." It may be better than the Tonga Toast at Kona Kafe which I love soooo much. The chicken sausage though, not again. It was basically flavorless. But the toast was done perfectly, not too wet nor too dry. The flavor was consistent and that compote, wow!
One note on the service and coffee. We were the first to arrive for the breakfast service and our server gave us the right level of attention. The coffee (regular and decaf) was ready when we arrived. It was piping hot and tasted like brewed coffee (not the Nescafe that Disney is "known for"). The coffee was not as strong as I prefer but it did have flavor which is a plus at Disney!
As I said to start this was not an outstanding breakfast. However. the service and options available will draw us back for another try. I really want to try the pancakes as well as the "stack".
nick