Spending any holiday in or near Walt Disney World presents many special dining options. Raglan Road offered a Thanksgiving Dinner this year. Since we appreciate how Raglan Road makes most sauces and food "in house," we decided to give it a try. When we suggested this to K2 (friends from Savannah who were here for Thanksgiving), I forgot they would be spending the two weeks prior to Thanksgiving in England and Scotland. I was a bit nervous if they would like Kevin Dundon's (Chef who owns Raglan Road) food. Kevin is Irish, but the dishes he serves are similar to what you get anywhere in the UK. At least the Thanksgiving "special" was more "American."
I made these Thanksgiving reservations in August. Raglan Road, unlike WDW and their ADR numbers, just says reference your last name. Silly me, I didn't call the day before to confirm our reservation. So when we arrived at the hostess stand, I learned they had no reservation for us. However, they seemed to sense that I had made the reservation and we were seated within 5 minutes in the Music Room. We prefer the Music Room when eating inside Raglan Road (as opposed to the Tonsil Tickler bar outside) as it is quieter than any of the other dining areas. "Quiet" is a relative term when you dine at Raglan Road with the live entertainment and dancers.
The four of us started with a few pints and a glass of wine. We also had appetizers: butternut squash soup and two orders of Smokie City. I didn't take photos but you can learn all about Smokie City, my favorite appetizer anywhere, here. K2 liked the wine so they ordered a bottle to share with dinner. Nora and I just had a couple of pints with dinner.
Two of us had the Thanksgiving Dinner while the other two had a salmon caesar (just ask, it is not "on the menu") and a grilled salmon plate. The Thanksgiving Dinner was:
Bunratty Mead glazed Turkey (white and dark meat)
Butter whipped potatoes
Apple, sage and sweet onion stuffing
Braised brussel sprouts
 Cranberry and plum chutney
Traditional gravy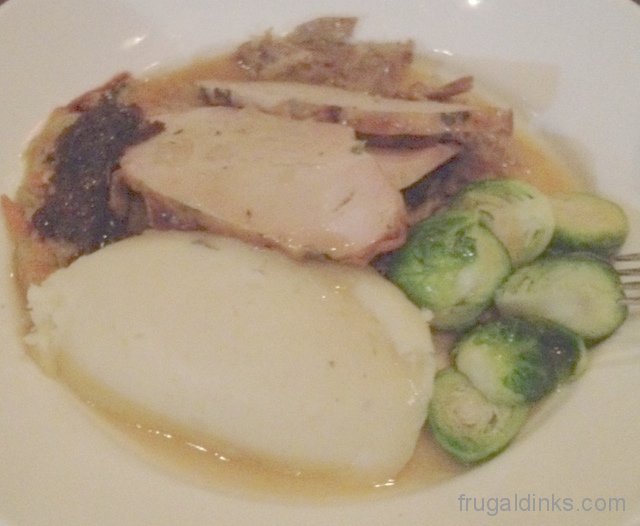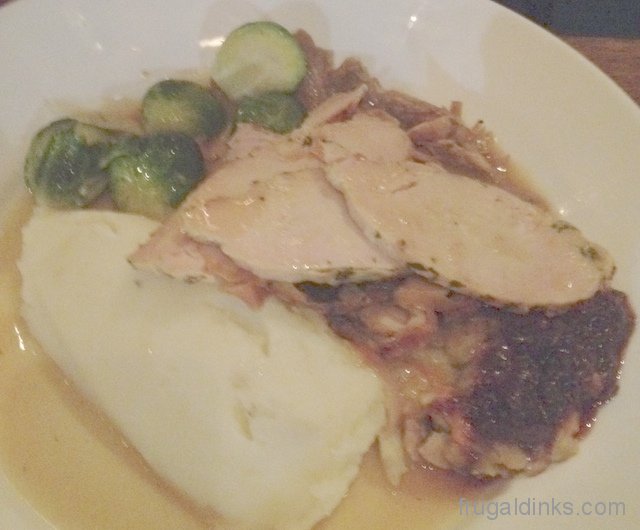 The turkey dinner was quite tasty. The turkey was not dry and the mashed potatoes were declared "excellent".
Sorry that my photos are not the best quality. When we eat with friends, we try not to be too over-bearing with the food photos. 🙂 The salmon dinner photo is especially poor quality.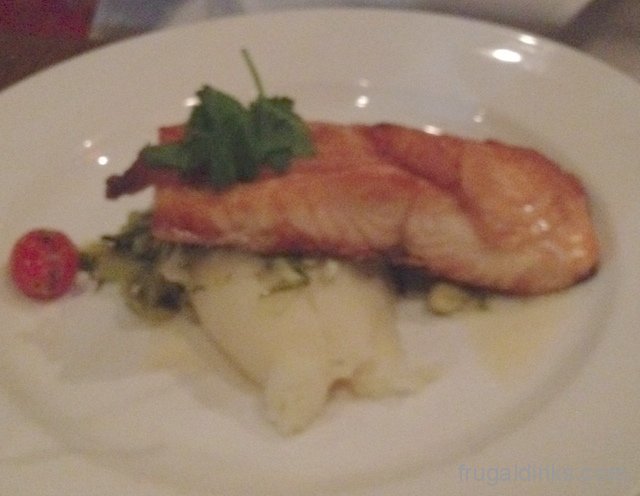 Alas, I ordered the salmon caesar salad. Nora and I do not typically eat "3 squares a day" so after a full breakfast and lunch, I was trying to pace myself since I definitely wanted dessert. The caesar was not over-dressed (a problem frequently encountered). However there was no hint of anchovy in the dressing, so it was bit "flat". The salmon was perfectly cooked. It was tender, flaky and moist with great flavor.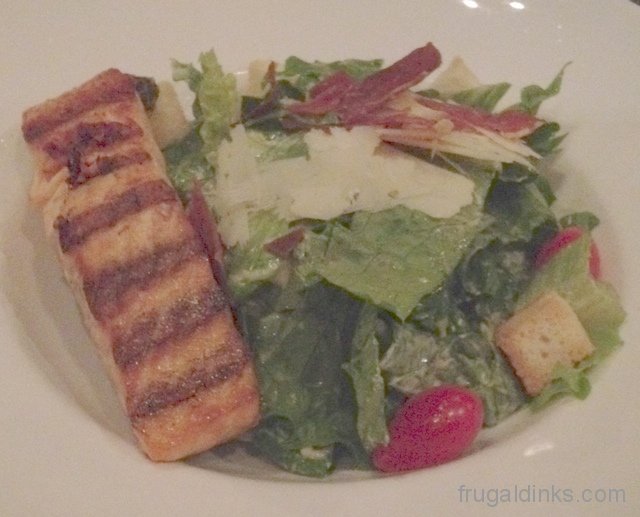 I write this on "recall," so my details are lacking. K2 bought our dinner (thanks you two!) so I have no receipt to reference and Nora did not use her notebook… The company was the most important part and we really enjoyed having dinner with K2 (even after we spent all day together – their ears must have been tired after a full day with us!).
Why did I, a non-dessert eater, want to save room for dessert? Because Raglan Road makes a delicious bread and butter pudding. At least I assumed it would be great as Kevin Dundon made bread and butter pudding last year at his culinary demonstration. I was not disappointed even though Nora and I could not finish the whole dessert.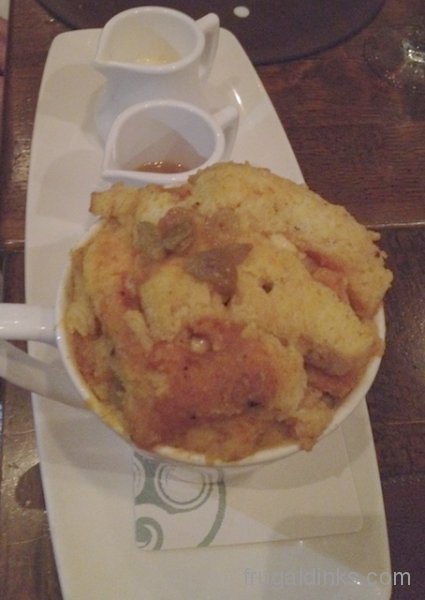 Whenever you are at Walt Disney World on a holiday, try some new places. Most will have a meal befitting the occasion as well as their regular menu. Raglan Road put on a nice Thanksgiving meal this year. K2 liked the Smokie City so much it was debated whether they would eat there every day over the weekend!
A side note to going every night. Nora and I were out of town a couple of nights and as K2 were leaving on Monday morning, we did meet at Raglan Road on Sunday night for dinner. The Smokie City did not live up to Thursday's experience (unfortunately). Nora said the mussels were not as good as she expects from Raglan Road. Two of us had the cod special (horseradish encrusted). My cod was very flavorless (no horseradish at all) and it was over-cooked. Needless to say we were quite dispapointed. However we assumed that maybe the executive chef was off on Sunday and or they were running low on supplies??? We shouldn't give them excuses but after Thanksgiving Dinner they deserve some slack…
We like Raglan Road and will be back. We might even try another holiday meal given the opportunity.
nick