This Culinary Demonstration got off to a weird start, the man in front of us in line had a lot of body odor, luckily, he sat at another table, but nora could still "smell him" and it was really off-putting. Also, the attendants were pointing out "seating options" to guests as they entered the Culinary Demonstration "theater" – we don't remember them doing that for any previous CD. The crowd for this CD was very large, even bigger than the crowd for Kevin Dundon.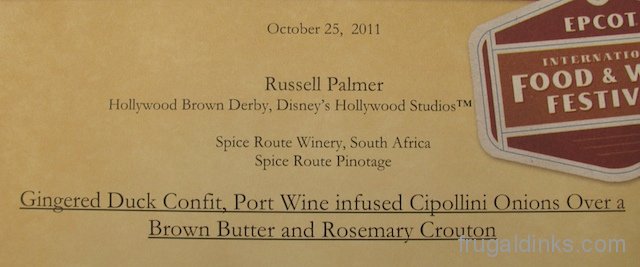 Host: John Ekin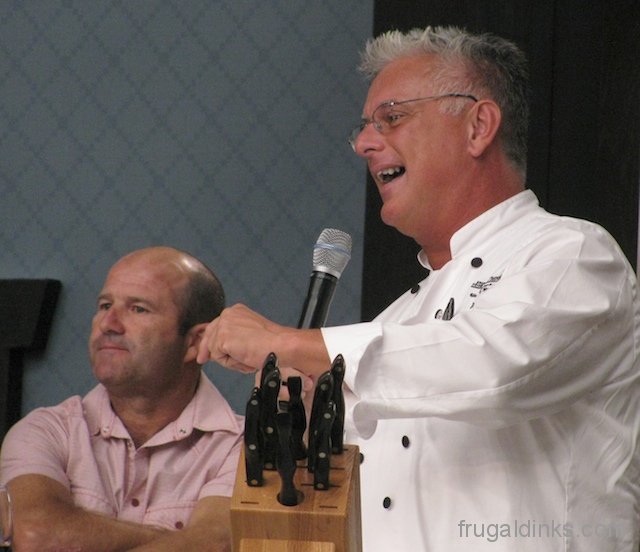 Food: Chef Russell Parker, Hollywood Brown Derby, Disney's Hollywood Studios
Wine: Charl du Plessis, Spice Route Winery, South Africa
The wine today is the Spice Route Pinotage from Swartland. We have had "wine conversations" with Lisa and Andy in the past, and we recollect them being very pleased with Robin Back (turned out he's the North American Marketing and PR person for Spice Route). This is the winery that makes Chakalaka, one of Andy's favorite wines and we've enjoyed a few bottles of same at Jiko at Animal Kingdom Lodge.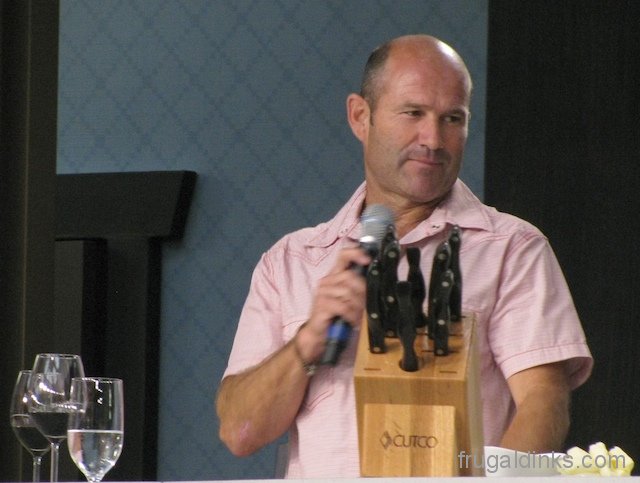 Charl explained that…
they make 15,000 cases a year
the winery is located about 13 miles northwest of Capetown
90% of what they grow is dry land bush wine (due to heat and water resources available) – growing the grapes this way reduces the water needs compared to growing grapes on trellises
Pinotage is only true pinotage when it's from South Africa, otherwise, it's just not good
three things make good wine

pick fruit at it's optimum ripeness
open fermentation in concrete vats, the cap is punched multiple times per day
100% aged in American oak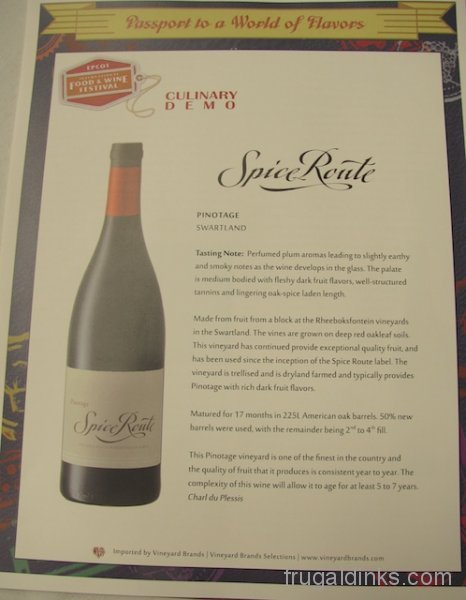 Hand out from Spice Route:

Tasting Notes: Perfumed plum aromas leading to slightly earthy and smoky notes as the wine develops in the glass. The palate is medium bodied with fleshy dark fruit flavors, well-structured tannins and lingering oak-spice laden length.

Made from fruit from a block at the Rheeboksfontein vineyards in the Swartland. The vines are grown on deep red oak leaf soils. This vineyard has continued to provide exceptional quality fruit, and has been used since the inception of the Spice Route label. The vineyard is trellised and is dry land farmed and typically provides Pinotage with rich dark fruit flavors.

Matured for 17 months in 225L American oak barrels. 50% new barrels are used, with the remainder being 2nd to 4th fill.

This Pinotage vineyard is one of the finest in the country and the quality of fruit that it produces is consistent year to year. The complexity of this will will allow it to age for at least 5 to 7 years.

Charl du Plessis
The Chef seems a bit odd to us, he looks very young but doesn't behave as such; it takes a while to figure out why it's so disconcerting to watch him… his mannerisms are over animated but his eyes are not animated at all… maybe he's an animatronic chef. Interestingly, he suggests that we should all be cooking healthy meals at home and then he makes Duck Confit (a few other people at our table noticed a disconnect in that).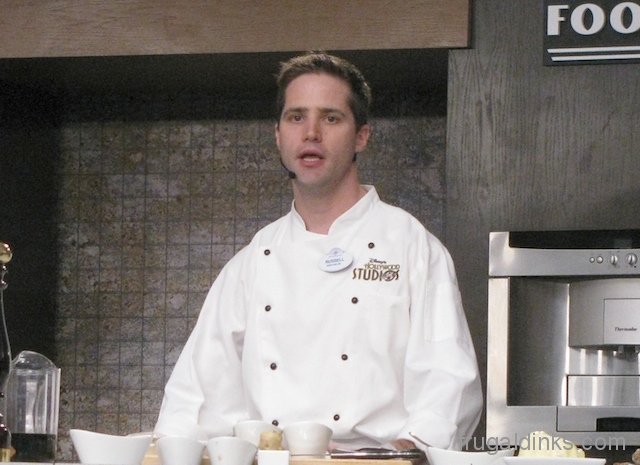 Duck is easier to handle than most people think (cutting up a duck isn't much different than cutting up any other fowl, chef suggests checking out youtube if you need any help with new techniques). Because duck is a considered to be a game bird, it takes to herbs and spices very well. A Confit is traditionally made with duck legs and thighs, it's a preservation method that uses duck fat to seal the duck flesh from air and contaminants (you can buy duck fat online). The duck is "cured" with salt, sugar, and spices before washing and searing the meat.
info from nora's brain: most duck produced in the US comes from Maple Leaf Farms or one of their subsidiaries; their products are fairly easy to find in most major groceries

nick: re: butchering the duck… this is only demonstration we've been to where there wasn't stuff there for the chef to actually demo (i.e. no duck); this chef said "I'm a visual person, so look at youtube"… considering what other chefs have actually demonstrated and shown us LIVE in the same amount of time — it's pretty shocking and disappointing
Recipe…
Gingered Duck Confit, Port Wine Infused Cipollini Onions Over a Brown Butter and Rosemary Croutons
serves 4
Duck Confit
1/2 cup salt
1/4 cup sugar
2 teaspoons black pepper
4 cloves garlic, minced
4 tablespoons minced ginger
4 duck legs and thighs
8 cups duck fat
Mix together salt, sugar, pepper, garlic, and ginger into a large bowl. Place the duck in the mixture and rub the ingredients onto the duck

you want to really massage this into the duck, coat it really well, and get into all of the nooks and crannies

Place salted duck on a baking sheet and refrigerate for two to three days wrapped in plastic wrap. Remove from refrigerator and wash under cool water, then pat dry with paper towels.
Sear duck on both side in a heavy-botttomed pan
Cover the duck with duck fat and bring to a medium-low temperature and braise for 1 1/2 to 2 hours, until the duck meat falls off the bones

this can also be done in the oven at 250-300F instead of stove top

Once legs are tender, remove from heat and refrigerate in a glass dish in the duck fat for up to 6 months. Remove a leg or as much as needed and pull apart the meat from the bones, skin and excess fat.

nick was amazed at this step – store something uncovered in the refrigerator for 6 months, ewwww
nora is thinking – cook something in fat for 3 hours, then store it in more fat, ewww

Shred meat and sear in a small sauté pan until crisp
Port Wine Infused Cipollini Onions
1/2 pound cipollini onions, sliced
2 tablespoons olive oil
1/2 bottle inexpensive port wine
1 teaspoon salt
1/2 cup brown sugar
Place onions in a hot pan with olive oil and sauté over low heat for 1 to 2 minutes
Add wine, salt, and brown sugar; cook until liquid evaporates; cool and reserve
Brown Butter Rosemary Crouton
1 baguette sliced
4 tablespoons brown butter
1 teaspoon salt
1 tablespoon fresh chopped rosemary
Brush each slice of baguette with brown butter, dust with salt and rosemary
Broil until slightly crisp
No directions, but you just assemble this into little appetizers
Tastings
Wine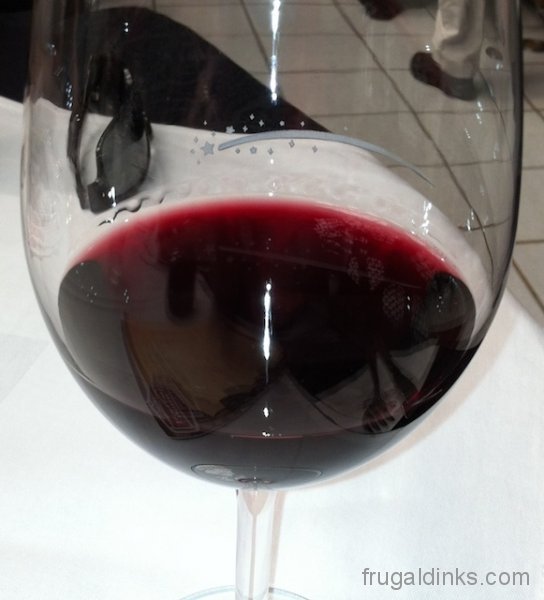 without food

aroma = lots of dark fruit, not much acid
taste = fruity, a bit sour/tart, a bit drying

with food

wine taste improved with food
Food
without wine

nick says 'nora makes better duck'
nora says that it's not bad, salty, can't taste any ginger or garlic
overall "eh"

with wine

food not improved with wine (not the wine's fault!)
Observations
the portions that the Disney chefs are serving tend to be TINY (exception was Chef Bill from the Grand Floridian)
the portions that Kevin Dundon served were HUGE (maybe he provides extra $$ for the food?)
nora is becoming pretty confident that she prefers red wine with food over white wine with food, well honestly, she just prefers red wine
nora was not really impressed with the food (the duck seemed oily), however honestly, our friends Lisa & Andy and Al & Judy like the food at Brown Derby more than we do (that's not to say that we don't enjoy eating at Brown Derby with friends, just that we're not very likely to go there by ourselves solely for the food)
nick was not impressed with the duck at all
the whole preparation seems just too frou-frou — even the title is worded to make nick go "yuck" — there are some other wonderful ways to prepare duck that aren't overly oily and are extremely flavorful
Below are some extra details that were provided on a hand-out about Spice Route Winery:
 Spice Route Winery

In 1997, Charles Back, having established Fairview as one of South Africa's most commercially successful and popular wine estates, bought a farm called Klein Amoskuil near Malmesbury in the Swartland region north-west of Paarl, then rather better known for its wheat than its wine. It was the next step in applying his philosophy to 'go where the terroir is.' Says Back: 'I wanted to break away from the estate concept, which contains a property owner, not necessarily blessed with the best viticultural land, from exploring the wine styles and levels of quality he aspires to. For me the quality of the wine became more important than the name of its source.' The relaxation of legislation confining wine growers from producing in designated areas gave the entrepreneurial Back free rein to set out and find new vineyard sites to expand beyond what his inherited farm, Fairview, could offer in terms of new styles of wine, particularly reds, expressive of the Cape's Mediterranean climate. He found it in the combination of mixed clay-gravel laterite and deep, red, decomposed granite soils of Klein Amoskuil.

In just two years he transformed the place. Underperforming Chenin Blanc, Cinsault and Pinotage vines were grubbed up, though select blocks of 40-year-old Chenin and Pinotage, which promised – and subsequently delivered – distinctive wines, were retained. Warm-climate reds, many new to the Cape and historically at home in the Rhône, South of France and Italy, were established: Shiraz, Mourvèdre, Grenache, Petite Syrah, Barbera, Tannat, Sangiovese, Zinfandel, Tempranillo, Carignan. Also some Viognier (as seasoning for the rich, full-blooded Rhône reds Back was convinced the vineyards would deliver); the port variety Souzão; a Bordeaux classic Merlot; and the Capes own warm-blooded red grape: Pinotage. All in all: some 120 hectares.

Back bucked viticultural trends of the time, adopting practices dictated by the immediate environment: dry land (un-irrigated) bush vines, with just four to five fruiting spurs per vine. He chose to be satisfied with the resultant low production levels of around three to four tons per hectare: 'There is not enough natural moisture to sustain more… so be it!' Hot, dry summers are balanced by deep, moisture-retentive soils which remain cool. And night temperatures are also surprisingly temperate, effectively slowing the ripening process – especially important for the late-ripening varieties – to close the gap between high sugars and phenolic ripeness.

The farm did not have a cellar, so an old tobacco drying shed was converted into a modern production and barrel maturation facility to very precise specifications. Handling some 500 tons of fruit, it's equipped with mainly 12- and 18-ton stainless steel fermentation tanks, as well as five-ton open concrete and French oak fermenters. Maturation is in 2251 barrels, primarily French but also some American oak. Between 40 and 60 per cent of the 1,000-odd barriques are renewed each year, depending on the requirements of the vintage, style of wine, and quality of fruit.

That the winery was completed just three months is again a sure sign of a man on a mission: that's Charles Back. Though this project initially involved friends and industry compatriots Gyles Webb of Thelema, wine writer John Platter and wine 'activist' Jabulani Ntshangase (tireless in his quest to promote wine and winemaking as a profession among young black people), the partnership was eventually dissolved, leaving Back to continue moving full steam ahead to realize the enormous potential of the Spice Route venture.

From the start, the innovative vintner with the brave and adventurous spirit has succeeded in finding like-minded individuals to make his Spice Route wines. First on board (from the maiden 1998 through 2001 vintage) was the found maverick Eben Sadie, who quickly started turning out wines that both earned critical acclaim and had broad appeal, in South Africa and internationally. His departure to follow an independent path was inevitable and always understood, given that he and his mentor were cut by the same cloth! Sadie's sizable shoes have been more than ably filled by current Spice Route craftsman Charl du Plessis. Back puts it in a nutshell: 'The man has enormous passion for wine and pays incredible attention to detail – with talented wine-makers it's usually either the one or the other; it's rare to find both in one.'

In essence, the Spice Route Winery's name reflects what the vineyard, the wines and the people are all about. It recalls tae ancient mariners of the 15th century braving the tempestuous waters of the 'Cape of Storms' as they played their trade bringing exotic Eastern spices to Western Europe along the so-called 'Spice Route.' (The view of Table Mountains from the Spice Route vineyards takes the imagination back to the scene which would have greeted those bygone sailors as they rounded the Cape of Good Hope.) In much the same way Charles Back went sailing into largely uncharted waters on his route to realizing the viticultural potential of this part of the Swartland wine region. His venture's name is equally evocative of the style of wines being made: rich, complex yet infinitely enjoyable, with ripe fruit of the finest quality skillfully enhanced by the addition of fragrant wood… much as carefully selected spices bring out the flavors in a dish.
Closing Note…. on October 28th, a new duck item is being added to the Brown Derby menu – ravioli with crispy duck breast and confit stuffing – nora suspects that it will be called "Duck Two Ways".