Specifics:
Host: Pam Smith
Food: Kevin Dundon, Raglan Road @ Downtown Disney and Dunbrody Country House Hotel & Restaurant in Ireland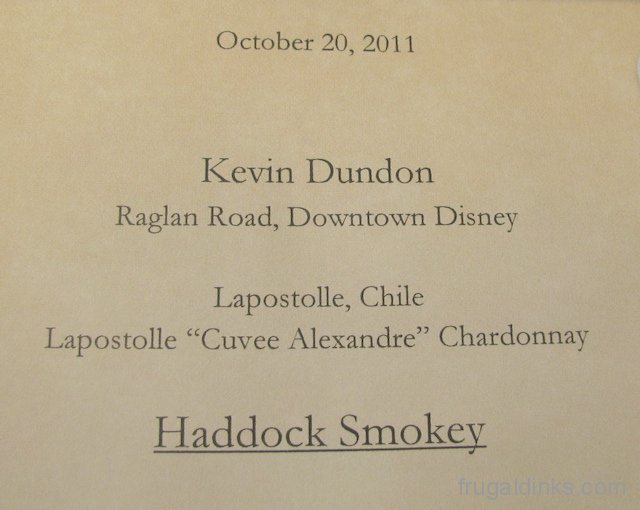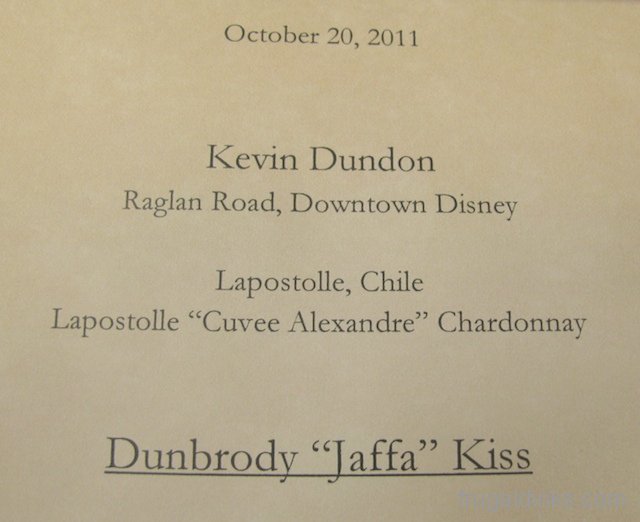 Our wine representative was Amy Meddins, from Tuesday's demonstration.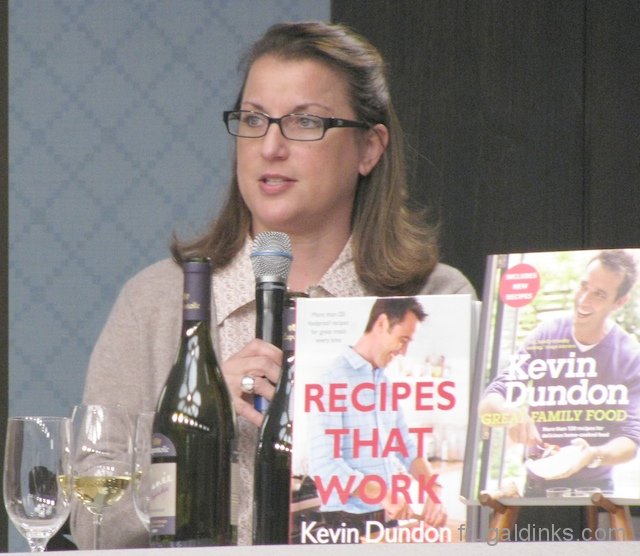 The wine today is Lapostolle "Cuvee Alexandre" Chardonnay from Lapostolle Vineyards in Chile. This vineyard was started by Alexandra Marnier Lapostolle, of the Marnier Lapostolle family, founders and owners of the world-renowned liquer Grand Marnier (top shelf margaritas!). There is a long family history of grape growing and wines/cognacs in France.
To make a small fortune in wine making, you start with a large fortune.
For a while, a lot of people have been "ABC" meaning "Anything But Chardonnay" — mostly because people associate chardonnay wines with being hit over the head with an oak plank or lots of butter. Both Pam and Amy really like chardonnays, but remember that chardonnay wines vary greatly because "chardonnay" is really a grape not exactly a wine. This particular chardonnay is fermented 50% in oak barrels and the remainder in stainless and concrete (!?).
Kevin Dundon – he's fabulous again this year (last year)… he looks a bit thinner and greyer than last year.
Notes…
use good butter, it's good for you (he prefers Kerrygold butter here in the U.S.)
he joked that he gets a tenner (10 pound note) every time he says "Raglan Road"
he still operates the Dunbrody House with his wife and children – he pays his kids to pick berries on the farm, not a lot because afterall he owns the berry bushes
one at a time, chefs from Raglan Road go over to Dunbrody House and work in that restaurant
Pam went on about how wonderful Dunbrody House and compared it to the French Laundry in California (nora thinks that the French Laundry closed earlier this year)
Chef Kevin's mantra "buy local, buy in season, don't worry about organic"
fish for the Haddock Smokey comes from Foley's Fish in Boston, Kevin wants fish from the Atlantic Ocean because it's the ocean that is shared between America and Ireland

can use any fish if you can't get smoked haddock, but probably not salmon
smoked haddock freezes REALLY WELL, so if you have to buy more than you need, it's easy to keep
the Haddock Smokey can be turned into a fish pie — cover the top with mashed potato or puff pastry

proper mashed potato – start with floury potato, boil about 10 to 15 minutes, drain, put back on heat, while potatoes are cooking heat cream and butter, add to potatoes, whip and keep adding butter
his dessert ideas come from sweets that he remembers fondly from his childhood – he loved Jaffa cakes and thus developed this dessert

this dessert could also be made with raspberry jam, but probably not strawberry because raspberry goes better with chocolate (some may not agree with this, nora does)
the dessert is accented by chocolate shards and he has a cool way of making them

take a large zip bag and cut down the sides, open up
take melted chocolate and put on the inside, close the other layer
use something to smooth out the chocolate & place in freezer
when you need chocolate shards, just break them in the bag and remove for use

the whiskey marmalade is made in-house at Raglan Road and is available for sale at the store there (need to get some of this!)
lastly, he has a smart phone app coming out for Christmas "For The Love of Food"
Tastings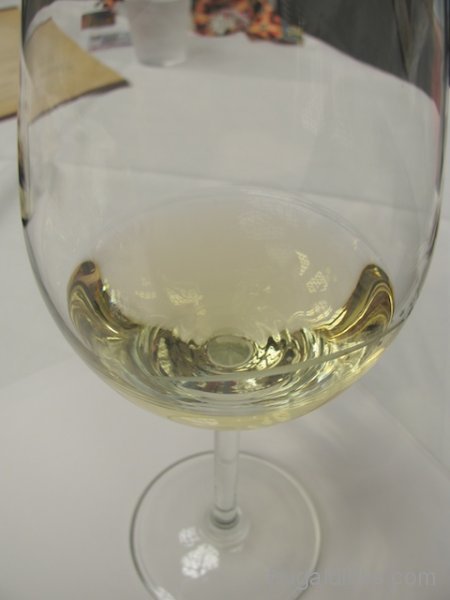 Wine:
without food

aroma: not oakey, smells very good
taste: dry, fruity, not oakey at all (yum), a bit of acidity

with food

fantastic!, gets fruitier, marries very well with the smoky and creamy fish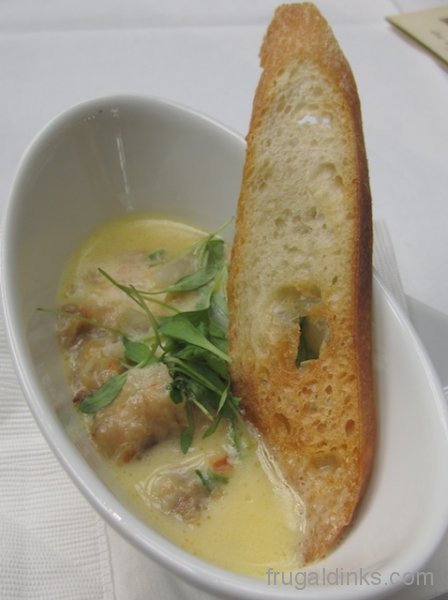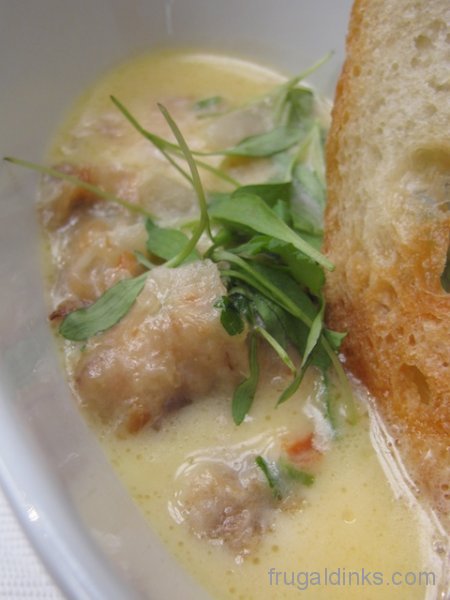 Haddock Smokey:
everyone who knows us knows that we love the Smokey City, so much so that we complained repeatedly and loudly when it was taken off the Raglan Road menu – Chef Kevin remembers that some of us are "returns" from last year and he remembers loud complaints when it was removed from the menu
nick was very happy because this was the most he had been able to eat on his own – we usually share when we get at Raglan Road and since he's generous he never eats as much as he'd like!
creamy, fishy in a good way, cheesey, this stuff is yum yum yum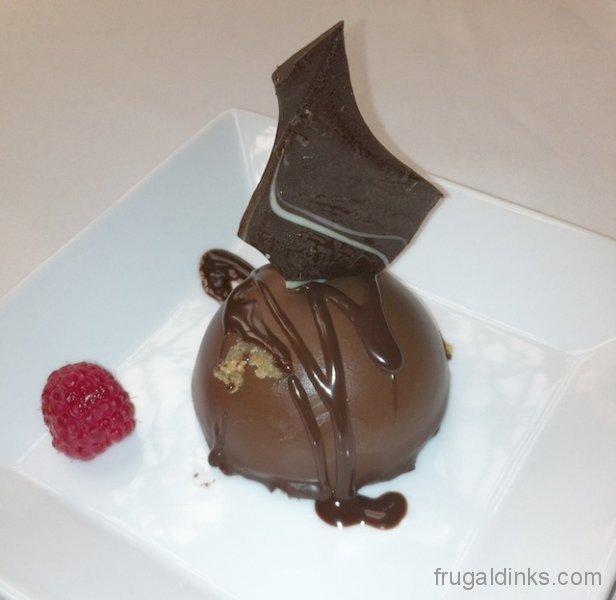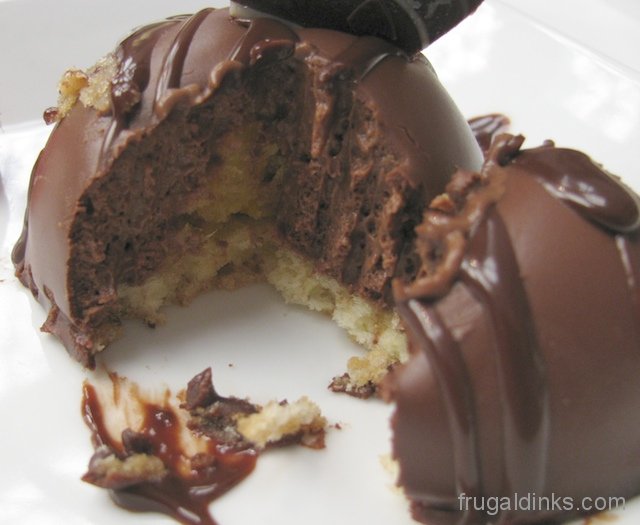 Dunbrody Jaffa Kiss:
it's nice that Chef Kevin has been able to do TWO dishes at each of the Culinary Demonstrations that we've attended
this was the perfect size and the perfect chocolatey-ness
very creamy, very smooth
wonderful marriage of all that chocolate and orange
hoping that this is available at Friday night's 3D event!
First Recipe: Haddock Smokey
a.k.a. Smokey City
Serves 4
butter (at least 2 or 3 tablespoons – this wasn't detailed on the printed recipe)
chopped onions (about 1/2 onion – this wasn't detailed on the printed recipe)
1 tablespoon oil
8 ounces haddock smoked, 1″ dice
1 potato, 1/2″ dice, boiled, chilled
1 roma tomato, seeded, 1/2″ dice
4 ounces dubliner cheese, grated or shredded
6 ounces heavy cream
preheat oven to broil, on stove top soften onions in butter; add oil
add smoked haddock, potatoes, and cream and bring to a boil; reduce heat and stir while adding tomatoes and cheese; one cheese has melted and cream has a medium thick consistency, pour into a 12 ounce ovenproof crock and place in the oven until the top starts to brown
remove from oven and let cool for about a minute as it will be very hot; serve with your choice of bread, toasted or untoasted
Second Recipe: Dunbrody "Jaffa" Kiss
Serves 4
Biscuit Base
4 eggs
1/2 cup sugar
2 teaspoons baking powder
2/3 cup all purpose flour, sifted
preheat oven to 350F with a low fan (oh hoy! this is a recipe for a convection oven?), take a 13″ x 9″ pan, grease and line with parchment paper
in a mixing bowl, whisk together eggs and sugar until very light and fluffy, the whisk should leave a figure-eight on the surface when lifted
gently fold in the sifted flour with a metal spoon or rubber spatula – BE VERY GENTLE TO AVOID KNOCKING THE AIR OUT OF THE SPONGE BASE, BUT DO ENSURE THAT ALL THE FLOUR IS INCORPORATED
pour the batter into the prepared pan; bake for 20 minutes or until well risen and golden brown
remove from oven and allow to cool
cut into rings to cover the mold for the kisses
Whiskey Marmalade
3 oranges cut in 1/8 (skins on)
3 cups granulated sugar
1/2 cup orange juice
1/2 cup whiskey
juice of 1 lemon
combine all ingredients in a heavy bottom pot, bring to a boil, lower to a simmer and allow to cook for one hour until oranges are very soft
remove from heat
carefully beurre mix with a hand blender to a smooth, slightly chunky consistency
chill completely
place the jam in a pastry bag and pipe out 1/2 ounce nuggets
place in freezer to set and until ready to use
Mousse Filling
1 pound dark chocolate
3 egg whites
3 cups heavy cream
3 egg yolks
melt chocolate over double broiler
combine heavy cream and egg yolks in mixer and whip for about 4 minutes (shouldn't be too cold or it will curdle when the chocolate is added)
add melted chocolate and whip for 2 minutes until combined
transfer to a large, shallow bowl
whip egg whites to soft peaks, then fold in the chocolate mixture
pour mix into the mold and fill about 80%
place frozen nugget of orange marmalade in the center of each
fill the rest of the way with mousse
neatly set the biscuit round to form the base
Ganache
1 pound dark chocolate
2 cups heavy cream
in sauce pot, heat the cream to just under boiling
place chocolate (chunks or chips) in a large mixing bowl
pour hot cream over chocolate and stir well to combine
keep warm until ready to use
Assembling Dunbrody "Jaffa" Kiss
carefully unmold kisses, place on a draining rack over a clean sheet pan, ladle the melted ganache over the kisses until completely covered
place in refrigerator and allow to cool until set, about 1 to 2 hours
carefully remove from draining rack and on to serving plate
garnish accordingly