This dining experience took place on Friday, March 21, 2014
Early last week, we got a tweet from Chef Ryan over at bluezoo…
@extrawdwmagic new menu goes live this Friday!!! Come check out and check it out lamb saddles, spring pea ravioli, 72 hour rib and lots more
At first, we thought we wouldn't be able to make it because we had plans to go to a Braves Spring Training game at ESPN Wide World of Sports with Walter and Calvin… However, we figured out a way to make it work… After all, we were given a chance to try out the new menu items at bluezoo and how can we say no to that?
Side story: when we first arrived at the Dolphin Resort, we were a bit early for our reservation and I really needed to stop at the ladies… the most convenient one is near Shula's Steakhouse (another dining story about having lamb chops at Shula's coming soon), Nick saw Joseph while I was "detained", when I came out, Joseph escorted us both down to bluezoo, everyone smiled as Joseph walked us through (I'm sure that some guests were wondering… "who are those people that they get seated by someone in a vest and black tie [the staff at Shula's is dressed in black slacks, black vest, black tie, and white shirt… pretty spiffy] and why does everyone know them?"), of course Joseph was teasing the people he used to work with, and we felt like rock stars <smile>.
Dustin was our server (very good by the way). Gary (@Gary_Bruckner) knew we were coming as did Chef Ryan (@r_ratino). We explained that we were ready to taste whatever Chef wanted us to sample and we asked Gary (he's a sommelier) to pair a wine with each course and that we'd like to split one glass… Okay, we were good to go <smile>.
There are two totally new appetizers:
heirloom tomato salad … house ricotta, popcorn ice cream, pickled melon, savory tart

crab salad … peekytoe crab, rhubarb, white chocolate, pistachio ice cream
These two items replace the cobia crudo and the bibb salad.
One appetizer changed slightly…
heritage pork belly … cornbread salad, bbq glaze, pickled onions (previously it came with as heritage pork belly, brussel sprouts, sweet potato, pecan powder)
The other appetizers seem unchanged (and they're all scrumptious)…
bluezoo's new england style clam chowder

yellowfin tuna tartare

teppan seared jumbo sea scallops

low country jumbo shrimp
Okay, so by now, I'm sure that our dear readers want to see some photos and hear about the food… right?
We started with a white negroni each (and carefully sipped and nursed them throughout the meal), since we had a cocktail and we aren't generally bubbles drinkers, we skipped the champagne with the first tasting (but I agree that bubbles will pair well with the tomato salad).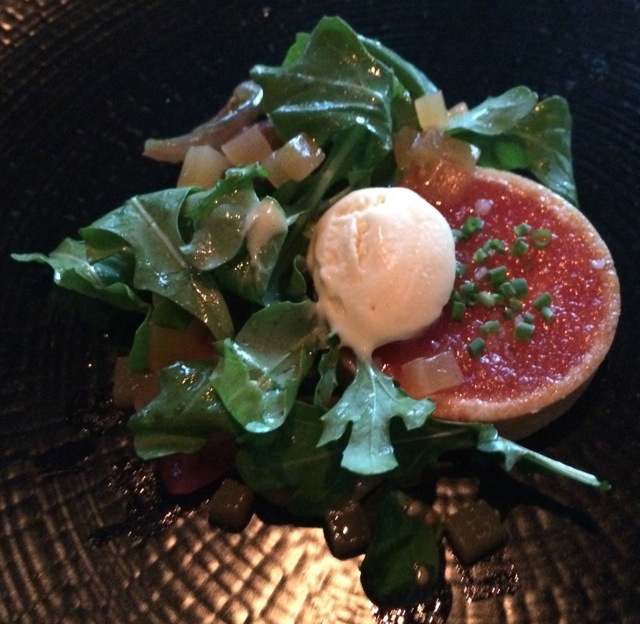 Dustin and Gary had both told us that they really liked this addition to the menu. And they also explained that it wouldn't look like any heirloom tomato salad we'd ever seen before (and it doesn't really).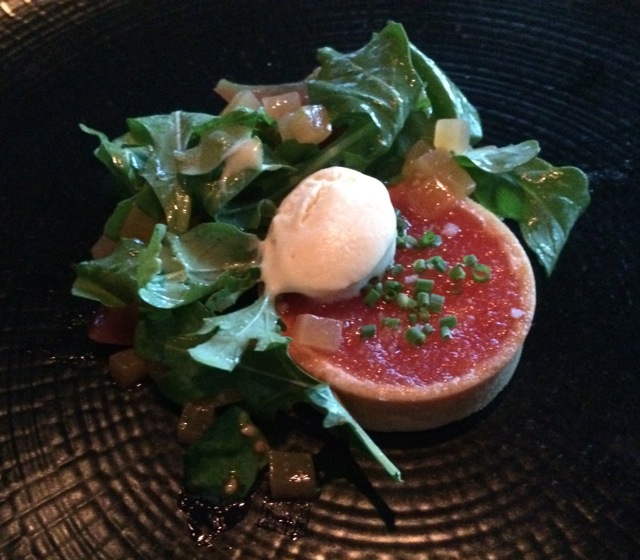 The tart has a base of house made ricotta and is topped with tomato jam and chopped chives.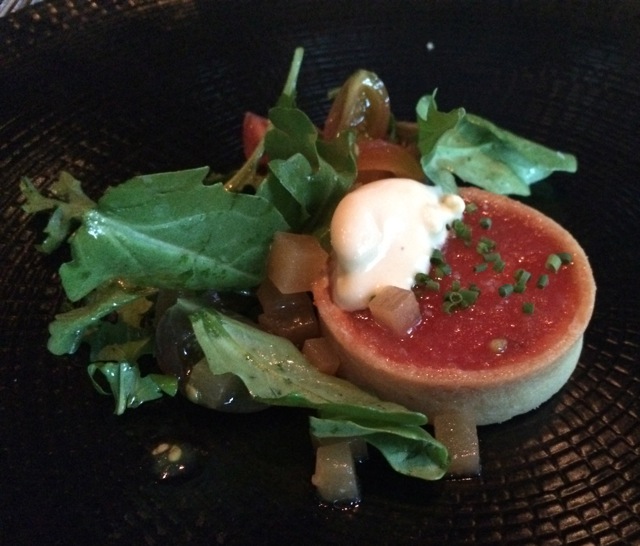 The salad is rocket, pickled melon, and quartered heirloom cherry tomatoes.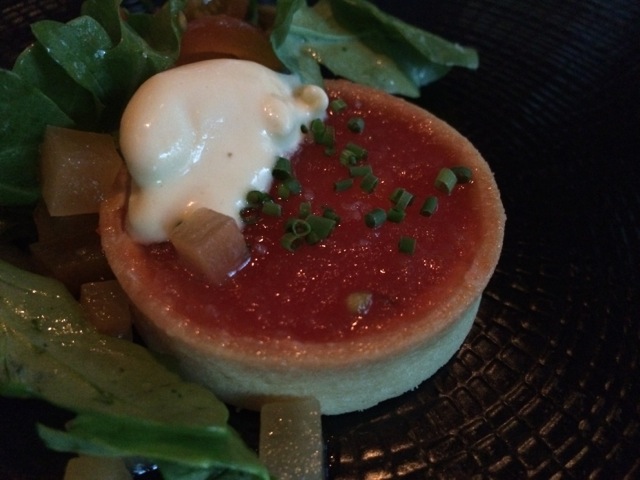 all topped with popcorn ice cream…
The ricotta was very mild, the tart crust was slightly sweet (almost like a shortbread), the pickled melon wasn't anything like watermelon rind pickles yet was very fresh, the popcorn ice cream is cream and slightly "corny" but not overly sweet, and the salad was a very tasty blend of peppery, sweet, and savory.
This didn't disappoint. It definitely tasted like SPRING and SUMMER! Nick says he could have this for dessert without any complaints. I have to agree, turn things upside down and have this appetizer for dessert, it's light and fresh, combining sweet and savory… perfect way to end a meal (or to start a meal). Winner!
Next we had the Crab Salad, Gary paired it with r2 vin blanks viognier blend (a white blend)… We thought that the nose was mineral, the color was straw, nick declared that it wasn't bad without food and I thought it was sour… No worries, it paired excellently with the food because the sourness and minerality balanced the richness of the crab salad.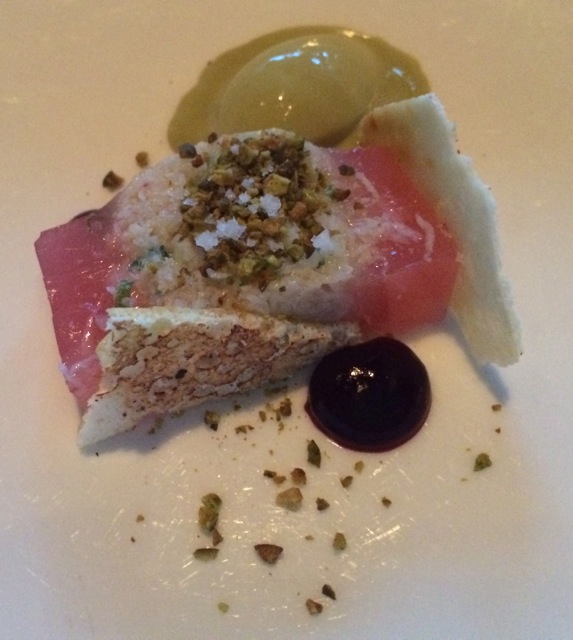 I'll identify the elements for you… the peekytoe crab is in the center topped with toasted pistachios, there is a pink rhubarb gel at each end of the crab, the burnt white chocolate bark is at one end and one edge, the red dollop is beet glee, and the green at the top is pistachio ice cream.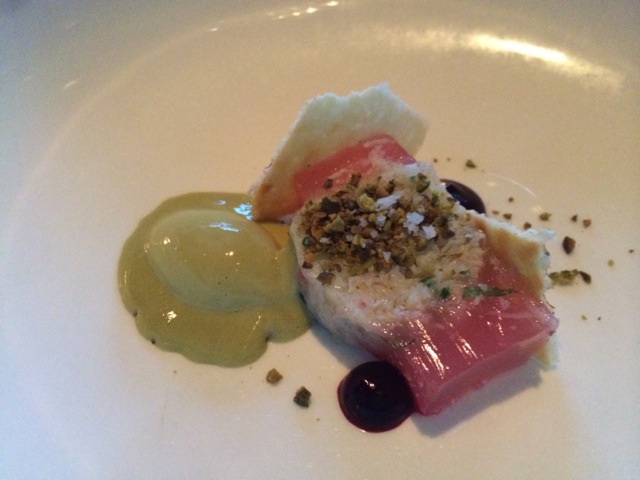 I thought this was very good when I create a bit of it all together, the sweetness of the "burnt" white chocolate blended well with the "ocean-ness" of the crab.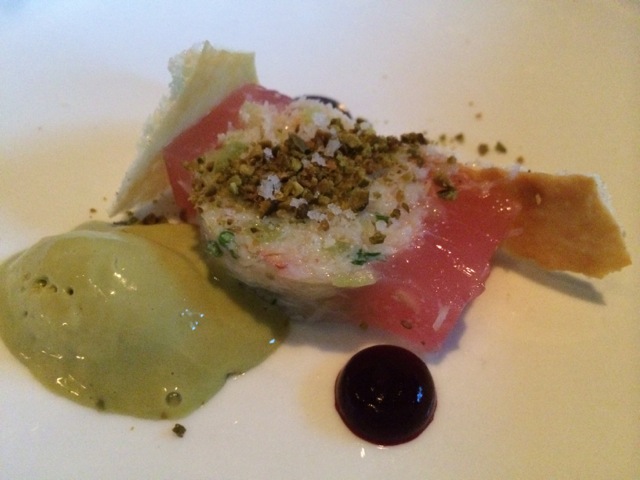 The pistachio ice cream wasn't at all sweet, it was nutty and salty.
Nick really likes peekytoe crab and he thought that this dish really pointed out Chef Ryan's talent. It's another great addition to the menu.
We both preferred the tomato salad (slightly) (it was more balanced) over the crab salad BUT Nick would love a hunk of that peekytoe crab with a beer.
Now, let's move on to the entrees.
There are three completely new main dishes:
english pea ravioli … perfect egg, beech mushrooms, broccolini, charred corn

grass fed lamb … hay smoked loin, roasted carrot, cherry jam, baby artichokes

72 hour short rib … creamed corn faro, mustard agrodolce, smoked cipollini, pickled raisins
These replace: the chef's pasta (I think, but I'm not certain), the braised white bean cassoulet, the tasmanian salmon, and the wagyu tri-tip
The accompaniments have changed to nearly all the other main dishes excepting the miso glazed mero and the dirty south swordfish… We've yet to try these changes, but most of them look very interesting and are clearly tied into spring and summer.
So, we started with the english pea ravioli (you know we usually love the filled pastas at bluezoo, and every since Chef Ryan tweeted a photo of this, I'd been salivating to give it a try). Gary paired this with Chalk Hill Chardonnay. The nose had a lot of grass, there was some oak on the nose and on the tongue but not unpleasant, it seemed quite rich – and again, we decided to "trust the pairing"…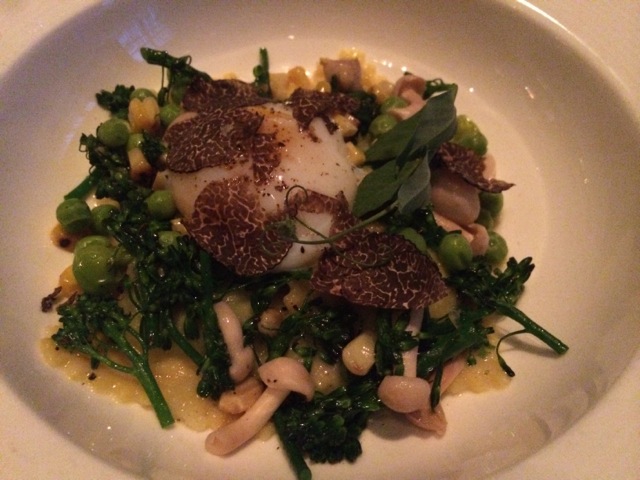 The ravioli are stuffed with english peas and there is an english pea puree under each one.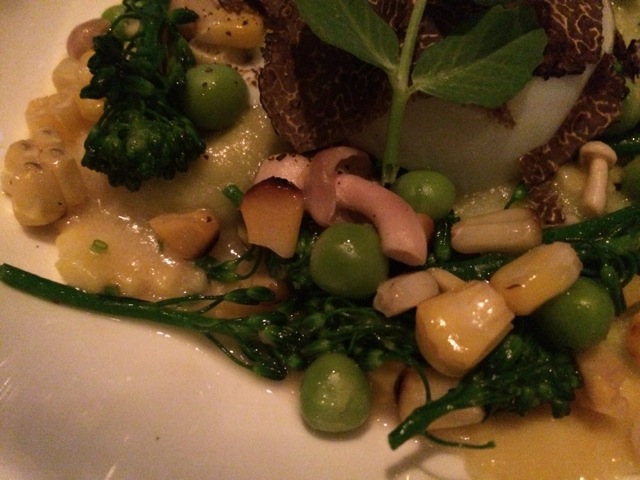 There are a lot of vegetables: broccolini, peas, and charred corn.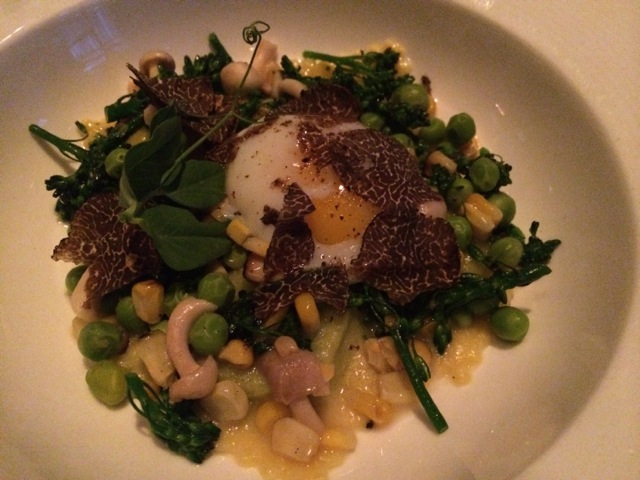 The beech mushrooms were very flavorful.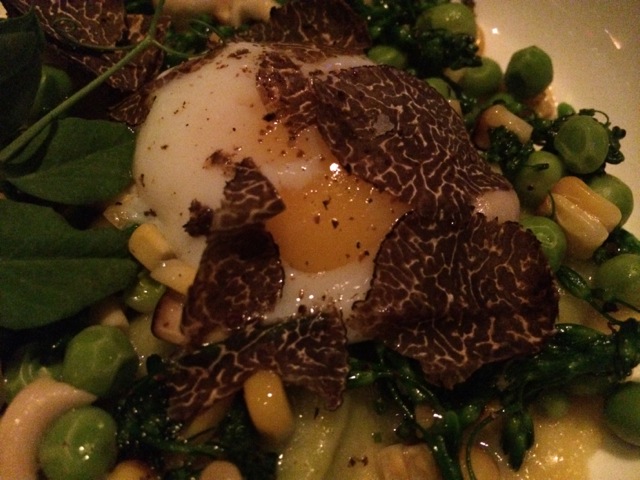 The "perfect egg" (a sous vide egg) was topped with truffle slices.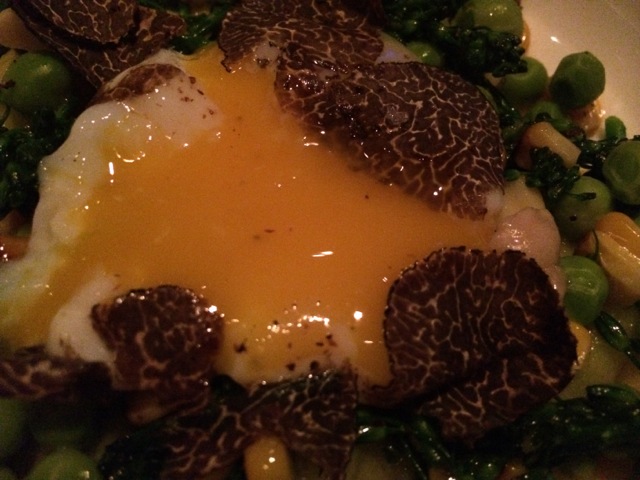 The yolk was thick and creamy and the egg white was tenderly done.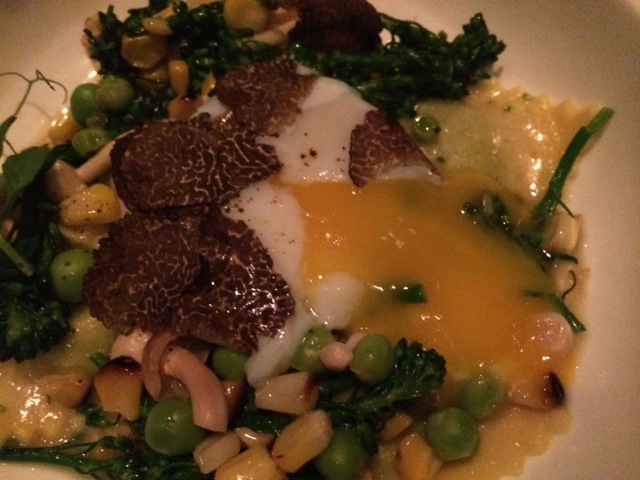 We discovered that the egg yolk balanced the grassiness of the wine excellently. All of the vegetables were very nice, the peas and corn were so fresh and treated so gently that they "cracked" in your mouth.
We were curious to see what the truffles would do to the wine… It made it grassier (icky).
It's going to take a while for me to get tired of this dish, it has loads of vegetables and a richness too. And, the ravioli were cooked perfectly (double yay!)
In the first few photos, you may have noticed the pea tendril on top of the egg. We both grew up with gardens out the back door, when we ate the tendril, we both exclaimed that it tasted like when we were kids and we'd go to the garden and pull peas or green beans right off the vine and eat them standing barefoot in the garden dirt.
When Gary came by again, he confirmed that he was thinking of the egg yolk when he selected the wine. I was tickled that our wine tasting and food pairing education has grown.
Next up was the grass fed lamb. Now, we love lamb and Chef Ryan knows that… Gary paired this with the Blue Rock Baby Blue Red Blend (we've had this before), it's not too fruity, has some smooth tannins, and is quite nice.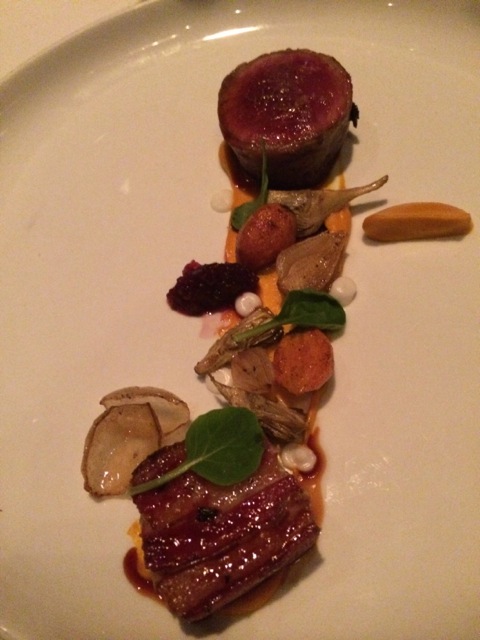 At the bottom of the photo is a piece of lamb belly (very similar to pork belly, but much much better!!), then the vegetables and carrot puree are in the center, and at the top is the lamb loin.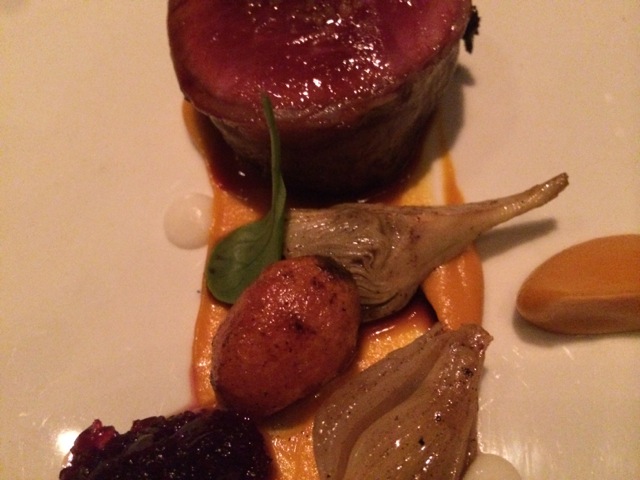 The little white dot is house made yogurt, the tan vegetables are artichokes, and the little orange vegetable is a round baby carrot.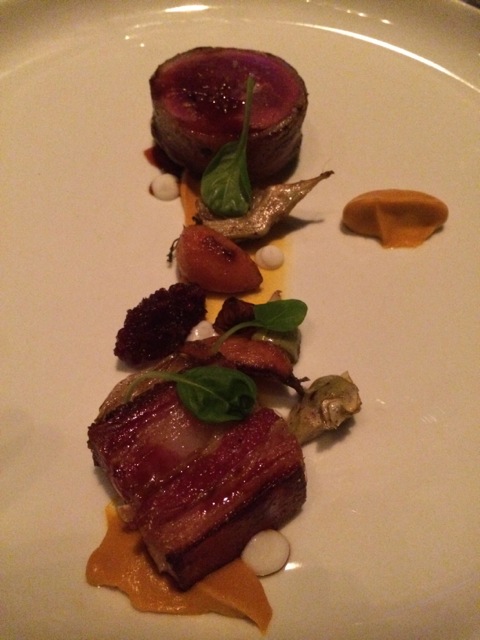 Chef Ryan takes the lamb loin and wraps it in its own fat to create the grass-smoked loin.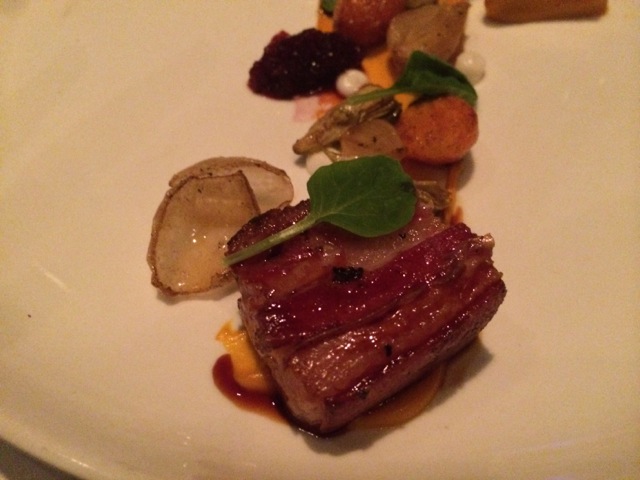 Lamb belly… fatty, smoky, crispy, smooth, soft, and just unbelievably delicious.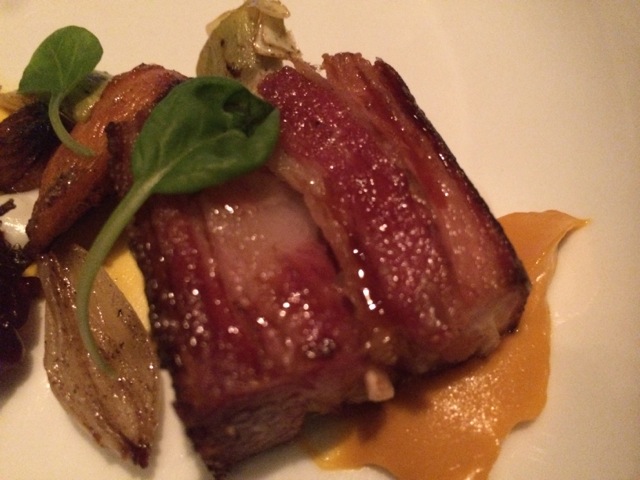 This course was great. Nick commented "is it possible that we like lamb belly better than pork belly?" I responded "yes, it is!"
The smoke flavors were noticeable in the lamb loin, very nice. The carrot puree was a particular favorite, we liked it more than the cherry jam in fact. It's going to be hard to beat this main course with any other non-fish entree at bluezoo (ha ha ha!). "Oh my how nice…"
Okay, we're stuffed at this point and throughly satiated on lamb fat. But there's one more to go…
The 72 hour short rib is next and Gary paired it with the Troublemaker Red Blend (Paso Robles) – the color is deeper and richer than the Baby Blue, the nose has a slight pepperiness, and there are rich, deep, berry flavors.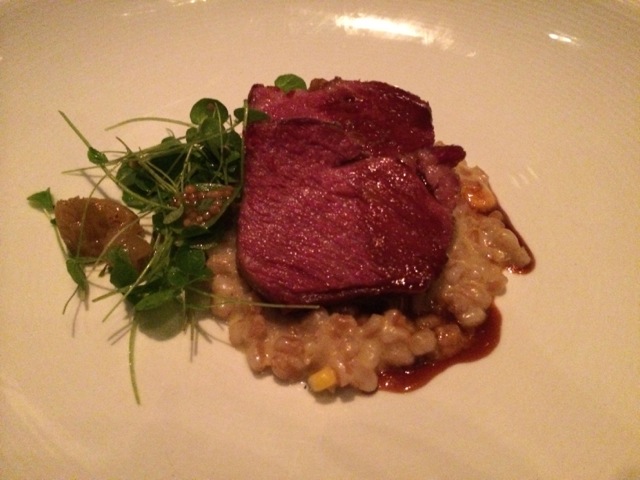 Beef short rib sous vide for 72 hours…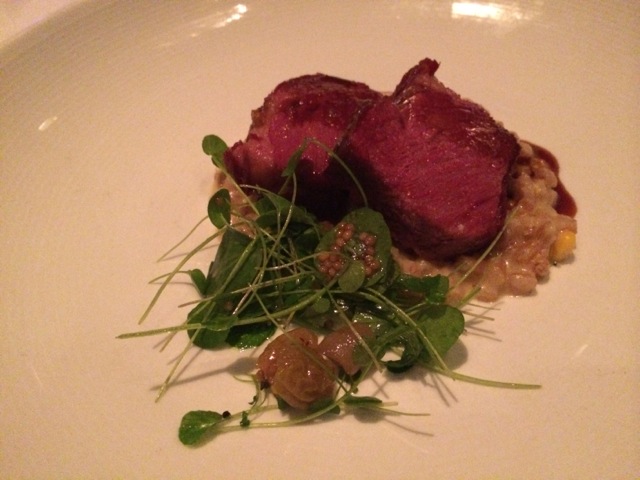 Served with micro greens, mustard seed agrodolce, and pickled raisins.
…on a bed of creamed corn faro (this is pretty similar in texture to the barley risotto was had a few weeks ago) and is quite tasty. The short rib is topped with au jus.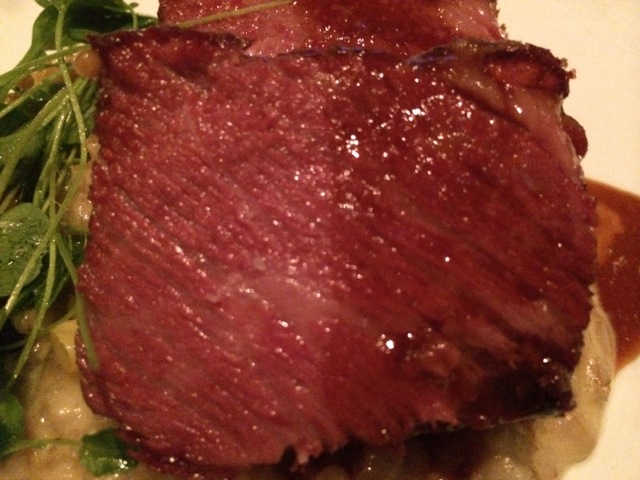 This was so tender that you didn't need a knife at all.
This is a bit difficult to review because by this point, we were pretty stuffed <smiles>. The meat had a really nice salty and spicy crust (not hot spicy, just evident spices). It's a very rich dish.
The pairing was very nice. And we like the flavors of the dish… If you have a steak lover in your dinner party, tell them to order this.
Okay, so to summarize…
We really liked the heirloom tomato salad and the english pea pasta and the grass fed lamb… I can't say anything bad about the other dishes though <smiles> but we always seem to have favorites!
We had gotten a bit "bored" or "tired" of the menu at bluezoo of late. The changes we've sampled thus far really excite us and invigorate our desire to eat in the bluezoo dining room. Chef Ryan and crew deserve kudos for the new menu. Gary gets a happy nod for creating wine pairings on the fly. Dustin did a great job as our server/waiter (I'm never sure what term is correct). And credit goes to Chad for having such a good staff and giving them lead to perform at their best.
Postscript… We learned from Chef Ryan that bluezoo is #6 in USAToday for foodie destinations in Orlando. Congratulations to everyone! That's great for bluezoo! So happy for you all.