After my Swedish Massage at Senses Spa at Saratoga Springs, I went to meet Nick at The Turf Club. It's been years since we've been here, it had been a favorite of ours for lunch (easy to get into and the food was quite good) – when we stopped staying "on property" and they stopped serving lunch (no, the two are not connected <grin>), we really didn't have a compelling reason to go there for dinner. But, seeing as how I'm checking out the spas at Walt Disney World, it seemed an appropriate time to give the Turf Club a try for dinner.
Our server was George, he wasn't very good… his spiel was very scripted and he seemed to be rushing all the time.
Nick decided to order a Boulevardier… as he says, TEST TIME! George had no idea what we were talking about… After he took the order to the bartender, a different server came out (sorry, I didn't catch her name; she was very interested in the drink and we had a pleasant conversation) – Nick showed her Alton Brown's recipe which she wrote down…
Nick thought that it was too watery and I thought that the bitters were too prominent.
I ordered a Saratoga Cocktail (Makers Mark Boubon, E&J Brandy, and Sweet Vermouth). I liked it, it wasn't as sweet as I expected given the description, this is definitely a Nora Charles cocktail.
This was a good cocktail but it wasn't OMG good…
It was at this point that we started to look around… There weren't any tablecloths, at these prices that seems (um) not good, unsanitary, cheap…. you supply the word. As I looked at the menu, I started to think… the prices at Shula's Steakhouse at the Dolphin Resort aren't out of line. In fact, our response to the bread service was "what a joke"… (3 rolls and unsalted butter)…
We had looked at the menu before we made the dinner reservation…. We both love baked brie cheese… Unfortunately, this appetizer didn't resemble any baked brie cheese that we've ever seen before…
Can you see any brie here?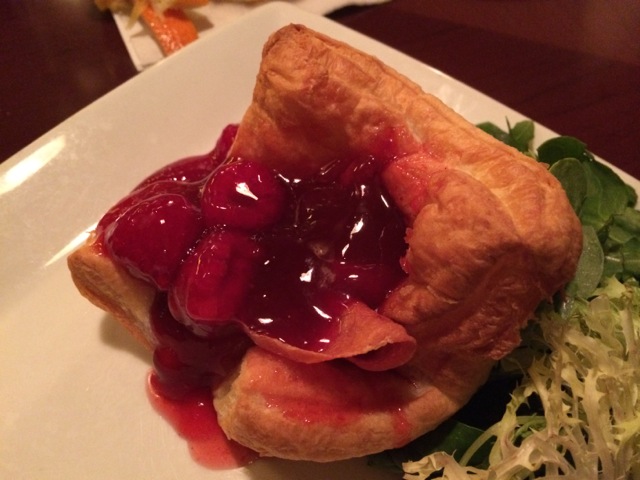 We paired this appetizer with Dr Loosen Riesling (we've had this before and have generally liked it).
The menu didn't say that the brie was wrapped in puff pastry. But there was a lot of puff pastry and a lake of raspberry sauce.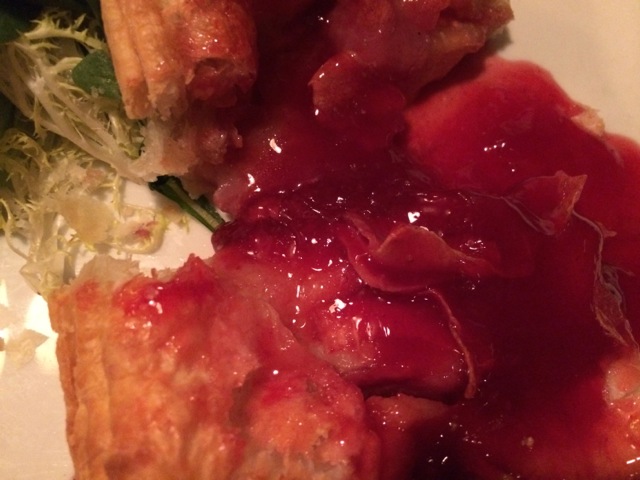 The prosciutto was crispy when we could find it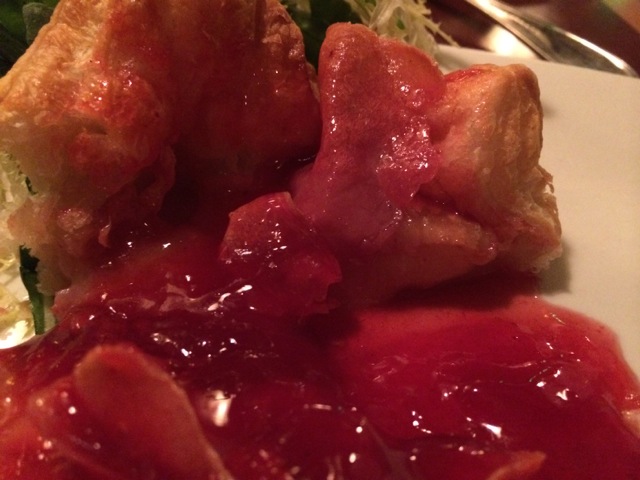 I ask again, can you see any brie cheese?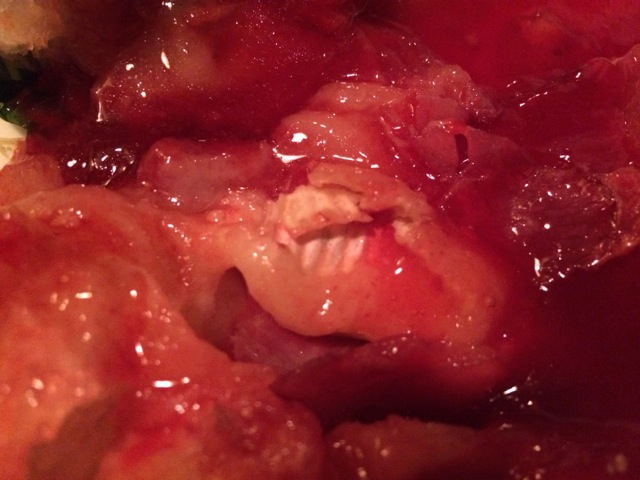 Ah ha! There's some hint of brie rind. This was way too sweet, the raspberry sauce was overpowering and there was only about 2 tablespoons of cheese. Sigh…
Looking at these photos a few days later, it's just a reminder of how pitiful this was. Luckily, the manager could see that we were a bit put off and came by, Frank took this off of our bill.
At this point, we were thinking that the space was definitely a lunch venue (really good for lunch before or after playing golf), not a good dinner space. It's long and narrow, everyone walks past everyone else. There are reasons it's easy to get a dinner ADR here…
We did take advantage of Frank's presence to ask about the entree we were hoping to enjoy – Root Beer Brined Pork Chop with Sweet Potato Hash and Sauteed Greens…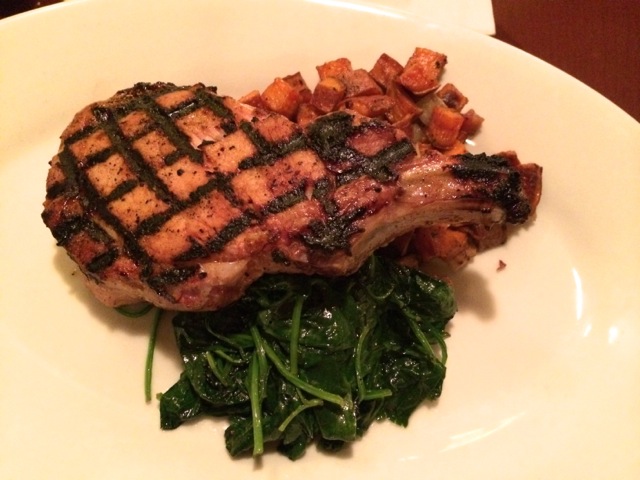 We asked for two wines to be paired… The Francis Ford Coppola Rosso Shiraz was described as "spicy" and the McMurray Ranch Pinot Noir was described as "silky"…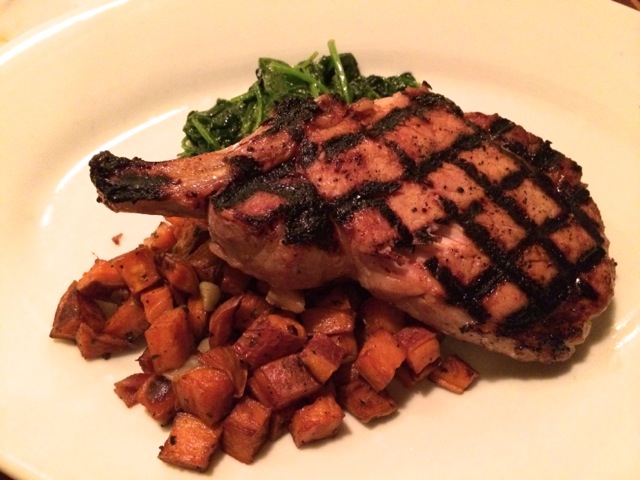 I thought that the greens looked nice (although being a native of North Carolina… I don't consider "sautéed spinach" to be a mess of "greens"). The sautéed spinach was okay, but not as good as the sautéed spinach at breakfast at The Wave at the Contemporary Resort.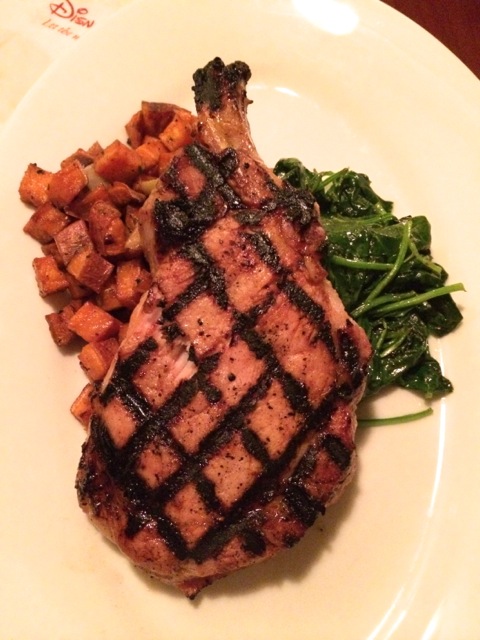 The dish smelled good when delivered to our table. We ordered this medium rare, we aren't afraid of pink pork… the chef didn't split this order for us (unusual at Walt Disney World), I had to cut it up for us.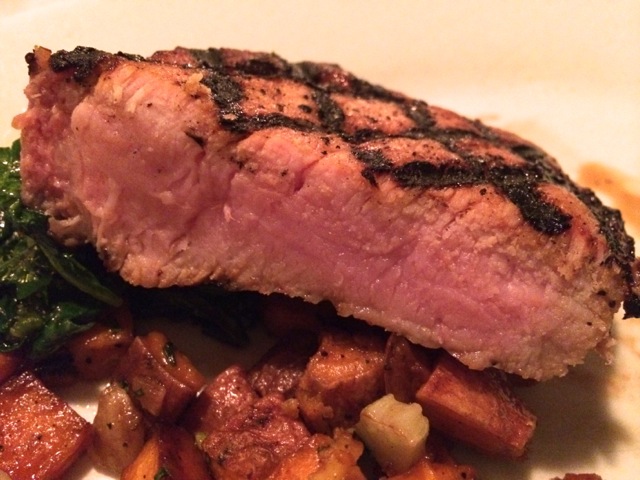 The pork was a bit tasty. The two wines paired well with the dish. I thought that the Pinot Noir was more jammy and that the Shiraz had more tannins, they both worked. In the end, we thought that the Shiraz was slightly better with the food and that the Pinot Noir was slightly better as a wine alone.
Overall, excepting for the fact that the food was delivered to the table at the appropriate temperature, the flavor profiles are typically better at bluezoo.
Note: It got exponentially louder as a group from NY or NJ was seated next to us. The woman reminded us of Janice on Friends. Do you remember the laugh and the nasal-y voice… We got that for real and it wasn't too pleasant.
I don't think that we're likely to be heading back to the Turf Club at Saratoga Springs any time soon. I still wish that they were open for lunch.