This dining experience took place on March 14, 2014
Alert: This was a very nice dining experience. We enjoyed the service, the food was cooked properly, and most of the food was quite good. The main course, the lamb chops, had some issues with butchering NOT with taste; we aren't likely to order these again because of size and ease of eating.
Of course, we had Joseph as our server. His greeting was so warm and friendly, so was Carol's "hello" and Ariel's welcome.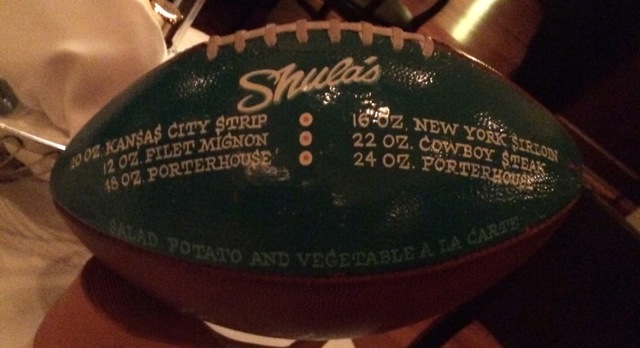 We started with two cocktails,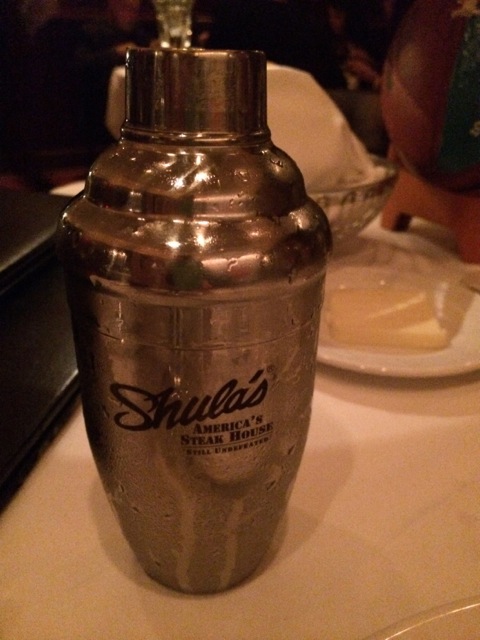 these are served in customized Shula's shakers…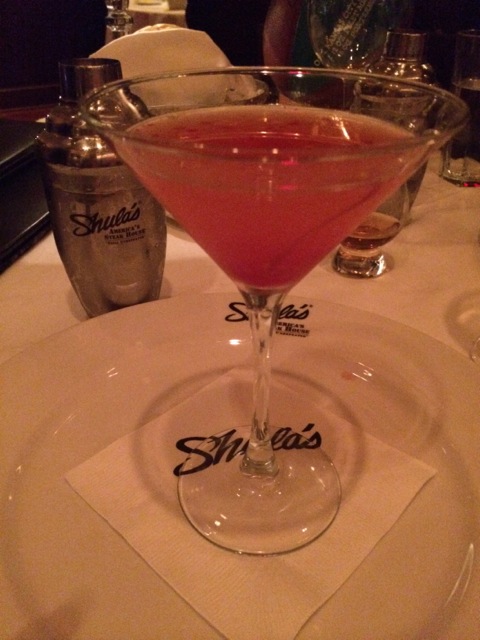 Nick had a Red zone, this was a good start to the meal and I thought that it was pretty complex.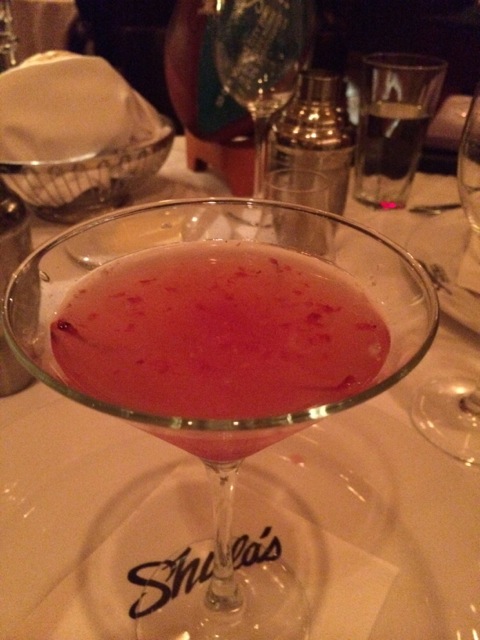 See the little flecks of cherries in this?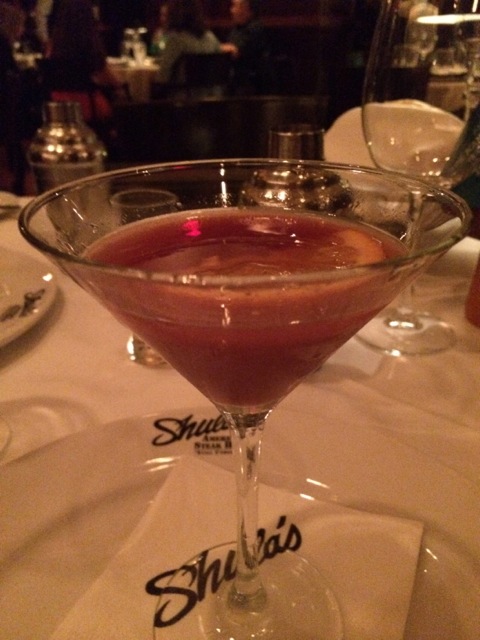 I ordered the Red sangria (not something I usually order)…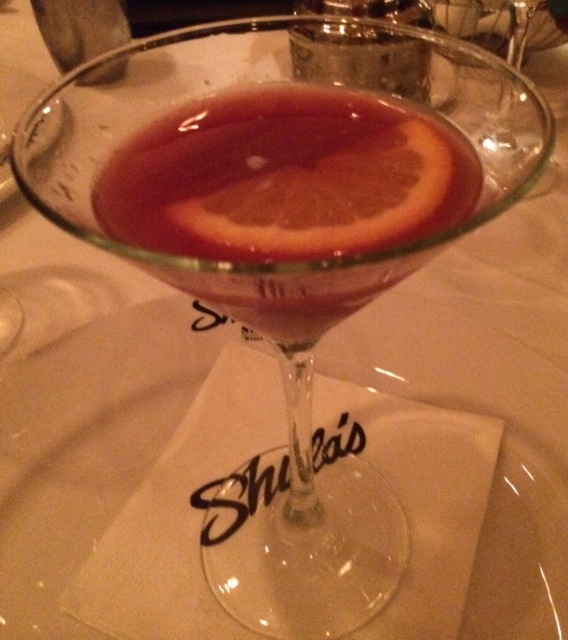 I thought this was pretty good and Nick said it was "very nice"…
So, good choices on the cocktails!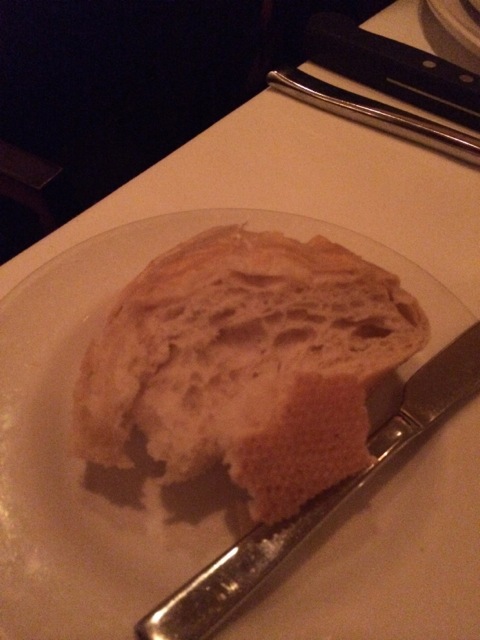 The sourdough bread came out piping hot (we almost burned our fingers). It has a very nice "sour" flavor and is quite tender and moist. We both consider this to be a "win"! This makes the bread from the Turf Club look so d*mn*d lame (here).
We went with a starter a bit outside of our usual comfort zone… Steak tartare…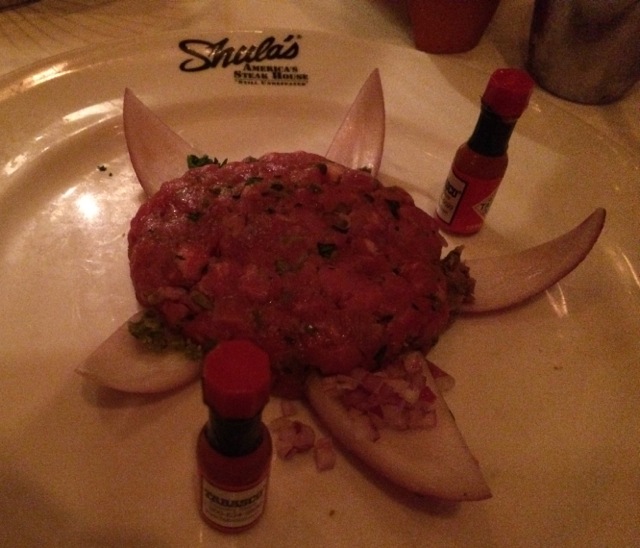 It came with a couple of toast points, little bottles of Tabasco, sections of raw red onion, capers, and chopped onion. (By the way, next time, we'd ask for more capers and less chopped onion.)
Joseph told us that this is made fresh everyday in-house from Filet Mignon. It was very good, like a great sushi. The hot sauce masked the unctuousness (so we didn't use it more than once). We both loved this! Note, this is a pretty big portion to split; it's large enough that I could order as dinner. We both liked it best without the accompaniments.
We had a wee dram of scotch with the steak tartare… OMG that was so good. Need to remember that the next time we go to Shula's!
We also had some of the tomato and buffalo mozzarella salad. The tomato in this wasn't amazing. The mozzarella was really good, very silky and smooth.
So far, so good. We're enjoying our selections and the service and food is top notch. The restaurant is beginning to fill and get busy – it's a Friday night and that's good for business.
Before we ever made our first dining visit to Shula's Steakhouse in the Dolphin Resort, we had decided that we wanted to order the two lamb chops. We've come to LOVE lamb in recent years… especially the lush gaminess of it; so on this visit, we ordered the "Twin 11-ounce Lamb Porterhouse" with a side order of grilled asparagus. We asked Joseph for two red wines that he'd pair with the lamb.
Nick had a glass of Joel Gott Cabernet Sauvignon 2012 (14% ABV, Napa Valley, Gottwines.com) – the nose was soft and fruity, the taste without food was smooth tannins, all in all it was very nice, well rounded Cabernet.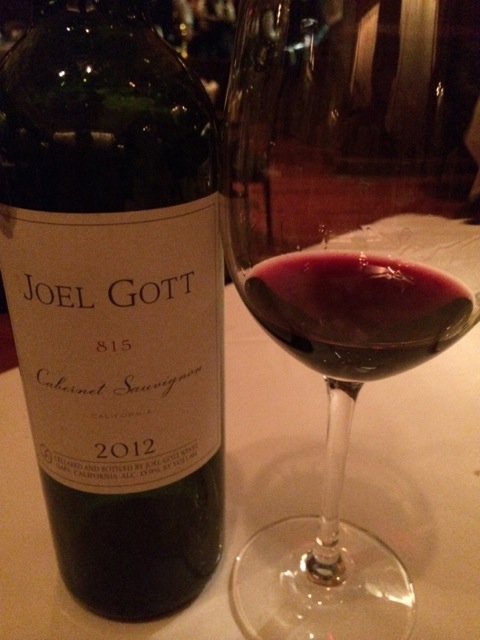 I had a glass of Sin Zin – this was lighter and we weren't sure it would be heavy/strong enough for lamb.
Neither of these wines were "fruit bombs"… As the wines "breathed", they opened up more and became quite yummy.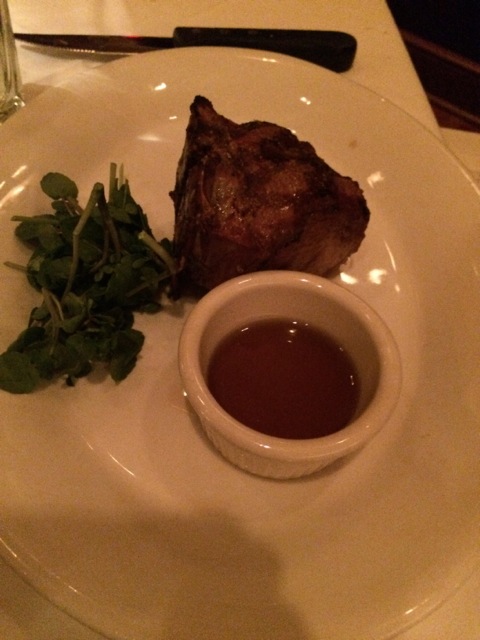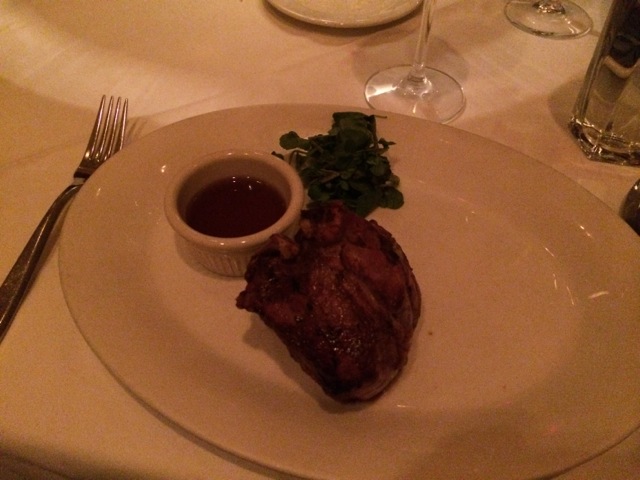 The lamb looked pretty good when it first came out, although the porterhouses were pretty doggoned thick. The smell was very enticing.
Now, while my piece of lamb was pretty tasty, and cooked perfectly medium rare… Nick's piece of lamb (while cooked perfectly) was difficult to eat for two reasons: (1) the size was unwieldily and (2) there was a LOT of sinew…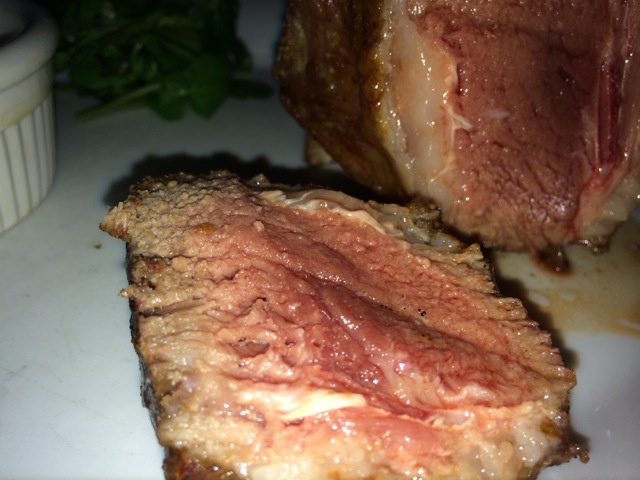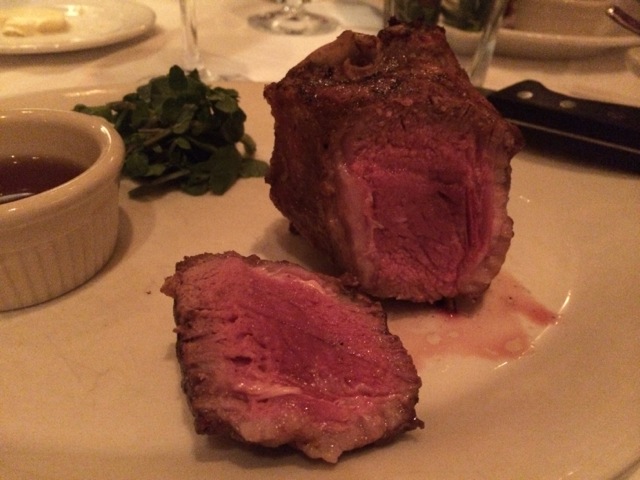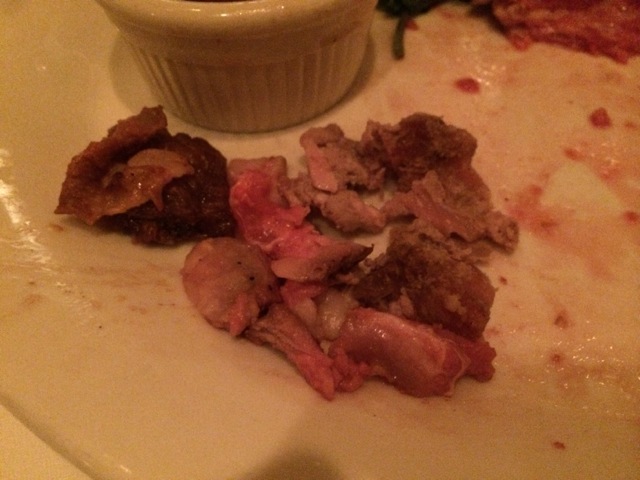 When I said, it had a lot of sinew, I wasn't kidding… This is the pile on the side of Nick's plate (ewwww!).
So, his piece was very sinewy. The Colorado Lamb wasn't very "lamby" or remotely "gamey", it tasted like beef. The cut was so thick that it was very difficult to eat with knife and fork.
And, when they asked us about the lamb, we were kind but honest. There was nothing wrong with the preparation, but this is most definitely not something we'd order again and "no thank you" we didn't need our dinner replaced.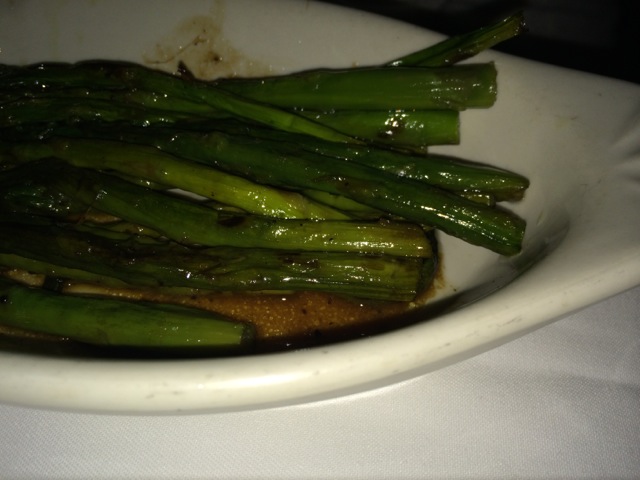 And, the asparagus, although grilled was very oily. So, we weren't really thrilled with this either.
To be clear: this wasn't Joseph's or Carol's or Ariel's fault. Nick's lamb was simply a bad cut of meat (this was a huge surprise). This experience won't stop us from coming back to Shula's Steakhouse.
As a surprise, and  you have to know that there are a lot of personnel connections between all of the restaurants at the Swan and Dolphin… Chef Ryan and Gary arranged to send us some lamb from bluezoo (sort of as a joke?)…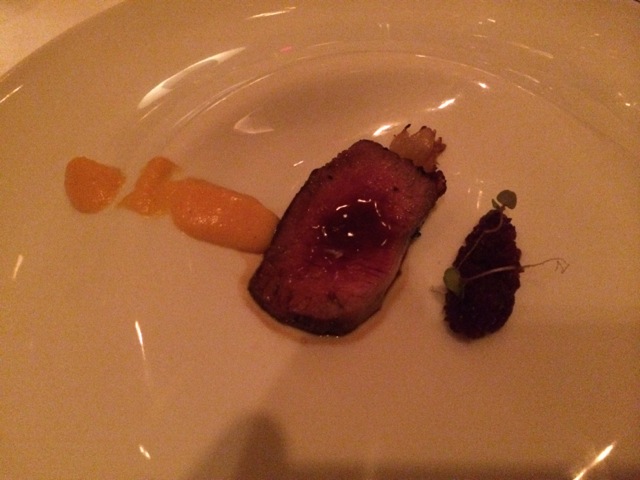 Imagine our surprise when Ariel and Gary approached our table, each with a plate in their hands…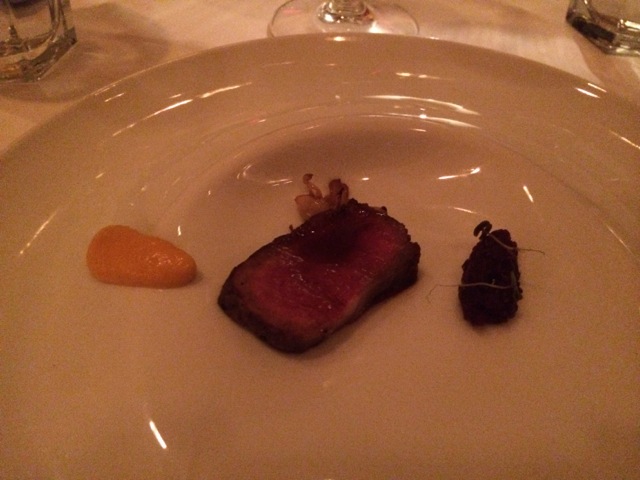 There was a butternut squash and bacon foam, a pickled onion sauce (tasted a little like barbecue), and cherry jam… This was quite yummy with our red wine.
This was a nice surprise! Totally unexpected and definitely not necessary… (we found out a few weeks later that some of these elements were in the works for the new dining room menu at bluezoo)
Back to Shula's Steakhouse…
The dining experience was excellent. The service recovery was impressive (our concerns were listened to and addressed, the lamb and the accompanying wines were removed from our bill even though we insisted that it was anyone's "fault").
This experience will not negatively affect our opinion of Shula's Steakhouse in the Dolphin resort. In a somewhat contrary outcome, we feel even stronger that Shula's is a bit of a hidden gem at Disney World.
(shhhh, don't want to say that too loudly, take your kids somewhere else, please)