We both like cheese as a general rule, although we don't eat it often (our friend Sandy is a cheese fiend, when she comes to visit, we usually stock up on cheese and crackers). So, we have a few cheese items on our "must have" list, but we're trying to spread them out so that we don't "overindulge" with the calories or the lactose!
Blue Cheese Souffle: almond crusted blue cheese soufflé with fig jam (Cheese Marketplace… Sarah from EatingWDW joked that since it has it's own marketplace "Cheese" must be a country!)
Artisan Cheese Selection: Beecher's Flagship Reserve served with Honey, La Bonne Vie Triple Creme Brie served with Apricot Jam, Wyngaard Goats Gouda with Craisin Bread (Cheese Marketplace)
Kerrygold Cheese Selection: Reserve Cheddar, Dubliner with Irish Stout, and Skellig (Ireland Marketplace)
On a recent evening, we decided to start with the first item on our list, the Bleu Cheese Souffle and the Once Upon a Vine's Big Bad Red wine (featured pairing at the Cheese Marketplace)…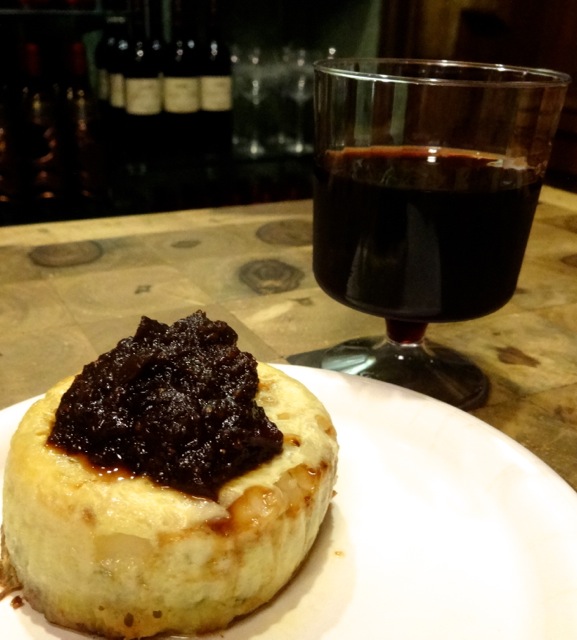 Let's start with the wine this time…
The nose was very cabernet sauvignon – meaning that Nick was less certain about liking it than I was (I like cabernets as a general rule). After tasting it without the food, Nick said he couldn't drink this by itself, I was saying "yum yum" With the food, we thought this was the best pairing so far, even better than the Mahi Mahi and Caceres Satinela from the Singapore Marketplace.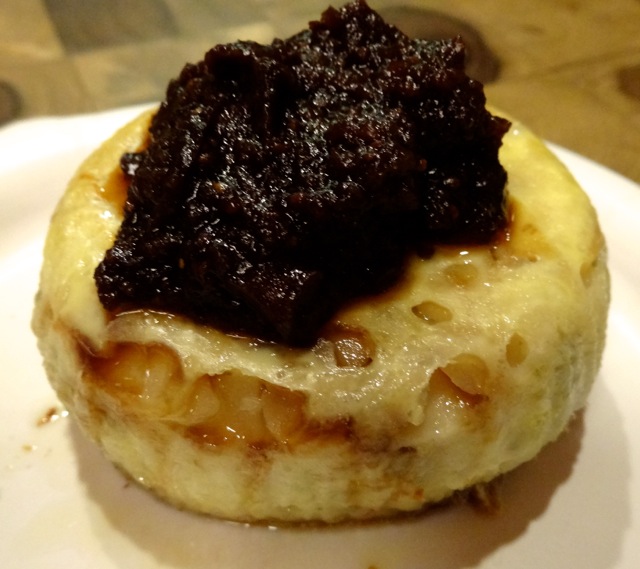 The bleu cheese soufflé was NOT almond crusted, the almonds were distributed throughout the soufflé. There was a generous amount of fig jam on top, and it was needed.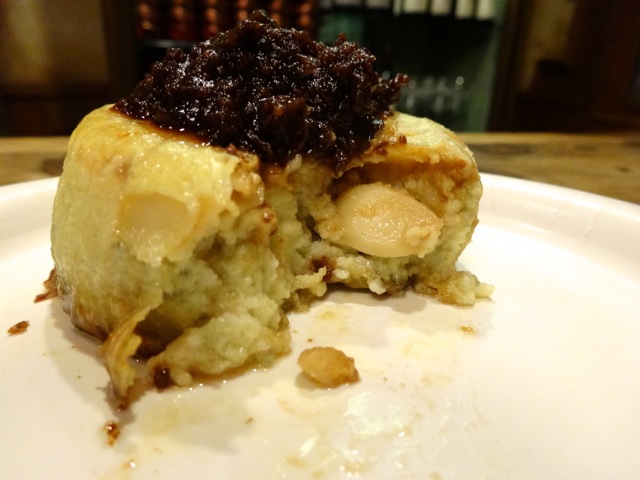 The soufflé was salty with lots of umami, the fig jam provided a hint of sweetness to balance all the salt and richness. The wine sort of mellowed out the tang from the bleu cheese.
Here's the whole story though… The more we ate, the heavier and oilier this felt, it didn't take too many bites (even though we were sharing it) before we were thinking "enough!" Indigestion had set in by the time we made it back to the car and frankly, this was so rich and so heavy that it was hours before we could go to sleep… So, I'd suggest that if you really like bleu cheese, try it with 2 or 3 friends/family and split it amongst yourselves; and get the Big Bad Red to go with it.
Okay, by now you've probably figured out that we weren't outside on the World Showcase when we tasted this (that is, if you're actually looking at Nick's photos)… We have a clue in the photo below of where we are. First person to comment or tweet the correct location will get one adult beverage of their choice when next we meet at Epcot.