We arrived at Epcot early for our "Keep Moving Forward Segway Tour" and we really want to say thank-you to two Cast Members who were really on top of their game in terms of helpfulness and friendliness… Mari at Bag Check Security and Robert at the Cast Member turnstile (we went here because we needed to get into the park early)… Thank you for making our morning extra nice!
And, although he was the Tour Guide for the tour before ours, Elton in Guest Relations checked us in with lots of smiles, laughs, and just Disney magic.
Okay, so on to the tour… Disney World's Description reads (link to webpage)…
Around the World in 2 Hours
See all 11 international pavilions along the 1.3-mile World Showcase Promenade before the park opens.

As day breaks, take off on a guided tour that embraces the inspired design and time-honored traditions of our magnificent pavilions, which include:

Canada
China
France
Germany
Italy
Japan
Mexico
Morocco
Norway
United Kingdom
United States

Behold Mexico's mystical step pyramid, take in a replica of Beijing's stunning Temple of Heaven, and marvel over the intricate mosaic tile work in Morocco. Cross the "Seine" and revel in the romance of Paris as you zip along charming cobblestone streets and admire architecture that transports you to the Belle Epoque of the late 1800s. All this and more awaits you on this enthralling international adventure!

A Private Getaway
Since tours are held before regular park hours, you'll also have World Showcase all to yourself and be able to move around freely and take photos to your heart's content.

Beginners are welcome, and vehicle instruction and safety equipment will be provided before you embark on your journey.
*** WARNING – SPOILER ALERT ***
*** WARNING – SPOILER ALERT ***
We went to Guest Services to check in for the tour. We knew from nick's conversation booking the tour that they've added breakfast at Sunshine Seasons food court, we were given 3 options and we both chose the full breakfast. Our tour would have breakfast after our Segway training. We wandered outside to wait for our trainer to arrive and for our Guide to finish checking everyone in…
Imagine our surprise when our trainer was Larry (he trained us on our very first Segway Tour – "Nature Inspired Design" in August of 2010 – WDW has stopped doing this tour)…
And our guide was Ryan from Hawaii (yes, he left Hawaii to move to Florida)…
So, we started out by learning the "history" of this tour and how it has evolved…
On February 14th, 2013, the "Epcot Segway Tour" will be 9 years old – since that time, Segway mini-experiences have been added to Innoventions
The present incarnation is an hour longer than the previous version
Breakfast has been added
Listening units (remote devices like most tours use) have been added
They didn't say this, but the training is also more streamlined and practical than when we've done other Segway tours
Ryan also told us about how Disney World in general and Epcot in particular are more than theme parks, that Walt was able to incorporate a lot of his ideas about transportation, crowd control, water control, and showcasing new technologies into the Florida Project (strange when you stop and think that Walt Disney died in 1966 and Magic Kingdom opened in 1971. We've already learned from the Imagineers that the whole concept of EPCOT Center was kind of dropped after Walt's death, only to be re-energized in the mid-1970s; yes, we thought it was odd that Ryan kept referring to Walt Disney as though he had actually taken a really active part in Epcot's development).
 TRAINING
The training was pretty standard.
BIG focus on Safety,
A few concerns when one of the ladies in our tour group kept running over cones,
Learn to get on and off
Learn to use your ankles as a pivot point for speeding up, slowing down, going right and left while in motion
Learn to go forward, turn left and turn right
Learn to slalom and go up and down hills
Learn to duck under obstacles
Learn to stop suddenly… Because we were going to be out in the crowds and we didn't want to run down any guests
It was nice that Larry stressed safety in a good way. He also told us that we were in control of our own experience, if we got overconfident or aggressive it was unsafe and we'd be asked to stop. If we didn't stop, then it was no more tour for us. We also finally understand why riding the Segway can make your feet and legs so doggoned tired… The Segway checks and adjusts its positioning 100x per second and your lower body is constantly readjusting too, while stationary, to keep up with the Segway's computer processors.
Next Stop… BREAKFAST
After we finished training, we left Innoventions and went over to Imagination Pavilion and entered backstage. After that we all parked our Segways and went into the Land for breakfast.
The sausage (peeking out from under the biscuit) was better than we remembered. The eggs were worse than we remembered. The bacon was kind of limp and wimpy as remembered. The potatoes had green peppers and onions in them (what's up with Disney World putting green peppers and onions in the breakfast potatoes, that doesn't seem very kid friendly to us!). The biscuit was better than some but nothing spectacular. The french toast was surprisingly tasty. Overall, the food was okay… Now we're all ready to go…
THE TOUR
(A lot of the tour information comes from "The Imagineering Field Guide to Epcot at Walt Disney World." We had given our older copies to Miss B~, as soon as the tour was over, nora went and got a new version at Mouse Gear. We aren't going to go into exhaustive detail, just share the stories and details that we found most interesting.)
Given that there were people in Mexico and Norway (they're open to walk through before World Showcase opens because of the Princess Breakfast at Norway), we didn't stop in these two pavilions, just breezed on through.
China was our first stop… Have you ever noticed the figures on the tops of the buildings in China?
This pavilion represents the Imperial Palace and the Temple of Heaven Park – in other words, it's the emperor's place. Gold coloring represents the Emperor, red coloring represents happiness. Anyway, back to the guy on the chicken…
The man seated on the hen on the roof of Nine Dragons Restaurant (and most other buildings) is Prince Min, a 3rd century ruler who was hanged for his cruelty. It is customary to install an effigy of him as a warning to other tyrants. The various animals in line behind him are there to keep him from escaping… From the Imagineering Field Guide
Nora really liked this story, so she did some digging around for more information
Figures are placed on the roof eaves to keep away evil spirits, in other words they're there for protection
One story is that Prince Min was so horribly EVIL that he was added to the "monsters" placed on roofs; he's on a chicken because chickens can't fly & thus he can't leave the roof
We were also shown two pairs of "foo dogs" (that's what westerners called them) also know as "shishi" (that's what Chinese call them)… They're guardian lions, always found in pairs (yin and yang).
When we left China, World Showcase had opened to the general public and there were guests out and in the way! Had to practice that safety stuff. Next stop…
Germany… Did you know that Walt Disney loved Bavarian Architecture?
The train in the Germany Pavilion was placed there in 1995 during the Flower and Garden Festival. Perfect tie-in with Walt Disney given his love of trains. When it was removed at the end of the Festival, guests kept asking where it had went – the Imagineers put it back and now it's here to stay.
The Romantic Road was a trade route in the Middle Ages – it runs from Füssen to Würzburg. For this Romantic Road, when the plants get too large at the front, they're moved to the back to preserve perspective.
As you go around World Showcase counter-clockwise, next up is Italy…
Nick really liked the story here, of the Campanile of Saint Mark's Square (wiki). The Campanile is a bell tower – there are five bells – The largest rang at the beginning and end of the workday, one rang at midday, another rang to summon members to council meetings, a fourth proclaimed a session of the Senate, and the last announced executions.
Venice is rather wet, and a lot of her buildings are sinking, the Campanile collapsed in 1902… and a miracle occurred, the Angel Gabriel fell off the building but landed standing atop the rubble. This was taken as a symbol of strength and perseverance, that same evening, the communal council approved 500,000 lire to rebuild the Campanile.
Next, we went out to the Isola del Lago and were able to ride around in a bit of relative freedom and get photos made…
Skipping the American Adventure, on to Japan…
There were two Imagineering things in the Japan Pavilion that we particularly liked…
Nick particularly liked the story behind the pagoda at the entrance to the pavilion, Disney's version of the Horyuji Temple in Nara (wiki). We were told that the original still exists in Japan (from the 8th century!); how is that possible? Well, about once a decade it is taken apart completely, all of the parts (no nails or screws, it is all wood and ceramic) are numbered and cleaned and then it is reassembled. Wow…
Nora had never really noticed the building/castle at the very back of the Japan Pavilion. It is called the White Heron Castle, built during the feudal period, it is white with blue tile roofs. It also still exists (but we don't think they take it apart every ten years and clean it!), it is the largest castle in Japan with 83 buildings.
 Morocco is next…
The Morocco pavilion was partly built by and paid for by the Moroccan government, it is incredibly accurate and it took 2 years to build. The king sent his artisans over to do the tilework, sculpting, etc… One gentleman on our tour has been to Morocco, because he was so taken with this pavilion; the real Morocco looks just like this. In fact, there's a story that one of the International Program Cast Members grew up in the area that this pavilion is modeled after and he says that it's amazing accurate.
The last story that really stuck with us occurs in the imagineering behind one of our favorite spots in Canada…
These gardens, which we both really enjoy, are "inspired by the spectacular Butchart Gardens of British Columbia. These gardens are a reminder and a reflection of horticulture as a work of art and a labor of love."
Robert Butchart manufactured portland cement (digression: cement is not concrete, concrete is what you get when you mix cement, sand, and water), a process that required the mining of limestone. When the limestone mine was done, rather than leave it as an ugly hole in the ground, Jennie Butchart (Robert's wife) planted gardens to avoid that.
After leaving Canada, we returned to Innoventions and received our "tour pin"… it spins!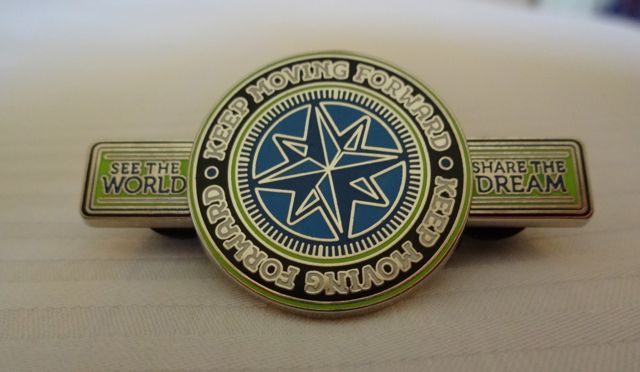 There's a lot of information and detail that we didn't cover (can't exactly take notes while riding around Epcot on a Segway, couldn't even take photos – had to go back for them). Pick up a copy of "The Imagineering Field Guid to Epcot" for more information.
While we enjoyed doing this together, and we'd not mind doing it again… The Wilderness Back Trail Adventure at Fort Wilderness was more to our taste (probably because there's so much we DON'T know about Fort Wilderness and the flora and fauna there).